written by STEVE ULRICH
your must-read briefing on what's driving the day in NCAA Division III
>> Good Monday morning. 75 years ago today, "It's A Wonderful Life" was released.

>> Today's Word Count: 1,586. Six minutes with a cup of coffee ... enjoy!

>> Thanks for reading D3Playbook. Would you be so kind and share this with a colleague for me? Let them know what they are missing. Thanks.


TOP STORY
1. The Cru Leaves No Doubt

by Keith McMillan, D3football.com

"The first Stagg Bowl played at the home of the Pro Football Hall of Fame seemed at halftime like it'd be one of the best college games in the history of Division III championships.

And then in one whirlwind half, Mary Hardin-Baylor upended everything we thought we knew and crowned itself the new king of D-III.

For 2021 emphatically. But after four Stagg Bowls in five seasons, and three victories, the Crusaders are the new kings of the division, period. Not UW-Whitewater. Not Mount Union. And after the clock ran out on Friday night's 57-24 victory, not North Central either.

It has been a long climb of fits and starts since the program debuted at the former women's college in 1998. A Stagg Bowl loss to Linfield in 2004. A seemingly unending string of disappointments against UW-Whitewater. Even the program's first national championship, the Blake Jackson-led 10-7 win over UW-Oshkosh in 2016, has since been vacated for use of a player ineligible because the program loaned him a used Subaru.

But there's no doubt now about who sits atop the division."

>> First Half: NCC's Deangelo Hardy started the game off with fireworks, returning the opening kick 93 yards for a score. UMHB QB Kyle King tossed a pair of TD passes to put the Cru in front, 16-7. The Cardinals struck for 10 points in 3:27 to take a one-point edge before UMHB tacked on a late FG for a 19-17 halftime advantage.

>> Second Half: The Cru outscored the reigning champs, 35-7, over the final 30 minutes, including two TD runs from Aphonso Thomas. And when Kenneth Cormier scored with 11 minutes remaining to make it 43-17, it was all over but the shouting.

>> Stat Stars: King completed 22 of 29 passes for 436 yards and three scores. Brenton Martin (196 yds) and K.J. Miller (149) each snared nine passes and found paydirt. Ethan Greenfield ran for 124 yards for NCC.

>> Quotable: "(UMHB head coach Pete) Fredenburg afterward reminisced about what his plan had been after he first arrived at UMHB in the late 1990s: Stay for a few years to give his offspring some stability, and then try to break back into D-I. Well of course, he stayed. "I'd fallen in love with the D-III atmosphere and the whole essence of it," he said."

>> The Final Word: "Twenty-four years in, the university is irrevocably changed: The college that didn't even have a football program is now the best of the best."

>> Continue Reading
>> Game Story
>> Box Score
CLASSIFICATION



2. Upwardly Mobile





by Audrey Williams June and Brian O'Leary, Chronicle of Higher Education




"The desire to move up is endemic in higher education. So the most recent update of the Carnegie Classification of Institutions of Higher Education, released this week for a public-review period, reveals a much hoped-for outcome for some colleges.

Nine universities joined the highest level of research institutions in the updated list, produced by the Center for Postsecondary Research at Indiana University's School of Education, and last updated in 2018. But this group, known more colloquially as "R1," also lost three members."

>> Why It Matters: "The Carnegie Commission on Higher Education developed the classification more than 40 years ago as a way to distinguish institutions for educational-research purposes. The system, which in 2021 categorized about 3,900 two- and four-year colleges, is now widely seen as a ladder to climb. In part, that's because classifications are used by funding agencies and are also the basis for the categories of annual rankings by publications such as U.S. News & World Report."


Up
Alvernia, Belhaven, Concordia-Chicago, DeSales, Gwynedd-Mercy, Hardin-Simmons, Kean, Lewis & Clark, Lynchburg, Mary Hardin-Baylor, Mount St. Joseph, Ohio Northern, Puget Sound, Saint Mary's (Minn.), St. Thomas (Texas), Springfield, Stockton, UW-La Crosse, UW-Oshkosh.


Down
Benedictine, Brandeis, Gallaudet, Rensselaer, Rutgers-Camden, Spalding, Yeshiva.

>> Complete List
A MESSAGE FROM D3PLAYBOOK


Won't you please consider making a gift to D3Playbook. Your gift will help us offset the costs of operating the newsletter and enable us to continue to provide the quality you have come to expect. My heartfelt thanks to those who have already generously contributed. Join them today.

ACADEMICS
3. Bringing Their "A" Game


"Senior Natalie Aston of Johns Hopkins University headlines the 2021 Academic All-America® Division III volleyball teams, as selected by the College Sports Information Directors of America (CoSIDA).

Aston, pursuing a double major in behavioral biology and psychology, has been selected as the recipient of the Academic All-America® Team Member of the Year award for Division III volleyball. A native of Woodland Hills, California, she holds a 3.81 cumulative GPA.

A setter for the Blue Jays, Aston earned her second career American Volleyball Coaches Association (AVCA) first team All-America award in 2021. She recorded 1,030 assists, 215 digs, 85 blocks and 84 kills during the 2021 season as she helped lead Johns Hopkins to the Regional Final of the NCAA Division III Volleyball Championship."

>> Notable: The seven members of the first team have an average GPA of 3.91 and the 22 student-athletes that make up all three teams have an average cumulative GPA of 3.88.

First Team
Natalie Aston, Johns Hopkins, Sr.
Kylie Bildstein, Wartburg, Sr.
Syd Case, Wooster, Sr.
Elizabeth Chu, Stevens, Sr.
Katie Foster, Wartburg, Sr.
Katie Hobler, RIT, Sr.,
Tracy Westra, Hope, Sr.

>> Complete Team




"Senior wide receiver Cody Gustafson of Grove City College headlines the 2021 Academic All-America® Division III football teams, as selected by the College Sports Information Directors of America (CoSIDA).

A native of Newburg, Pennsylvania, Gustafson is a mathematics major with a 3.93 GPA. He played all 11 games for the Wolverines and ended the 2021 season with 97 receptions for 1,420 yards and 14 touchdowns. Gustafson was named the Presidents' Athletic Conference Offensive Player of the Year for the second straight season this fall and is a four-time All-PAC first-team selection.

Gustafson was a semifinalist for the Gagliardi Trophy, which is awarded to the most outstanding player in Division III, and has also been named CoSIDA Academic All-America® in track and field."

>> Of Note: "Twenty-six of the 51 members of the 2021 Academic All-America® Division III Football teams have at least a 3.90 GPA, with nine student-athletes maintaining a perfect 4.00 GPA. The 26 members of the first team combine for a 3.86 GPA."

First Team
QB-Luke Anthony, Wheaton, Ill., Sr.
RB-Nicholas D'Ambrose, Chicago, Sr.
RB-Giovanni Weeks, Wheaton, Ill., Jr.
WR-Ben Dwyer, MIT, Grad
WR-Cody Gustafson, Grove City, Sr.
TE-Anthony Senerchia, Benedictine, Sr.
OL-Nathan Basinger, MIT, Sr.
OL-Kyle Gannon, UW-Whitewater, Sr.
OL-Alan Gorny, Johns Hopkins, Sr.
OL-Tyler Johnson, Saint John's, Sr.
OL-John Woods, Johns Hopkins, Jr.
K-Lake Barrett, Wooster, Jr.

DL-Lou Duh, WPI, Grad
DL-Sante Parker Jr., Mary Hardin-Baylor, Sr.
DL-Luke Schuerman, Johns Hopkins, Soph.
DL-Michael Wozniak, Saint John's, Jr.
LB-Paul Calvetti, MIT, Sr.
LB-Nick Pankow, Baldwin Wallace, Sr.
LB-Ryan Schwartz, Wheaton, Ill., Sr.
LB-Ben Wong, North Central, Sr.
DB-Ross Andersson, Johns Hopkins, Sr.
DB-Jake Beesleu, North Central, Sr.
DB-Macauley Kilbane, Johns Hopkins, Grad
DB-Sean Knight, Carnegie Mellon, Sr.
P-Cody Harral, Hardin-Simmons, Jr.
ST-Brett Tuttle, Rose-Hulman, Sr.

>> Complete Team
NEWS
4. Weekend Update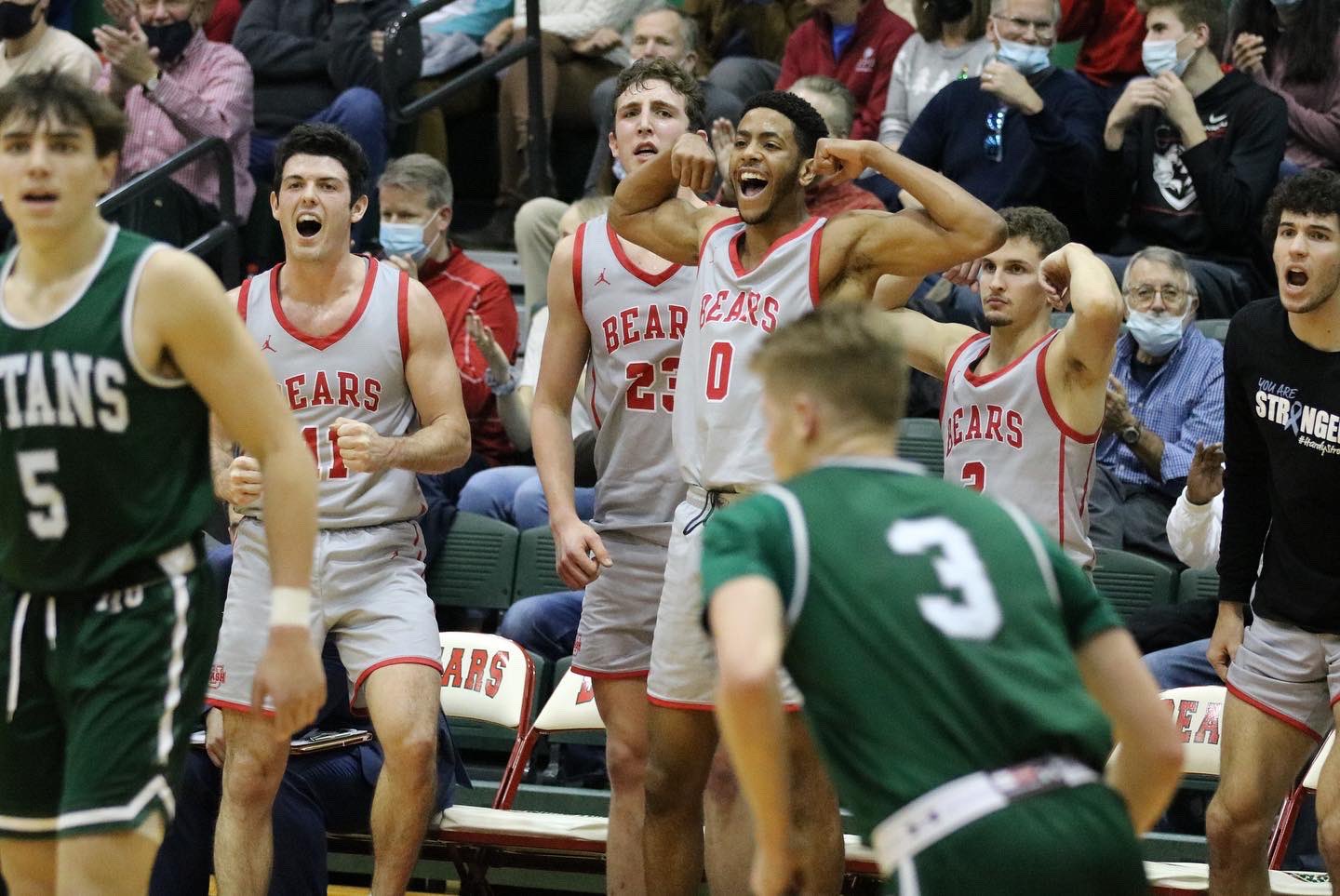 Basketball (M)
No. 15 Washington (Mo.) made a statement with a 71-61 win against No. 4 Illinois Wesleyan. Jack Nolan led four players in double figures with 20 points.

No. 9 Mary Hardin-Baylor handed LeTourneau its first loss of the season by a 91-86 count in overtime. Luke Feely had 23 points and 14 rebounds for the Cru.
Basketball (W)
Top-ranked Hope extended the nation's longest win streak to 55 games with a 70-61 triumph at No. 7 Trine. Kenedy Schoonveld led the Dutch with 20 points.

Marietta toppled No. 3 John Carroll, 81-80, as Devin Hefner scored 23.
Wrestling (M)
Top-ranked North Central upended No. 2 Wartburg, 21-14, in a showdown at the Desert Duals. 197 Cody Baldridge and 285 Robby Bates pulled out decisions to secure the win for the Cardinals.
COVID
5. More Campuses Requiring Boosters

The list of Division III institutions that will require students and employees to have received a booster shot is at 36 and growing. The latest additions to the list are in red.

California (2): Occidental, Pitzer
Connecticut (2): Trinity, Wesleyan
Georgia (1): Emory
Indiana (1): Saint Mary's
Maine (3): Bates, Bowdoin, St. Joseph's, U. of New England
Massachusetts (16): Amherst, Brandeis, Clark, Curry, Emerson, Lasell, Mass-Boston, Mass-Dartmouth, MIT, Mt. Holyoke, Smith, Suffolk, Tufts, Wentworth, Wheaton, WPI
Minnesota (3): Carleton, Macalester, St. Olaf
New Jersey (1): Stevens
New York (1): NYU
Pennsylvania (2): Carnegie Mellon, Haverford
Rhode Island (1): Salve Regina
Vermont (1): Middlebury
Washington (1): Whitman

>> Complete Vaccination List

some data courtesy of the Chronicle of Higher Education

On the flip side, dozens of colleges are rolling back their Covid-19 vaccination mandates after a federal judge temporarily blocked the Biden administration's order requiring the shots at all institutions that hold contracts with the federal government. There are no DIII institutions on the list.

>> List of Rollbacks
TRANSACTIONS
6. Comings and Goings
1 THING
7. X-mas Cookie Map

The Google Trends kitchen serves up top cookie searches by state
Copyright © 2021, D3Playbook.com All rights reserved.