written by STEVE ULRICH
your must-read briefing on what's driving the day in NCAA Division III
>>
Good Monday morning. Welcome to November and Championship Week

>> Today's Word Count: 1,047 and quite a few pictures, too.

>> Thanks for reading D3Playbook. Make the extra pass and share us with a friend today. Let them know what they're missing.


TOP STORY
1. What's Next for College Sports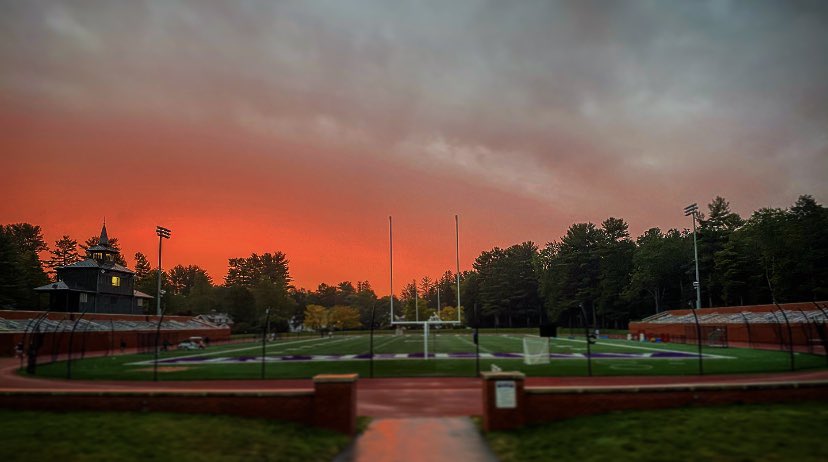 by Andrew Zimbalist, Sportico

"The longstanding "amateur" model of college sports in the United States is broken. What is going to replace it?

The conventional model was broken well before athlete name, image and likeness income became acceptable, educational benefits became uncapped or the pandemic blew a gaping hole in college athletic department budgets. The issues were clear. Budgets were deeply in deficit (even in FBS, where the median program lost more than $18 million a year); coaches and administrators made off like bandits with the loot generated largely by black football and men's basketball players; the vast majority of athletes were not receiving the quality education that they were promised; medical coverage was inadequate; and Title IX was not being fully or properly implemented at 90% of U.S. colleges and universities. Today, mid-pandemic with NIL income unleashed, educational benefits uncapped, NCAA enforcement in retreat, and sports betting poised to pounce, the model and its functioning are in profound crisis.

What is to be done?"

>> The Bottom Line: "There are two fundamental paths of reform: (a) toward marketization and professionalism or (b) toward educationally centered athletics."

>> The Big Picture: "It has been reported that litigating the O'Bannon and Alston suits has cost the NCAA upwards of $200 million. Not only do these suits challenge NCAA authority, but they are pushing the association toward insolvency. It cannot afford ongoing litigations."

>> The Final Word: "While righting the wrongs of athlete exploitation by relaxing various NCAA constraints is desirable, there is a preferable alternative to budding marketization. It is to reinforce the educationally centered, extracurricular model of college athletics. Over 98% of college football and men's basketball players will never play a single game in the NFL or NBA. If they don't receive a real education, it will have a much bigger impact on their lives than earning some NIL money while in college."

>> Continue Reading

Note: Zimbalist is a professor of economics at Smith College

Won't you please consider making a gift to D3Playbook. Your gift will help us offset the costs of operating the newsletter and enable us to continue to provide the quality you have come to expect. My heartfelt thanks to those who have already generously contributed. Join them today.

CROSS COUNTRY
2. Champions

It was conference championship weekend for Division III cross country teams. Here is a chart of the women's and men's champions.




Men's Consecutive Winning Streaks
47 - North Central, CCIW
34 - Calvin, MIAA
23 - MIT, NEWMAC
7 - Geneseo, SUNYAC
6 - Greenville, SLIAC

Women's Consecutive Winning Streaks
14 - MIT, NEWMAC
13 - Johns Hopkins, Centennial
11 - Claremont-M-S, SCIAC
10 - Geneseo, SUNYAC
7 - Hunter, CUNYAC; Washington, Mo., UAA

>> Recap from the USTFCCCA
>> Scoreboard
NCAA



3. Council Updates




The latest in NCAA Division III's webinar series takes place on Tuesday at 1:30 p.m. EDT.

Nov. 2 — Updates from Management and Presidents Council meetings.

All past webinar PowerPoints are on the Division III webinar webpage.

REVIEW
4. About Last Weekend



Volleyball (W)

Soccer (M)

Soccer (W)

Field Hockey

Football

Scoreboards - XC | FHK | FB | MSOC | WSOC | VB
FOOTBALL
5. Rankings

photo by Steve Frommell

D3football.com
North Central (Ill.), 8-0
Mary Hardin-Baylor, 8-0
Wisconsin-Whitewater, 8-0
Mount Union, 8-0
Saint John's, 8-0
Wheaton (Ill.), 7-1
Linfield, 7-0
Hardin-Simmons, 7-1
Central, 8-0
Delaware Valley, 8-0
>> Complete D3football Poll

>> Unbeatens (14): Birmingham-Southern, Central, Cortland, Delaware Valley, Lake Forest, Linfield, Mary Hardin-Baylor, Mount Union, North Central (Ill.), Saint John's, Trinity (Texas), Union, Williams, Wisconsin-Whitewater

>> Games We're Watching
No. 12 UW-La Crosse (7-1) at No. 3 UW-Whitewater (8-0)
No. 13 Union (8-0) at No. 24 Ithaca (7-1)
No. 16 Muhlenberg (7-1) at No. 25 Susquehanna (7-1)
No. 18 Trinity, Texas (7-0) at No. 19 Birmingham-Southern (8-0)
Albion (7-1) at Hope (7-1)
Wesleyan (6-1) at Williams (7-0)
ICYMI
6. Top Plays


Do you have outstanding plays to share with our community? Send the link to us at D3Playbook and use the hashtag #D3Plays
TRANSACTIONS
7. Comings and Goings
Copyright © 2021, D3Playbook.com All rights reserved.