written by STEVE ULRICH
your must-read briefing on what's driving the day in NCAA Division III


>> Happy Friday! And happy 41st birthday to my doppelganger - Ryan Gosling.

>> Today's Word Count: 1,226.

>> Thanks for reading D3Playbook. Would you be so kind as to send this to a friend and ask them to sign up for their own subscription?


TOP STORY
1. Running for Glory

photo courtesy of NCAA Photos

"Qualifying for the NCAA Division III Cross Country Championships has changed a bit.

Out with the old, which featured two automatic qualifiers per region and 16 at-large selections, per gender; in with the new, which will have one automatic qualifier per region and 22 at-large selections, per gender. You read that correctly: at-large selections now double the number of automatic qualifying bids.

Competition will be fierce with only 10 tickets promised per gender to the 2021 NCAA Division III Cross Country Championships next Saturday at E.P. "Tom" Sawyer Park in Louisville, Kentucky. This is the last chance to impress the Selection Committee before the field is decided."

"(These are the) three of the 10 regional meets stood out to us the most."

Midwest Region
Can you name the only region with three top-10 teams in one race? The Women's 6k Championship, which starts at noon CT, features a savory top-10 triangular between No. 3 Wartburg, No. 4 Washington (Mo.) and No. 7 Chicago. The Men's 8k Championship, first on the course at 11 am CT, isn't to be overlooked. You'll see national No. 1 Wartburg go up against No. 9 North Central (Ill.), No. 14 Washington (Mo.), No. 16 Loras and No. 18 Chicago.
North Region
The Men's 8k Championship, first on the course at 11 am CT, features No. 8 UW-La Crosse, No. 10 UW-Whitewater, No. 15 Carleton, No. 25 St. Olaf, No. 27 UW-Oshkosh and No. 29 UW-Eau Claire. The Women's 6k Championship, second on the course at noon CT, seems like a coronation for No. 8 UW-La Crosse as the highest-ranked team in the field.
East Region
The Women's 6k Championship, second on the course at noon ET, has six of the 10 ranked programs: No. 11 MIT, No. 14 Tufts, No. 16 Bates, No. 24 Wellesley, No. 26 Brandeis and No. 35 WPI. The Men's 8k Championship, first on the course at 11 am ET, has a big split between its ranked teams: No. 3 MIT is the headliner, while No. 17 Colby, No. 26 Tufts and No. 32 Bates trail.
>>
Continue Reading
FOOTBALL
2. Rivalry Weekend

It's week 11 of the Division III football season and some classic rivalries are set for the closing weekend of the regular season.

Long-Running Series
133 - Amherst vs. Williams
130 - Knox vs. Monmouth (Bronze Turkey Trophy)
130 - Bowdoin vs. Colby
125 - Hampden-Sydney vs. Randolph-Macon
125 - DePauw vs. Wabash (Monon Bell)
118 - Lawrence vs. Ripon - canceled

Trophy Games
Academic Bowl (1986): Case Western vs. Carnegie Mellon
Bell Trophy (1931): Franklin vs. Hanover
Cortaca Jug (1959): Cortland vs. Ithaca
Cranberry Bowl (1979): Bridgewater State vs. Massachusetts Maritime
Cuyahoga Gold Bowl (1989): Baldwin Wallace vs. John Carroll
Dutchmen's Shoes (1950): RPI vs. Union
Keystone Cup (1981): Delaware Valley vs. Widener
Lincoln Hat (2014): Franklin & Marshall vs. Gettysburg
Mercer County Cup (1984): Grove City vs. Thiel
Old Goal Post (1953): Juniata vs. Susquehanna
Secretary's Cup (1981): Coast Guard vs. Merchant Marine
Sodexo Cup (2013): Moravian vs. Muhlenberg

A MESSAGE FROM BRIGHT CELLARS

Bright Cellars is a monthly wine club that matches you with wines you'll love.
Founded by two MIT grads (#whyD3)
who were intimidated by the vast and complex world of wine, Bright Cellars was created to help wine drinkers discover and learn about wine in a fun, interactive way.
Bright Cellars creates a wine experience tailored just for you. Based on an algorithm, wine selections are calculated to match your taste preferences. As you try the wines, you're encouraged to rate them on the website to fine-tune your taste profile even further. Your matches improve as the algorithm gets to know you better, making each shipment better than the last.
D3Playbook readers are invited to get 50% off
your first 6-bottle box from Bright Cellars. That's a $45 value. Each box will include a wine education card for each bottle that details servings temps, food pairings, background on the region and more.
Take
our 30-second quiz
to start your weekend right.
VOLLEYBALL



3. First Round Results


Twelve matches are in the books after the first day of the NCAA Division III women's volleyball championship. Six teams move on to second round action, while 52 teams embark on opening-round matches today.

Results
Calvin vs. Penn State Behrend, 25-10, 25-22, 25-10
Wittenberg d. St. John Fisher, 25-21, 25-19, 25-23
Otterbein d. Westminster (Pa.), 25-20, 25-11, 25-23
UW-Whitewater d. Ithaca, 26-28, 25-13, 25-15, 25-12

UW-Eau Claire vs. Greenville, 25-19, 25-19, 25-20
Gustavus Adolphus d. Chicago, 25-16, 21-25, 25-22, 25-17
Hope d. Whitworth, 25-19, 21-25, 25-20, 26-24
Northwestern d. Illinois Wesleyan, 25-20, 25-15, 32-30

Berry d. Transylvania, 25-21, 31-29, 25-23
Southwestern d. Washington & Lee, 25-11, 25-23, 13-25, 25-20
Texas-Dallas d. Christopher Newport, 22-25, 25-20, 25-18, 25-23
Emory vs. Southern Virginia

>> Updated Brackets


Won't you please consider making a gift to D3Playbook. Your gift will help us offset the costs of operating the newsletter and enable us to continue to provide the quality you have come to expect. My heartfelt thanks to those who have already contributed. Join them today.

FEATURE
4. Family Tradition Ends Saturday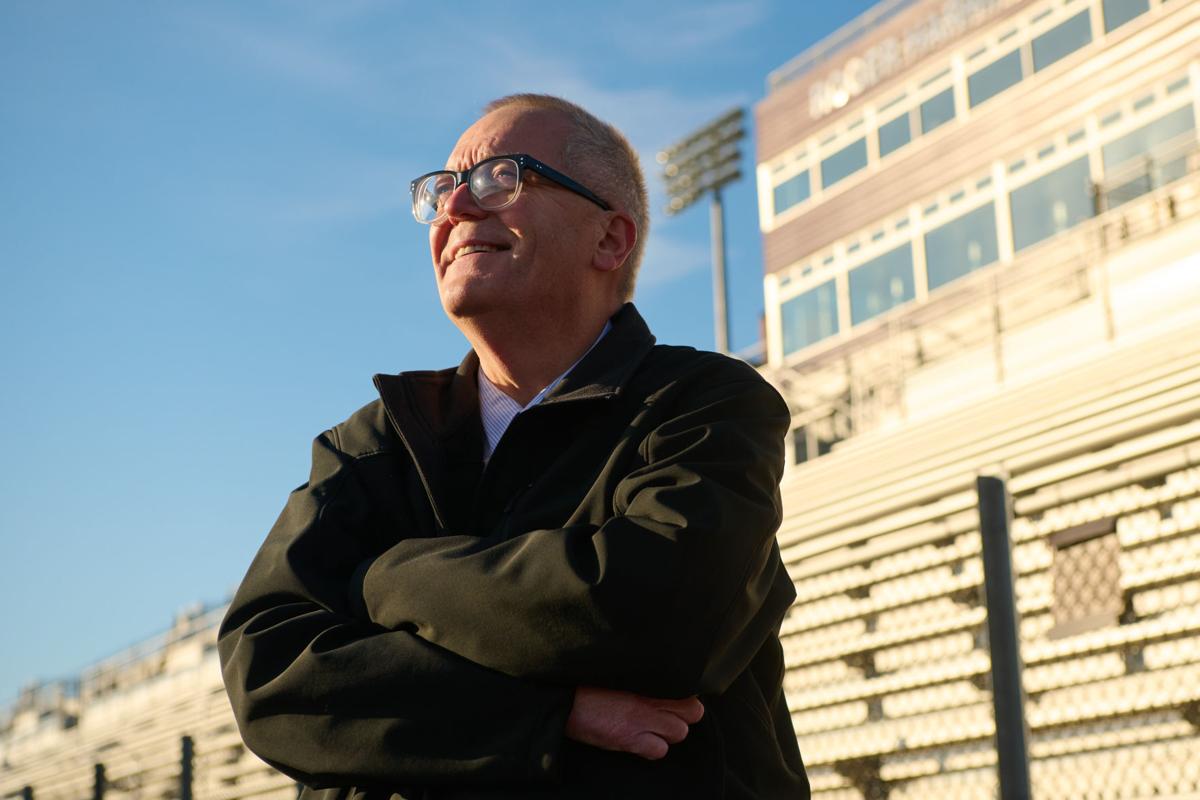 courtesy of the La Crosse Tribune

"Many people follow in their parents' footsteps.

Terry Wirkus practically walked in his father's shoes.

Wirkus, the distance learning technology coordinator for UW-La Crosse Information Technology Services, has traced the life and career of his late father, Tom, almost to a T.

Both studied speech in college and went on to work at radio stations.

Both left their media jobs for a position at UW-L, where they both taught communication courses.

And both spent exactly 25 years announcing for the UW-L Screaming Eagles Marching Band during home football games — a family tradition that will end Saturday, Nov. 13, when Wirkus announces for likely the final time."

>> Situational Awareness: "For this branch of the Wirkus family tree, announcing for the university marching band is the perfect pastime. It combines three things that have long been central to their lives: communication, music and UW-L. It started in fall 1968, when then band director Ralph Wall was looking for an announcer. Tom was recommended for the job — one he would dutifully perform until his retirement in 1993."

>> Consistency: "When Wirkus accepted a job at UW-L in 1996, it seemed only fitting that he continue the family tradition. In the 25 years since, he has not earned a dime from his announcing. But he has accumulated a trove of memories. He's been at Roger Harring Stadium at Veterans Memorial Field Sports Complex for every home game but one, when he had a family event and asked Chancellor Joe Gow to fill in."

>> What They're Saying: "If I had to give Terry a title, it would be 'Mr. Consistency,'" Tammy Fisher, director of the Screaming Eagles, says. "He just shows up for pregame and halftime — I never have to tell him what time to be there or anything. I send him the script in advance, and he's there like magic."

>> Read More
NEWS
5. Weekend Preview
Here's a list of the games/matches/events that we are keeping an eye on this weekend.

Basketball (M)
No. 3 Marietta at Christopher Newport
No. 5 UW-Platteville vs. #19 Whitworth
No. 16 Dubuque at Augustana
No. 17 UW-Oshkosh at Saint John's
Basketball (W)
No. 6 Simpson vs. Gustavus Adolphus
No. 7 Tufts at Rowan
No. 9 DeSales at No. 12 Scranton
No. 14 Hardin-Simmons vs. Trinity (Texas)
No. 16 Amherst at Oglethorpe
Football
No. 5 Saint John's at No. 13 Bethel
No. 14 Cortland vs. No. 18 Ithaca
No. 21 RPI at No. 23 Union
Chicago at Lake Forest
Husson at Western New England
Hope at Trine
Mount St. Joseph vs. Rose-Hulman
Ice Hockey (M)
No. 7 Augsburg at No. 15 UW-Eau Claire
No. 8 Endicott vs. No. 10 U. of New England
Ice Hockey (W)
No. 1 Plattsburgh State at Oswego
No. 6 Gustavus Adolphus vs. Saint Catherine
CLASSIFIEDS
JOHN CARROLL UNIVERSITY (University Heights, Ohio)
Assistant Athletic Director - External Operations
This position reports to the Sports Information Director and works in support of the goals and operations of the Department of Athletics. The Assistant Director will cultivate a robust corporate sponsorship program: identifying opportunities, evolving partnerships, and securing advertising. The position will create a comprehensive gameday atmosphere inclusive of promotions and entertainment to drive attendance and fan / student interaction and engagement. The position will manage marketing income, also serving as a liaison to Enrollment.
For more information, go to the John Carroll University website

Have a job opening that you would like to advertise here? Contact us at D3Playbook@gmail.com
TRANSACTIONS
6. Comings and Goings
1 THING
7. One Heckuva View

Photos by Seth Wenig/AP

Opening today: Thrill-seekers can now try out City Climb in New York City's 30 Hudson Yards, which uses safety harnesses to let climbers lean over the edge from nearly 1,300 feet above the ground, AP reports.