written by STEVE ULRICH
your must-read briefing on what's driving the day in NCAA Division III
>> Good Wednesday morning

>> Today's Word Count: 1,037. Concise. To the point.

>> Thanks for reading D3Playbook. Share us with a friend today. Let them know what they're missing.

TOP STORY
1. Presidents Council Update

In addition to the D3Playbook and NCAA News recaps of the fall Presidents Council meeting, the minutes reflect some other items of interest to the membership.

The Council approved the following committee appointments

Management Council
Lamont Repollet, president, Kean
Brian Wigley, faculty athletic representative, Shenandoah
Jason Verdugo, associate vice president/director of athletics, Hamline
Maria Buckel, vice president for athletics, Fontbonne
Financial Aid Committee
Mark Becker, assistant director for intercollegiate sports, California Institute of Technology
Interpretations and Legislation Committee
Bethany Marren, associate director of athletics, Rochester Institute of Technology
Membership Committee
Kimberly Fierke, associate professor, Oneonta
Nominating Committee
Troy VanAken, president, Elmhurst (re-appointment)
Matthew Lawrence, faculty athletics representative, Alfred State
Strategic Planning and Finance Committee
Stephanie Dutton, commissioner, United East Conference

The Presidents Council approved the Management Council's recommendation for a Constitutional Committee amendment timeline.

The Council recommended Presidents Council establish the legislative timeline for divisional Constitutional provisions as follows:
The submission date for divisional legislative amendments and resolutions to be on or before December 22;
The date for publication of amendments and resolutions to be considered at the January Annual Convention on or before January 7; and
Amendments-to-amendments and resolutions may be submitted by the divisional bodies until the Annual Convention business sessions (January 20), provided copies are distributed before or during the business sessions.

The Council elected the following presidents and chancellors to four-year term on the Council effective with the close of the 2022 NCAA Convention:
Jeff Abernathy, Alma
Joanne Berger-Sweeney, Trinity (Conn.)
Berenecea Johnson Eanes, York (N.Y.)
Kate Foster, The College of New Jersey
Renee Wachter, University of Wisconsin Superior

The Council also extended the term of President Troy Paino, Mary Washington to January 2024 and Jim Troha, Juniata to January 2026.

A MESSAGE FROM DIGITAL SPORTS MEMORIES


Let Digital Sports Memories help you create digital memory books for your successful teams—highlighting their key accomplishments and featuring the most memorable photos and videos of the year. Because it's digital and hosted on a website, alumni, supporters and athletes/parents can access the Digital Video Memory Book at any time. The system to create your Digital Memory Book is affordable, and sponsors can be added to more than cover the cost.

STUDENTS
2. How Not to Suck at Money

by Gail Dent, NCAA

"Invesco/Invesco QQQ, an NCAA corporate partner, has launched its innovative digital game How Not To Suck at Money, the official financial education program of the NCAA. The game is set in an animated college town and features students learning how to make important financial decisions by helping characters solve various money dilemmas.

The new initiative was researched with over 1,500 college students to ensure the experience and topics resonated with them. Topics include budgeting, banking, credit cards, student loans, investing, moving out and starting a new job.

One of the reasons Invesco partnered with the NCAA was to help student-athletes and the general student body learn how to make better financial decisions, empowering financial independence. To celebrate the launch, Invesco QQQ hosted a live panel event Monday at Georgia Tech featuring financial experts and former NCAA student-athletes. Panelists discussed the importance of taking a proactive approach to financial learning and shared personal anecdotes illustrating their own money memories."

>> What They're Saying: "Ellen Lucey, director of NCAA championships engagement, talked about the benefits of the program for athletes. "How Not To Suck at Money is an innovative approach to money management, and Invesco QQQ shares fundamental information that student-athletes should keep in mind as they begin their financial planning," Lucey said. "Education is a primary focus of the NCAA, and Invesco QQQ is giving student-athletes financial education in this fun and creative way to help them think more broadly while they are in school, which will hopefully keep them on track once they graduate."

>> Continue Reading
Won't you please consider making a gift to D3Playbook. Your gift will help us offset the costs of operating the newsletter and enable us to continue to provide the quality you have come to expect. My heartfelt thanks to those who have already generously contributed. Please join them today.

FOOTBALL
3. Bowl Games

There are 10 postseason bowl games sponsored by conferences that will take place this weekend in addition to the 16 NCAA Division III championship games.

Centennial-MAC Bowl Series
Widener vs Susquehanna
Ursinus vs Lycoming
Franklin & Marshall vs Stevenson
ECAC
Bushnell Bowl: Hobart vs Westminster (Pa.)
Chapman Bowl: Washington & Jefferson vs Brockport
Whitelaw Bowl: Utica vs Grove City
Lynah Bowl: Saint Vincent vs FDU-Florham
New England Bowl
UMass Dartmouth vs Alfred State
Western New England vs Merchant Marine
Isthmus Bowl
Washington U. vs Wisconsin-River Falls

>> Worth Noting: Ken Andrews, long-time MAC Commissioner, and I began the Bowl Series back in 2015, hoping that it would become what it is today. FWIW - I retired with a 5-4 lead ... Just sayin'
VOLLEYBALL
4. All-Americans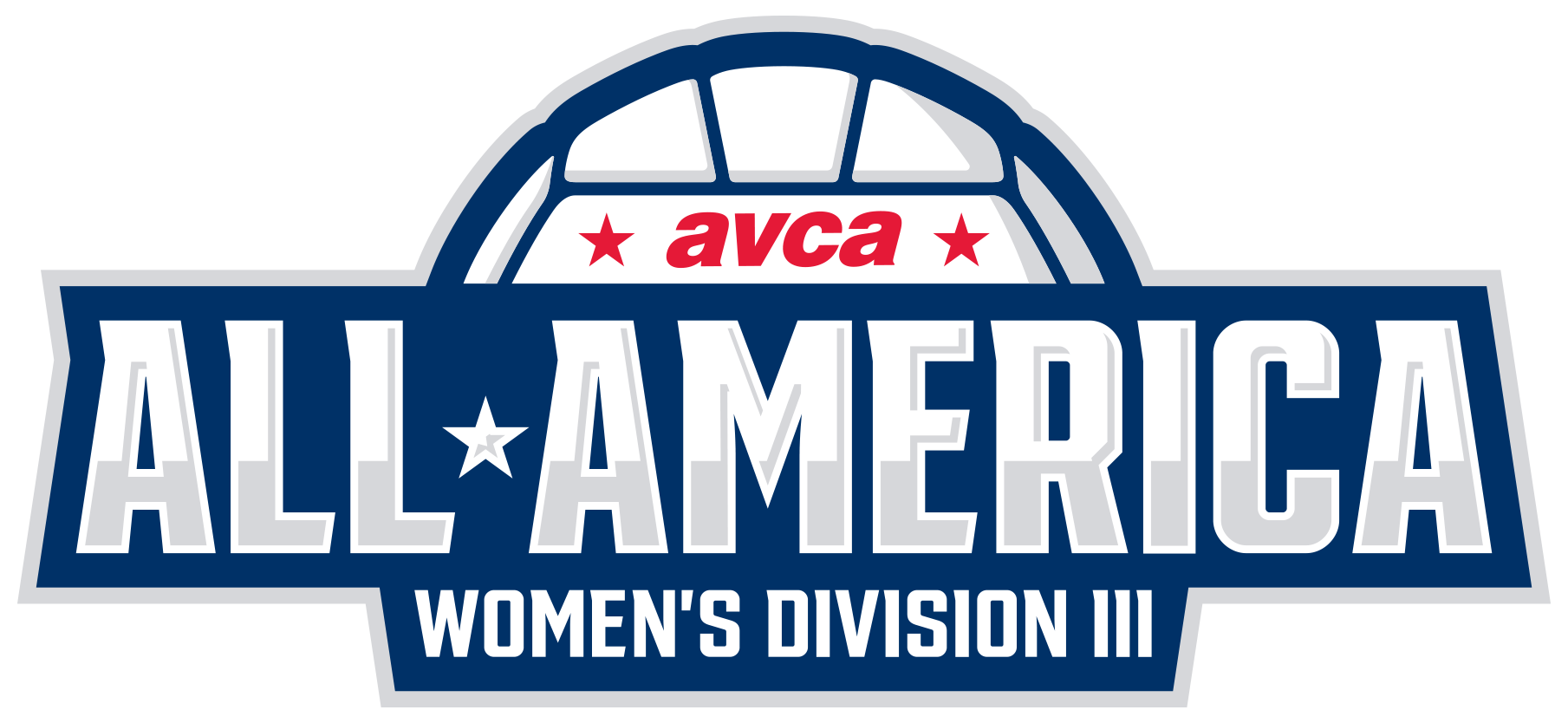 "The American Volleyball Coaches Association (AVCA) announced its 40th annual AVCA All-America teams for NCAA Division III women's volleyball. The 2021 class includes 42 players—14 on the first, second, and third teams—from 29 schools."

First Team
Natalie Aston, Johns Hopkins, Sr., S
Abby Ausmus, NYU, Sr., MB
Kendra Baierl, UW-Eau Claire, Sr., MB
Laura Beier, Berry, Sr., L
Molly Bergin, Berry, Jr., RS
Cate Desler, Tufts, Sr., OH
Katie Foster, Wartburg, Sr., L
Abby Glanzer, Northwestern, Fr., OH
Maycee Karpfinger, Concordia (Wis.), Soph., MB
AnnieRose Leggett, Trinity (Texas), Sr., OH
Georgia Mullins, Colorado College, Sr., MB
Avery Tuggle, Trinity (Texas), Sr., OH
Heidi Westra, Calvin, Jr., RS
Tracy Westra, Hope, Sr., S
2021 Freshman of the Year:
Abby Glanzer, Northwestern, OH
>>
Complete Team
ICE HOCKEY
5. Season Update

Korbinian Lutz, Nichols | photo by Brian Foley

USCHO Men's Top 10
Geneseo, 5-0
Utica, 5-1
Adrian, 3-1
Norwich, 3-0-2
Augsburg, 4-0
Hobart, 4-1-1
Endicott, 3-1-1
Babson, 3-1-1
Aurora, 6-0
UW-Stevens Point, 4-2
Games We Are Watching
No. 14 UW-River Falls at No. 10 UW-Stevens Point
No. 15 UMass Boston at Hobart

>> Of Note: Nichols' GK Korbinian Lutz made 61 saves in the Bison's 3-2 loss at Salve Regina.
Plattsburgh State, 4-0
Middlebury, 0-0
UW-Eau Claire, 6-0
UW-River Falls, 6-0
Elmira, 5-0
Gustavus Adolphus, 4-0
Norwich, 4-1
Amherst, 0-0
Adrian, 4-1
Endicott, 4-1

Games We're Watching
No. 4 UW-River Falls at No. 3 UW-Eau Claire
No. 10 Endicott vs. Western New England
>>
Of Note
: Manhattanville's
Morgan Miller
scored three short-handed goals in her's team's 9-0 victory over king's on Nov. 5.
>>
Complete Poll
TRANSACTIONS
6. Comings and Goings