written by STEVE ULRICH
your must-read briefing on what's driving the day in NCAA Division III


>> Happy Friday! Best wishes to the cross country, field hockey and volleyball teams playing for a national title this weekend.

>> Today's Word Count: 1,138.

>> Thanks for reading D3Playbook. Would you be so kind as to send this to a friend and ask them to sign up for their own subscription?


TOP STORY
1. Football Class War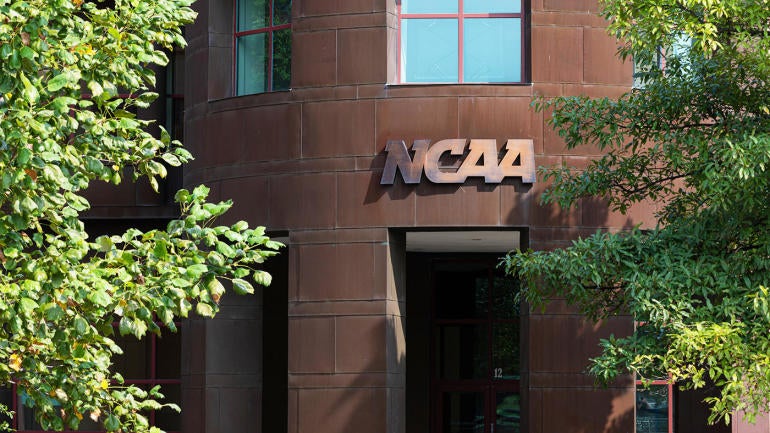 by Dennis Dodd. CBSsports.com

"College football has always been a class war: public vs. private, Power Five vs. Group of Five, SEC vs. the world. Membership has always had its privileges. Those 65 Power Fives schools annually split 78% of the half-billion annual take from the College Football Playoff.

There is a growing thought among those power schools, which are wondering whether they should share at all. What has emerged quietly in recent months is perhaps the biggest class war in decades.

"Membership" is the buzzword as the NCAA rewrites its constitution. It would involve a further divide among the 130 schools playing major-college football. Division I-A, now called the Football Bowl Subdivision (FBS), was created in 1978. That was the last big carving of haves and have nots.

Essentially, a parting from the lowest-resourced programs in the FBS could occur. The reasons would be same as they were 43 years ago: The smallest programs have too much of an influence -- voting and otherwise -- on how a group of 80 or so schools would like big-time football to look."

>> Situational Awareness: "The problem is that schools emphasize football on different levels. As it stands, there is little similarity between the resources (recruiting, salaries, TV contracts) of a Georgia and a Georgia Southern. Yet, they play under the same FBS banner."

>> Why It Matters: "Many administrators believe it's inevitable that athletes -- particularly football and basketball players -- will eventually become employees of schools."

>> Worth Noting: "The elephant in the room in is a potential further division of the FBS. Which schools are going to make the cut, and which will be relegated to what has long been referred to as "Division IV"? While a splitting of FBS is not a certainty, it is more likely now than at any time since that last big division in 1978."

>> Continue Reading
A MESSAGE FROM DIGITAL SPORTS MEMORIES


Let Digital Sports Memories help you create digital memory books for your successful teams—highlighting their key accomplishments and featuring the most memorable photos and videos of the year. Because it's digital and hosted on a website, alumni, supporters and athletes/parents can access the Digital Video Memory Book at any time. The system to create your Digital Memory Book is affordable, and sponsors can be added to more than cover the cost.

FEATURE
2. Rallying Around a Fighter
Russell Sage College is rallying behind one of its own as she battles breast cancer.

"I woke up in the middle of the night at the end of February and felt pain," said Ann King.

As fate would have it, Ann King's mammogram was only a week or so away, but with inflamed lymph nodes believed to be the result of a recent COVID-19 vaccine shot, Ann had to be her own advocate. She had to listen to what her body was telling her.

A little more than a month after the Sage College Sports Information Director received her breast cancer diagnosis on May 13. Ann underwent the first of eight rounds of chemotherapy to attack the disease."

>> Between The Lines: "I was like, 'Wow, this woman is so incredibly strong, and she's still out here supporting us,'" said Hallie Klosterman, a soccer player for Sage's women's team. Still out there doing the seemingly endless job of an S.I.D."

>> What They're Saying: "She's a fighter. She never quits. Whatever comes her way, she's going to battle head on," said Garrett Cobb, the women's soccer coach, who lost both of his parents to cancer."

>> The Big Picture: "Ann has completed her eight rounds of chemo, but she knows she's far from the finish line, and even farther from seeing all life has in store for her as a mother."

>> Keep Reading
A MESSAGE FROM BRIGHT CELLARS

Bright Cellars is a monthly wine club that matches you with wines you'll love.
Founded by two MIT grads (#whyD3)
who were intimidated by the vast and complex world of wine, Bright Cellars was created to help wine drinkers discover and learn about wine in a fun, interactive way.
Bright Cellars creates a wine experience tailored just for you. Based on an algorithm, wine selections are calculated to match your taste preferences. As you try the wines, you're encouraged to rate them on the website to fine-tune your taste profile even further. Your matches improve as the algorithm gets to know you better, making each shipment better than the last.
D3Playbook readers are invited to get 50% off
your first 6-bottle box from Bright Cellars. That's a $45 value. Each box will include a wine education card for each bottle that details servings temps, food pairings, background on the region and more.
Take
our 30-second quiz
to start your weekend right.
VOLLEYBALL



3. And Then There Were Four


Juniata, UW-Eau Claire, Claremont-M-S and Calvin advanced to the semifinals of the NCAA Division III women's volleyball championship after posting quarterfinal wins.

Juniata d. MIT, 25-16, 25-15, 21-25, 25-17
The No. 1 seeded Eagles received 16 kills from Victoria Taylor and 10 from Mackenzie Coley.
Wisconsin-Eau Claire d. Tufts, 25-23, 25-15, 27-25
The fourth-seeded Blugolds were led by Arianna Barrett, who finished with 18 kills on the afternoon.
Claremont-M-S d. Berry, 25-19, 25-20, 21-25, 25-12
The No. 2 seeded Athenas had a balanced attack as Jackie Jones, Jenna Holmes, and Audrey Sawyer all had more than 10 kills to lead the way.
Calvin d. Trinity (Texas), 25-20, 19-25, 18-25, 25-19, 15-10
National Player of the Year Heidi Westra came up big with 29 kills to lift the sixth-seeded Knights.

Won't you please consider making a gift to D3Playbook. Your gift will help us offset the costs of operating the newsletter and enable us to continue to provide the quality you have come to expect. My heartfelt thanks to those who have already contributed. Join them today.

FEATURE
4. The Voice
by Mike Prang

"It's hockey night in Adrian, let's play Bulldogs hockey!"

One might hear from the speakers of the Arrington Ice Arena as one of the seven Adrian College hockey teams take the ice. It is a familiar voice the crowd loves to hear.

It's Dave "Goose" Van Geison. The 1983 graduate of Adrian College has made himself a true alumnus as he stays part of the Adrian College community. Goose has been the public address announcer for the Adrian College hockey teams for quite some time now. Starting in 2015 when only five teams took the ice, Goose has been the PA announcer for more than 700 games.

Thursday, Oct. 28, when the Adrian College ACHA men's Division 1 team took the ice against Ohio University, it marked the 700th game as PA announcer for Van Geison."

>> Situational Awareness: "Goose started working Adrian College athletic events as the official scorer for men's and women's basketball games. Before Matt Kibby and company put on hockey productions for fans to watch the games online, Goose would announce the live streams. One day his son Joe volunteered his dad to be a fill-in as PA announcer for one of the hockey games. Goose found his home away from home between the penalty boxes of the Arrington Ice Arena."

>> Quotable: "Dave Van Geison is the true pride of Adrian College Athletics." said athletic director Michael Duffy. "I truly do not know what I would do without him. Announcer, scorebook, or whatever is needed to help us run a top notch home contest, Dave is the guy."

>> Read More
NEWS
5. Weekend Preview
Here's a list of the games/matches/events that we are keeping an eye on this weekend.

Basketball (M)
No. 1 Randolph-Macon vs. No. 13 Emory
No. 1 Randolph-Macon vs. No. 3 Marietta
No. 9 St. Joseph's (Conn.) vs. No. 11 Tufts
Basketball (W)
No. 1 Hope vs. No. 21 Baldwin Wallace
Cross Country
NCAA Division III Championships
Football
No. 2 Mary Hardin-Baylor vs. No. 16 Trinity (Texas)
No. 9 Central vs. No. 13 Bethel
No. 11 Salisbury vs. No. 17 Johns Hopkins
Ice Hockey (M)
No. 6 Hobart vs. No. 15 Mass-Boston
No. 10 UW-Stevens Point vs. No. 14 UW-River Falls
Ice Hockey (W)
No. 3 UW-Eau Claire vs. No. 4 UW-River Falls
TRANSACTIONS
6. Comings and Goings
1 THING
7. Cranberry War