written by STEVE ULRICH
your must-read briefing on what's driving the day in NCAA Division III
>> Good Wednesday morning ... Atlanta Braves: World Champions

>> Today's Word Count: 1,019

>> Thanks for reading D3Playbook. Share us with a friend today. Let them know what they're missing.

TOP STORY
1. DIII Athletes Benefit from NIL

by Craig Meyer, Pittsburgh Post-Gazette

"For Julia Piccolino, it all started with some frozen strawberries, bananas and pineapple.

In June 2020, shortly after joining TikTok, the Clarion University volleyball player posted a video on the social media platform of her making a smoothie bowl in what she described as her "crappy old Nutribullet" blender. It took off, reaching a vast audience she could have scarcely imagined when she published it. Today, it has 3.8 million views.

"It's crazy," said Piccolino. "You go from not reaching that many people — I think at the time, I maybe had like 5,000 followers on Instagram — to millions of people seeing something I made and having something to say about it. It's kind of surreal. TikTok can make anyone famous overnight."

At the time she made the video, Piccolino had about 100 followers. Now, that number is just shy of 275,000, a dedicated throng that keeps up with her posts about fitness, volleyball, her life as a college athlete — and, of course, smoothie bowls."

>> Quotable: "Everybody is thinking, 'Oh, I could never get there because I'm not a Division I player or I don't have enough followers or I'm not influencing enough people,' but really, there are Division III people like me and a lot of others who are still influencing and working with other companies and in some cases making more of an impact," said Rainey Jessup, a freshman on Chatham University's women's hockey team."

>> Background: "In August, Chatham's Jessup partnered with Bauer, a prominent hockey equipment manufacturer that supplies her with gear while she promotes their products on social media. She's working on agreements with other companies that haven't been finalized or announced yet. Jessup's value in the burgeoning NIL market came from her Instagram account, where she built a community around her by posting photos and videos detailing her experience as a female player on a predominantly male team."

>> Of Note: "Sydney Willig, a freshman on Geneva's soccer team, is the rare college athlete competing with cystic fibrosis. She had long been open about her condition and the daunting realities it presented, believing at one point two years ago that her career was finished. After a series of posts this summer, she was contacted in August by Gunnar Esiason, who also has cystic fibrosis, about working with the Boomer Esiason Foundation, a nonprofit organization named after the former NFL quarterback (Gunnar's father) that raises money and support for cystic fibrosis."

>> What They're Saying: "I'm grateful to have the opportunity," Willig (pictured above) said. "I can't wait to help inspire people and have people look up to me. As I was growing up, there really wasn't anyone you saw out on any social media that had a disease like I had getting the chance to play at the college level in a sport. I hope that I can inspire others to get there."

>> Read More

Won't you please consider making a gift to D3Playbook. Your gift will help us offset the costs of operating the newsletter and enable us to continue to provide the quality you have come to expect. My heartfelt thanks to those who have already generously contributed. Please join them today.

FEATURE
2. Finding Her Rhythm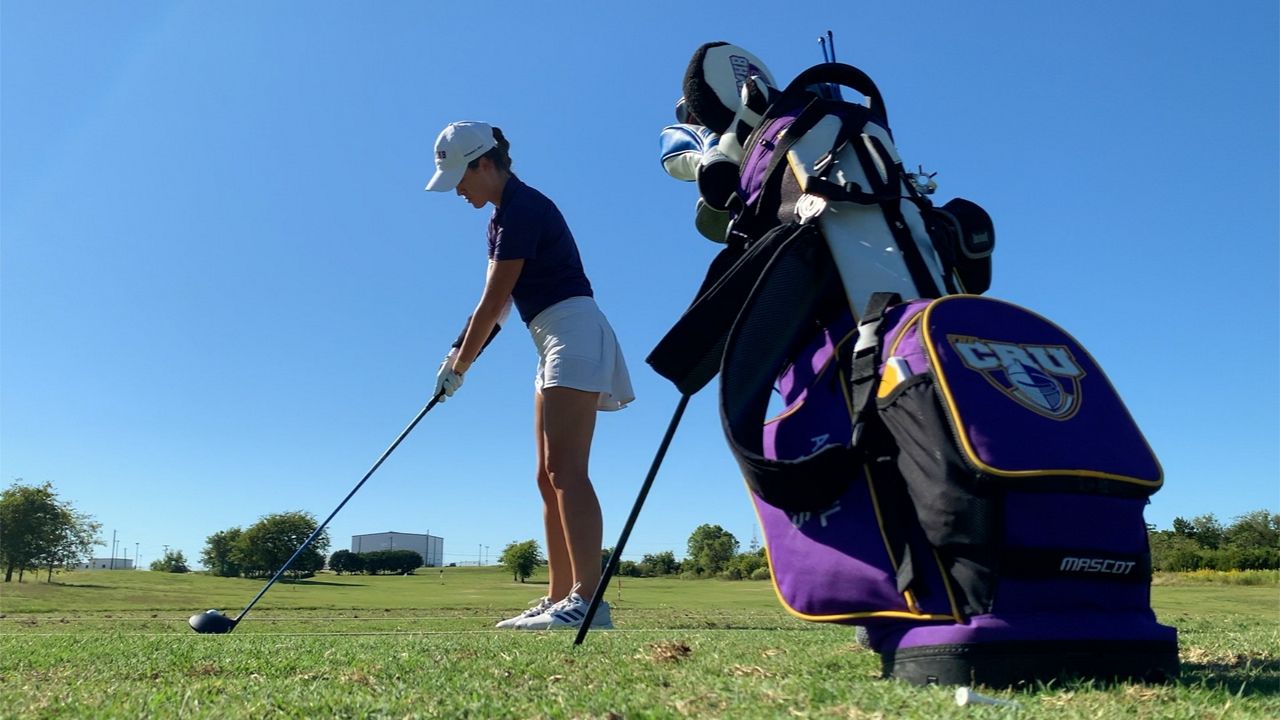 by Adam Rossow, Spectrum News 1 Texas
"Abigail Davis first teed it up just to tag along with her older sisters, but eventually she found her own rhythm on the golf course.

Davis was born with a limb difference in her left arm due to amniotic band syndrome. She tried multiple sports growing up, but gravitated toward golf.

"My dad used to make prosthetics where I could stick my hand in. I eventually learned how to swing without a prosthetic," Davis said.

The smooth-swinging lefty is now in her second season on the University of Mary Hardin-Baylor women's golf team.

"She's just a joy to have around," said UMHB coach Jackie Ralston. "Every day she brings a positive attitude."

>> Situational Awareness: "Getting to that frame of mind was a challenge for Davis. Daily tasks like getting dressed, tying her shoes and putting her hair up took extra practice and extra time, frustrating Davis when she was younger."

>> Quotable: "As I got older, I realized this is what I was born with and what God gave me. I just have to learn how to use it and adapt to life," Davis said."

>> Quotable II: "She gives more than anybody else, and considering what she fights with everyday, that's pretty amazing," Ralston said. "It teaches the rest of us that maybe we should approach life with a little bit more positive attitude. Don't underestimate her. She's got a lot to give."

>> Continue Reading
SOCCER (W)
3. No Change at the Top


United Soccer Coaches / D3soccer.com

1/1. TCNJ, 15-0-1
2/2. Johns Hopkins, 14-0-2
3/5. William Smith, 13-1-1
4/3. Misericordia, 16-1
5/4. Christopher Newport, 14-0-1
6/7. Washington, Mo., 14-1-1
7/6. McDaniel, 16-1
8/9. MIT, 17-1-1
9/12. Loras, 16-0-1
10/13. Case Western Reserve, 13-1-2
11/8. Messiah, 14-2-1
12/10. Amherst, 14-1-1

>> USC Poll | D3soccer Poll

>> Also Unbeaten: Scranton (16-0-1), Puget Sound (16-0-2)
SOCCER (M)
4. Generally Speaking

United Soccer Coaches / D3soccer.com
1/1. Washington and Lee, 14-0-2
2/3. Trinity (Texas), 14-0-1
3/9. Washington, Mo., 11-2-1
4/18. Franklin & Marshall, 15-2-1
5/19. Cortland, 14-2-1
6/13. Connecticut College, 13-3
7/5. Tufts, 10-1-3
8/4. Messiah, 14-1-2
9/17. Otterbein, 13-0-4
10/7. Chicago, 12-4-1
14/10. Kenyon, 14-1-1
16/8. Calvin, 15-2-2
VOLLEYBALL (W)
5. Blue Jays Flying High

AVCA
Johns Hopkins, 27-0
Trinity, Texas, 29-2
Claremont-M-S, 25-1
Wartburg, 25-0
Hope, 22-3
Calvin, 25-3
Colorado College, 28-4
Wisconsin-Whitewater, 25-1
Juniata, 26-1
Wisconsin-Eau Claire, 27-3
FIELD HOCKEY
6. Beavers On The Move

NFHCA
Middlebury, 16-0
Johns Hopkins, 17-0
Babson, 18-1
Tufts, 13-3
Kean, 18-1
Bowdoin (tie), 13-3
Rowan (tie), 14-2
Trinity, 12-4
Messiah, 14-2
Amherst, 11-5
>> Also Perfect: Washington and Lee (13-0), Wilson (15-0)

>> Complete Poll
TRANSACTIONS
7. Comings and Goings
Copyright © 2021, D3Playbook.com All rights reserved.