written by STEVE ULRICH
your must-read briefing on what's driving the day in NCAA Division III


Won't you please consider making a gift to D3Playbook. Your gift will help us offset the costs of operating the newsletter and enable us to continue to provide the quality you have come to expect. My heartfelt thanks to those who have already generously contributed. Please join them today.


>> Welcome to Thursday. Stayed up too late to see Chris Taylor walk it off for LA.

>> Today's Word Count: 1,149 or 4 1/2 minutes of your time.

>> More Numbers: 1,764 subscribers, 2,870 twitter followers

>> Thanks for reading D3Playbook. Share us with a friend today. Let them know what they're missing.


TOP STORY
1. The Truth About Strategic Plans

by Lee Gardner, Chronicle of Higher Education

"Talk to most college leaders long enough, and they will eventually invoke their institutions' strategic plans, sometimes as blueprints for specific improvements, other times as almost talismanic documents that will increase enrollment or diversity through their existence alone. Talk to others in higher education about strategic plans, though, and you'll get a different reaction — that such plans are wastes of time or cynical pretexts for predetermined outcomes.

They can be met with fury, which is what happened, in 2019, when the University of Tulsa acted on part of its 2017 strategic plan that called for a sweeping academic reorganization, including cutting 40 percent of its programs. The resulting uproar led to a faculty vote of no confidence in the president and provost.

Or they can be seen as irreplaceable, especially for a college leader joining a new institution. Kent Devereaux started a strategic-planning process last fall, about a year after he took over as president of Goucher College, a private institution in the suburbs of Baltimore. He found strategic planning invaluable. If you don't have a plan, the budget ends up becoming the plan, he says, with short-term financial considerations — not the mission — shaping decisions."

>> Court Awareness: "The truth, based on conversations with those who advise colleges on strategic plans, those who use (or disavow) them as tools to run institutions, and those who've worked under them, lies somewhere in between those views. They can serve as road maps to transformation, under certain conditions, but other times they can wind up as bureaucratic dead ends."

>> Reality Check: "Strategic plans fizzle for many reasons, but their failure is often tied to a few key factors, says Nicholas R. Santilli, senior director for learning strategy at the Society for College and University Planning, or SCUP. One of them is insularity. Strategic plans are often devised by "a small number of individuals, mostly senior administration or members of the board, who then deliver a plan to the campus, where the campus had no stake in the development," he says. If the leader most identified with the plan moves on after a few years, any momentum behind it follows her or him out the door."

>> What They're Saying: "Some college leaders believe that's all strategic plans really are — rhetoric, grandstanding, a bother. S. Georgia Nugent, president of Illinois Wesleyan University and former president of Kenyon College, says she's never led a traditional strategic-planning process and has no intention of starting one anytime soon. "And happily," she says, "currently, my board chair feels the same way."

>> Continue Reading ($)
Did you know BlueFrame Technology has advanced integrations with top automated cameras like the Hudl Focus? Showcase your teams and student-athletes with BlueFrame's full streaming service priced perfectly for D3 budgets….or use their Production Truck software to stream with your current provider. Step up your game this year and STREAM LIKE A PRO with BlueFrame. Learn more today!
NCAA
2. Convention Registration

Delegates to the Nov. 15 NCAA Special Convention and the January 2022 annual Convention can register starting in October. The anticipated Sept. 14 registration opening for the annual Convention was postponed to develop an efficient and combined appointment of delegates platform for the two events. Key dates for registrations and delegate appointments are:
Oct. 1 — Registration for virtual Special Convention begins.
Oct. 8 — Registration for virtual and in-person annual Convention begins.
Oct. 15 — Appointment of delegates site opens for both conventions.
Updates regarding both conventions, including event schedules, is posted on the 2022 Convention webpage on ncaa.org.

HONORS
4. Players of the Week
Field Hockey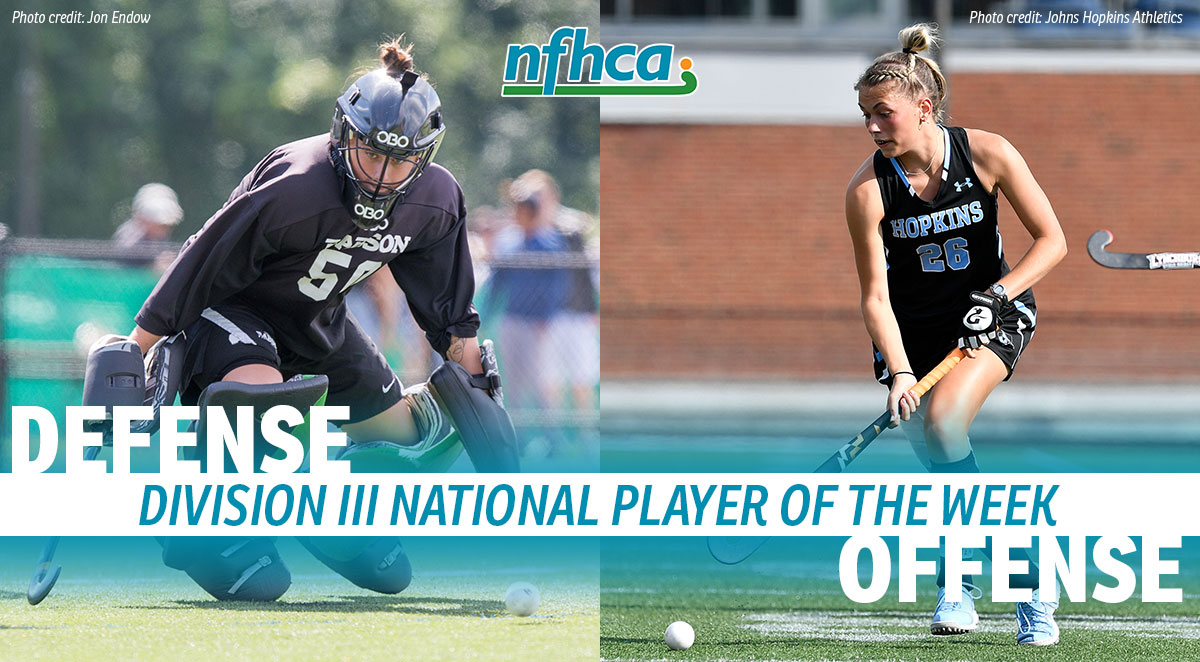 Babson senior goalkeeper Cassidy Riley was named the NFHCA Defensive Player of the Week. She posted back-to-back shutouts vs. No. 3 Tufts and MIT.

Johns Hopkins senior forward Maddie Brown-Scherer was selected as the NFHCA Offensive Player of the Week. She tallied two goals and two assists in wins vs. Dickinson and Haverford.

Soccer




Christopher Newport senior forward Riley Cook was named the United Soccer Coaches National Women's Player of the Week. She scored 11 points on five goals and two assists as she factored into all six goals scored in a pair of wins.




UMass Boston senior midfielder Nilton de Andrade was selected United Soccer Coaches National Men's Player of the Week. He posted two goals and four assists as part of a 2-0 week.

Cross Country




John Carroll senior Alex Phillip dashed to a sixth-place finish at Lehigh's prestigious Paul Short Invitational. Phillip clocked in at 23:39.2 in the Men's College Gold 8k.




Trine senior Evie Bultemeyer won the 6K race at the Louisville Classic last weekend, finishing with a 17-second win in 21:32.3.

Volleyball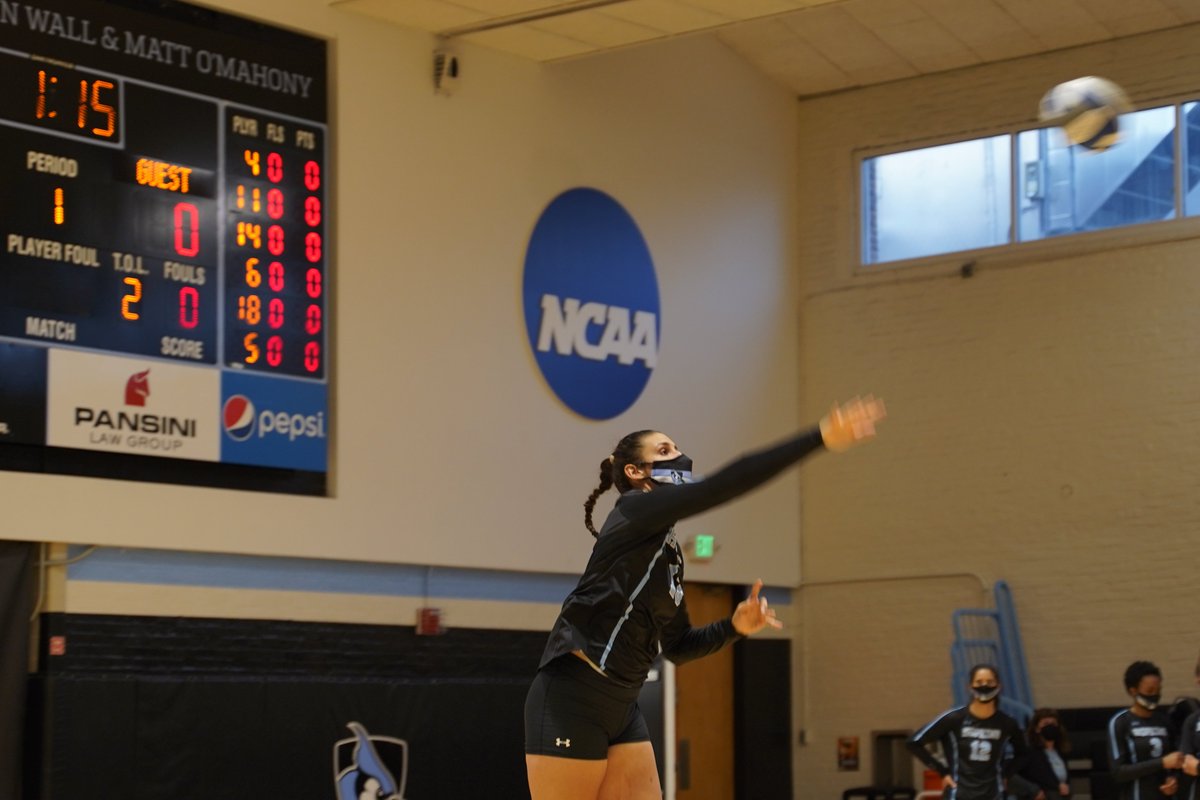 photo by Tresa Thornton

Johns Hopkins senior Natalie Aston was named the AVCA National Player of the Week. She averaged 10.0 assists, 2.0 digs, 1.55 blocks, 1.27 aces, and 0.64 kills to help the top-ranked Blue Jays extended their winning streak to 49 matches.
VOLLEYBALL
5. New York, New York


NYU made a six-spot leap into the top 10 in this week's AVCA Division III women's volleyball poll.

VOLLEYBALL
Johns Hopkins, 14-0
Claremont-Mudd-Scripps, 13-0
Trinity, Texas, 16-1
Hope, 14-1
Colorado College, 15-2
Calvin, 17-2
Wartburg, 19-0
Mary Hardin-Baylor, 15-0
Wisconsin-Whitewater, 14-1
NYU, 14-0
>> Say Hello To: Otterbein
>> Unbeatens (8): Claremont-M-S, Johns Hopkins, Mary Hardin-Baylor, Middlebury, MIT, NYU, Plymouth State, Wartburg

>> Matches We're Watching
No. 3 Trinity, Texas vs. No. 22 Babson
No. 3 Trinity, Texas vs. No. 18 MIT
No. 4 Hope vs. No. 11 UW-Eau Claire
No. 4 Hope vs. No. 19 Chicago
No. 9 UW-Whitewater vs. No. 23 Washington, Mo.
No. 12 Juniata vs. Wittenberg
No. 15 Berry vs. Birmingham-Southern
>> Complete Poll
CROSS COUNTRY

6. Making Their Move

The Wisconsin-La Crosse women and Emory men made major moves to land in the top 10 of this week's USTFCCCA rankings.

Women
Johns Hopkins
Wartburg
Washington, Mo.
Claremont-M-S
Chicago
Williams
Dickinson
Wisconsin-La Crosse
Pomona-Pitzer
Geneseo
>> New to Top 10: UW-La Crosse
>> New to the Top 25: Allegheny, Case Western Reserve

>> Complete Poll


Men
Wartburg
Pomona-Pitzer
Williams
MIT
Geneseo
John Carroll
Claremont-M-S
Wisconsin-Whitewater
Emory
Washington, Mo.
>> New to the Top 10: Emory
>> New to the Top 25: Carleton, RPI, Middlebury, UW-Oshkosh,

>> Complete Poll
TRANSACTIONS
7. Comings and Goings
Copyright © 2021, D3Playbook.com All rights reserved.