written by STEVE ULRICH
your must-read briefing on what's driving the day in NCAA Division III

Won't you please consider making a gift to D3Playbook. Your gift will help us offset the costs of operating the newsletter and enable us to continue to provide the quality you have come to expect. My heartfelt thanks to those who have already generously contributed. Join them today.

>>
Good Monday morning. Never knew that Jean-Claude Van Damme and I were the same age.

>> Today's Word Count: 1,009

>> Thanks for reading D3Playbook. Make the extra pass and share us with a friend today. Let them know what they're missing.


TOP STORY
1. Tennis Royalty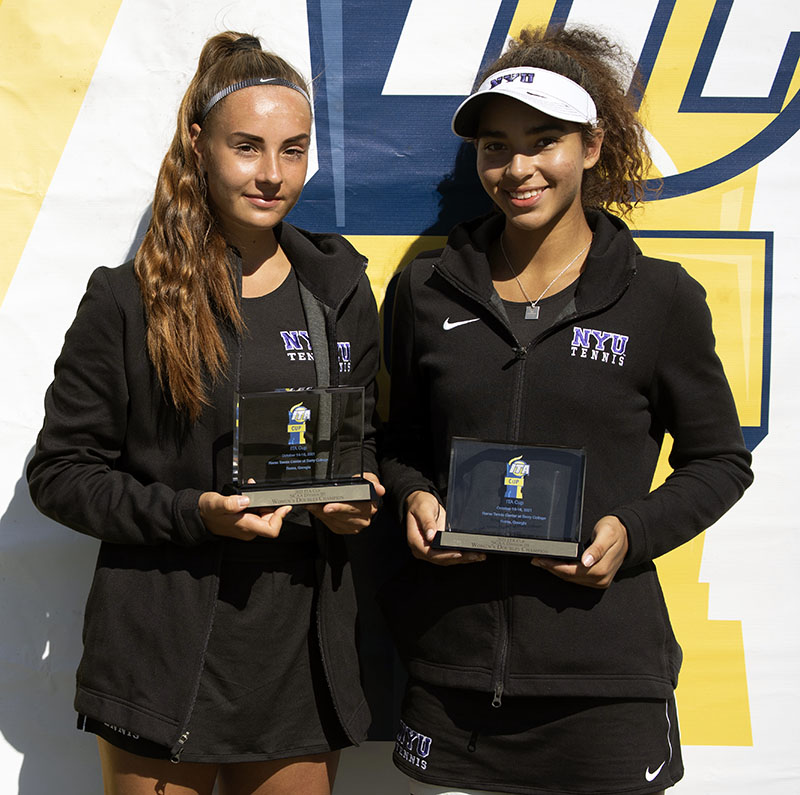 Emory first-year Eliza McPherron defeated Middlebury first-year Sahana Raman, 3-6, 7-5, 6-2, to capture the women's singles title at the ITA Cup in Georgia. She becomes the program's eighth ITA singles champion.

Semifinals
(1) Raman d. Carol Plaak (NYU), w/o [inj]
(2) McPherron d. Nina Ye (Pomona-Pitzer), 6-2, 3-6, 6-3

NYU's talented first-year duo of Dakota Fordham and Carol Plakk won the women's doubles title, downing Sylwia Mikos and Shianna Guo of Chicago, 7-5, 6-7(5), 6-3.

Semifinals
Mikos/Guo d. Gaeth/Yu (Wesleyan), 4-6, 7-6(4), 10-7
Fordha,/Plaak d. Givone/Zhou (Carnegie Mellon), 6-3, 6-4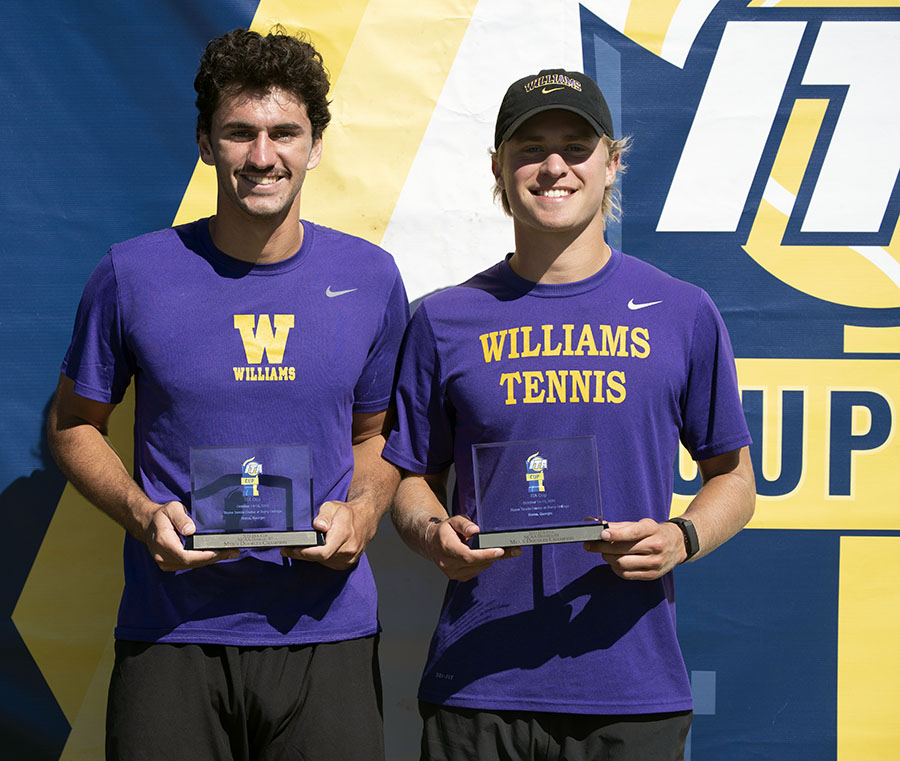 Middlebury's Stan Morris won the men's singles crown with a 6-2, 3-6, 6-1 triumph against Williams' Chase Cohen. It is the second time a Panther has captured an ITA singles championship.

Semifinals
Morris d. Jhonny Acosta (NC Wesleyan), 6-4, 6-4
(3) Cohen d. Jordan Theron (Methodist), 1-6, 7-5, 6-2

The Eph tandem of Peter Frelinghuysen and Matt Kandel brought the ITA Cup doubles championship back to Williamstown with a 2-6, 7-6(1), 6-3 victory versus Nathan Martin and Philip Arimilli of Claremont-Mudd-Scripps.

Semifinals
Frelinghuysen/Kandel d. Settles/Nguyen (Trinity), 6-3, 7-5
Martin/Arimilli d. Esses/Raina (Emory), 6-3, 6-2

>> Complete Results

Also, Nazareth won the Empire 8 women's tennis championship with a 5-3 triumph over Hartwick in the final.
A MESSAGE FROM ULRICH CONSULTING LLC
"It's been a long
A long time coming
But I know a change gonna come
Oh, yes it will"
-
Sam Cooke
Coming soon ... are you a lacrosse fan?
NEWS
2. #NCAA Inclusion
by Gail Dent, NCAA

"NCAA student-athletes, coaches, administrators and fans will show their support around social justice issues and cultural matters occurring on their campuses and in their communities when they participate in the annual Diversity and Inclusion Social Media Campaign next week.

The campaign, which runs Tuesday through Thursday and is in its fourth year, provides a platform for college athletes and the athletics community to discuss diversity, equity and inclusion issues and to provide their thoughts on how to create more inclusive environments. Members of national and campus Student-Athlete Advisory Committees in Divisions I, II and III work with the NCAA office of inclusion and the NCAA Minority Opportunities and Interests Committee to support the planning and implementation of the campaign. All members of the athletics community are encouraged to participate.

A dedicated hashtag, #NCAAInclusion, will be used throughout the campaign on platforms including Twitter, Instagram, Facebook and LinkedIn."

>> Why It Matters: "The social media campaign is one of several initiatives that supports student-athlete activism and voice. The NCAA office of inclusion has created resources and programming that support student-athletes in using their platform for change, understanding and belonging."

>> Read More
REVIEW
4. About Last Weekend

Kirsten Anderson, UW-Whitewater / photo by Kodiak Creative
Volleyball (W)
Carnegie Mellon battled back from a 1-2 deficit to hand No. 10 NYU its first loss of the season. Laura Reichard hit .324 with 14 kills for the Tartans.
Five teams remain perfect on the season after weekend wins - Claremont-M-S, Johns Hopkins, Mary Hardin-Baylor, Plymouth State and Wartburg
No. 9 Wisconsin-Whitewater whitewashed No. 21 UW-Stevens Point in straight sets. Kirsten Anderson and Morgan Wardall each had 10 kills.
Soccer (W)
No. 25 Emory scored twice in a 79-second span of the first half and made the goals stand up, handing No. 8 Case Western Reserve its first blemish of the campaign, 2-1.
The other four unbeaten and untied teams remained that way after weekend play as Christopher Newport, Johns Hopkins, TCNJ and Western Connecticut posted victories.
Daria Bakhtiari scored in the 76' as Brandeis came from behind to hand Chicago its first loss of the season, 3-2.
Field Hockey
Football
Soccer (M)
North Park handed North Central its first loss of the 2021 campaign on an overtime goal by Jesse Anadoo.
Seven other teams still have a "zero" in the loss column after weekend action - Messiah, North Central, Otterbein, Randolph, Trinity (Texas), Tufts, Washington and Lee and Wilmington.
Ursinus handed No. 5 Johns Hopkins its second defeat this week, downing the Blue Jays, 1-0, on a Marco Grenda tally.
Calvin Aroh's golden goal in the 108' lifted No. 3 Tufts past No. 12 Amherst, 2-1.
Scoreboards - XC | FHK | FB | MSOC | WSOC | VB
ICYMI
5. Top Plays


Do you have outstanding plays to share with our community? Send the link to us at D3Playbook and use the hashtag #D3Plays
TRANSACTIONS
6. Comings and Goings
1 THING
7. Hybrid Zoom Future
Brace yourselves: The Zoom meetings of early 2020 may soon feel easy compared to hybrid remote, the Wall Street Journal reports.
"While all-remote meetings had pitfalls — people failing to mute or unmute, pet-and-kid cameos — organizers say hybrid meetings compound them, with even less room for error."
The big picture: Workers will need time to figure out how to smoothly meet when some are in groups at the office and others on Zoom.
Here are some tips from Axios' hybrid remote veterans:
Upgrade the audio/video in your conference rooms.
Avoid elements of the meeting that heavily focus on the in-room experience.
Over-communicate after meetings so remote staff don't miss out.
Go deeper: A hybrid future can't just mean splitting the difference

Copyright © 2021, D3Playbook.com All rights reserved.