written by STEVE ULRICH
your must-read briefing on what's driving the day in NCAA Division III

Won't you please consider making a gift to D3Playbook. Your gift will help us offset the costs of operating the newsletter and enable us to continue to provide the quality you have come to expect. My heartfelt thanks to those who have already generously contributed. Join them today.

>> Hello Tuesday. Putting a bow on year No. 61.

>> Today's Word Count: 1,224

>> Thanks for reading D3Playbook. Share us with a friend today. Let them know what they're missing.

>> Record books in need of an overhaul? Send us an email and see what we can do for you.


TOP STORY
1. Marketing is the Word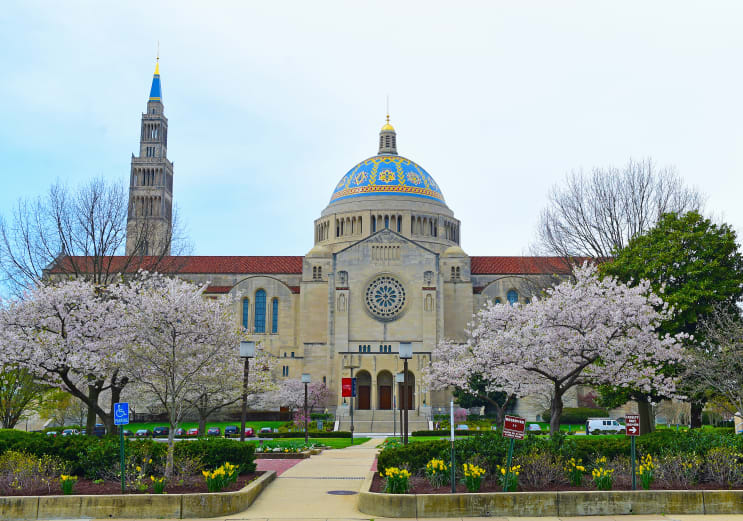 by Jon Marcus, Hechinger Report


"It was the personalized emails that got Jadyn Turner to consider Catholic University when she was choosing a college.

She still has them in her phone, along with a photo of herself holding up the Catholic University banner that came in the mail. Those and other inducements lured her to an open house at the business school, where she's now majoring in entrepreneurship.

Even though marketing played a central role in her decision, however, Turner was surprised to learn the university, founded by U.S. Catholic bishops, is spending $5 million on a marketing and branding campaign and hiring five new marketing employees.

In fact, the sum is small compared to what other colleges and universities are investing in advertising, marketing and promotion, which has been steadily rising and is on track this year to be nearly double what it was last year."

>> Court Awareness: "Part of it is necessity and part of it is adapting to circumstances," said Catholic University's blunt-spoken president, John Garvey, in his office. Schools like his "are acutely conscious of the demographics in this country. They're competing for students, and marketing is how you have to do that."

>> The Big Picture: "Other private nonprofits, including some that are highly selective, are also channeling tens of millions into advertising. Johns Hopkins reported spending $29.6 million in one year; New York University, $28.5 million; the University of Pennsylvania, $25.7 million; Northwestern, $25.6 million; the University of Miami, $23.2 million; Columbia, $13.2 million; Boston University, $12.7 million; Georgetown, $11.6 million; and Stanford, $10.3 million."

>> Of Note: "Kean University in New Jersey announced in September that it was becoming an "official education partner" of the New York Jets, citing the marketing advantages of the deal. A spokeswoman would not disclose details of the arrangement but the contract — which called for the financial terms to be kept secret but was obtained by The Hechinger Report through a public-records request — shows the public university is paying the Jets $250,000 a year for three years, with the option of a two-year extension at an additional $250,000 a year."

>> The Final Word: "In five, 10, 15 years, higher education marketing will look like it looks at GE," said Bill Faust, senior partner and chief strategy officer of the marketing firm Ologie, whose higher education clients include Stanford, Penn, Smith, Rutgers and Carnegie Mellon."


>> Continue Reading
GOLF
2. Tee Titleists


Saint John's captured the 2021 MIAC men's golf championship with an impressive 14-under-par team performance. The Johnnies placed all five golfers in the top 10, led by Nate Loxtercamp who finished second at 173. Gustavus Adophus' Jacob Pedersen fired a final-round 65 to take medalist honors at 169.

>> Complete Results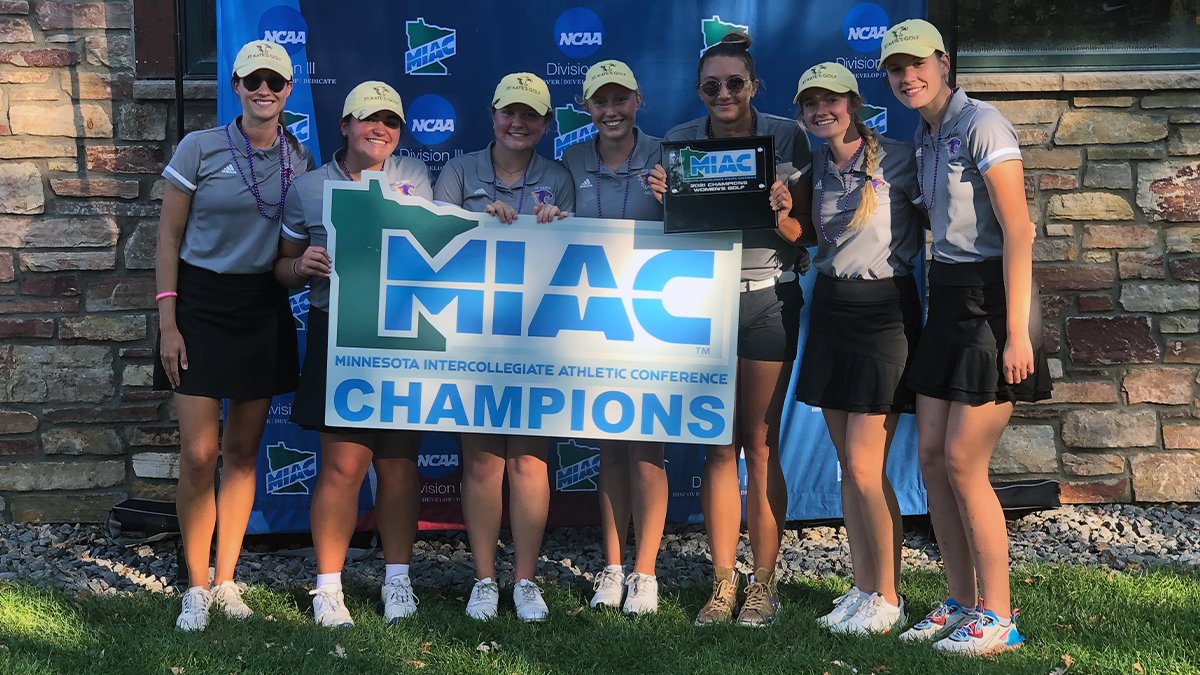 St. Catherine's held off Gustavus to take its second consecutive MIAC women's title. The Wildcats fashioned a final-day 303 to win by 15 shots. Bethel's Anna Tollefson was the individual champion with an even-par 180 over 45 holes.

>> Complete Results
TENNIS
3. ITA Regional Recap

The ITA Small College Regional Championships concluded last weekend.

Women
New England: Elle Christiansen and Tilly Rigby, Tufts (D); Sahana Raman, Middlebury (S)
South: Alexa Goetz and Xuanjin Li, Emory (D); Eliza McPherron, Emory (S)
Southwest: Alli Ziehm and Emma Kesterson, Southwestern (D); Suzuka Nishino, Texas-Dallas (S)
West: Angie Zhou and Marissa Markey, Pomona-Pitzer (D); Nina Ye, Pomona-Pitzer (S)

Men
Northeast: Alper Kulturel and Noah Williamson, Skidmore (D); John Rado, Skidmore (S)
Southeast: Moses Hutchison and Andrew Watson, Mary Washington (D); Thomas Yu, Johns Hopkins (S)
Central: James Hopper and Jonathan Powell, Case Western Reserve (D)
Midwest: John Zakowski and Alex Gray, Wisconsin-Whitewater (D); Zakowski, UW-Whitewater
West: Jansen Comadena and Owen Kelley, Pomona-Pitzer (D); Robert Liu, Claremont-M-S
FOOTBALL
4. Rankings


The polls agree - North Central (Ill.) is the top team in Division III football this week.

D3football.com
North Central (Ill.), 4-0
Mary Hardin-Baylor, 5-0
Wisconsin-Whitewater, 4-0
Mount Union, 4-0
Wheaton (Ill.), 3-1
Saint John's, 4-0
Linfield, 3-0
Hardin-Simmons, 4-1
Wisconsin-Oshkosh, 3-0
Delaware Valley, 4-0
>> Top 25 Movers: Linfield, Central, Muhlenberg, Susquehanna

>> Complete D3football Poll

AFCA
North Central (Ill.), 4-0
Mary Hardin-Baylor, 5-0
Wisconsin-Whitewater, 4-0
Mount Union, 4-0
Saint John's, 4-0
Wisconsin-Oshkosh, 3-0
Delaware Valley (tie), 4-0
Linfield (tie), 3-0
Hardin-Simmons, 4-1
Wheaton (Ill.), 3-1
>> Complete AFCA poll

>> Rushing Leaders: Joey Mauriello (Salve Regina) 178.2; Austin Belot (UW-Eau Claire) 170.2; Robert Shufford (Birmingham-Southern), 169.5

>> Passing Leaders: Jaelen Ray (Rockford) 373.8; Ryan Stevens (Johns Hopkins) 371.4; Brody Hahn (Ohio Northern) and Bryce Jackson (Averett) 345.0

>> Games We're Watching (all times EDT):
Brockport at No. 19 Cortland, 12:00
No. 1 North Central at Carthage, 1:00
No. 9 UW-Oshkosh at No. 20 UW-La Crosse, 3:00
No. 18 Whitworth at No. 7 Linfield, 4:30
ICYMI
5. #D3Plays

Thanks for the submissions. Send your top plays to #D3Plays for inclusion.


TRANSACTIONS
6. Comings and Goings
1 THING
7. When Facebook Went Down
by Joanna Stern, Wall Street Journal

"It seemed like life was unlivable on Monday.

For more than five hours, Facebook Inc.'s platforms—including Instagram, WhatsApp and Facebook proper—were offline and unavailable to users. Trying to access feeds or messaging chains, all you'd see were Couldn't Refresh Feed. Couldn't Load Activity. Sorry, something went wrong. Connecting…

Want to lose yourself in a stream of images of friends and family? Dust off the "1995 Family Trip to Walley World" album. Need to ask neighborhood moms about the best diaper cream? Check the bulletin board at the YMCA. Hope to send messages to that friend group? I heard tin cans and strings work great."

>> The Key Stat: "One giant tech company controls the bulk of our online social lives."

>> The Final Word: "The Great Social Outage of 2021 isn't without its lessons. Not only can we better prepare ourselves for the next one, but we can also identify and manage where our data lives, and spread the love of our personal networks across more services."

>> Read More
Copyright © 2021, D3Playbook.com All rights reserved.