written by STEVE ULRICH
your must-read briefing on what's driving the day in NCAA Division III


Won't you please consider making a gift to D3Playbook. Your gift will help us offset the costs of operating the newsletter and enable us to continue to provide the quality you have come to expect. My heartfelt thanks to those who have already contributed. Join them today.


>> Happy Friday! Playoff baseball seldom disappoints.

>> Today's Word Count: 1,131. Not even five minutes of your busy morning.

>> Thanks for reading D3Playbook. Would you be so kind as to send this to a friend and ask them to sign up for their own subscription?


TOP STORY
1. From D3 to the NHL

by Joe Seil, Nazareth Sports Information Director

"When the first puck officially drops for Thursday's Seattle Kraken-at-Nashville Predators National Hockey League game, the irony of the moment won't be lost on C.J. Murray.

A 2017 Nazareth graduate and former hockey player for the Golden Flyers, Murray will be making his NHL debut as a linesman in that game, which will be televised at 8 p.m. on the NHL Network.

Knowing that Murray wanted to stay involved in hockey in some capacity, George Roll, Nazareth's head coach for nearly a decade, put him in touch the NCAA's Supervisor of Officials, Jeff Fulton, who is based in Rochester. Before long Murray was attending officiating camps and combines. He later was accepted into an officiating development program through USA Hockey and soon thereafter was officiating for men's and women's college games."

>> On Point: "According to Roll, who has coached hockey at various levels for more than 30 years including the last 10 at Nazareth, there are three elements that set good officials apart and Murray possesses all of them."

>> Quotable: "Communication also is something that sets guys apart," Murray said. "The best officials know who to explain things to coaches and players. The officials are constantly getting yapped at, so you have to be honest and have an answer."

>> Keep Reading
COMMISSIONERS
2. Ivkovic Joins USOC Committee

"The United States Olympic & Paralympic Committee College Sports Sustainability Think Tank today announced its final recommendations to sustain the broad-based college sports model through increased collaboration and customization. The USOPC Think Tank, which includes CUNY Athletic Conference Commissioner Zak Ivkovic and collegiate leaders from across the country, launched in the fall of 2020 and identified seven recommendations that address challenges facing NCAA athletics.

"I am thrilled to continue to advocate for greater collaboration between the USOPC and the NCAA in advancing opportunities for our Olympic sports across the Association, including in Division III," said Ivkovic. "These recommendations are a great step forward, especially as they include Para-College Inclusion which will help us build upon our CUNY Adaptive sports as well. We have managed to do a lot in the Adaptive space in four short years and being a part of the Think Tank will help us lead the way in the Northeast."

The USOPC Think Tank assembled project groups during the spring and summer of 2021 to conduct research and explore sustainability outcomes. The recommendations are intended to be piloted prior to being scaled more broadly and are centered around four areas: sport sustainability, sport structure, vertical partnerships and Paralympic inclusion."

>> What's Next: "The USOPC Think Tank also outlined implementation steps – many of which require collaboration with the NCAA governance structure. The NCAA Division I Council assigned the NCAA Student-Athlete Experience Committee to review the sustainability concepts. The sport structure concepts will be reviewed by the NCAA Division I Strategic Vision and Planning Committee and NCAA Competition Oversight Committee."

>> Read More
A MESSAGE FROM BRIGHT CELLARS

Bright Cellars is a monthly wine club that matches you with wines you'll love.
Founded by two MIT grads (#whyD3)
who were intimidated by the vast and complex world of wine, Bright Cellars was created to help wine drinkers discover and learn about wine in a fun, interactive way.
Bright Cellars creates a wine experience tailored just for you. Based on an algorithm, wine selections are calculated to match your taste preferences. As you try the wines, you're encouraged to rate them on the website to fine-tune your taste profile even further. Your matches improve as the algorithm gets to know you better, making each shipment better than the last.
D3Playbook readers are invited to get 50% off
your first 6-bottle box from Bright Cellars. That's a $45 value. Each box will include a wine education card for each bottle that details servings temps, food pairings, background on the region and more.
Take
our 30-second quiz
to start your weekend right.
TENNIS
3. ITA Cup


Singles (M)
First Round
(1) Hopper (CWRU) d. Teruyama (RPI), 6-3, 6-2
Acosta d. Yu (JHU), 6-2, 6-2
(4) Liu (CMS) d. Lemaitre (George Fox), 6-2, 6-3
Morris (Middlebury) d. Zakowski (UWW), 6-2, 6-2
Shah (CWRU) d. Rado (Skidmore), 2-6, 6-2, 6-3
(3) Cohen (Williams) d. Carroll (CMS), 6-2, 6-2
Hutchison (UMW) d. Lindwall (UWW), 6-3, 6-2
Theron (Methodist) d. (2) Krimbrill (Trinity), 6-2, 2-6, 6-0

Quarterfinals
Acosta d. (1) Hopper, 5-7, 6-4, Ret [Inj]
Morris d. (4) Liu, 2-6, 7-5, 7-5
(3) Cohen d. Shah, 4-6, 6-0, 6-0
Theron d. Hutchison, 7-6(3), 7-6(2)

Semifinals
Jhonny Acosta vs Stan Morris
(3) Chase Cohen vs Jordan Theron

>> Complete Draw

Singles (W)
First Round
(1) Raman (Middlebury) d. Dule (NCW), 4-6, 6-2, 6-2
Hose (Carleton) d. Le (Whitman), 6-3, 3-6, 6-2
Zhou (P-P) d. (4) Mikos (Chicago), 6-3, 6-2
Plakk (NYU) d. Tang (Grinnell), 6-1, 6-2
Ye (P-P) d. Nishino (UT Dallas), 7-5, 6-3
(3) Fordham (NYU) d. Karah (Bowdoin), 6-2, 6-3
Moss (W&L) d. Yuan (Chicago), 7-5, 6-2
(2) McPherron (Emory) d. Zhou (Carnegie Mellon), 7-6, 6-0

Quarterfinals
(1) Raman d. Hose, 7-5, 6-2
Plakk d. Zhou, 5-7, 6-3, 7-5
Ye d. (3) Fordham, 6-4, 3-6, 6-1
(2) McPherron d. Moss, 4-6, 6-1, 6-0

Semifinals
(1) Sahana Raman vs. Carol Plakk
Nina Ye vs. (2) Eliza McPherron

>> Complete Draw
FALL SPORTS
4. Undefeated, Untied

There are 16 undefeated and untied field hockey, soccer and volleyball teams in Division III entering the weekend.

Field Hockey (5): Johns Hopkins, Middlebury, Scranton, Washington and Lee, Wilson

Women's Soccer (5): Case Western Reserve, Christopher Newport, Scranton, TCNJ, Western Connecticut

Men's Soccer (1): Trinity (Texas)

Volleyball (5): Claremont-M-S, Johns Hopkins, Mary Hardin-Baylor, NYU, Plymouth State, Wartburg
PREVIEW
5. Weekend Spotlight

Christina Hickson, Case Western Reserve

Here's a list of the games/matches/events that we are keeping an eye on this weekend.

Cross Country
Augustana Invitational
Connecticut College Invitational
Oberlin Inter-Regional Rumble
Rowan Inter-Regional Border Battle
Field Hockey
No. 9 Amherst (9-2) vs. No. 3 Tufts (8-2)
No. 4 Kean (13-1) vs No. 13 TCNJ (8-3)
No. 7 Trinity (9-2) vs. No. 20 Hamilton (7-5)
Football
No. 3 UW-Whitewater (5-0) at No. 18 UW-Oshkosh (3-1)
No. 14 Johns Hopkins (5-0) at No. 21 Muhlenberg (4-1)
RPI (6-0) at Hobart (4-1)
Lake Forest (5-0) at Ripon (5-0)
Soccer (M)
No. 7 NYU (8-2-1) vs No. 9 Washington, Mo. (7-1-1)
No. 12 Amherst (9-1-1) vs No. 3 Tufts (9-0-2)
No. 6 Messiah (10-0-2) vs. Eastern (8-3-2)
North Central (14-0-1) vs North Park (10-3)
Soccer (W)
No. 8 Case Western Reserve (11-0) vs No. 25 Emory (8-3-1)
No. 14 Centre (11-1-1) vs. Rhodes (8-1-1)
Roanoke (7-3-1) vs No. 22 Lynchburg (10-2)
Pomona-Pitzer (9-1-2) vs Chapman (7-2-2)
Volleyball
No. 9 Wisconsin-Whitewater (18-1) vs. No. 21 UW-Stevens Point (19-4)
No. 13 Emory (15-3) vs. No. 18 Chicago (11-7)
No. 16 Southwestern (16-1) vs. Austin (17-4)
Babson (15-3) vs. Stevens (16-3)
TRANSACTIONS
6. Comings and Goings
1 THING
7. Pic du Jour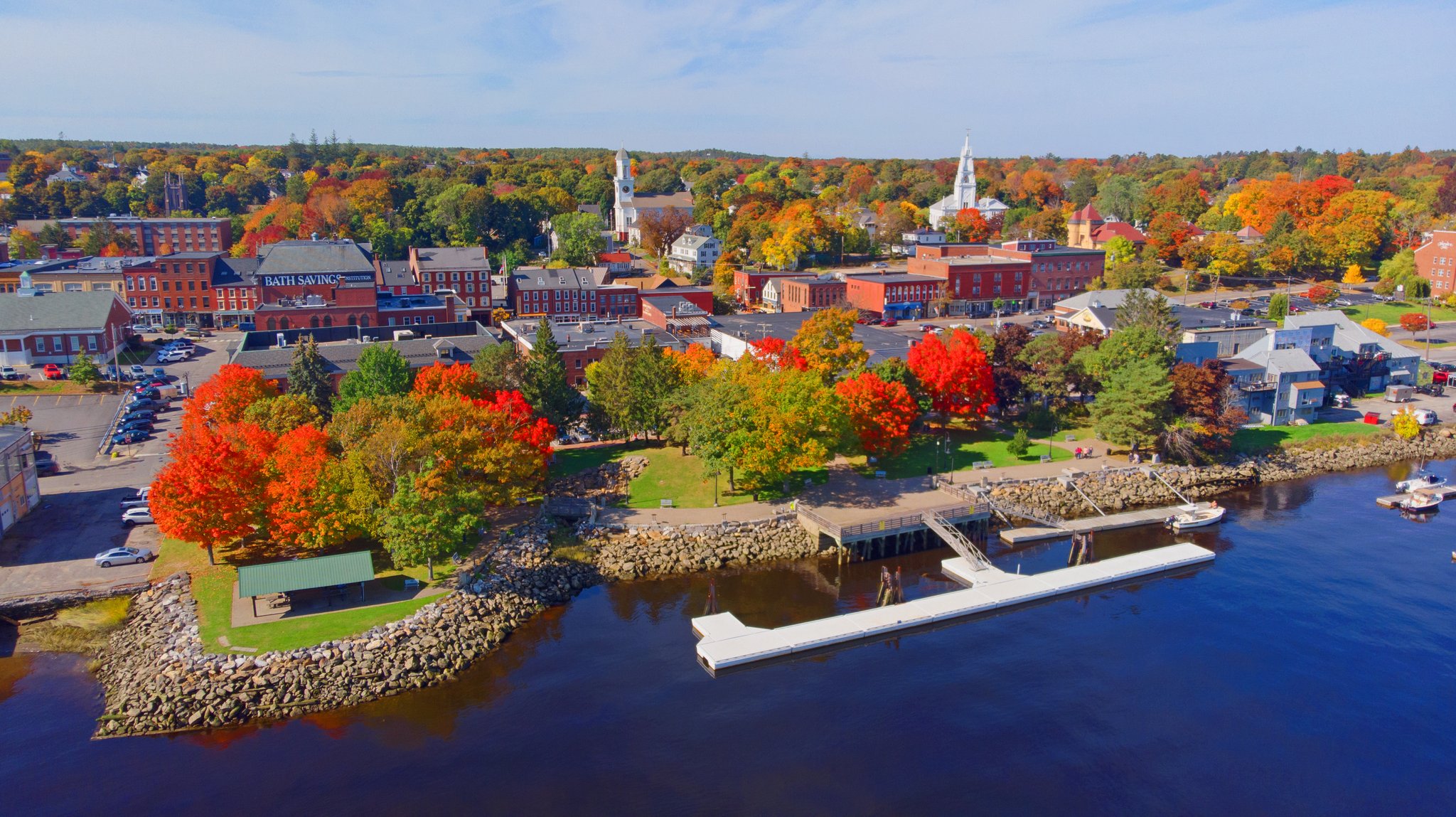 Bath, Maine in all its fall splendor.

Copyright © 2021, D3Playbook.com All rights reserved.