written by STEVE ULRICH
your must-read briefing on what's driving the day in NCAA Division III


Won't you please consider making a gift to D3Playbook. Your gift will help us offset the costs of operating the newsletter and enable us to continue to provide the quality you have come to expect. My heartfelt thanks to those who have already contributed. Join them today.


>> Happy Friday! Goodbye October.

>> Today's Word Count: 1,419

>> Thanks for reading D3Playbook. Would you be so kind as to send this to a friend and ask them to sign up for their own subscription?


TOP STORY
1. Council Supports Proposals

by Jeremy Villanueva, NCAA | photo by Aaron M. Sprecher, Associated Press

"The Division III Presidents Council supported three membership-sponsored legislative proposals Wednesday in preparation for the 2022 NCAA Convention in Indianapolis.

Division III member schools with Division I sports could soon apply all Division I legislation, including Bylaw 15 (financial aid), to their Division I sports. The Presidents Council supported the proposal that would provide consistent framework to the 2% of Division III schools sponsoring a Division I sport. Currently 10 schools in the division sponsor a sport in Division I, with five of them able to offer athletics aid dating back to a waiver granted in 2004.

The council also backed a proposal that specifies only competition would trigger the use of a season. If adopted, student-athletes would be provided flexibility to maximize seasons of participation. A student-athlete would only be charged with a season of eligibility if the student-athlete competes at any point during the traditional season.

A proposal to use the NCAA Eligibility Center in certifying the amateur status of international student-athletes to provide more consistency and efficiency to the certification process was supported, as well."

>> Gender Equity Report: "The Presidents Council heard from Kaplan, Hecker & Fink on its second gender equity report, which was released Tuesday at the Board of Governors meeting. The second phase of the review looked at the equity of all NCAA championships (except basketball). The report noted the student-athlete experiences in Division III championships were overall more equitable than other NCAA championships, but some disparities existed concerning the venues for final rounds of the tournaments."

>> Constitution Committee: "The Presidents Council approved a recommendation to establish the legislative timeline for divisional constitutional provisions after the NCAA Special Convention on Nov. 15."

>> Next Up: "Troy Hammond, president at North Central (Illinois), was selected as the next chair of the council while Jim Schmidt, chancellor at Wisconsin-Eau Claire, was voted in as the next vice chair."

>> Continue Reading
CROSS COUNTRY
2. Harrier Hopefuls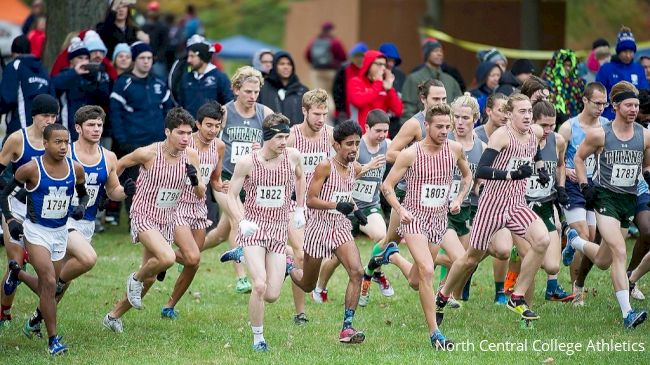 har·​ri·​er | a runner on a cross-country team.

It's Conference Championship Weekend for Division III cross country. Here are the longest consecutive conference winning streaks that teams are looking to extend ... or end.

Cross country is not an automatic qualifier sport ... teams meet at NCAA regional qualifiers in two weeks.

Men's Consecutive Winning Streaks
46 - North Central, CCIW
30 - Calvin, MIAA
22 - MIT, NEWMAC
6 - Elizabethtown, Landmark
6 - Geneseo, SUNYAC
5 - Washington and Lee, ODAC
5 - Greenville, SLIAC

Women's Consecutive Winning Streaks
13 - MIT, NEWMAC
12 - Johns Hopkins, Centennial
10 - Claremont-M-S, SCIAC
9 - Geneseo, SUNYAC
6 - Hunter, CUNYAC
6 - Elizabethtown, Landmark
6 - Washington, Mo., UAA

>> Championship Weekend Preview
>> Championship Meet Information
A MESSAGE FROM BRIGHT CELLARS

Bright Cellars is a monthly wine club that matches you with wines you'll love.
Founded by two MIT grads (#whyD3)
who were intimidated by the vast and complex world of wine, Bright Cellars was created to help wine drinkers discover and learn about wine in a fun, interactive way.
Bright Cellars creates a wine experience tailored just for you. Based on an algorithm, wine selections are calculated to match your taste preferences. As you try the wines, you're encouraged to rate them on the website to fine-tune your taste profile even further. Your matches improve as the algorithm gets to know you better, making each shipment better than the last.
D3Playbook readers are invited to get 50% off
your first 6-bottle box from Bright Cellars. That's a $45 value. Each box will include a wine education card for each bottle that details servings temps, food pairings, background on the region and more.
Take
our 30-second quiz
to start your weekend right.
OPINION



3. Administrators Are Not The Enemy

by Brian Rosenberg, President Emeritus, Macalester College

"It appears at times as if the condescension of some faculty members toward the administrative staff of a college or university — a group that by definition includes everyone from the president to the most newly hired admissions officer — is nearly limitless. In a recent article in Inside Higher Ed, administrators are characterized as both autocrats and "widget makers." The authors of another recent piece, in The Chronicle, opine that "the authority of academic administrators is only solid to the extent that they themselves are credible practitioners of the scholarly life": that is, unless one is or has been a faculty member, one has no right to tell faculty members what they should or should not do.

No nonfaculty employee at any college campus in the United States will be surprised in the least by these observations, which may be especially blunt but are by no means unusual. One of the many unexamined but implicitly acknowledged truths on these campuses is that they are — despite the rhetoric of equity and inclusivity — deeply hierarchical. Or, to cite again the same piece in The Chronicle, "Traditionally, authority in the academy has been hierarchical and related to assigned functions, the most important of which is faculty teaching."

>> Court Awareness: "Universities are built around the primacy of expertise. Everything from the organization of academic departments to the most common forms of pedagogy rests on the assumption that in order to do a job well, one needs an appropriate level of training, knowledge, and experience. Yet the definition of expertise is for many very narrow: Expertise in an academic discipline — traditionally defined through the possession of a Ph.D. or its equivalent and through the production of scholarship — is legitimate and provable. Expertise in other areas without which the university could not function is at best less important and at worst nonexistent."

>> Truth: "The truth is that being a mental-health counselor or a residential-life director or a financial-aid officer — or a college president — is different from being a faculty member but not necessarily (or even typically) easier or less dependent upon the expertise that comes with training and experience. When people who hold those positions hear and read regularly — and if they read the academic press, they do read this regularly — that they are not only unimportant but actually impediments to the "real" work of the university, it makes their already challenging jobs even more difficult."

>> The Final Word: "Here is an idea: The next time a student overdoses in a residence hall, call a faculty member; the next time a family pleads for more financial aid, call a faculty member; the next time an institution has to figure out a way to navigate safely through a global pandemic, call a faculty member. They are, after all, the experts."

>> An Entertaining Read
FALL SPORTS
4. Undefeated, Untied

There are 26 undefeated and untied field hockey, football, soccer and volleyball teams in Division III entering the weekend, according to NCAA statistics.

Field Hockey (4): Johns Hopkins, Middlebury, Washington and Lee, Wilson

Football (19): Birmingham-Southern, Central, Cortland, Delaware Valley, Ithaca, Lake Forest, Linfield, Mary Hardin-Baylor, Merchant Marine, Mount Union, North Central (Ill.), Saint John's, Susquehanna, Trinity (Conn.), Trinity (Texas), Union, Wesleyan (Conn.), Williams, Wisconsin-Whitewater

Women's Soccer (1): Scranton

Volleyball (2): Johns Hopkins, Wartburg
PREVIEW
5. Weekend Spotlight

Jess Shapiro, Washington U.

Here's a list of the games/matches/events that we are keeping an eye on this weekend.

Field Hockey
No. 18 Vassar (11-5) vs. No. 19 New Paltz (13-2)
No. 17 Haverford (13-3) vs. Swarthmore (11-5)
York, Pa. (14-3) vs. Christopher Newport (10-4)
Shenandoah (13-2) vs. Lynchburg (12-5)
Wilson (15-0) vs. Keystone (12-5)
Football
No. 18 Susquehanna (7-0) at No. 20 Johns Hopkins (6-1)
No. 8 Hardin-Simmons (6-1) at Howard Payne (6-1)
No. 12 Union (7-0) vs. Hobart (6-1)
No. 15 Ithaca (7-0) at RPI (6-1)
No. 24 Washington & Jefferson (6-1) at Grove City (6-1)
Ice Hockey (M)
Adrian vs. Utica
UW-Stevens Point vs. Lake Forest
Soccer (M)
No. 23 Johns Hopkins (11-2-2) at No. 16 Franklin & Marshall (13-2-1)
No. 3 Trinity, Texas (14-0-1) at Colorado College (10-3-1)
No. 13 Emory (8-1-4) at No. 15 NYU (9-3-1)
Concordia, Texas (9-3-3) at Mary Hardin-Baylor (11-3)
Whitman (11-4) at Willamette (10-3-1)
Wilmington (12-1-3) at John Carroll (9-3-4)
Soccer (W)
No. 3 Washington, Mo. (12-0-1) at No. 11 Case Western Reserve (12-1-1)
No. 2 Johns Hopkins (13-0-2) at Franklin & Marshall (11-2-2)
No. 24 Western Connecticut (15-1) at Southern Maine (11-2-3)
Connecticut College (9-3-3) at Middlebury (11-3-1)
Capital (8-6-2) at Otterbein (13-2)
Virginia Wesleyan (10-5-1) at Bridgewater (14-1-2)
Volleyball
No. 4 Calvin (23-2) at No. 6 Hope (19-2)
No. 11 Emory (19-3) vs. No. 14 Berry (18-2)
No. 9 Juniata (21-1) vs. Scranton (23-5)
Washington and Lee (21-5) at Berry (18-2)
Susquehanna (20-5) at Elizabethtown (20-6)
Mount Union (19-5) at Ohio Northern (18-5)
Williams (12-3) at Amherst (13-3)
TRANSACTIONS
6. Comings and Goings
1 THING
7. Best Play You'll See Today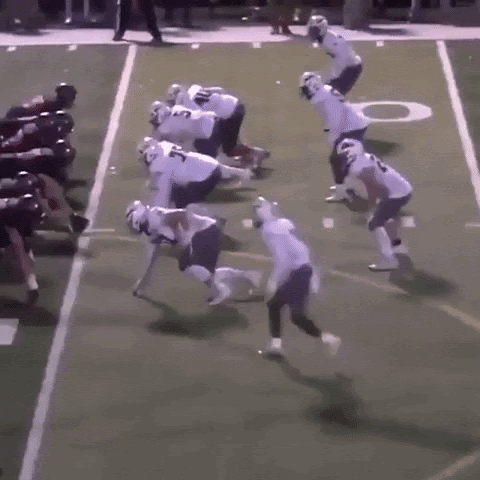 High school defensive end Wakeem Page of Cathedral Prep (Pa.) last Friday made one of the most unbelievable plays you'll ever see.
Channeling his inner Troy Polamalu, Page timed the snap perfectly to intercept a backfield pitch, returning it for an easy score.
Seriously, how do you do that?

- courtesy of Axios