written by STEVE ULRICH
your must-read briefing on what's driving the day in NCAA Division III


Won't you please consider making a gift to D3Playbook. Your gift will help us offset the costs of operating the newsletter and enable us to continue to provide the quality you have come to expect. My heartfelt thanks to those who have already contributed. Join them today.


>> Welcome to Thursday. Wait, what? Amy Poehler turns 50 today? No way.

>> Today's Word Count: 1,263 (about 5 minutes)

>> More Numbers: 1,755 subscribers, 2,780 twitter followers

>> Thanks for reading D3Playbook. Share us with a friend today. Let them know what they're missing.

>> Conference Scheduling: Would you like assistance with conference scheduling? After 2020-21, I'd bet the answer is YES. Give us a chance to show what we can provide for you. After all, it's 26 years of experience working for YOU.


TOP STORY
1. Get Your (Digital) Program


Remember the feeling of handing over a few dollar bills to the vendor and holding the hard copy of the game program in your hands?

Looking at the cover. Opening to the middle where the Coca-Cola ad surrounded the football starting lineups. Looking at the head shots. Reading the preview/review/historical stories.

Darn it. I'm old enough to remember putting those programs together myself at McDaniel, Cornell and Yale (yes, I'm dating myself).

And now ... we've moved to digital.

Whether it's trying to reduce the impact on the environment (UMass Boston), or becoming a completely eco-friendly department (Lasell), or a more sustainable campus (Middlebury), the days of the printed program have gone by the wayside.

>> The Big Picture: "The new format will save an estimated 18,000 sheets of paper, or 35 reams and realize savings for printing and toner. The use of QR codes became more prevalent during the pandemic at restaurants and other businesses and will be familiar to many of our fans and spectators." - Middlebury

>> What's Next: Laminated QR Codes are posted at venues, where fans will simply need to hover their cell phone camera over the code to pull up a website with game program information.

>> Be Smart: This is not something new ... but it is taking hold throughout Division III. This ain't your grandparents' game program.
The best and most reliable end-to-end live video streaming provider in college athletics is
BlueFrame Technology
. Join #BlueFrameNation and Stream Like a Pro with
special pricing for D3Playbook subscribers!
Learn more today!
FOOTBALL
2. Eastern Adds Football


"Eastern University is pleased to announce the addition of Football to its athletic offerings starting in the fall of 2022. The Eagles will begin competition in the Middle Atlantic Conference in the fall of 2023.

While much of the groundwork has been done behind the scenes, today's announcement officially marks the beginning of a search for a coaching staff and the start of a recruiting push.

Work is already being done to resurface the football field and track, and to update the indoor facilities. Eastern's Strength and Conditioning staff is already in process of updating the weight training facility on site, and several current Eastern teams have started off-season workouts in that space."

>> Quotable: "We look forward to the many ways this will positively impact the student experience at Eastern," Athletic Director Eric McNelley shares of the new program. "With the addition of Football as well as Cheer, Dance, and a Pep Band, students will have more opportunities to engage with our athletic department in a variety of ways."

>> In the Know: "Eastern football will join Albright, Alvernia, Delaware Valley, FDU-Florham, Lebanon Valley, Lycoming, King's, Misericordia, Stevenson, Widener, and Wilkes in the MAC."

>> Read More
A MESSAGE FROM MORNING BREW
There's a reason over 3 million people start their day with
Morning Brew
— the daily email that delivers the latest news from Wall Street to Silicon Valley. Business news doesn't have to be dry and dense...make your mornings more enjoyable, for free.
Check it out today
.
RANKINGS
3. US News, Part Three
The annual U.S. News college rankings were released on Monday and here are the top three regional colleges by conference and region.

North
AMCC: Alfred State, Pitt-Bradford, Mount Aloysius
CSAC: Valley Forge, Keystone
CUNYAC: York, Medgar Evers
Empire 8: Elmira, Hilbert
GNAC: Colby-Sawyer, Dean
Little East: Keene State, Castleton
MASCAC: Massachusetts Maritime
NAC: Maine Maritime, Maine-Farmington, SUNY Canton
NECC: Eastern Nazarene, Mitchell
NEWMAC: Coast Guard
Presidents: Thiel
Skyline: Merchant Marine, Farmingdale State
United East: Penn College, Morrisville

>> Complete List

South
ASC: Ozarks
ODAC: Ferrum
USA South: Maryville, LaGrange, Huntingdon

>> Complete List

Midwest
A-R-C: Loras
C2C: Finlandia
CCIW: Millikin, Carthage
HCAC: Bluffton, Manchester, Defiance
MIAA: Alma, Adrian, Olivet
NACC: Wisconsin Lutheran
NCAC: Hiram
OAC: Ohio Northern, Marietta, Mount Union
SLIAC: Eureka
UMAC: Northland, North Central

>> Complete List

West
ASC: McMurry, East Texas Baptist, Howard Payne
SCAC: Texas Lutheran, Schreiner

>> Complete List
HONORS
4. Players of the Week
Volleyball




Morgan Jensen, who led Wisconsin-Whitewater to a 3-0 week, is the Sports Imports/AVCA Division III Player of the Week. She led the Warhawk defense last week with 58 digs (5.80 per set) and was named to the All-Tournament team at Carthage.

Field Hockey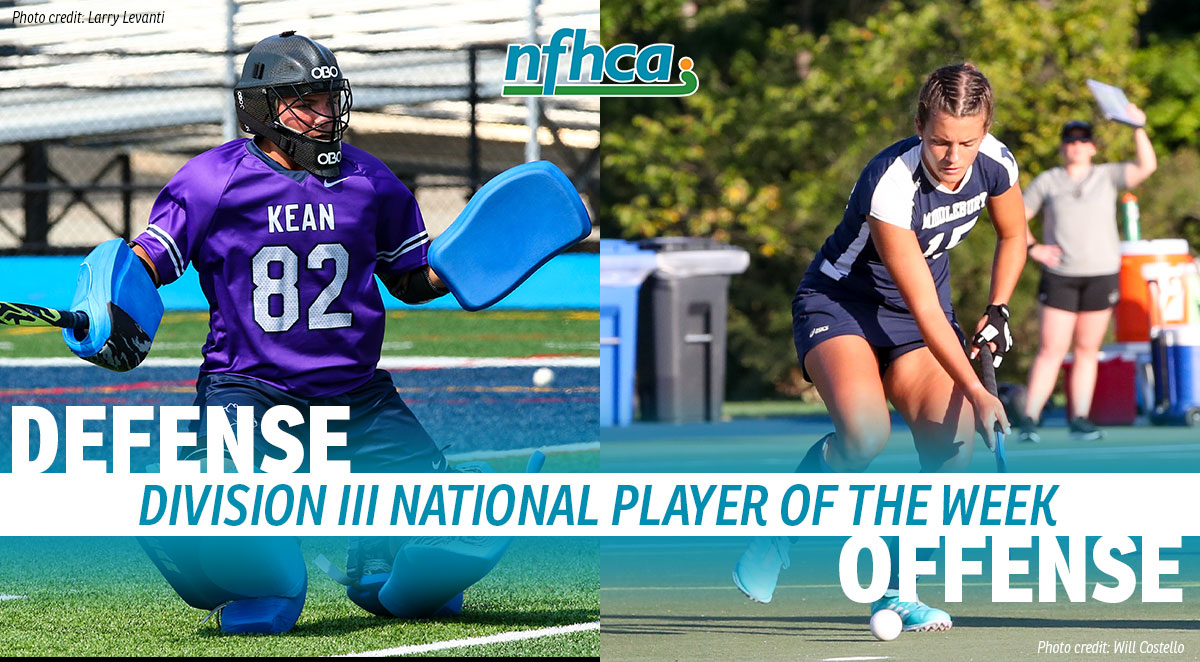 Middlebury senior midfielder Erin Nicholas was named the NFHCA Division III Offensive Player of the Week. She scored six goals and assisted on two others in a 3-0 week for the Panthers.

Kean junior goalkeeper Jenna Flemings was named the NFHCA Division III Defensive Player of the Week. She played every minute of two double-OT shutout victories over #16 Vassar and Arcadia, in addition to posting a clean sheet vs. #19 Lynchburg.

Soccer




Rowan sophomore Wilby Alfred has been named the Division III Men's Player of the Week by the United Soccer Coaches (USC), marking the first time ever that a Prof has earned this national honor. Alfred totaled four goals and one assist in #15 Rowan's two wins at Haverford's Jimmy Mills Tournament.




Western Connecticut State University junior forward Myah Croze sits atop the leader board for game-winning goals in NCAA Division III. The United Soccer Coaches Division III Player of the Week, she has scored four game-winners for WestConn.

Cross Country




Loras College senior Kassie Rosenbum is the USTFCCCA Division III National Athlete of the Week. She distanced herself from the pack at the All-American Invitational hosted by Luther College this past weekend. The senior from Guttenberg, Iowa, broke a six-year-old course record with her winning effort of 17:41.0 (previous record was 17:42.6), which was 6.2 seconds faster than the runner-up.




Rowan's Justin Kelly has been named the National Athlete of the Week for Division III Men by the U.S. Track & Field/Cross Country Coaches Association (USTFCCCA). Kelly, who joined the Profs after transferring from NCAA Division I Stony Brook, captured the individual title at the Salisbury University Fall Classic two weeks ago in his Rowan debut. The junior covered the 8k tract in 25:07.0, despite needing to backtrack halfway through the race when he realized the chase group wasn't behind him.
POLLS

5. Who's Number One?


The first regular-season polls from the American Volleyball Coaches Association and the US Track and Field and Cross Country Coaches Association are now available.

VOLLEYBALL
Johns Hopkins
Claremont-Mudd-Scripps
Trinity, Texas
Colorado College
Emory
Calvin
Berry
Ohio Northern
Hope
Mary Hardin-Baylor
>> Who's New?: Wartburg, Southwestern

Matches We're Watching
#3 Trinity, Texas at #18 Northwestern (Fri.)
#4 Colorado College at #1 Johns Hopkins (Sat.)
#25 Concordia, Wis. at #11 Wisconsin-Whitewater (Sat.)
#19 Washington, Mo. at #13 Chicago (Sun.)
>> Complete Poll

CROSS COUNTRY (W)
Johns Hopkins
Washington, Mo.
Wartburg
Chicago
Tufts
MIT
Dickinson
Amherst
Claremont-Mudd-Scripps
Middlebury
>> Complete Poll

CROSS COUNTRY (M)
Wartburg
Williams
Geneseo
Pomona-Pitzer
Washington, Mo.
MIT
Wisconsin-La Crosse
Johns Hopkins
Calvin
Lynchburg
>> Complete Poll
TRANSACTIONS
6. Comings and Goings
1 THING
7. Goal of the Day
Another angle

Send your outstanding plays to us with the #D3Plays
Copyright © 2021, D3Playbook.com All rights reserved.