written by STEVE ULRICH
your must-read briefing on what's driving the day in NCAA Division III

Won't you please consider making a gift to D3Playbook. Your gift will help us offset the costs of operating the newsletter and enable us to continue to provide the quality you have come to expect. My heartfelt thanks to those who have already generously contributed. Join them today.

>> Hello Monday and the start of a new week!

>> Today's Word Count: 1,094. Easy like Sunday morning.

>> Thanks for reading D3Playbook. Make the extra pass and share us with a friend today. Let them know what they're missing.

>> Looking for someone to speak to your SAAC about careers in athletics? Give us a shout.


TOP STORY
1. Constitution Committee Dives In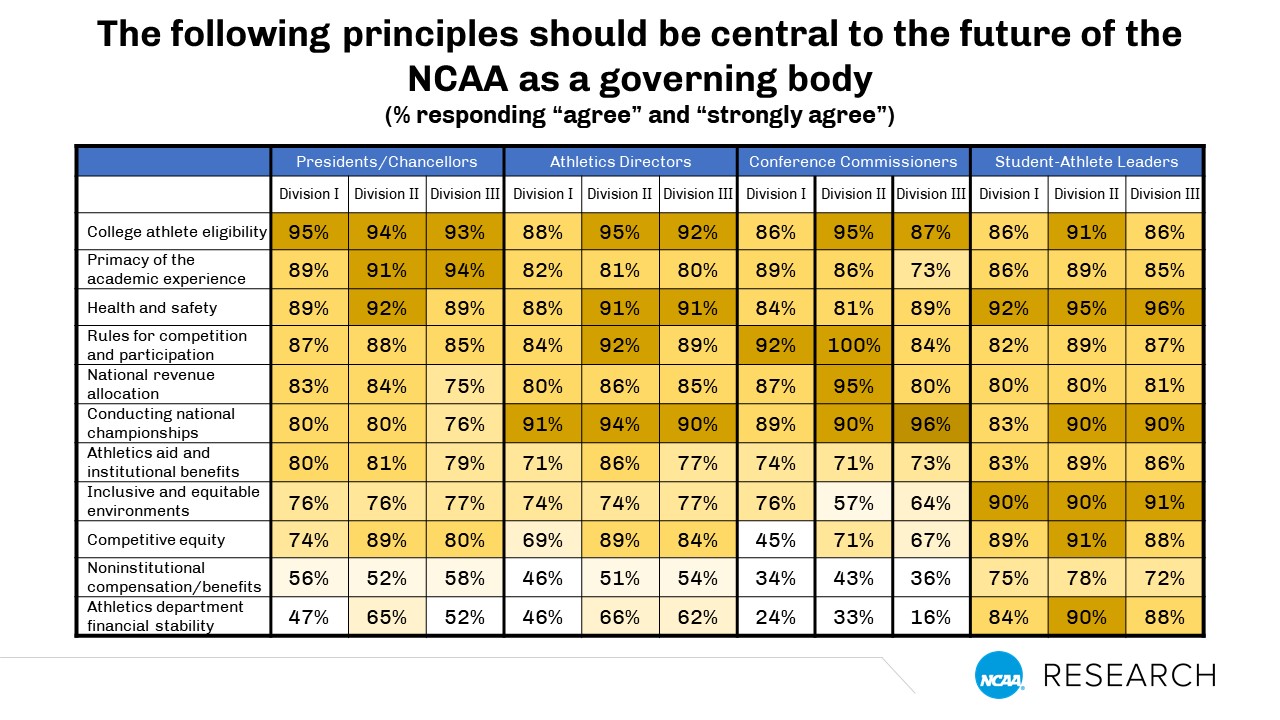 by Charlie Henry, NCAA

"The NCAA Constitution Committee met again this week, discussing the survey results from the campus outreach that occurred last month. An executive summary and the full results are available on the committee's ncaa.org page.

"The Constitution Committee has been meeting for a month while engaging with colleagues through conversations, conducting a comprehensive survey, receiving presentations from segments of college athletics and studying the financial model," said Robert M. Gates, Constitution Committee chair and independent member of the NCAA Board of Governors. "As part of our existing governance model, changes must be made across the Association, which requires all three divisions to engage and participate."

"Successfully drafting a new constitution will unlock the ability of the three divisions — especially Division I — to make the changes required to not encounter these setbacks again and to continue governing itself," said Jack DeGioia, Board of Governors chair, Constitution Committee member and Georgetown president. "The passage of a new constitution in January 2022 sets the stage in the months to follow for the divisions to begin work on reimagining their own governance model, rules and standards."

For more on this week's meeting of the Constitution Committee, read the committee's statement.
A MESSAGE FROM MORNING BREW

There's a reason over 3 million people start their day with Morning Brew
— the daily email that delivers the latest news from Wall Street to Silicon
Valley. Business news doesn't have to be dry and dense...make your
mornings more enjoyable, for free. Check it out today.
REVIEW
2. The Weekend Past


Field Hockey

Football

Soccer (W)

Soccer (M)

Volleyball (W)

XC | FHK | FB | MSOC | WSOC | VB
FOOTBALL
3. Good Works


The annual Allstate AFCA Good Works Team was announced on Friday and two Division III football players were recognized.

The Allstate AFCA Good Works Team was established in 1992 by the College Football Association, recognizing the extra efforts made by college football players and student support staff off the field. AFCA became the governing body of the award in 1997 and continues to honor college football players who go the extra mile for those in need.

Allstate is pledging $1 million to honor the Allstate AFCA Good Works Team, as well as their non-profits of choice, for their remarkable commitment to community service. Made possible by new NCAA Name Image Likeness (NIL) rules, Allstate has an opportunity to financially empower athletes who serve their communities, opening the door to new possibilities for players and beyond.

>> Complete Release
TRANSACTIONS
5. Comings and Goings
1 THING
6. The Power of Sport
Incredible: Fulham players climb into crowd to celebrate goal with 13-Year Old fan Rhys Porter who has cerebral palsy and suffered savage online abuse after posting footage of himself playing football. Beautiful moment of empathy and human kindness 🙌 pic.twitter.com/mf0Dq33fII

— roger bennett (@rogbennett) September 25, 2021
by Tom Gillespie, Sky News
"Fulham footballers players have been praised for creating "a beautiful moment in the beautiful game" after celebrating a goal with a disabled supporter who had been bullied online.

Several of the London team's players ran over to Rhys Porter, who was sat in the front row of one the stands, after Aleksandar Mitrovic put Fulham in front in the second half.

The 13-year-old, who has cerebral palsy and epilepsy, plays as a goalkeeper for the Feltham Bees disability team.

After posting a video of himself saving a goal on the social media platform TikTok, Rhys received hundreds of abusive comments from other users.

Fulham responded by making Rhys an honorary member of their team and listed him as a first team goalkeeper on their site."

>> Read More
Copyright © 2021, D3Playbook.com All rights reserved.