written by STEVE ULRICH
your must-read briefing on what's driving the day in NCAA Division III

Won't you please consider making a gift to D3Playbook. Your gift will help us offset the costs of operating the newsletter and enable us to continue to provide the quality you have come to expect. My heartfelt thanks to those who have already contributed. Please join them today.

>> Good morning ... it's Wednesday.

>> Today's Word Count: 925. An easy mid-week read.

>> Thanks for reading D3Playbook. Share us with a friend today. Let them know what they're missing.


TOP STORY
1. Carney-DeBord Named Top Exec


"Women Leaders in College Sports announced its 2021 award recipients and Denison University's Associate Vice President and Director of Athletics, Nan Carney-DeBord, has been named the NCAA Division III Nike Executive of the Year.

The Executive of the Year Award, formerly known as the Administrator of the Year Award, is presented to Women Leaders in College Sports members for significant contributions made as a senior-level administrator of intercollegiate athletics. This award recognizes administrative excellence in each division [NCAA Division I, FBS, FCS, Division II, Division III, NAIA / NJCAA/ Community College and Conference/Organization]."

>> Court Awareness: Now in her 11th year, Carney-DeBord has made an impact on the campus community with her brand of competitive excellence. She returned to her alma mater in 2011 as the Director of Athletics and faculty chair of the Health, Exercise and Sport Studies major and was promoted to Associate Vice President in 2016.

>> Between The Lines: In addition to her role as Associate Vice President and Director of Athletics, Carney-DeBord is the Division Director for the Health, Exercise and Sport Studies (HESS) major at Denison, for which she provides vision and leadership. In the HESS major, students frame the sciences of health, exercise, and sports within the liberal arts, providing a larger context to understand the whole person."

>> Why it Matters: Under Carney-DeBord's watch, athletics teams at Denison have consistently performed at the conference and national levels. In 2018, Denison was one of only 10 colleges nationally — and the only college in the Midwest — to be recognized in the top 50 of both the U.S. News and World Report National Liberal Arts rankings and the Learfield Director's Cup D-III standings. Under her direction, Denison has won the North Coast Athletic Conference All-Sports Championship five times in 2013, 2014, 2016, 2018, and 2019. Since her arrival in the fall of 2011, Denison has won four NCAA Division III national championships and the college has completed its $38 million renovations and expansion to the Mitchell Center.

>> Read More
RANKINGS
2. US News, Part Deux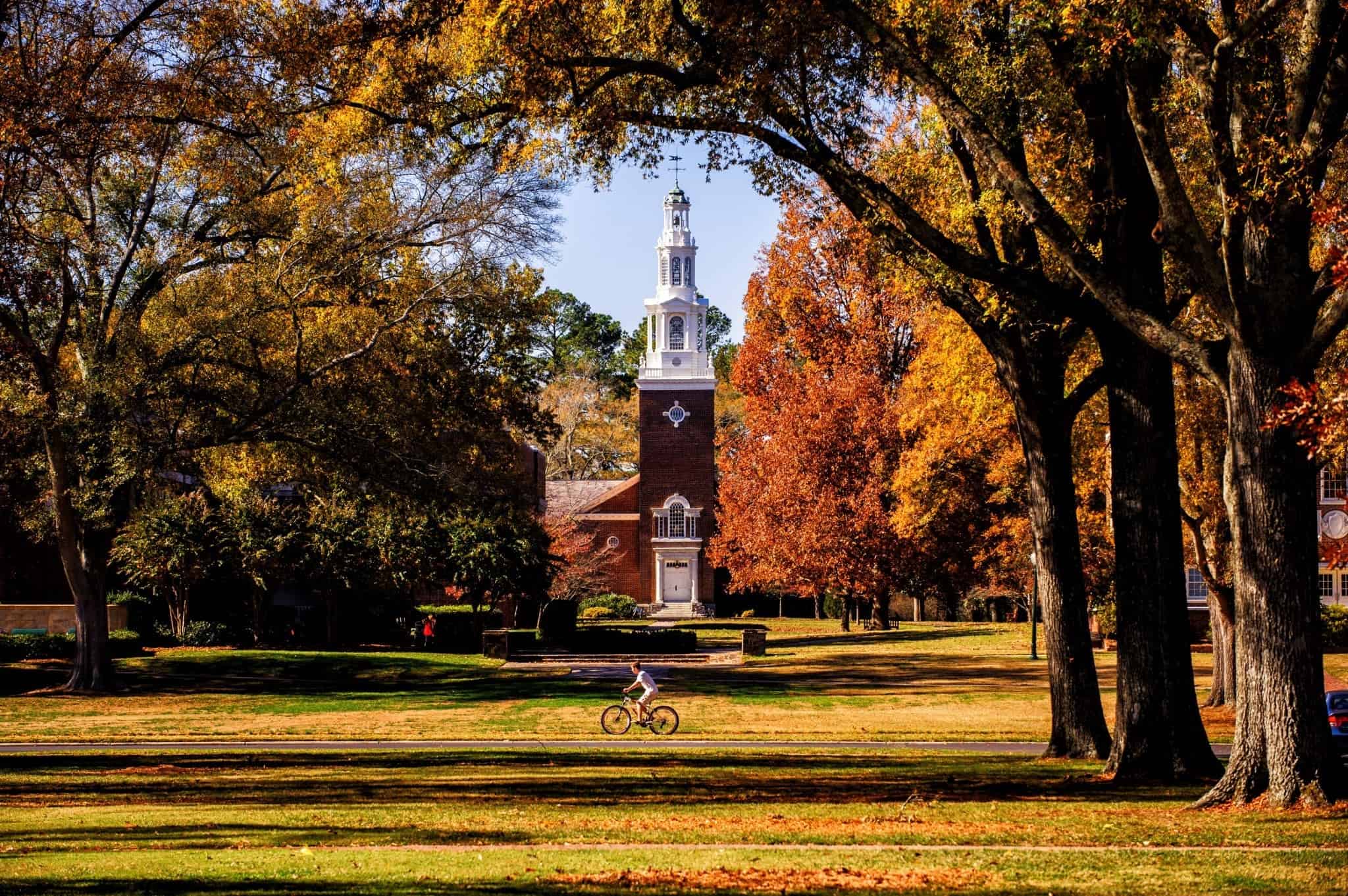 The annual U.S. News college rankings were released on Monday and here are the top three regional universities by conference and region.

Regional Universities
North
AMCC: La Roche, Medaille
Atlantic East: Marywood, Centenary, Gwynedd Mercy
C2C: Salisbury
CCC: Endicott, Salve Regina, Roger Williams
Centennial: McDaniel
CSAC: Notre Dame, Cedar Crest, Saint Elizabeth
CUNYAC: Baruch, Hunter, John Jay
Empire 8: Nazareth, Alfred, Utica
GNAC: Emerson, Norwich, Elms
Landmark; Scranton
Liberty: Ithaca
Little East: Eastern Connecticut, Western Connecticut, Rhode Island College
MAC Commonwealth: Messiah, Arcadia, Hood
MAC Freedom: King's, DeSales, Eastern
MASCAC: Westfield State, Bridgewater State, Fitchburg State
NAC: NVU-Johnson, Thomas
NECC: New England College
NEWMAC: Springfield
NJAC: TCNJ, Ramapo, Stockton
Presidents: Waynesburg, Geneva
Skyline: Manhattanville, Maritime, St. Joseph's (Brooklyn)
SUNYAC: Geneseo, New Paltz, Oswego
United East: Lancaster Bible

>> Complete List of Regional Universities-North

South
ASC: Belhaven
Atlantic East: Marymount
C2C: Christopher Newport, Mary Washington
ODAC: Lynchburg, Eastern Mennonite
SAA: Berry
SLIAC: Mississippi U. for Women
USA South: Piedmont, Methodist, Pfeiffer

>> Complete List of Regional Universities - South

Midwest
A-R-C: Nebraska Wesleyan, Buena Vista, Dubuque
CCIW: Elmhurst, North Central, Carroll
HCAC: Anderson, Mount St. Joseph
MIAA: Calvin, Trine
MIAC: Hamline, Augsburg, St. Mary's
NACC: MSOE, Dominican, Concordia-Chicago
Ohio: John Carroll, Baldwin Wallace, Otterbein
Presidents: Franciscan
SLIAC: Webster, Fontbonne, Greenville
UMAC: Northwestern, Crown
WIAC: La Crosse, Eau Claire, Whitewater

>> Complete List of Regional Universities - Midwest

West
ASC: LeTourneau, Hardin-Simmons, Mary Hardin-Baylor
C2C: Mills
NWC: Whitworth, Pacific Lutheran
SCAC: Trinity, U. of Dallas, St. Thomas
SCIAC: Redlands, Cal Lutheran

>> Complete List of Regional Universities - West


coming Thursday -- Regional Colleges
A MESSAGE FROM 1440 MEDIA


Check out 1440 - the fastest way to an impartial point-of-view. The team at 1440 scours over 100+ sources so you don't have to. Culture, science, sports, politics, business and everything in between - in a five-minute read each morning, 100% free. Sign up now!
SOCCER
3. Falcons, Jumbos on Top

The first United Soccer Coaches Division III regular-season polls are out with Messiah and Tufts holding down the top spots.

Women
Messiah
TCNJ
Johns Hopkins
Amherst
Washington, Mo.
Christopher Newport
MIT
William Smith
Trinity, Texas
Chicago
>> Biggest Movers: Trinity (+12), Wartburg (+10), Christopher Newport (+10)

>> Matches We're Watching
Roanoke at #6 Christopher Newport (Wed.)
#7 Clark at #22 MIT (Sat.)
Tufts
Franklin & Marshall
Washington and Lee
Rochester
Redlands
St. Mary's, Md.
Capital
WPI
Messiah
Calvin
>> Movers and Shakers: F&M (+16), W&L (+8)

>> What We're Watching
#20 Luther at #15 Chicago (Sun.)
FIELD HOCKEY
4. Panthers Atop Perch

The National Field Hockey Coaches Association released its first regular-season weekly poll and Middlebury holds down the No. 1 position.
Middlebury
Johns Hopkins
Tufts
TCNJ
Kean
Franklin & Marshall
Messiah
Rowan
Salisbury
Williams
>> Climbers: Kean (+5), Trinity (+5)

>> Matches to Watch
#9 Salisbury at #2 Johns Hopkins (Wed.)
#13 Ursinus at #19 Lynchburg (Fri.)
#4 TCNJ at #7 Messiah (Sat.)
#11 Bowdoin at #1 Middlebury (Sat.)
TRANSACTIONS
5. Comings and Goings
1 THING
6. Pumpkin Spice Origins

Everything you need to know about pumpkin spice marketing (AdAge — subscription)
Pumpkin spice flavoring — a September staple — is a $500-million-a-year business that traces its roots to 2003, when Starbucks introduced the notorious PSL, or Pumpkin Spice Latte.

"Just how did that humble spice mixture of cinnamon, nutmeg and ginger become the fall flavor, dominating seasonal menus across American restaurants?" AdAge asks.
- courtesy of Axios
Copyright © 2021, D3Playbook.com All rights reserved.