written by STEVE ULRICH
your must-read briefing on what's driving the day in NCAA Division III

Won't you please consider making a gift to D3Playbook. Your gift will help us offset the costs of operating the newsletter and enable us to continue to provide the quality you have come to expect. My heartfelt thanks to those who have already contributed. Join them today.

>> Good Monday morning. The magic number is down to two.

>> Today's Word Count: 1,331. Starting the week with an easy read.

>> Does your department have a position opening? Advertise with D3Playbook for as little as $15. We are also looking for a sponsor for "Comings and Goings." Contact us today.

>> Thanks for reading D3Playbook. Share us with a friend today. Let them know what they're missing.


TOP STORY
1. How Higher Ed Will Be Upended
by Arthur Levine and Scott Van Pelt, Chronicle of Higher Education

"After campuses closed, in the spring of 2020, we spoke with college presidents, the heads of higher-education associations, policy makers, and accreditors about Covid-19 and their post-pandemic plans. There were few surprises. Anxiety was sky high, and everyone expected the financial toll and enrollment losses to be extraordinarily high (how high remained a guessing game).

Most viewed the pandemic as a natural disaster. They wanted to get back to business as soon as possible, clean up the damage, and restore what had been lost. In this sense, most misunderstood the nature of the pandemic, viewing it as an interruption of business as usual rather than an accelerator of changes already underway. They expected to turn back the clock to 2019 and recreate their pre-Covid colleges. They wanted to recapture the past.

That urge is understandable, and yet misguided. The pre-pandemic state of higher education was in flux, with five profound and jarring new realities — none of higher education's making — already beginning to shape its future. The pandemic has accelerated those changes, and it's imperative that academic leaders grasp the import of this shifting landscape.
Institutional control will decrease, and the power of consumers will increase.

With near universal access to digital devices and the internet, students will seek from higher education the same things they are getting from the music, movie, and newspaper industries.

New postsecondary entities will enter the marketplace, driving up competition and driving down prices.

The industrial-era model of higher education, focusing on time, process, and teaching, will be eclipsed by a knowledge-economy successor rooted in outcomes.

The dominance of degrees and "just in case" education will diminish; nondegree certifications and "just in time" education will increase in status and value.

>> Why It Matters: "Those five new realities will transform our sector. Competency-based education will become the norm. Carnegie units and credit hours will give way. Certification will broaden: It will be granted both for mastering a single competency (such as a foreign language) and for achieving a set of related outcomes (such as the Google IT grouping of skills)."

>> Reality Check: "To look forward rather than backward is no easy feat. Colleges must confront their tendency toward magical thinking — their belief that institutional challenges will somehow vanish."

>> The Final Word: "The future of every institution depends on overcoming those barriers. It's the responsibility of presidents and boards to lead their institutions into the future and to educate their communities about the challenges and opportunities ahead. The pandemic provides the teaching moment to do it."


>> Continue Reading
A MESSAGE FROM MORNING BREW

There's a reason over 3 million people start their day with Morning Brew
— the daily email that delivers the latest news from Wall Street to Silicon
Valley. Business news doesn't have to be dry and dense...make your
mornings more enjoyable, for free. Check it out today.
#whyD3
2. Fighting Defenses ... and Fires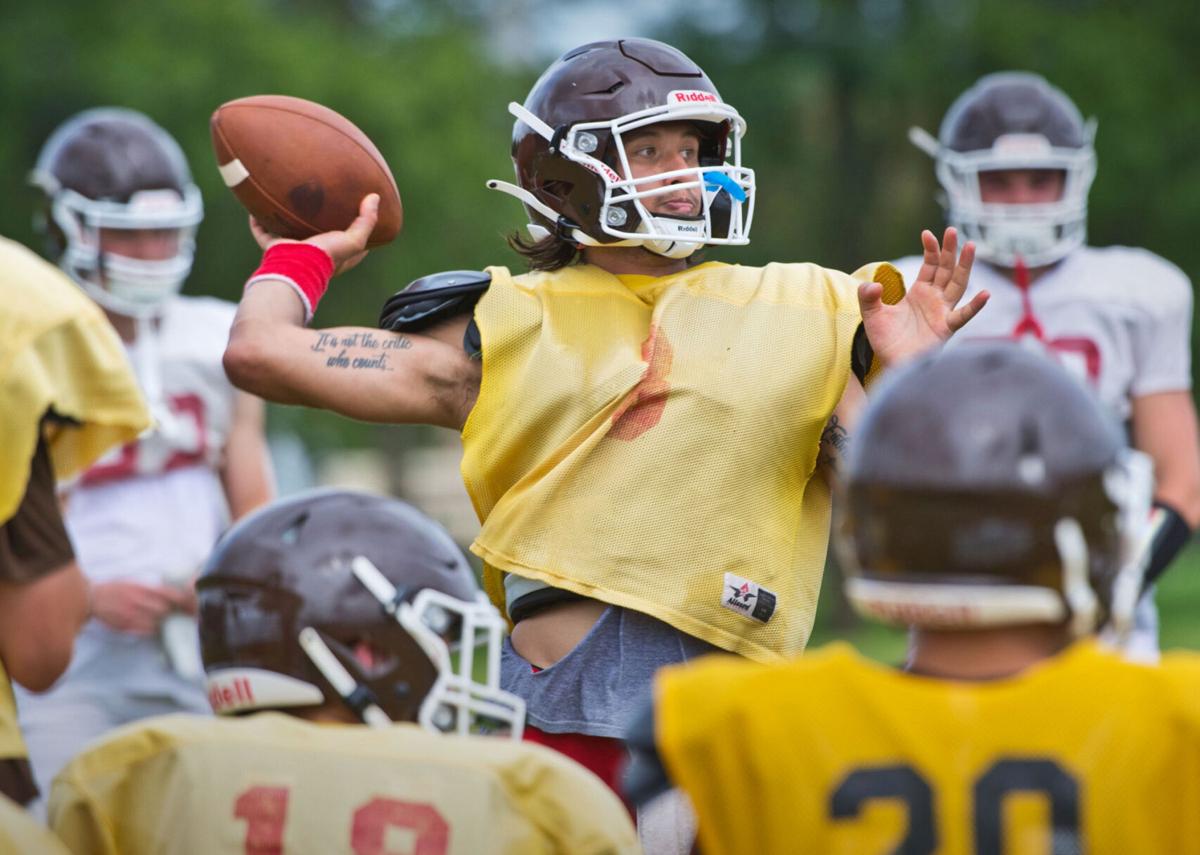 by Cap Carey, Watertown Daily Times / photo: Christopher Lenney

"The newest volunteer firefighter in the village of Canton also happens to be one of the best quarterbacks in NCAA Division III football.

St. Lawrence University quarterback Tyler Grochot, who already holds several school records as he heads into his junior year, plans to be a firefighter when his college days end. He recently interviewed to be one of Canton's volunteers.

"I've always wanted to be a firefighter ever since I was little," Grochot said. "My cousin is a firefighter. Last spring, with my semester off of school, I actually enrolled in a firefighter academy and got my certification. I did take one step closer to fulfilling that, which I'm actually excited about."

>> Quotable: "I think being a quarterback, and being on a football team, really gave me a sense of calmness," Grochot said. "Wearing the firefighting (mask) really just gave me a sense like I was wearing a football mask and helmet. I was able to see through it, not noticing it was around me. A lot of guys get claustrophobic with that. Football is that mentality, work, work, work, work, work. That's kind of what it is in the fire business, especially at the academy."

>> Keep Reading
FINANCES
3. Bowdoin Raises Minimum Wage
by Natalie Schwartz, Higher Ed Dive
Bowdoin College is raising its minimum wage for benefits-eligible hourly workers from $15.50 to $17 an hour at the end of August — 10 months ahead of schedule of a planned increase.

The Maine liberal arts college says it's hoping the change will help combat worker shortages on campus and reward employees who have stayed with the institution throughout the pandemic.

>> What They're Saying: "This accelerated timetable for increasing Bowdoin's minimum hiring rate to $17 reflects the rapidly changing labor conditions in Maine and Bowdoin's commitment to remaining a leader in wages and benefits," Matt Orlando, the college's senior vice president for finance and administration, said in a statement.

>> Court Awareness: "The years-long progressive campaign to raise the federal minimum wage to $15 an hour has been gaining attention against this backdrop. Johns Hopkins University also recently raised its minimum wage to $15 an hour in a move that impacted nearly 5,000 workers."

>> Read More
A MESSAGE FROM ALTERNATIVE ASSETS
WTF is an NFT? Alternative Assets demystifies and explains the hottest unique investment ideas out there. Collectibles, NFTs, Wine, Websites, even LEGOs. They don't just track the markets, they smash the markets.
Subscribe to Alternative Assets today.
FIELD HOCKEY
4. Winningest Teams
The 2021 Division III field hockey season gets underway Wednesday. Here is a list of the winningest programs as we were able to discover from school websites.

500 Victories
Ursinus, 774-372-70 (began 1921)
TCNJ, 763-145-24 (1972)
Salisbury, 728-225-37 (1954)
Messiah, 698-259-34 (1963)
Elizabethtown, 648-343-52 (1952)
Cortland, 645-226-24 (1971)
Lebanon Valley, 639-396-67 (1933)
Lynchburg, 604-232-11 (1979)
Rowan, 590-297-35 (1964)
William Smith, 588-273-8 (1972)

Wooster, 588-341-41 (1965)
Keene State, 580-285-30 (1974)
Springfield, 579-363-50 (1970)
Denison, 547-282-23 (1974)
Middlebury, 545-169-23 (1968)
Mary Washington, 530-313-27 (1961)
Gettysburg, 517-392-62 (1948)
Hartwick, 512-385-12 (1965)
Bowdoin, 510-189-17 (1972)
Montclair State, 507-351-38 (1961)
Plymouth State, 505-294-40 (1968)

>> Strive for Five (Hundred): Ithaca 499, Franklin & Marshall 489, Eastern Mennonite 487

TRANSACTIONS
5. Comings and Goings
1 THING
6. Best Campus Eats


"While the college experience is rarely recognized for the caliber of its cuisine, some institutions have been awarded an A+ for their food quality.

College comparison site Niche has analyzed which colleges go to the top of the class in its 2022 Best Food ranking, after combining meal plan costs, as self-reported by the colleges, and student reviews.

Top Division III Colleges and Universities in the top 25

4. St. Norbert

One item of feedback states: "The food is amazing, and I'm not ashamed to admit that it was one of the deciding factors for me when choosing colleges."

6. St. John Fisher
9. Bates
10. Washington (Mo.)
11. Hendrix

One 5-star rating left on Niche.com reads: "Don't go for the food, but the food is really good."

14. Muhlenberg
15. Wesleyan (Conn.)
22. Bowdoin
23. Roger Williams

>> The Top 25
Copyright © 2021, D3Playbook.com All rights reserved.