written by STEVE ULRICH
your must-read briefing on what's driving the day in NCAA Division III


Won't you please consider making a gift to D3Playbook. Your gift will help us offset the costs of operating the newsletter and enable us to continue to provide the quality you have come to expect. My heartfelt thanks to those who have already contributed. Join them today.


>> Welcome to Thursday. It's National Intern Day

>> Today's Word Count: 1,676. Six minutes to kick off your day!

>> More Numbers: 1,713 subscribers, 2,503 twitter followers

>> Advertise your department's job openings with D3Playbook.

>> Thanks for reading D3Playbook. Share us with a friend today. Let them know what they're missing.


TOP STORY
1. Looking Up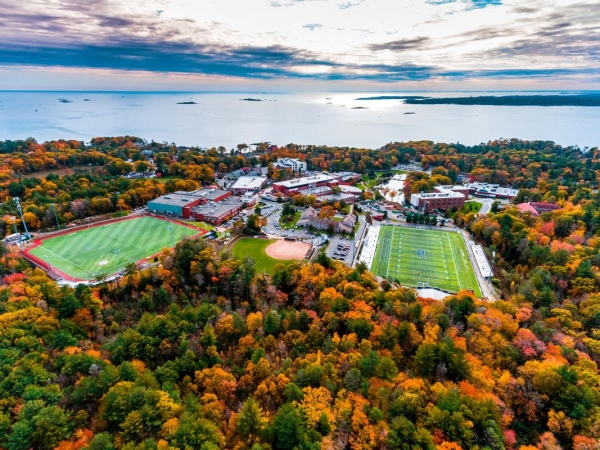 by Doug Lederman, Inside Higher Ed

"The world looked pretty bleak last spring and summer, as the COVID-19 pandemic upended most aspects of society and no clear end was in sight. College and university business officers were not immune, as respondents to Inside Higher Ed's annual survey of chief business officers last summer expressed far less confidence about their colleges' five-year financial outlook than they had in previous years. They cited sharp drops in revenue and unexpected spending on health, safety and learning technology as a painful combination.

A year later, with COVID-19 loosening its grip on campuses, the economy and American psyches, and many institutions' budgets boosted by a major infusion of federal funds, it's not surprising to find campus financial managers in a better place. Three-quarters of respondents to Inside Higher Ed's 2021 Survey of College and University Business Officers, conducted this month with Hanover Research, express confidence in their institution's financial stability over the next decade. The same proportion says their college or university is in better financial shape than it was a year ago, and two-thirds say it is stronger than it was in 2019.

Large majorities also believe that their institution's response to the pandemic and the resulting recession positioned them well for the future, causing them to implement "positive, long-lasting" changes" (78 percent agree) and pushing them to "think outside of the box" in ways that will benefit the institution in the long run (96 percent agree)."

>> Court Awareness: "Experts on college finances who reviewed the survey's results said they were taken aback -- and in some cases troubled -- by the business officers' optimism, which seems to be softening their views on whether their underlying business models are broken. In last year's survey, 47 percent of chief business officers said they thought their institution should use the pandemic period to transform the institution, and a quarter believed they could return to normal; this year 39 percent said they should try to make transformative changes, and 31 percent aim to return to normal."

>> Data Download: "The extent of business officers' renewed confidence this year isn't subtle. More than eight in 10 business officers express confidence (46 percent strongly) in their institution's five-year financial outlook, and 74 percent agree (23 percent strongly) that they are confident in their 10-year financial stability."

>> What They're Saying: "Susan Whealler Johnston, president and CEO of the National Association of College and University Business Officers, said she believed they showed that "many chief business officers have a new imperative." For the 39 percent of respondents aiming for "transformative change," she said, "collaboration and innovation will have to be the name of the game."

>> Continue Reading

The best and most reliable end-to-end live video streaming provider in college athletics is BlueFrame Technology. Join #BlueFrameNation and Stream Like a Pro with special pricing for D3Playbook subscribers! Learn more today!
BASKETBALL
2. Helping to Bring Home the Gold
If you've ever played basketball, you have played three-on-three. The only variations to the age-old game were the number of points needed to win the game and if you played make-it, take-it or not.
Then along came 3x3
(pronounced three-ex-three). Games are played to 21 or 10 minutes, whichever comes first. Courts are confined to 49' by 36'. Threes count for two and baskets inside the paint count for one. There is a 12-second shot clock. Teams consist of four players and one coach ... and players shoot one foul shot per whistle
You may or may not know that Team USA won the women's gold medal with a convincing victory over Russia. But did you know how the American team prepared to win the gold?
And yes, it has a decidedly Division III flavor.
>>
A fascinating read
from
Brian Yancelson
of the Trintonian
>>
Rules of the Game
A MESSAGE FROM PRESTO SPORTS

Discover how PrestoSports social graphics solution ScoreShots can tilt the social playing field in your favor: GET A FREE TRIAL
CONFERENCES
3. A New-Look NWC
"The Northwest Conference (NWC) is proud to launch an updated brand identity, intended to forge strategic connections between enduring qualities of the Pacific Northwest and the core values and mission of the conference. The conference partnered with New Jersey-based Skye Design Studios (SDS - sdsbranding.com), a national leader in sport branding, to develop the new identity.

The identity features three core marks with colors authentic to iconic natural landmarks – Anthracite, Evergreen, Gold, and Pacific Blue. Each mark was constructed with sharp, diagonal lines pointing Northwest as a tribute to the conference's location, and the icon utilizes shapes in sets of threes as an acknowledgement of Division III, the NCAA level at which the NWC competes. A custom set of sport-specific icons were also developed as visual identifiers for every conference sport and their corresponding applications.

"The purpose of this initiative was to take everything we already knew about ourselves as the Northwest Conference and the Pacific Northwest region – an exceptional and unparalleled experience to any other part of the country – and integrate that essence into compelling brand messaging that could be leveraged to a national audience," stated NWC Commissioner Kimberly Wenger."

>> See More

ACADEMICS
4. The 'A' Team
The College Sports Information Directors of America (CoSIDA) has released its 2020-21 Academic All-America baseball and softball teams.

Graduate student Matt Mulhearn of Webster has been selected as the recipient of the Academic All-America® Team Member of the Year award for Division III baseball. A graduate student at Webster, he has earned his bachelor's degree in finance and compiled a 3.77 cumulative GPA as an undergraduate and holds a 3.83 cumulative GPA as a graduate student. Mulhearn was named the Division III National Pitcher of the Year in 2021 by ABCA/Rawlings, D3baseball.com and Perfect Game Baseball.

The 11 members of the first team have an average GPA of 3.82.

First Team
Ryan Loutos, Washington U., P
Matt Mulhearn, Webster, P
Jack Surin, Benedictine, C
Luke Barber, Otterbein, IF
Sean Boylan, Misiercordia, IF
Ryan Enos, Oswego, IF
Ted Howell, Illinois Tech, IF
Tyler Cauley, Texas Lutheran, OF
Connor Harding, Scranton, OF
Bret Williams, PSU Harrisburg, OF
Danny Dopp, Earlham, DH
>>
Complete Team
Graduate pitcher
Hanna Hull
of Virginia Wesleyan University, a mathematics major with a 3.65 cumulative GPA (a 3.85 GPA while pursuing a master of business administration degree), has been selected as Division III softball's Academic All-America® of the Year for the second consecutive season.
A first-team selection to the Academic All-America® Division III Team the past three years, Hull was named the 2021 National Fastpitch Coaches Association (NFCA) Pitcher of the Year after she led Virginia Wesleyan to its third national championship in four complete seasons.
The 11 first-team honorees averaged an undergraduate GPA of 3.82.
First Team
Cami Henry, DePauw, P
Hanna Hull, Virginia Wesleyan, P
Brooke Wehr, Moravian, C
Hannah Garcia, East Texas Baptist, IF
Brooke Matyasovsky, Eastern Connecticut, IF
Sarah Miller, Case Western Reserve, IF
Sarah Reinert, Alvernia, IF
Kelly Jurden, Texas Lutheran, OF
Kelly O'Gorman, Cortland, OF
Samanthan Schattin, Stevens, OF
Emily Trotman, St. John Fisher, DP
>>
Complete Team
TRANSACTIONS
5. Comings and Goings
1 THING
6. Would You Like Fries With That?

Chef Frederick Schoen-Kiewert serves Crème de la Crème Pomme Frites at Serendipity3 in Manhattan last week. Photo: Eduardo Munoz/Reuters

Guinness World Records has proclaimed the world's most expensive french fries Crème de la Crème Pomme Frites, which run $200 at Serendipity3 in Manhattan (must be ordered in advance).
Among the ingredients: Dom Perignon ... pure cage-free goose fat from France ... truffle oil ... shaved black summer truffles from Italy ... truffle butter ... 23k edible gold dust.
courtesy of Axios

Copyright © 2021, D3Playbook.com All rights reserved.