written by STEVE ULRICH
your must-read briefing on what's driving the day in NCAA Division III


>> Welcome to Thursday. The U.S. Open men's golf championship begins today at Torrey Pines GC. I'll take Jordan and DJ, please. You can have Bryson.

>> Today's Word Count: 1,678

>> Advertise your department's job openings with D3Playbook.

>> Thanks for reading D3Playbook. Share us with a friend today. Let them know what they're missing.


TOP STORY
1. Tokyo Bound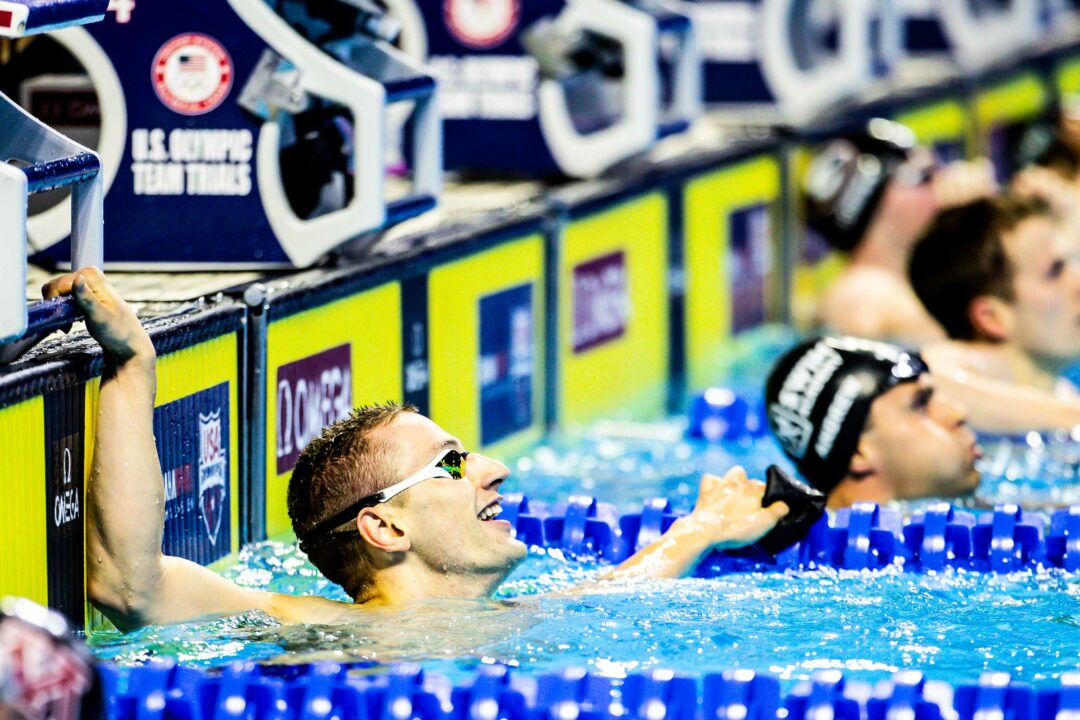 by Michael Mariam, Emory Wheel / Photo by: Jack Spitser/Spitser Photography

"Andrew Wilson (17C), former Emory University swimmer, is headed to Tokyo, Japan, for the 2020 Summer Olympics. Wilson will represent Team USA in the 100 Breaststroke after earning a spot with his time in the U.S. Olympic Team Trials in Omaha, Nebraska, on June 14.

At the trials, Wilson finished second with a personal best time of 58.74s, just 0.01s behind swimmer Michael Andrew who will represent the United States alongside Wilson. In a photo-finish, Wilson secured the final spot by narrowly edging out training partner Nic Fink of the University of Georgia by 0.06s. Wilson's time makes him the 15th fastest swimmer in the history of the event and the fourth-fastest American ever.

The former Eagle is the first Emory athlete to participate in the Olympics and the first male Division III swimmer to ever qualify. During his time at Emory, Wilson was named the NCAA Division III Men's Swimmer of the Year twice, and he set three Division III records in addition to being a national champion in five events at the 2017 NCAA Division III Championships."

>> Quotable: "I can't say I'm surprised," Emory swimming and diving head coach Jon Howell told the Wheel. "I feel like he's been moving in this direction, and he was set up really well to do this. He came in as an extremely slow incoming recruit for us, didn't make a travel squad at all in the first semester of his freshman year and really climbed up through the ladder. By senior year, he was the NCAA Swimmer of the Year and also won his first U.S. national title. I think one of his two greatest qualities, from my perspective, is that he really learned from failure."

>> What's Next: "Competition begins on July 24, the day after the opening ceremonies are scheduled to take place." Wilson also qualified for the final in the 200 breaststroke, placing fifth in the semifinal in 2:08.48.

>> Continue Reading

FINANCES
2. No Return to Normal

by Mark S. LeClair, Chronicle of Higher Education

"Higher ed is in trouble. It faces a demographic crunch in 2026, when smaller high-school graduating classes will mean greater competition for students. That will lead to tuition discounting and underenrolled classes for many colleges. And yet that demographic crisis is only one of many significant challenges the sector faces. As noted by Forbes in its annual review of college and university financials, approximately 20 percent of all institutions now warrant a "D" ranking (its lowest). Many are under serious financial strain and may not survive.

Which of these colleges are truly at risk? The past provides some clues. Since 2016, colleges have failed for many reasons: changing demographics, fewer students with a religious background (impacting the many small colleges with a religious affiliation), a drop in interest in single-sex institutions, and changing student preferences for urban over rural environments. Long-established, heavily endowed elite institutions will be fine, of course, but smaller colleges vulnerable to these changes will struggle. While they may not fail, they will need to brace themselves for uniquely difficult financial circumstances.

Several colleges that were in a weakened state already have been pushed out of existence over the past year, and others have declared financial exigency. As the pandemic's negative effects continue, it seems likely that additional institutions will be forced to take the same path."

>> Situational Awareness: "Most colleges are planning for a return to in-person, residential learning this fall, but the accepted mode of instruction may have been permanently swept away by the pandemic. Returning fully to "normal" is likely impossible as hybrid (both synchronous and asynchronous) instruction has become widely ingrained. Covid-19 also destroyed revenue streams that had taken years for institutions to develop, such as income from foreign students. Arrangements like these are likely to be suspended for multiple years, and it will take considerable time to rebuild them."

>> Reality Check: "A more fundamental challenge facing colleges is the changed perspective of what higher education is supposed to offer. Those who attended college in the 1970s and 1980s, even at top-tier institutions, lived and studied in facilities that would be regarded as wholly unacceptable today. Old and cramped dorm rooms, mediocre food, and aging labs and libraries were the norm. College was mostly a place to learn, and the amenities that are commonplace on campuses today were nowhere to be seen."

>> Of Note: "Despite the lofty goals put forth in mission statements, the most salient goal of an academic institution, one accepted by all of its stakeholders, is continued existence. Preparing colleges for 2026, while simultaneously repairing the financial damage from the pandemic lockdown, is a significant challenge — one beyond the grasp of many already struggling institutions."

>> The Final Word: "This will be a difficult five years for higher ed, but the painful transformations to come may have one benefit: Colleges will be forced to focus more on their central missions, and forgo some of the peripherals that have led our sector astray."

>> Continue Reading ($)

A MESSAGE FROM PRESTO SPORTS

See how PrestoSports helps keep Hardin-Simmons ahead of the game, check out their story here: Learn More
STATES
3. Liberty, Prosperity and Free College?

by Natalie Schwartz, Higher Ed Dive

"New Jersey lawmakers are considering whether to expand its free college program to include two years of tuition at the state's public four-year institutions for students from families earning less than $65,000.

Gov. Phil Murphy outlined the plan in his 2022 budget proposal, which asks for $50 million to fund the program. State lawmakers have until July 1 to approve or change the spending proposal.

Murphy signed a bill earlier this year making permanent New Jersey's Community College Opportunity Grant Program, which covers two years of tuition and fees at any of the state's community colleges for students with family incomes of $65,000 or less.

>> Why It Matters: "The new proposal would establish a similar program for four-year colleges. However, it would only be open to full-time students, while part-time students are eligible for the community college grants. Students would be able to potentially cover four years of tuition through the programs if they started at a community college and transferred to a four-year institution."

>> Keep Reading

LACROSSE
4. Rules Committee Recap
"The NCAA Women's Lacrosse Rules Committee proposed a package of rules changes with the goal of making the game more efficient, beginning with the 2021-22 academic year.

All rules recommendations must be approved by the NCAA Playing Rules Oversight Panel, which is scheduled to discuss women's lacrosse rules proposals July 21.

Shortening the duration of the game without taking away the 60 minutes on the game clock dominated the committee's discussion. Committee members also wanted to maintain the freedom-of-movement principles that were established in the summer of 2017."

>> What They're Saying: "Our changes reflect timing efficiencies in order to best spotlight high-action playing minutes," said Kathy Railey, NCAA Women's Lacrosse Rules Committee chair and associate athletics director, senior woman administrator and head coach at Stevenson. "We continued our effort to keep our game safe, while maintaining the many unique characteristics of NCAA women's lacrosse."

>> Read More
The best and most reliable end-to-end live video streaming provider in college athletics is BlueFrame Technology. Join #BlueFrameNation and Stream Like a Pro with special pricing for D3Playbook subscribers! Learn more today!
TRANSACTIONS
5. Comings and Goings
1 THING
6. Thin Mint Surplus?

"Girl Scouts have 15 million boxes of unsold cookies after the pandemic curtailed the spring selling season, with many troops nixing cookie booths for safety reasons, AP's Dee-Ann Durbin reports.
Girl Scouts normally sell around 200 million boxes of cookies per year, or around $800 million worth.
Around 12 million boxes remain with the two bakers, Louisville-based Little Brownie Bakers and ABC Bakers in Brownsburg, Ind. Another 3 million boxes are in the hands of the Girl Scout councils, which are scrambling to sell or donate them. The cookies have a 12-month shelf life."

- courtesy of Axios
Thanks for starting your day with us. Please invite your friends to sign up for D3Playbook.

If you have a business and would like to reach an affluent audience that works in higher education and college sports ... drop us a line at D3Playbook@gmail.com.
Copyright © 2021, D3Playbook.com All rights reserved.