written by STEVE ULRICH
your must-read briefing on what's driving the day in NCAA Division III


>> Welcome to Thursday. Today is the day the World's first official 'Harry Potter' flagship store opens in New York

>> Today's Word Count: 1,378 (5 1/2 minutes)

>> Advertise your department's job openings with D3Playbook.

>> Thanks for reading D3Playbook. Remember to follow us on Twitter @D3Playbook for the latest news and transactions


TOP STORY
1. Elite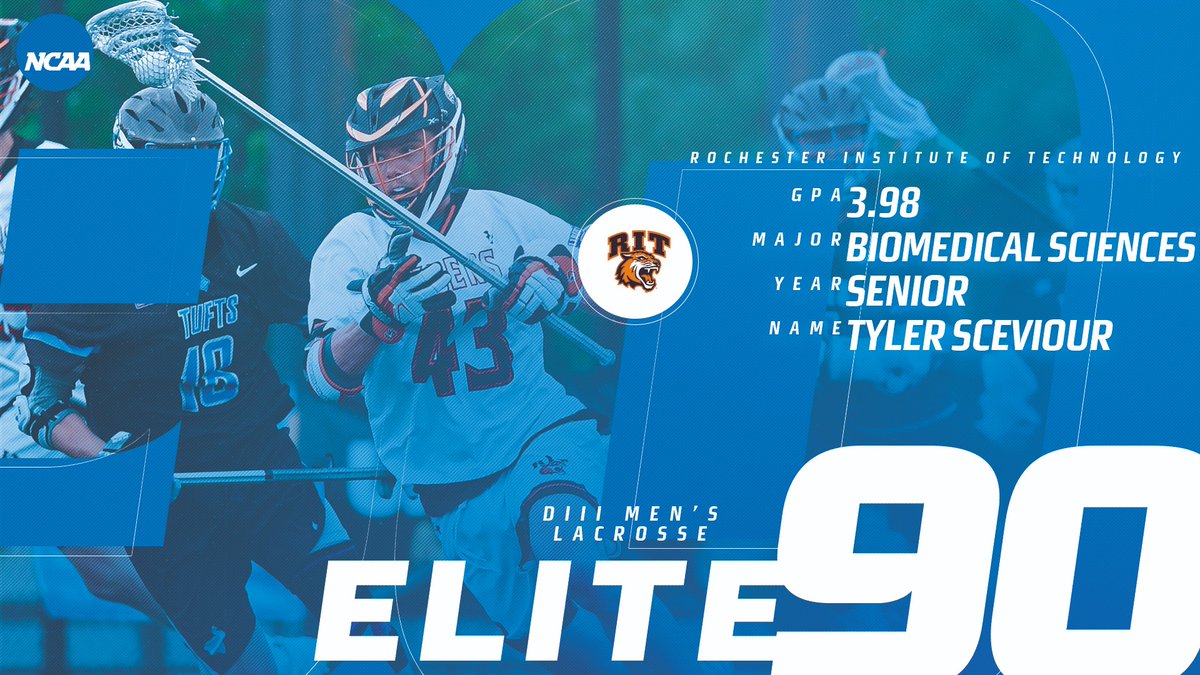 The ELITE 90, an award founded by the NCAA, recognizes the true essence of the student-athlete by honoring the individual who has reached the pinnacle of competition at the national championship level in his or her sport, while also achieving the highest academic standard among his or her peers.

The Elite 90 is presented to the student-athlete with the highest cumulative grade-point average participating at the finals site for each of the NCAA's 90 championships.

Baseball: TBA
Golf (M): Max Gogel, Sr., Rose-Hulman, 3.93, mechanical engineering
Golf (W): Karen Alvarez, Soph., Texas-Dallas, 4.0, marketing
Lacrosse (M): Tyler Sceviour, Sr., RIT, 3.98, biomedical sciences
Lacrosse (W): Lauren Swartz, Soph., St. John Fisher, 4.0, chemistry
Rowing: Analiese Bush, Jr., Washington College, 4.0, environmental sciences
Softball: Chassety Raines, Jr., Texas Lutheran, 4.0, environmental biology
Tennis (M): Isaac Gorelik, Jr., Tufts, 3.98, data analytics and applied mathematics
Tennis (W): Ally Persky, Sr., Washington (Mo.), 4.0, chemical engineering
Track and Field (M): Matthew Kraus, Sr., DeSales, 4.0, biology
Track and Field (W): Bayli Luke, Sr., Concordia (Texas), 4.0, environmental biology

>> About the Program
>> All-Time Division III Recipients
APPRECIATION
2. An Open Letter of Thanks

Recently, Joe Onderko, commissioner of the Presidents Athletic Conference, wrote a letter to his member schools that perfectly summarized the opinions of many administrators about the 2020-21 athletic season. We share a few paragraphs with hopes that you'll click through and read the rest.

"It's the afternoon of Saturday, May 15 as I begin this letter. I'm currently sitting in the press box at W&J's Ross Memorial Park on the final day of the 2021 PAC Baseball Championship. As Washington & Jefferson and Saint Vincent battle for the final PAC trophy of the 2020-21 academic year, I've been reflecting on the truly unprecedented events of the past 15 months and all we have gone through as a conference to reach this point in time.

The more that I think about the path that we have collectively traveled to get here, the more I feel the need to draft this letter to all of you to share my thoughts, feelings and appreciation to all those who helped make it possible.

The first word of reflection that immediately comes to mind is "humility." I mean that in the most positive sense of the word. Adapting Division III athletic competition to a pandemic environment has been an extremely humbling experience for all of us. So many things that we have taken for granted for years could no longer be considered absolutes. It became impossible to know what to expect in any given day, let along to be able to plan with any consistency for the short- or long-term.

The second word that immediately pops into my head, I'm afraid to say - but I have to be completely honest - is "fatigue." Coming off a week of the PAC hosting the D-III Men's Golf National Championships along with Bethany College at the Oglebay Resort in Wheeling, I am acutely aware of the physical and mental toll this pandemic has wrought on all of us. Obviously, the physical impact on everyone involved with our league is real enough, but even more so is the mental and emotional toll I see daily in our administrators, coaches and student-athletes. We have made it through this extremely difficult time, but it has come with a cost.

Finally, and most important, the word that leaps forward more than any other is "gratitude." In January of this year, we embarked on the most ambitious plan we could ever have imagined: planning to hold 20 of our 23 conference championships in an 11-week period from March 1-May 15. It was an incredibly ambitious endeavor; some would say overly so given the myriad challenges involved. It required asking all of our people, especially our front line support staff (athletic trainers, sports information directors, equipment managers, etc.), to basically work double time to meet the needs of each athletic department.

Yet, despite the many issues and problems we have faced, at every point this spring our people have risen to the challenge. This is my 29th year working in intercollegiate athletics, and I have never been more proud of and grateful for a group of professionals than watching our schools battle through adversity with grit and determination in a focused effort to allow our student-athletes to return to athletic competition."

>> Continue Reading

The best and most reliable end-to-end live video streaming provider in college athletics is BlueFrame Technology. Join #BlueFrameNation and Stream Like a Pro with special pricing for D3Playbook subscribers! Learn more today!
BASEBALL
3. All-America
D3baseball.com released its 2021 Division III All-America baseball teams.

First Team
C-Adam Zebrowski, St. John Fisher
1B-Brian McAuliff, Denison
2B-Colby Martin, Shenandoah
3B-Luke Broadhurst, Eastern Connecticut
SS-Jake Reinhardt, North Park
OF-Ryan Bixler, Franklin
OF-Jonathan Kelso, UW-Platteville
OF-Bret Williams, Penn State Harrisburg
DH-Max Nyrop, Saint John's
U-Tyler Horvat, Washington & Jefferson
SP-Jordy Allard, Babson
SP-Ryan Loutos, Washington (Mo.)
SP-Matt Mulhearn, Webster
SP-Matt O'Sullivan, UW-Whitewater
RP-Drew Bryan, Chicago

Player of the Year: Adam Zebrowski, St. John Fisher
Pitcher of the Year: Matt Mulhearn, Webster

>> Complete Team

NCAA
4. Regional Rules Seminar
Registration is open for the virtual 2021 Regional Rules Seminar, which will occur June 7-9. Educational sessions will allow members, affiliate members and others across all three divisions to hear and participate in conversations on NCAA rules, policies and procedures; share best practices; and connect with peers.

Click here to register for the virtual Regional Rules Seminar. Information on live and prerecorded sessions, supplemental educational resources and materials are available on the Regional Rules Seminar webpage.

To satisfy the Division III once-in-every-three-years attendance requirement, at least one institutional representative must attend all six live webinars listed below as they occur in June. Please note that all times are Eastern.

Monday, June 7
Governance Hot Topics — 1-2 p.m.
Bylaw 13 — 2:15-3:15 p.m.
Bylaw 17 — 3:30-4:30 p.m.

Tuesday, June 8
Bylaw 14 Part One — 1-2 p.m.
Bylaw 14 Part Two — 2:15-3:15 p.m.
Bylaw 15 — 3:30-4:30 p.m.

FACULTY
5. Award Deadline

At FARA (Faculty Athletics Representatives Association), we love to recognize all the great things our colleagues do and now is the time to celebrate all their hard work!

If you know an FAR who has made significant contributions this year or a new FAR who really stepped up to the plate, please consider nominating them for the FARA of the Year Award or FARA Newcomer of the Year Award!

Each division will celebrate these honors at the FARA Annual Meeting this fall. Submit a nomination at one of the following links:

FARA FAR of the Year Award | FARA Newcomer of the Year

Nominations will close on Friday, June 4.

TRANSACTIONS
6. Comings and Goings
1 THING
7. Big Windows Update


Microsoft is set to share details June 24 on the biggest update to its Windows operating system in years, reports Axios chief tech correspondent Ina Fried.
Why it matters: Both Chromebook and Apple's Macintosh have gained ground in recent years as Microsoft has made only modest updates to Windows 10.
Between the lines: The history of Windows is one of more modest changes and larger shifts.
This one would appear to be in the latter category, with changes expected not only to the way Windows looks and works, but also to the underlying business model.
- courtesy of Axios

Thanks for starting your day with us. Please invite your friends to sign up for D3Playbook.

If you have a business and would like to reach an affluent audience that works in higher education and college sports ... drop us a line at D3Playbook@gmail.com.
Copyright © 2021, D3Playbook.com All rights reserved.