written by STEVE ULRICH
your must-read briefing on what's driving the day in NCAA Division III


>> Welcome to Thursday. Happy 20th birthday to Sasha Obama. I know she isn't a subscriber, but "where did the time go."

>> Today's Word Count: 1,372 (5 1/2 minutes)

>> Advertise your department's job openings with D3Playbook.

>> Thanks for reading D3Playbook. Remember to follow us on Twitter @D3Playbook for the latest news and transactions


TOP STORY
1. Dr. Emmert Goes to Washington

by Ross Dellenger, Sports Illustrated

"Sen. Maria Cantwell wasted no time.

In fact, in her very first question at Wednesday's Senate hearing on athlete compensation, the junior senator from Washington touched on what has been, so far, the biggest hurdle in reaching a compromise between Republicans and Democrats on a bi-partisan college athletes rights bill.

From her pulpit inside a lavish, marble walled Senate meeting room, Cantwell asked NCAA president Mark Emmert if his governing body could help small, low-resource schools fund what may be requirements under a federal bill: expanding healthcare and scholarships for former athletes.

A winding and sometimes rambling answer from the NCAA president produced two relevant words.

It's doable."

>> Situational Awareness: "Wednesday's Senate hearing—the fifth on Capitol Hill over how NCAA athletes should earn money from their name, image and likeness (NIL)—produced little fireworks, significant revelations or even real interesting banter. Sure, Sen. Ted Cruz (R-Texas) peppered Emmert about the NCAA's stance on transgender athletes. And, yes, Sen. Marsha Blackburn (R-Tenn.) questioned Emmert's leadership directly to his face."

>> Reality Check: "There's a way to determine within D-I resources of how to cover those costs," Emmert told lawmakers. "There's a variety of different vehicles. The challenge everyone has to recognize is there's no NCAA money—it's all the schools' money. If the member schools want to, and I'd be willing to put this question to them, say 'How can we find a mechanism for funding out of pocket expenses at low-resource schools?'

>> Between The Lines: "This is a potential pathway to what those in the industry believe is the only real solution to solving the chaotic scene upon college sports: a uniform federal bill. If the NCAA can guarantee the low-resource schools a way to finance these items, broad-based NIL legislation may swiftly move through the legislative process."

>> What They're Saying: "They want more than just to be shown the money," Richard Blumenthal (D-Conn.) said, a reference to granting athletes rights that go beyond athlete compensation. "I will oppose and help to block any NIL standard that is weaker … than the strongest state standard."

>> Read More
LEGISLATION
2. State NIL Laws

Connecticut has become the 19th state to pass a law allowing college athletes to collect money from their name, image and likeness. The legislation now affects 62 Division III institutions.

Immediately
Nebraska (schools can grant rights, but no later than July 1, 2023)
July 1, 2021
Alabama

Birmingham-Southern
Huntingdon

Georgia

Agnes Scott
Berry
Covenant
Emory
LaGrange
Oglethorpe
Piedmont
Wesleyan

Mississippi

Belhaven
Millsaps
Mississippi College for Women
January 1, 2022
December 31, 2022
Michigan

Adrian
Albion
Alma
Calvin
Finlandia
Hope
Kalamazoo
Olivet
January 1, 2023
California (there's currently a proposal to move up the date to no later than 1/1/22)

Caltech
Cal Lutheran
UC Santa Cruz
Chapman
Claremont-M-S
La Verne
Occidental
Pomona-Pitzer
Redlands
Whittier

Colorado
July 1, 2023
Maryland

Goucher
Hood
Johns Hopkins
McDaniel
Notre Dame
St. Mary's
Salisbury
Stevenson
Washington College
2025
New Jersey (the law goes into effect the 5th academic year after passage)

Centenary
Drew
FDU Florham
Kean
Montclair State
New Jersey City
Ramapo
Rowan
Rutgers-Camden
Rutgers-Newark
Saint Elizabeth
Stevens
Stockton
TCNJ
William Paterson
Awaiting Governor's Signature
Connecticut
Illinois
Louisiana
Missouri
Texas
>>
Entire List
The best and most reliable end-to-end live video streaming provider in college athletics is BlueFrame Technology. Join #BlueFrameNation and Stream Like a Pro with special pricing for D3Playbook subscribers! Learn more today!
EXECUTIVE
3. Temporary Hires, Long-Term Benefits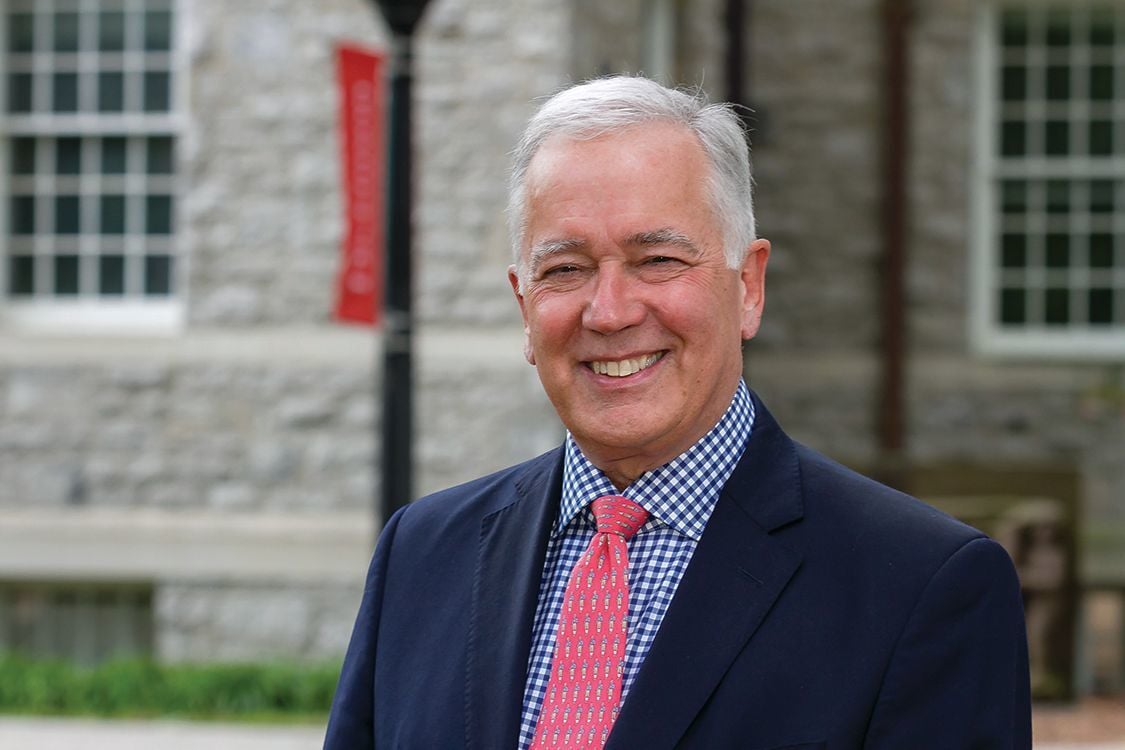 by Emma Whitford, Inside Higher Ed (photo courtesy of Dickinson College)

"The changing of the guard in higher education often follows a familiar process: after a college or university president steps down, an interim president takes their place and leads the institution for about a year while its governing board searches for a permanent leader.

In recent years, a growing number of colleges and universities have appointed interim or acting presidents to lead for two or more years. The trend mirrors a shift in the corporate world in favor of interim executives. Experts say that multiyear interim presidents can promote institutional continuity, implement cultural changes and give the board more time to search for and select its next permanent president.

Dickinson College in Carlisle, Pa., is preparing for an upcoming two-year presidency. John E. Jones III, the private liberal arts college's current board chair, will take over as interim president when current president Margee M. Ensign resigns at the end of this month.

A two-year interim leader will give Dickinson's board more time to plan a thorough search for a permanent president. Additional time to prepare for a search is one of the benefits of multiyear interim presidents, said Bryan Carlson, president of the Registry, a company that places interim leaders and other top executives in higher education."

>> Of Note: The trend of multiyear interim presidents began before the start of the pandemic. Eugene McAllister, interim president of St. John's University in Collegeville, Minn., recently concluded his two-year term. Capital University in Columbus, Ohio, appointed David Kaufman as a two-year interim president last June.

>> Worth Noting: "When it's time to do a presidential search, each board of trustees really has to address the question: What is the overall condition of our institution, and are we ready for a national search?" Carlson said.

>> Continue Reading

PERSONNEL
4. Layoffs at Redlands
by Joe Nelson, San Bernardino Sun

"Declining student enrollment and the lowest incoming student body in a decade at the University of Redlands have prompted administrators to eliminate 34 positions — 16 through layoffs — and reorganize student programs.

Kevin Dyerly, the university's vice president of finance, and Michelle Rogers, vice president of administration, informed the college's faculty and staff of the downsizing in a memo on Thursday, June 3.

The university's enrollment has been declining since 2015. The COVID-19 pandemic accelerated that trend last year, resulting in a $13 million deficit and prompting the need for staff reductions and reorganization. Enrollment for the 2021-22 year will be 3,989, down from 4,033 in 2020-21.

Eighteen of the 34 eliminated positions were already frozen or vacant. Dyerly told the Redlands Daily Facts last year that rising employee-related expenses were outpacing tuition increases, and that two-thirds of the university's expenses were employee-related.

>> Yes, But: "The financial reality is the university can only rebound if the size of our enterprise is adjusted to our current fiscal situation," according to the memo."

>> Read More

NCAA
5. Website Refresh

This July, NCAA.org will relaunch with a new design, new partner and a new way of providing information to the membership, media and general public.

In our multiyear agreement with SIDEARM Sports — the industry leader that serves 65 percent of Division III — our DIII membership will benefit from an enhanced platform that will better showcase the division's identity through a variety of digital elements, including news, visuals, videos, features and social media, while also improving the manner in which we publicly tell the DIII story through reimagined navigation.

Furthermore, Division III members will also be introduced to our new "Membership" resource section, where all division-specific and Association-wide content will reside at the click of a mouse, making for an easier and faster way to retrieve information on NCAA.org.

TRANSACTIONS
6. Comings and Goings
1 THING
7. Not for the Faint of Heart
People swim in a newly opened Sky Pool in London.
The transparent pool is suspended 115 feet above ground, between two apartment buildings next to the U.S. Embassy.
Photo: Vuk Valcic/SOPA Images/LightRocket via Getty Images

- courtesy of Axios

Thanks for starting your day with us. Please invite your friends to sign up for D3Playbook.

If you have a business and would like to reach an affluent audience that works in higher education and college sports ... drop us a line at D3Playbook@gmail.com.
Copyright © 2021, D3Playbook.com All rights reserved.