written by STEVE ULRICH
your must-read briefing on what's driving the day in NCAA Division III

>> Good Friday Morning. Are you old enough to remember 10-Cent Beer Night in Cleveland? See below.

>> Today's Word Count: 1,128. Getting you ready for the weekend.

>> Thanks for reading. May I ask a favor? Share this with a friend or colleague today and invite them to subscribe.


TOP STORY
1. Diamond Jubilee


The 45th NCAA Division III baseball championship tournament begins this morning in Cedar Rapids, Iowa. By the next time we meet, four teams will already be on their way home while four others will continue on. Here is a preview.

#1 Washington, Mo. (32-4) vs. Johns Hopkins (15-4), 10 a.m.
The top-ranked Bears are led by a pair of All-America pitchers in Ryan Loutos and Jared Fong. Loutos has 11 mound wins and has struck out 110 batters, while Fong leads DIII in saves (10). The Blue Jays, the only non-ranked team in the field, turn to Peter Schaefer who has a 1.58 ERA with 73 punchouts in 51.1 innings.
#19 St. Thomas, Minn. (34-8) vs. #10 Adrian (36-8), 1:15 p.m.
The Tommies' ace Graham Laubscher, a second-team All-American, is 8-2 with a 2.11 ERA. St. Thomas has won two national championships (2001-09). The Bulldogs return to the finals for the first time since 2008. Gunnar Rainey hit 410-4-44 and was named second-team All-America at catcher.
#7 Rowan (29-4) vs. #12 Wheaton, Mass. (20-5), 4:30 p.m.
#6 Salisbury (29-4) vs. #15 Cortland (31-7), 7:45 p.m.
The Sea Gulls are in the World Series for the first time in 20 years. Second-team All-America RHP Clayton Dwyer leads the pitching staff with a 10-0 record and 96 strikeouts in 70 innings of work. The Red Dragons make their 15th trip to the finals. OF Scott Giordano earned All-America honors after registering 414-6-35 numbers.
all times CDT

Below is the complete championship schedule
Friday, June 4 | Finals | 11 a.m. ET on NCAA.com
Saturday, June 5 | Finals | 11 a.m. ET on NCAA.com
Sunday, June 6 | Finals | 11 a.m. ET on NCAA.com
Monday, June 7 | Finals | 1 p.m. ET on NCAA.com
Tuesday, June 8 | Finals | 12 p.m. ET on NCAA.com
Wednesday, June 9 | Finals | 12 p.m. ET on NCAA.com (if necessary)

>> Live Video

TRACK AND FIELD
2. Athletes of the Year

The U.S. Track & Field and Cross Country Coaches Association (USTFCCCA) announced its Division III Athletes of the Year for the 2021 outdoor track and field season.

Men's Track Athlete of the Year
Matthew Wilkinson, Carleton
Women's Track Athlete of the Year
Emily Pomainville, Geneseo
Men's Field Athlete of the Year
Marcus Weaver, UW-Eau Claire
Women's Field Athlete of the Year
>> Read More

WOMEN'S BASKETBALL
3. International 3-Point Line Approved

The NCAA Playing Rules Oversight Panel approved moving the 3-point line to the international distance of 22 feet, 1¾ inches in women's basketball, beginning with the 2021-22 season.

The NCAA Women's Basketball Rules Committee proposed the change after studying statistical trends that showed the number of attempted and successful 3-point field goal attempts reached all-time high levels in all three divisions during the 2020-21 season.

Elsewhere ...
The panel approved allowing the transmission of live statistics to the bench area for coaching purposes.
The panel approved two adjustments to the replay rules in effect during the last two minutes of the game and added a third replay situation. Officials now may use instant replay on an out-of-bounds play, regardless of the number of players involved.
Coaches now may challenge two additional plays that would require officials to use instant replay to review them.
>>
Continue Reading
MEN'S BASKETBALL
4. Bench Gets Live Stats
The NCAA Playing Rules Oversight Panel approved allowing the transmission of live statistics to the bench area for coaching purposes in men's basketball, beginning with the 2021-22 season.

The NCAA Men's Basketball Rules Committee supported an experimental rule for the upcoming season to allow teams to view live video and preloaded video on their bench during conference games only should the conference submit a waiver request for the experimental rule.

If a conference chooses to use this experimental rule, it will be a conference's decision as to the type of appropriate technology that may be used.

Other proposals ...
The panel approved allowing shot clocks to have tenths of seconds be displayed next season. It would not be required, but schools could choose to use this optional rule.
The panel did not support a proposal that would have allowed officials to immediately assess a Class B technical foul to a player who faked being fouled. The recommendation would have eliminated the warning officials must currently give before assessing a technical foul.
After receiving feedback from the membership, the Men's Basketball Rules Committee rescinded a proposal regarding the structure of media timeouts.
>>
Read More
BASEBALL
5. All-America
The American Baseball Coaches Association has announced the 2021 ABCA/Rawlings NCAA Div. III All-America teams. Five players from this year's All-America teams are participating in the 2021 NCAA Div. III World Series which begins today in Cedar Rapids, Iowa.
First Team
C-Adam Zebrowski, St. John Fisher
1B-Tyler Calvert, Berry
2B-Colby Martin, Shenandoah
3B-Sam Beers, Concordia (Wis.)
SS-Jake Reinhardt, North Park
OF-Bret Williams, Penn State Harrisburg
OF-Avery Neaves, Lynchburg
OF-Turner Hill, Marietta
DH-Kevin Bushnell, Benedictine
U-T.J. Johnson, Coe
P-Matt Mulhearn, Webster
P-Ryan Loutos, Washington (Mo.)
P-Matt O'Sullivan, UW-Whitewater
P-Jordy Allard, Babson
P-Sam Mathews, Marietta
>>
Complete Team
NCAA
6. Calendar

June
7 - Men's Basketball Committee
7-9 - Regional Rules Seminar
8 - Faculty Athletics Representatives Advisory Group
9 - Track and Field Committee
14-15 - Committee on Competitive Safeguards and Medical Aspects of Sports
15 - Strategic Planning and Finance Committee
16 - Interpretations and Legislation Committee
21-22 - Championships Committee
23-24 - Membership Committee

courtesy of NCAA

TRANSACTIONS
7. Comings and Goings
1 THING
8. 10-Cent Beer Night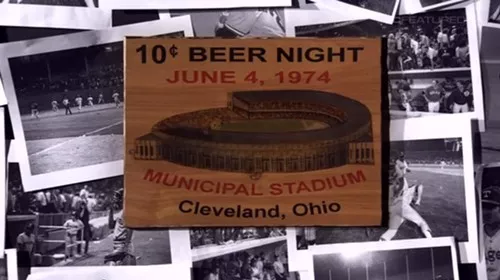 Today is the 47th anniversary of the infamous "10-Cent Beer Night" at Cleveland Stadium. Yes, you read that right.

10-Cent Beer.

It was exactly what it sounds like: the Cleveland Indians did a promotion that gave unhappy people who rooted for a bad team unlimited quantities of nearly-free alcohol which, amazingly, turned into utter chaos. Why could've seen that coming?

>> The Backstory
>> ESPN Remembers (video)


Thanks for starting your day with us and enjoy your weekend. Please invite your friends to sign up for D3Playbook.

Copyright © 2021, D3Playbook.com All rights reserved.