written by STEVE ULRICH
your must-read briefing on what's driving the day in NCAA Division III
>> Good Wednesday morning. Cinco. de. Mayo.

>> Today's Word Count: 1,055 words (about 4 minutes)

>> Thanks for reading D3Playbook. Share our newsletter with a friend.


TOP STORY
1. Court: Top NCAA Execs Must Testify
by Michael McCann, Sportico
"The Court of Appeals of Indiana on Tuesday upheld a trial court ruling that will allow three top NCAA executives to be deposed in a lawsuit brought by the families and estates of three deceased college football players. The appellate ruling, authored by Judge Margaret Robb, increases the chances that president Mark Emmert, chief operating officer/chief legal officer Donald Remy and chief medical officer Brian Hainline, M.D will be compelled to answer under oath a broad array of questions, from health policies to amateurism to NIL reforms.

"NCAA Executives," Judge Robb stressed in her order, "do not have a right to not be deposed on the basis of their positions in the organization; even if they did, it is certainly not a right of constitutional dimension; and there is no obvious injustice in the trial court's order that they each submit to a day-long deposition in the same city as their corporate headquarters."

Should Emmert, Remy and Hainline be deposed, they would be obligated to provide testimony, under penalty of perjury, about player health policies and arguably related matters at issue in ongoing litigations and legislative initiatives. Further, these depositions might be usable in other cases currently brought by current and former players."

>> Situational Awareness: "The NCAA firmly objects to these depositions on the basis of the "apex deposition doctrine." This doctrine is recognized in many American jurisdictions but—unfortunately for the Indiana-based NCAA—not in the State of Indiana. The doctrine instructs that attorneys are barred from deposing high-ranking executives unless (1) there is a showing that these executives possess personal knowledge of facts relevant to a case and (2) such knowledge can't be obtained through less intrusive means."

>> What's Next: "The players' cases have been consolidated for purposes of pretrial discovery. They argue three basic points: (1) the NCAA allegedly knew about the dangers brought on by concussions and other neurological traumas; (2) the NCAA failed to warn athletes and concealed crucial information; and (3) the NCAA wrongfully neglected to adopt concussion-management protocols. In court documents, the NCAA has repeatedly denied these and similar health-related claims."

>> Worth Noting: "It remains to be seen if the three depositions will happen. The NCAA could appeal to the Supreme Court of Indiana. It's also possible the case settles before depositions occur—but the clock is ticking: The case involving (Cullen) Finnerty is set for a jury trial on Nov. 8, 2021."

>> Continue Reading
>> More from The Indiana Lawyer

LEGAL
2. Colby Coaches Push for Equal Pay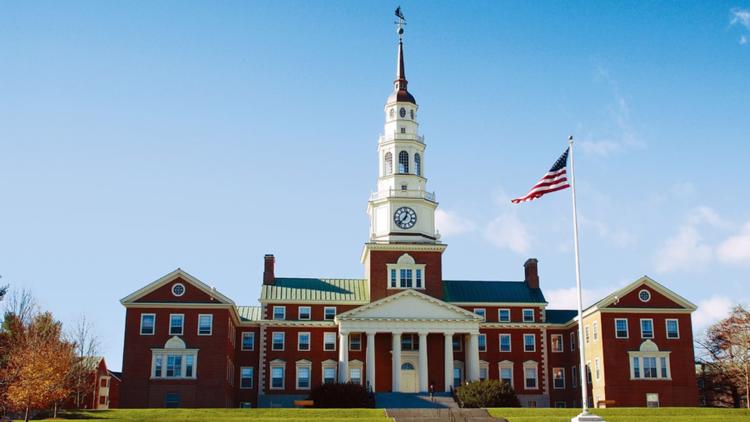 by Hannah Dineen, NEWS CENTER Maine

"Six female Colby College coaches have filed a complaint with the Maine Human Rights Commission. The complaint alleges the coaches are asked to perform more work for less pay than their male counterparts.

In some cases, the coaches have more experience, tenure with the school and have seen more success with their teams than their male counterparts.

The six head coaches who have filed the complaint are Terren Allen (softball), Tracey Cote (women's and men's nordic skiing), Karen Henning (women's lacrosse), Kristin Shaw (women's soccer), Kelly Terwilliger (field hockey), and Holley Tyng (women's ice hockey).

The six coaches say they've reported their concerns to administrators on at least nine different occasions."

>> Background: "To explain the pay discrepancy, the coaches say they were told by administrators that male coaches have a "higher market value." The coaches also say they were told that male coaches are better self-advocates than female coaches and that the men have been better at "negotiating" higher salaries and benefit packets."

>> Of Note: "The coaches also point to unequal distribution of resources between the men's and women's teams, including medical support for their players. Allen says despite requesting certified trainers attend off-season practices, the school only provides student workers."

>> Between The Lines: "In the complaint, (Henning) writes, "Upon information and belief, my comparators make at least $15,000 more than I do, but do not have my history of success in athletics."

>> Read More
FACILITIES
3. Bethel's "Call To More" Campaign
Bethel will soon begin work at Royal Stadium to build the university's first-ever outdoor track; add new jump, vault, and throws areas for track and field; and install multi-use artificial turf on the football field. This historic work will allow Bethel's track and field programs to host outdoor track meets, improve the game day experience for the football team and fans, and provide vital practice facilities where athletes can train and reach their potential.
"Our athletics culture and atmosphere are second to none. Now, we're committing to providing facilities that keep pace with the MIAC and Midwest," says
Bob Bjorklund, who is retiring as director of athletics later this month
.
Along with the turf practice field, the next campaign phase for athletics will raise $1.5 million to add lights and a new press box to Royal Stadium. The press box will add space for coaches to operate more efficiently and allow Bethel to offer a more professional gameday experience. The lights will increase usage at Royal Stadium and allow for night events on the field. The upgraded facilities will also create opportunities to host events, including summer camps, tournaments, and more."
>>
Keep Reading
RANKINGS
4. Around the Diamond


This Week's NCBWA/D3Baseball.com Poll
Washington, Mo. (14), 24-3
Trinity, Texas (3), 25-5
Salisbury (1), 19-3
Washington & Jefferson (3), 31-1
Webster (1), 26-6
Marietta (2), 21-3
Aurora, 30-4
UW-Whitewater, 25-4
Rowan (1), 19-3
North Central, Ill., 26-6
11-15: Babson, Adrian, NC Wesleyan, Wheaton (Mass.), Coe
16-20: Shenandoah, E. Connecticut, Berry, Chapman, Southern Maine
21-25: Randolph-Macon, Oswego State, William Paterson, Centenary (La.), Cortland

>> Greetings: Oswego, Cortland
>> Rising: Wheaton, Mass. (+5), E. Connecticut (+4)
>> Falling: Chapman (-5)

>> Games to Watch: #2 Trinity vs. #24 Centenary (Fri.); #7 Aurora vs. Benedictine (Sat/Sun.); #20 Southern Maine vs. Husson (Sun.)

>> Complete Poll

NCAA

5. Calendar

May
9 - Men's Lacrosse Selection Show
10 - M/W Tennis Selections
11 - Rowing Selections, 4:30
11-14 - Golf Championships
17 - Student-Athlete Reinstatement Committee
17 - Softball Selection Show
18 - Championships Committee
19 - Interpretations and Legislation Committee
20 - Membership Committee
22 - Track and Field Selections


Thanks for starting your day with us. Please invite your friends to sign up for D3Playbook.

If you have a business and would like to reach an affluent audience that works in higher education and college sports ... drop us a line at D3Playbook@gmail.com.
Copyright © 2021, D3Playbook.com All rights reserved.