written by STEVE ULRICH
your must-read briefing on what's driving the day in NCAA Division III


>> Welcome to Thursday. It's Earth Day


>> Today's Word Count: 1,153 (4 1/2 minutes)

>> Today's Subscriber Count: 1,670 (newsletter), 2,205 (twitter)

>> Interested in sharing your company's message in D3Playbook?

>> Thanks for reading D3Playbook. Remember to follow us on Twitter @D3Playbook for the latest news and transactions


TOP STORY
1. Why You Should Care About Hartford

by Matt Brown, Extra Points / photo by Brad Horrigan, Hartford Courant

"Last month, the Hartford Hawks of the America East conference made history, earning a trip to the NCAA Men's Basketball Tournament for the first time since jumping up to D-I. The Hawks weren't the best team in the conference this year. KenPom had them third, and the Hawks finished fourth in the standings, behind UMBC, Vermont and New Hampshire, but Hartford got hot at the right time, won the conference tournament, and grabbed a 16 seed. Sure, they got demolished by eventual national champion Baylor in the first round, but that's not the point.

The point is, they're in the record books. They got to play on national TV. And now they have some positive momentum to build on, a commodity often in precious short supply for Hartford men's basketball…right?

Well, not everybody apparently sees things that way. Hartford's administration secretly engaged with Carr Sports, a consulting company, to study whether the school should even remain in D-I. On February 12, just as the Hawks were wrapping up their regular season, they published it.

That study says that "Athletics' current Division-I funding model is not viable" and that "UHart should explore viable membership options in NCAA Division III.

I read the entire document, hoping to get a better idea as to why Hartford would consider such a drastic move. Here are some of my takeaways.

If a low-major school is going to judge their athletic department primarily on their ability to be financially self-sufficient, they're in the wrong division.

It really is reasonable to conclude that Hartford's enrollment and tuition revenue goals would be better met outside of athletics investments. That's not going to be the case for plenty of other D-I schools, but it appears to be the case at Hartford.

There are 10 teams in the America East, and Hartford is the only private school. It has the smallest enrollment in the league, one of the smallest total budgets (8th out of ten), and has the smallest number of total college athletes participating. UHart's facilities are among the worst in the league, and their athletic programs are generally not very successful (average all-sports Commissioner's Cup ranking? 8th). It's hard to imagine a world where any of that improves after the school cuts the department budget."
>>
Why It Matters
: "Hartford isn't the only private, low-major school wondering how they're going to pay for D-I athletics in the near future. I know they're not the only D-I school in the northeast that has reached out to consultants for "strategic reviews" that might include recommendations about classification levels. But reclassifying is rare, in part because administrators tend to pay a heavy political price for scaling down."
>>
Reality Check
: "At the end of the day, this isn't just a story about a perennial basement-dwelling D-I school deciding if they should pack it in and move to a different (and cheaper) level. It's about how schools define success of an athletic department that will never sell out an arena or be an ESPN flagship regular. It's about how that definition of success evolves in a post-COVID and resource scarce environment. And it's about to what extent university presidents will be
allowed
to make sweeping athletic changes, even if they're unpopular."
>>
The Final Word
: "That's not just a Hartford story. That's a big college sports story."
>>
Continue Reading
>>
Subscribe to Matt's "Extra Points" newsletter
MEN'S VOLLEYBALL
2. First-Round Recap

Four first-round matches are in the books and we are down to the Elite Eight in the 2021 NCAA Division III Men's Volleyball Championship. Four more matches are on tap today.

#14 Messiah d. Fontbonne, 26-24, 22-25, 25-23, 21-25, 15-11
#2 Vassar d. Hiram, 25-21, 25-23, 25-22#11 Wentworth d. New Jersey City, 25-19, 25-15, 25-18#9 Benedictine d. #7 Endicott, 25-23, 25-22, 25-20
>>
Championship Website
>>
Live Video
The best and most reliable end-to-end live video streaming provider in college athletics is BlueFrame Technology. Join #BlueFrameNation and Stream Like a Pro with special pricing for D3Playbook subscribers! Learn more today!
TENNIS
3. Winning Streaks


Grinnell won its 100th consecutive Midwest Conference men's tennis match on Tuesday with a 9-0 win against Cornell. It got us wondering about the longest winning streaks in Division III men's and women's tennis history - both overall and in Conference play. We admit it will take some time to research and are asking for your help. Here's a start.

Men
326 - Gustavus Adolphus, MIAC, 1986-present
241 - Kalamazoo, MIAA, 1962-2003
171 - St. Scholastica, UMAC, 1998-present
155 - Kalamazoo, MIAA, 1935-62
143 - Redlands, SCIAC, 1963-76
107 - Redlands, SCIAC, 1977-85
100 - Grinnell, Midwest, 2000-present
90 - Washington College, Centennial, 1994-2005
84 - Johns Hopkins, Centennial, 2006-16

Women
301 - Washington and Lee, ODAC, 1991-present
214 - Gustavus Adolphus, MIAC, 1991-2012
194 - College of New Jersey, NJAC, 1982-present
130 - Johns Hopkins, Centennial, 2007-present

Send us your streak - D3Playbook@gmail.com
SOFTBALL
4. Marlins Ascend to #1

This Week's NFCA Top 10
Virginia Wesleyan (8), 27-3-1
Texas Lutheran, 25-4
Eastern Connecticut, 20-0
East Texas Baptist, 22-3
Linfield, 28-4
Birmingham-Southern, 25-4
DePauw, 21-2
Belhaven, 25-7
Emory & Henry, 21-3
(tied) Berry, 23-6 / Moravian, 12-0
12-15: Salisbury, St. John Fisher, Christopher Newport, Mount Union
16-20: Wartburg, MSOE and Randolph-Macon (tied), St. Scholastica and TCNJ (tied)
21-25: Rowan, Alvernia and St. Olaf (tied), Concordia (Wis.), Aurora and Saint Benedict (tied)

>> Hello: Rowan, Alvernia, St. Olaf, Concordia, Aurora
>> Rising: Emory & Henry (+8), Mount Union (+7)
>> Slipping: Saint Benedict (-9), Salisbury (-4), MSOE (-4)

>> Games to Watch: #1 Virginia Wesleyan vs. #9 Emory & Henry (Thurs.); #4 ETBU vs. #8 Belhaven (Fri/Sat.); #6 BSC, #10 Berry at SAA Tournament (Fri/Sat/Sun.); #17 MSOE vs. #24 Concordia (Sat/Sun.)

>> Complete Poll
ROWING
5. Bobcats Roar
This Week's US Rowing CRCA Women's Top 10
Bates (7), 145
Ithaca, 120
WPI, 115
Tufts, 114
Wesleyan (3), 112
Hamilton, 100
Williams, 80
Pacific Lutheran, 74
Trinity, Conn., 72
Washington College, 70
11-15: RIT, William Smith, Coast Guard, Marietta, Colby

>> Complete Poll


1 THING
7. Are We Done Now?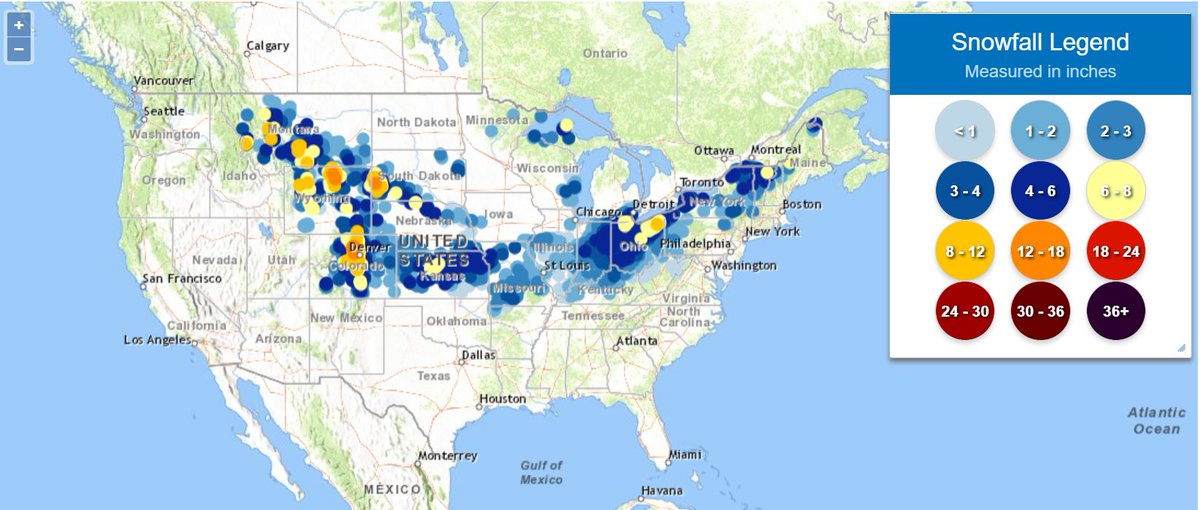 The snow map from the last three days, courtesy of Jim Cantore.

Thanks for starting your day with us. Please invite your friends to sign up for D3Playbook.

If you have a business and would like to reach an affluent audience that works in higher education and college sports ... drop us a line at D3Playbook@gmail.com.
Copyright © 2021, D3Playbook.com All rights reserved.