written by STEVE ULRICH
your must-read briefing on what's driving the day in NCAA Division III
>> Good Monday Morning! New week, new attitude.

>> Today's Word Count: 1,316. Hey, it was a busy weekend.

>> Thanks for reading D3Playbook. Remember to follow us on Twitter @D3Playbook for the latest news and transactions


TOP STORY
1. Should Your Kid Go Straight to College?

by Jill Barshay, Hechinger Report

"Fewer American parents are dreaming of sending their kids off to a four-year college immediately after they graduate from high school, signaling both a deepening political divide over the value of higher education and a shift in public sentiment toward career training.

A Gallup survey, commissioned by the Carnegie Corporation of New York, a philanthropic foundation, and released April 7, 2021, found that 46 percent of parents said they would prefer not to send their children to a four-year college after high school, even if there were no obstacles, financial or otherwise. Only a slim majority of parents — 54 percent — still prefer a four-year college for their children. (The Carnegie Corporation is among the funders of The Hechinger Report.)

Previous polls of U.S. adults have also detected waning support for higher education, despite politicians' and college advocates' urging that a four-year degree is one of the best paths to a middle-class life in a fast-changing, high-tech economy. This national poll of almost 3,000 adults with children between the ages of 11 to 25 indicates that nearly half of Americans feel skeptical of the benefits of college for their own children."

>> Why It Matters: "In lieu of a four-year college, 16 percent of parents said they were interested in non-college vocational training and 22 percent said they preferred to see their children consider an array of other options, including starting a business, joining the military, getting a job or doing community service."

>> The Key Stat: "Political party affiliation proved to be the strongest distinguishing factor. Seventy percent of Democrats prefer a four-year degree, compared to 46 percent of Republicans and 48 percent of independents."

>> Worth Noting: "In an analysis of 2019 data by the Georgetown University Center on Education and the Workforce, the 40-year return on investment for a four-year college degree added up to $864,000 on average in today's dollars, compared to $723,000 for a two-year degree and $577,000 for a shorter training certificate. However, over the short-term, both the two-year associate's degree and the training certificate are better bets."

>> Quotable: "There is a constant buzz to the public which says you can become a plumber and do just as well as somebody who gets a bachelor's degree," said Anthony Carnevale, director of the Georgetown center. "And there is some truth to that."

>> Continue Reading

UNIVERSITIES
2. Lions' Pride

Last week, Piedmont College transitioned to Piedmont University. Academically, the change is effective immediately. Piedmont athletics will continue to compete under the name Piedmont College for the duration of the 2021 spring semester and transition to Piedmont University upon the completion of all athletic contests.

"We are thrilled as an institution to be moving into this new era as Piedmont University," Director of Intercollegiate Athletics Jim Peeples said. "We believe our department will continue to rise building off the storied history of Piedmont College athletics into the future as Piedmont University.

>> Read More
TOP 10
4. Weekend Review
Baseball
Trinity, Texas (d. Schreiner 8-6, 14-2;

lost 8-7

)
Washington, Mo. (d. Westminster 11-3, 10-4;

split w/ #4 Webster 3-2, 1-7

)
Salisbury (lost to CNU 10-4; d. CNU 7-2
Webster (

split w/ #2 Washington, Mo. 2-3, 7-1

)
Marietta (d. Capital 11-1, 14-4)
Cal Lutheran (d. Redlands 6-4, 3-2,

lost 6-5

)
Aurora
Babson
NC Wesleyan (d. Pfeiffer 18-1, 14-12, 5-3)
Chapman
Lacrosse (M)
RIT
Salisbury
York (d. Lebanon Valley 15-3)
Tufts (d. Colby 29-11)
Lynchburg (d. Roanoke 20-10)
Cabrini
St. Lawrence (

lost to #15 Union 10-6

)
Williams (d. Connecticut College 14-9)
Christopher Newport (d. Mary Washington 16-7)
Gettysburg (d. #13 Ursinus 10-9 OT)
Lacrosse (W)
Franklin & Marshall (d. McDaniel 16-6)
Washington and Lee
Tufts (d. #9 Colby 18-12)
Salisbury
Gettysburg (d. Ursinus 20-5)
York (d. Lebanon Valley 17-7)
Catholic (d. Juniata 17-3)
Ithaca (d. Union 24-22)
Colby (

lost to #3 Tufts 18-12

)
Wesleyan (d. Hamilton 13-12;

lost to Hamilton 17-9

)
Softball
Linfield (

lost to Lewis & Clark 6-0

; d. L&C 8-0, 4-2, 4-3)
Virginia Wesleyan
Texas Lutheran (d. Dallas 9-0, 14-0, 15-3)
East Texas Baptist (d. Louisiana College 11-1, 4-2, 7-2)
Salisbury (d. Mary Washington 4-0, 14-1;

split w/ Lynchburg 7-0, 8-13

)
Christopher Newport (d. Southern Virginia 14-0, 12-0)
Eastern Connecticut (d. Rhode Island College 17-0, 10-2)
Kean (

lost to TCNJ 2-0, 6-2

)
Birmingham-Southern
(tie) Belhaven (d. UT Dallas 13-3, 14-5, 10-2)
(tie) DePauw
Volleyball (M)
Springfield (

lost to Wentworth 3-1

; vs. Lasell 3-0, 3-0)
Carthage (d. Augustana 3-0)
New Paltz (d. #15 Nazareth 3-0;

lost to #4 Vassar 3-1

)
Vassar (d. #7 St. John Fisher 3-2; d. #3 New Paltz 3-1)
Dominican (d. #6 Benedictine 3-0)
Benedictine (

lost to #5 Dominican 3-0

)
St. John Fisher (

lost to #4 Vassar 3-2

)
Kean
Juniata (

lost to #10 Southern Virginia 3-2

)
Southern Virginia (d. #9 Juniata 3-2)
Volleyball (W)
Colorado College (d. Centenary 3-0, 3-0)
Trinity, Texas
Texas-Dallas (d. Concordia TX 3-2;

lost to #8 UMHB 3-0

)
Transylvania (d. Lakeland 2-1; d. Illinois Wesleyan 2-1; d. #19 Greenville 2-1;

lost to #7 Millikin 3-2; lost to #9 Elmhurst 3-1

)
Carthage (d. Earlham 3-2; d. Concordia 3-1; d. #4 Transylvania 3-2; d. Elmhurst 3-0; d. #7 Millikin 3-1)
Berry
Millikin (d. Mississippi College 2-0; d. Dubuque 2-0; d. Webster 2-1); d. #4 Transylvania 3-2;

lost to #5 Carthage 3-1

)
Mary Hardin-Baylor (d. McMurry 3-0; d. #3 Texas-Dallas 3-0)
Elmhurst (d. Covenant 3-0; d. Augustana 3-1;

lost to #5 Carthage 3-0

; d. #4 Transylvania 3-1)
Birmingham-Southern (d. Millsaps 3-0,

lost 3-2

)
If you have a business and would like to reach an affluent audience that works in higher education and college sports ... drop us a line at D3Playbook@gmail.com.
1 THING
7. First-Time Winners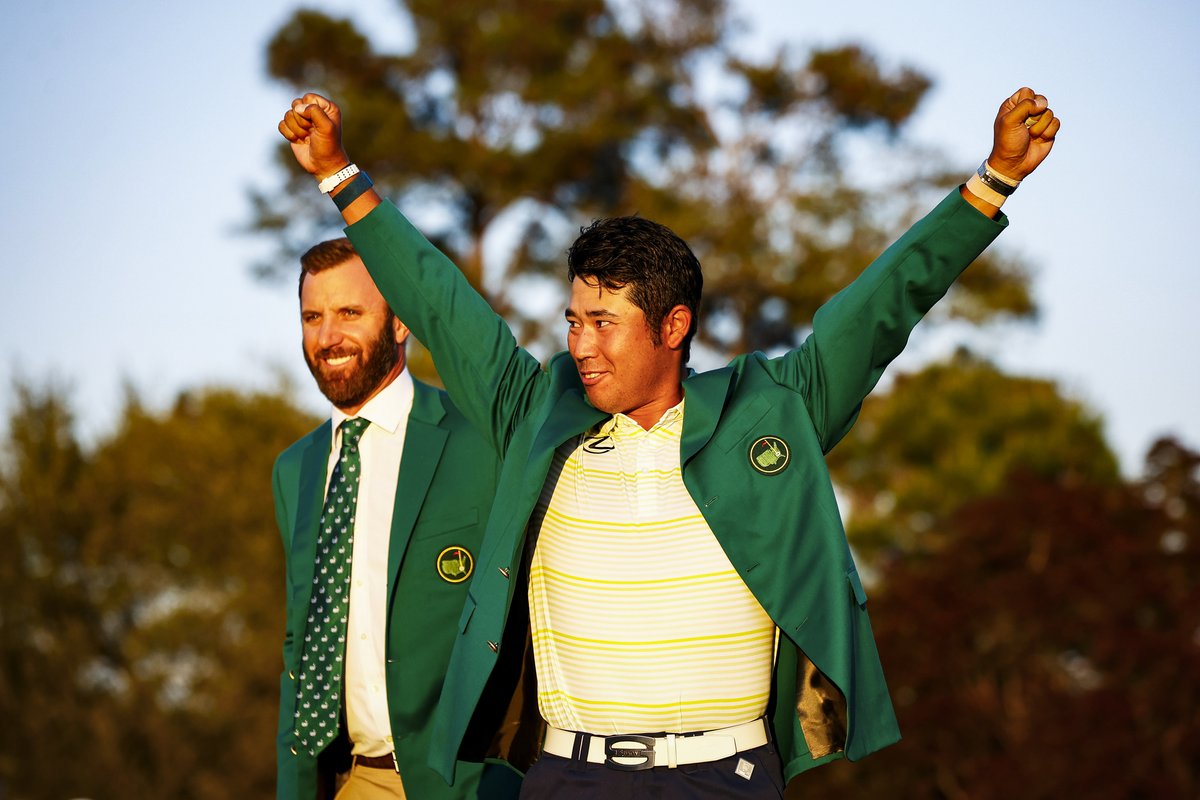 A pair of first-time champions were crowned Sunday at the conclusion of The Masters. Hideki Matsuyama became the first Japanese male to win an American major title, while Spalding University director of athletic communications Brian Clinard won the D3Playbook tourney challenge.

Clinard put together a five-member team of Jordan Spieth, Cameron Smith, Webb Simpson, Justin Thomas and Dustin Johnson and compiled a four-day score of 1,139 (-13). Skidmore senior athletic communications and manager Bill Jones held the lead entering the final round but a 75 from Bryson DeChambeau put him two shots back of Clinard. North Atlantic Conference commissioner Marcella Zalot placed third just four shots behind.

Thanks to all for participating.

Thanks for starting your day with us. Please invite your friends to sign up for D3Playbook

Copyright © 2021, D3Playbook.com All rights reserved.