written by STEVE ULRICH
your must-read briefing on what's driving the day in NCAA Division III


>> Not only is it Thursday, but it's also "Jackie Robinson Day."

>> Today's Word Count: 1,367 (5 1/2 minutes)

>> Today's Subscriber Count: 1,658 (newsletter), 2,195 (twitter)

>> Interested in sharing your company's message in D3Playbook?

>> Thanks for reading D3Playbook. Remember to follow us on Twitter @D3Playbook for the latest news and transactions


TOP STORY
1. 'It's Going to Change the Landscape'

by Ross Dellenger, Sports Illustrated

"On the heels of the NCAA's decision to allow college athletes to freely transfer and play immediately, Greg Kampe has a message for basketball coaches everywhere: Change the way you recruit or see your career go up in flames.

"If you are building for the future," the longtime Oakland men's coach says, "you're going to lose your job."

In the latest move from college sports to rectify its archaic policies, the NCAA Division I Council approved a long-awaited measure Wednesday to grant all players the ability to transfer once in their careers and be immediately eligible, sources tell Sports Illustrated. The vote, expected for more than a year now, eschews a rule from the 1960s that penalized athletes in certain sports by forcing them to miss their first season at their new school. The legislation is expected to be approved April 28 by the NCAA Board of Directors and would, potentially, take effect immediately."

>> Situational Awareness: "Under current transfer rules, athletes in five sports, including football and men's and women's basketball, are ineligible in the first year they transfer. The new rule would allow all athletes to move freely at least once, though it includes some stipulations. Athletes must submit to their school a notification of transfer by certain dates to be immediately eligible at their next location. Fall- and winter-sport athletes would have to notify their schools by May 1, and spring sport athletes would have until July 1."

>> Why It Matters: "In a way, the transfer legislation is leading to an overhaul in some athletic departments, as teams heighten their focus on current college players and away from high school and junior college athletes. The shift in recruiting—from high school products to transfers—is alarming for some. The time-honored tradition of developing incoming freshmen for future seasons is evolving and will continue to evolve into coaches taking the NFL and NBA path, some say, assembling a team year by year with new players obtained through the college waiver wire—the transfer portal."

>> Worth Noting: "The raiding by power schools on mid-majors, in basketball, and on FCS programs, in football, is an expected result, administrators and coaches say. Todd Berry, executive director of the American Football Coaches Association, in fact, believes that some FBS programs, out of signee spots in a given year, will resort to placing recruits at FCS schools to later add them as a transfer—similar to the old sign-and-place strategy with junior colleges."

>> Read More

BASEBALL
2. Transfers Take Different Roads to Trinity

by Luke Terry, Trintonian / photo: Claire Sammons


"A Wildcat, Husky, Cardinal, Puma, Panther, Longhorn and a couple of Spiders are all Tigers today. "How is that possible" you might ask. The answer is simple: the National Collegiate Athletic Association (NCAA) transfer portal, a tool that has been utilized extensively by Trinity's baseball program to put together one of the most talented teams in school history.

Assistant Coach Andrew Waters currently serves as the recruiting coordinator for the baseball program, scouting and communicating with high school players who could potentially join the program. But Waters is also responsible for monitoring the NCAA transfer portal, which he calls "a great tool that the NCAA came up with for student-athletes."

So far, the portal has helped many athletes relocate, but Waters still describes the process as somewhat of a "crapshoot." For the Tigers, the success that they have found using the portal can partially be attributed to luck, beyond anything else.

"All of them have their own specific story about how they just kind of showed up and fell in our laps," Waters said."

>> Why It Matters: "It's too great of an opportunity not to jump on. And if everybody else is doing it and you're not doing it, you're behind. There's so many great, amazing baseball players out there that are looking for somewhere to play," fifth-year senior OF Rafe Chaumette said.

>> What They're Saying: "There's a reason why those kids were offered an opportunity at a higher level to begin with. Our standpoint is if we can get a guy that, for whatever reason, it didn't work out in Division I or II … we want them because they're probably just a notch better than the guys we can recruit right out of high school," Waters said."

>> Go Deeper
The best and most reliable end-to-end live video streaming provider in college athletics is BlueFrame Technology. Join #BlueFrameNation and Stream Like a Pro with special pricing for D3Playbook subscribers! Learn more today!
NCAA
3.
Management Council Recap
by Jeremy Villanueva, NCAA

"A blanket waiver could allow Division III student-athletes in the upcoming academic year to participate while enrolled less than full time for both semesters.

The Division III Management Council approved the recommendation from the Subcommittee for Legislative Relief at its quarterly meeting Tuesday. The proposal moves to the Presidents Council, which will take final action at its meeting April 28.

Due to waivers granted this year to mitigate the impact of the COVID-19 pandemic, student-athletes were effectively granted an additional year and season of eligibility. The Management Council wants to provide students who have graduated or are close to graduating a certain level of enrollment flexibility to use during the 2021-22 academic year. The recommendation maintains a base level of enrollment, ensuring students compete against students, while providing flexibility that supports graduation and participation.

Elsewhere ...
The Management Council approved a slate of legislative items for the 2022 NCAA Convention, including sponsoring legislation incorporating elements of a current blanket waiver allowing greater flexibility with virtual recruiting involving multiple prospective student-athletes. The item was introduced to the council from the Division III Interpretations and Legislation Committee. The Management Council is also requesting the Division III Presidents Council sponsor Convention legislation to permit the Presidents Council to use an emergency legislative process.

The Committee on Competitive Safeguards and Medical Aspects of Sports asked the Management Council to discuss and introduce 2022 NCAA Convention legislation to eliminate the option for a student-athlete to sign a written release or waiver declining the sickle cell solubility test.

Based on a recommendation by the Committee on Women's Athletics, the Management Council will sponsor 2022 NCAA Convention legislation to add STUNT as an emerging sport for women.

>> Continue Reading
RANKINGS
4. Marlins Ascend to #1


This Week's NFCA Top 10
Virginia Wesleyan (8), 23-3-1
Texas Lutheran, 23-4
Linfield, 25-3
East Texas Baptist, 19-3
Eastern Connecticut, 18-0
Birmingham-Southern, 23-3
Belhaven, 23-6
Salisbury, 17-5
DePauw, 17-2
Moravian, 10-0
11-15: Christopher Newport, St. John Fisher, MSOE, Wartburg, Berry
16-20: Saint Benedict, Emory & Henry, TCNJ, Randolph-Macon, Kean
21-25: Cortland (tie), Mount Union (tie), Hope, Framingham State, Stevenson

>> Hello: TCNJ, Hope, Framingham State, Stevenson
>> On The Rise: Moravian (+5)
>> Other Direction: Kean (-12), CNU (-5)

>> Games to Watch: #16 CSB vs. Bethel (Thurs.); #8 Salisbury vs. #11 CNU (Sat.); #9 DePauw vs. Wittenberg (Sat.); #16 CSB vs. St. Olaf (Sat.); #18 TCNJ vs. Montclair State (Sat.); #24 Framingham State vs. Brandeis (Sat-Sun.)

>> Complete Poll
RANKINGS
5. Unbeatens Hold Top Spots
This Week's AVCA Men's Top 10
Carthage (16), 20-0
Vassar (3), 8-3
Dominican, 16-1
New Paltz (1), 7-4
Springfield (1), 5-1
Southern Virginia, 15-2
Benedictine, 13-3
Juniata, 13-3
Endicott, 9-3
St. John Fisher, 7-6
11-15: Wentworth, Kean (tie), Lancaster Bible (tie), Messiah, North Central (Ill.)

>> Complete Poll

---
This Week's AVCA Women's Top 10
Colorado College (31), 14-0
Trinity, Texas, 12-2
Carthage, 9-1
Mary Hardin-Baylor, 16-2
Berry, 8-0
Millikin, 6-2
Texas-Dallas, 15-1
Elmhurst, 8-2
Calvin, 6-0
Transylvania, 15-3
11-15: Northwestern, Muskingum, Coe, Otterbein, Hope
16-20: Birmingham-Southern (tie), Whitworth (tie), Ohio Northern, Aurora, Greenville
21-25: Stockton, Cornell, Mount St. Joseph, Westminster (Mo.), Wartburg

>> Complete Poll


1 THING
7. The Best U.S. States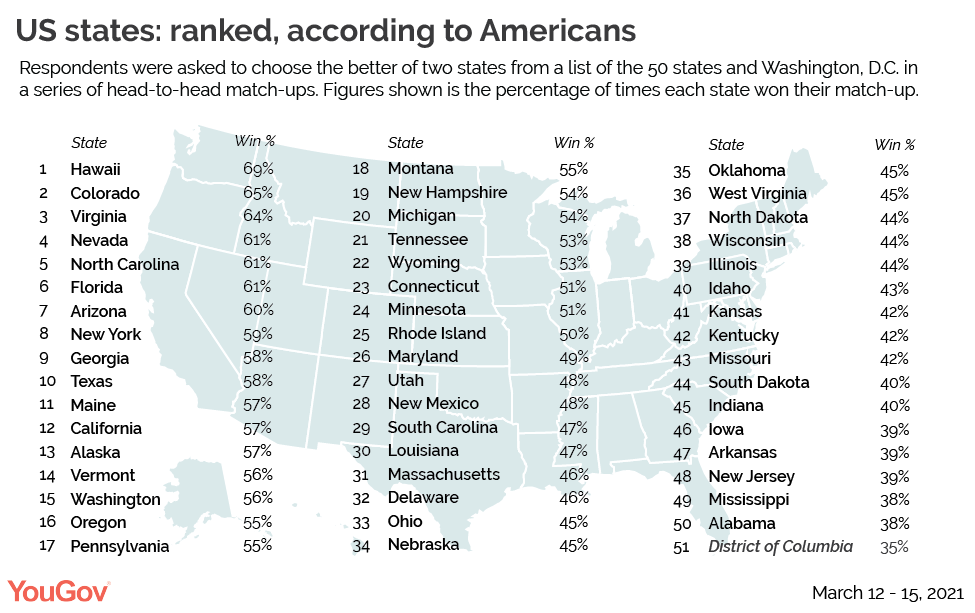 There are endless rankings of the US states: whether they are the best places to live, the best places to do business, how much fun they are. Such judgements are made by economists, companies, and journalists – but what do Americans themselves think?
We asked people to choose the better of two states in a series of head-to-head matchups. States are rated based on their "win percentage", that is: how often that state won the head-to-head matchup when it was one of the two states shown.

>> Contrast and Compare
Thanks for starting your day with us. Please invite your friends to sign up for D3Playbook.

If you have a business and would like to reach an affluent audience that works in higher education and college sports ... drop us a line at D3Playbook@gmail.com.
Copyright © 2021, D3Playbook.com All rights reserved.