>> Good Friday Morning! We're off on Monday, enjoying a long weekend. We'll see you again Tuesday.

>> Today's Word Count: 1,080. An easy read.

>> Interested in sharing your company's message in D3Playbook?

>> Thanks for reading. Remember to follow us on Twitter @D3Playbook for the latest news and transactions


TOP STORY
1. DIII Week


Beginning Monday, it's DIII Week.

Division III Week is a positive opportunity for all individuals associated with Division III to observe and celebrate the impact of athletics and of student-athletes on the campus and surrounding community. During the week, every Division III school and conference office is encouraged to conduct a type of outreach activity that falls into one of three categories: academic accomplishment; athletic experience; or leadership/community service/campus involvement.

The true essence of Division III athletics is the full integration of our student-athletes into the campus culture. Therefore, in addition to primary participation and organization by the athletics administration and student-athletes, Division III Week could involve the president, faculty, student body, admissions, student affairs or alumni.

Ultimately, through both local and national activation, the goal is to build a greater awareness and understanding of Division III athletics.

#D3Week, #NCAAD3, #whyD3, #myD3

>> Learn More
BASKETBALL
2. Plenty to Play For

by The Associated Press

"On Feb. 3, the women's basketball team at Hope College in western Michigan beat Trine for its 34th consecutive victory, then found out the bad news. The NCAA had canceled winter championships in Division III, including men's and women's basketball.

For a second straight season, the Flying Dutch wouldn't have a chance to compete for a national title.

For much of college basketball, this March has represented a step toward normalcy. The Division I men's and women's tournaments have reached the Final Four, and Division II crowned its champions recently. In Division III, however, the top teams were left without their national tournaments.

They understood they still had plenty left to play for."

>> Situational Awareness: "The NCAA, citing low participation numbers among member schools, announced in early February that Division III winter championships were canceled. The sports impacted were basketball, swimming and diving, indoor track and field, ice hockey and wrestling. According to figures released then on NCAA.com, participation levels were at 46.2% in women's basketball and 48.6% in men's basketball — well below the 60% threshold for holding a national championship."

>> Why It Matters: "A lot of girls were saying, 'Practice is the best two, three hours of my day, because I get to come and be with people that I love and play a sport that I love,'" Hope senior guard Kenedy Schoonveld said. "We couldn't imagine just, like, being done."

>> Reality Check: "The hardest thing for me, I know for guys on our team who are hoopers and love competition, is just kind of — it's been two years now where our season's ended on a win, and usually it doesn't end on a win unless you got the big one," said Buzz Anthony, a guard for Randolph-Macon."

>> Continue Reading

FINANCES
3. Soros Pledges $500M to Bard
by Rick Seltzer, Inside Higher Ed

"Financier George Soros has pledged a $500 million endowment to Bard College, the liberal arts college in New York's Hudson Valley announced Thursday.

The pledge stands to more than double Bard's endowment, which was valued at $220.8 million last summer.

Soros's pledge is structured as a challenge grant as Bard seeks to raise $1 billion over five years. Bard will receive the $500 million once it has raised a matching $500 million. The college has raised $250 million toward the goal, meaning it has five years to raise another $250 million.

"This is the most historic moment since the college's founding in 1860," Bard's president, Leon Botstein, said in a statement. "When this endowment drive is complete, Bard will have a $1 billion endowment, which will ensure its pioneering mission and its academic excellence for the future."

>> Read More

BANDS
4. The Championship Round

It's been a fun week of competition as we try to determine the top Division III fight song. And now, we are down to the final two - Heidelberg and Adrian.

After playing four games in four days ... we are going to give fans a holiday respite and hold the final on Tuesday. So listen closely to the songs ... ready the troops ... and get ready to vote. And enjoy your weekend.

Heidelberg (Ohio) University - Heidelberg Victory March

Adrian (Mich.) College - Hail Adrian!

COVID
5. Is the Fourth Wave Here?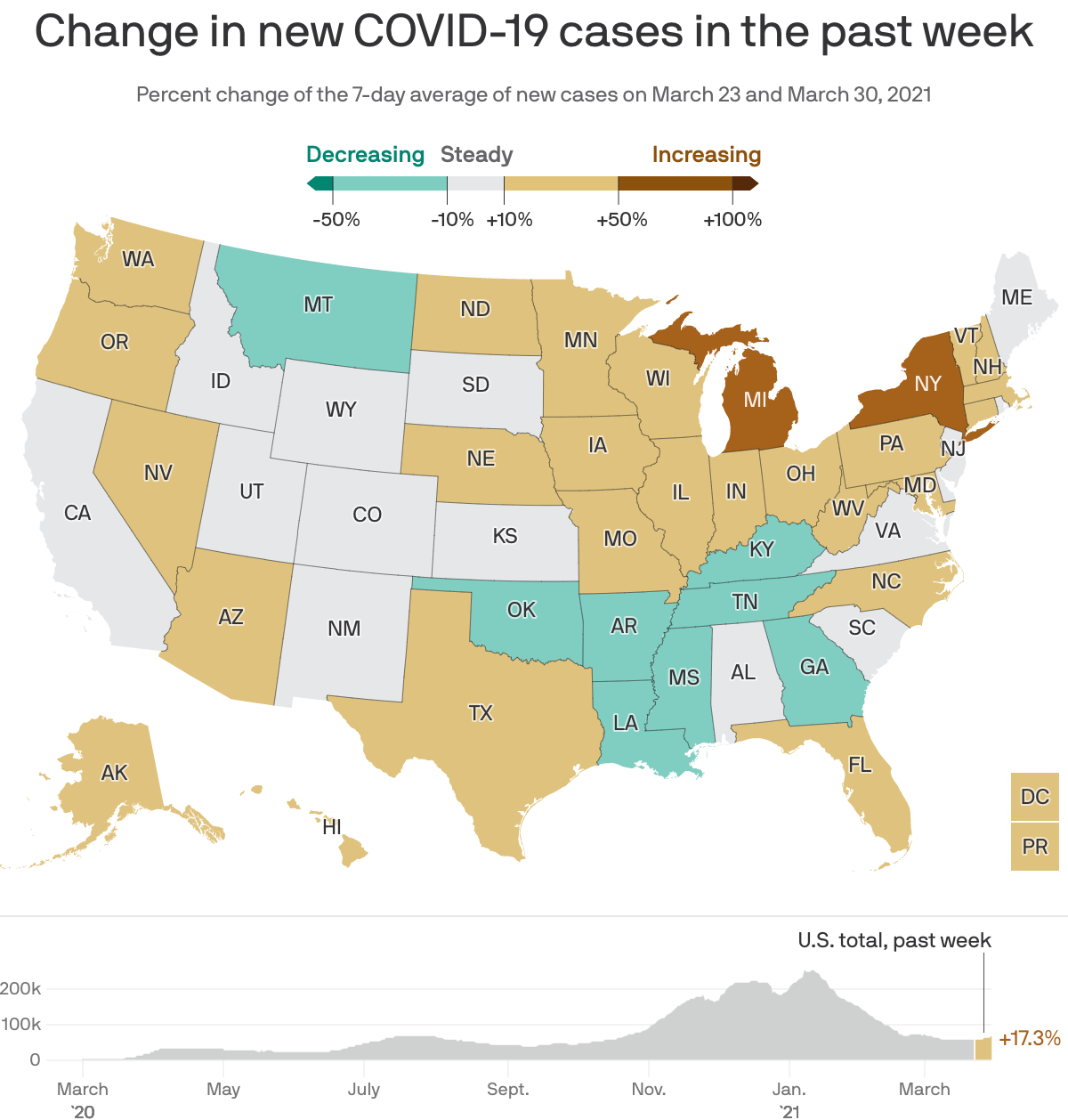 America is on the verge of a fourth wave of the pandemic.
It should be far less deadly than the previous three. But this persistent failure to contain the virus will only make it harder to put COVID-19 behind us, Axios' Sam Baker and Andrew Witherspoon report.

>> Be Smart: There have been a wave on postponements and cancellations of sporting events this week. Check with the host school if the game is still on for this weekend and, if so, about its spectator policies before venturing out.


TRANSACTIONS
6. Comings and Goings
BIRTHDAYS



7. Cake and Candles




Happy birthday to Russell Kramer (SCAC associate commissioner) and Doug Misarti (Kenyon men's lacrosse).

Want to give a S/O to a coach or administrator celebrating a birthday?
Email us at D3Playbook@gmail.com


1 THING
8. What Are Peeps Made Of?
Statistically speaking, there's a near certainty you're going to encounter Peeps over the next few days. Whether you love the Easter treats or hate them, you might have questions about what exactly people are putting into their bodies.

The good news is, there appear to be few secrets about what Peeps are and how they're made.

The big three are sugar, corn syrup (i.e., more sugar) and gelatin. They contain less than half a percent of food coloring, potassium sorbate (a preservative), natural flavors and carnauba wax. There's also a weird disclaimer that the product "may contain milk." Seems like they'd know, one way or the other. They're gluten-free but not vegan friendly, because of the gelatin."

>> Notable: A lot of facts and figures in this story from Lawrence Specker at AL.com. But don't miss the tidbit about the Emory University researchers and their quest to dissolve a Peep.

>> To those who celebrate, Happy Easter!

Thanks for starting your day with us. Please invite your friends to sign up for D3Playbook.

If you have a business and would like to reach an affluent audience that works in higher education and college sports ... drop us a line at d3Playbook@gmail.com.
Copyright © 2021, D3Playbook.com All rights reserved.