written by STEVE ULRICH
your must-read briefing on what's driving the day in NCAA Division III
>> Greetings. It's Tuesday Morning.

>> Today's Word Count: 1,169 (<5 minutes)

>> Thanks for reading D3Playbook. Share us with a friend today, won't you?

>> Advertise your job opening. Contact us today.


TOP STORY
1. Collision Course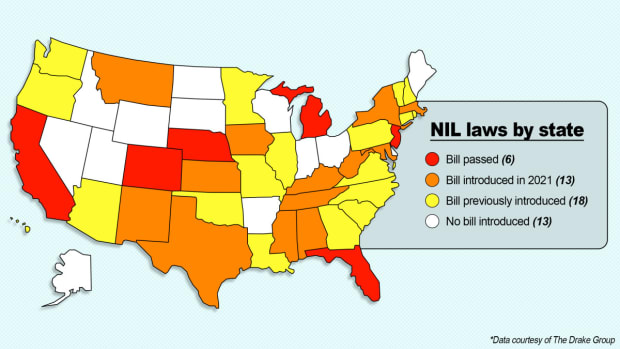 by Michael McCann, Sportico

"The college sports industry faces a looming and complicated legal crisis, with at least four states' name, image and likeness statutes will go into effect on July 1.

Barring judicial or legislative intervention, Florida, Alabama, New Mexico and Mississippi will be the first to have active NIL laws on the books. Several other states' governors have signed NIL statutes that will take effect later this year or at the beginning of 2022, while still other state legislatures are advancing NIL bills.

This evolving dynamic raises a number of questions that implicate the law.

Will the NCAA seek court injunctions to stop NIL statutes from taking effect? Will the NCAA announce its own NIL rules to govern schools across the country? Will Congress pass, and President Joe Biden sign, a federal NIL statute? Will colleges in non-NIL states, worried about recruiting advantages ceded to colleges in NIL states, defy their NCAA membership obligations and allow NIL? Will the NCAA sanction or threaten to expel member schools that act in defiance of contractual responsibilities? Will the NCAA simply do nothing and let the market play out?"

Scenario I: The NCAA seeks court orders enjoining state NIL statutes from taking effect
Before July 1, the NCAA could seek judicial declarations that prevent, or at least delay, states' NIL statutes from going into effect. The NCAA could name the relevant governors as defendants and pursue litigation in federal court.

Scenario II: NIL statutes go into effect July 1, leading other states to disregard NCAA rules and recognize NIL
Imagine being Clemson coach Dabo Swinney on July 1. Florida's Dan Mullen and Miami's Manny Diaz will be able to recruit high school football stars while dangling the fact those players could sign endorsement deals. Swinney, whose state of South Carolina hasn't passed NIL legislation, won't be able to do that. He'll need to convince players and their parents that even if they can't sign endorsement deals as Tigers, Clemson is still a better fit.

Swinney is unlikely to be OK with that. It disadvantages him for recruiting and thus threatens to undermine his program. The same is true for coaches in other non-NIL states. They could urge their athletic directors and university presidents to disregard NCAA rules and allow NIL.

Scenario III: Congress passes and President Biden signs a federal NIL statute
A handful of NIL-related bills have been introduced in the U.S. House and U.S. Senate, with both Republicans and Democrats serving as sponsors. Some of the bills are focused exclusively on NIL while others propose more transformative changes, such as revenue sharing and medical trust funds. As Sportico reported in March, lobbying efforts are underway to consolidate these bills into one that would attract sufficient support. If Congress passes an NIL bill and President Biden signs it, in effect crafting a national NIL standard that tamps down individual states' NIL recruiting advantages, it would be doing the NCAA a favor.

Scenario IV: The NCAA announces NIL guidelines
The NCAA now has another reason to wait on adopting NIL guidelines. In June or July, the U.S. Supreme Court will announce a potentially historic decision in NCAA v. Alston. To be clear, Alston is not about NIL. It concerns the legality of colleges, through the NCAA, agreeing to restrict compensation to athletes. NIL, in contrast, centers on opportunities for athletes to be paid by others, be they sneaker companies, video game publishers or other third parties. Yet the topics are interrelated in the sense that they shape NCAA amateurism rules. The NCAA might be worried by the sharp hostility expressed by several justices, particularly Justice Brent Kavanaugh and Justice Elena Kagan, towards amateurism. Still, the NCAA could surprise stakeholders and announce NIL guidelines before July 1.

>> Bottom Line: "No matter how it tries to resolve NIL, the NCAA would face potential legal challenges. Yet to take no action would likely box the NCAA—which has a long history of litigating rather than capitulating—into suing. One thing is for sure: The next few months will be among the most pivotal in the NCAA's history."

>> Continue Reading
FACILITIES
2. Gustavus Announces $60M Overhaul

by Mike Kennedy, American School & University

"Gustavus Adolphus College in Saint Peter, Minn., has begun work on a $60 million renovation and expansion of its campus wellness and athletic facility.

The overhaul of the Lund Center will more than triple the size of available wellness facilities and include expanded weight room, cardio, and group fitness spaces.

Other upgrades: a new academic wing with classrooms, faculty offices, and a 118-seat lecture hall; a human performance lab that will more than double in size; a new 53,000-square-foot field house with synthetic turf; and modern locker rooms.

The 12-month Phase I of the expansion and renovation project will focus on a 72,000 square-foot addition that will include fitness facilities utilized by all members of the Gustavus community such as expanded cardio and weight room spaces, locker room renovations, and new office spaces."

>> Read More

The best and most reliable end-to-end live video streaming provider in college athletics is BlueFrame Technology. Join #BlueFrameNation and Stream Like a Pro with special pricing for D3Playbook subscribers! Learn more today!
GOLF
3. Champions
CALENDAR
4. Upcoming Events

April
28 - Presidents Council

May
3 - Women's Lacrosse Championship Selection Show, 10:30
3 - M/W Golf Championship Selections
9 - Men's Lacrosse Championship Selections
10 - M/W Tennis Championship Selections
10-13 - Men's Golf Championship, Wheeling, WV
10-13 - Women's Golf Championship, Lansing, MI


LACROSSE

5. No Change at the Top

photo by David Sinclair

IWLCA Women
Franklin & Marshall (18), 5-0
Washington and Lee (1), 11-0
Tufts (4), 5-0
Salisbury (2), 13-0
Gettysburg, 5-0
Catholic, 7-0
Ithaca, 11-0
Colby, 3-1
Denison, 8-1
St. John Fisher, 12-1
11-15: Wesleyan, Messiah, York, Brockport, TCNJ
16-20: Geneseo, Cortland, Trinity, William Smith, CNU
21-25: Hamilton, St. Mary's, Montclair State, Mary Washington, Roanoke

>> Games to Watch: #4 Salisbury vs. #22 St. Mary's (Wed.); #20 CNU vs. #24 Mary Washington (Wed.); #16 Geneseo vs. #17 Cortland (Thurs.); #1 F&M vs. #5 Gettysburg (Sat.); #3 Tufts vs. #11 Wesleyan (Sat.)

>> Complete Poll

---
USILA Men
RIT (18), 7-0
Tufts (8), 5-0
Salisbury (1), 10-1
Lynchburg, 13-2
Cabrini, 8-1
York, 11-1
Gettysburg, 4-0
Stevenson, 6-0
Christopher Newport, 9-4
Williams, 3-0
11-15: St. John Fisher, Franklin & Marshall, St. Lawrence, Union, Ursinus
16-20: Hampden-Sydney, Denison, Colorado College, Ohio Wesleyan, Ithaca

>> Movin' On Up: Stevenson (+4), F&M (+3)
>> Opposite Direction: Union (-6)
>> Greetings: Ithaca

>> Games to Watch: Alfred vs. St. John Fisher (Wed.); Keene State vs. UMass-Boston (Fri.); #1 RIT vs. #14 Union (Sat.); #7 Gettysburg vs. #12 F&M (Sat.); #4 Lynchburg vs. Hampden-Sydney (Sat.); #10 Williams vs. Trinity (Sat.).

>> Complete Poll
TRANSACTIONS
6. Comings and Goings
1 THING
7. What We Can't Wait to Do
Thanks for starting your day with us. Please invite your friends to sign up for D3Playbook

If you have a business and would like to reach an affluent audience that works in higher education and college sports ... drop us a line at
D3Playbook
@gmail.com
.
Copyright © 2021, D3Playbook.com All rights reserved.