>> Good Friday Morning!

>> Cake and Candles. Want to give a S/O to a coach or administrator celebrating a birthday? Email us at D3Playbook@gmail.com

>> Today's Word Count: 848. An easy read.

>> Interested in sharing your company's message in D3Playbook?

>> Thanks for reading. Remember to follow us on Twitter @D3Playbook for the latest news and transactions


TOP STORY
1. NCAA Equity Review
"The NCAA will continue to aggressively address material and impactful differences between the Division I Men's and Women's Basketball Championships. While many of the operational issues identified have been resolved, we must continue to make sure we are doing all we can to support gender equity in sports. As part of this effort, we are evaluating the current and previous resource allocation to each championship, so we have a clear understanding of costs, spend and revenue.

Furthermore, we are examining all championships in all three Divisions to identify any other gaps that need to be addressed, both qualitatively and quantitively, to achieve gender equity. To assist the NCAA in this effort, we are retaining the law firm of Kaplan Hecker & Fink LLP ("Kaplan Hecker"), which has significant experience in Title IX and gender equity issues, to evaluate our practices and policies and provide recommendations on steps we can take to get better.

I have made clear that Kaplan Hecker and the staff supporting them will have direct access to the Board of Governors to discuss any issue that may arise during their work while Kaplan Hecker is conducting this review and assessment.

While it is still very early in the process, we hope to have these preliminary assessments in late April, with a final report this summer after all of our championships are completed."

- Mark Emmert


>> Be Smart: Very little. Very late.

TENNIS
2. ITA, USTA Establish Strategic Alliance
"The Intercollegiate Tennis Association (ITA) and the United States Tennis Association (USTA) have entered into a new strategic alliance that formalizes the two organizations' ongoing collaboration to strengthen and elevate collegiate tennis. This alliance between the sport's national governing body and its college coaches association brings greater focus and resources to both new and existing initiatives that the two organizations believe will not only benefit college tennis, but the entire tennis ecosystem.

"College tennis – with 1,250 colleges and universities, 1,700 programs, 3,000 coaches, nearly 20,000 student-athletes, and 1,400 officials – is viewed as a leader in the world of intercollegiate athletics and this new alliance between the USTA and the ITA, as the national governing body of college tennis, will only strengthen this important role," said ITA President and CEO Timothy Russell. "Our sport is strong because many people and organizations are working hard and smart each day on its behalf. The future is now even brighter given the wide-ranging comprehensive programs that the ITA and USTA will implement together."

One of the core tenets to the agreement is the commitment to pilot a new local and regional competition model that will make the American competitive pathway more efficient and effective, connecting American juniors, college, and entry-level professional players. Another component that has been identified as an area of emphasis is engaging with colleges and universities to open their varsity tennis facilities to the public."

>> What They're Saying: "College tennis is an aspirational dream of so many of our youth players and a connective tissue of the tennis pathway, helping to ensure that players stay in the game for life," said USTA CEO and Executive Director Mike Dowse, who will join the ITA's Board of Directors. "This alliance will build on the great work the USTA and the ITA have already been doing to solidify a bright future for all those who go on to play at the collegiate level."

>> Continue Reading

WEEKEND



3. What We're Watching

It's a jam-packed weekend of DIII sports action. Here's what we are keeping an eye on.

BaseballFootballLacrosse (M/W)SoftballTennis (M/W)Volleyball (M/W)


The Weekend Schedule
BSB | MBB | WBB | FB | MLX | WLX

TRANSACTIONS
5. Comings and Goings
1 THING
6. Ahead of the Game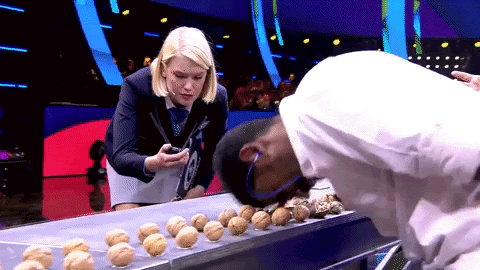 Competitive walnut smashing = a real thing that exists.
Please enjoy.

And take a break from banging your head against the wall this weekend!

Thanks for starting your day with us. Please invite your friends to sign up for D3Playbook.

If you have a business and would like to reach an affluent audience that works in higher education and college sports ... drop us a line at d3Playbook@gmail.com.
Copyright © 2021, D3Playbook.com All rights reserved.