MARCH 3, 2021 | written by STEVE ULRICH
your must-read briefing on what's driving the day in NCAA Division III
Our goal is to keep you - the influencers in DIII athletics - apprised of what's happening around Division III .
>> Welcome to Wednesday. 90 years ago, the Star Spangled Banner became the U.S. national anthem


>> Today's Word Count: 928. Concise. Smart.

>> Thanks for reading D3Playbook. Remember to follow us on Twitter @D3Playbook for the latest news and transactions


TOP STORY
1. A Virtual Reality
The North Coast Athletic Conference - one of Division III's strongest swimming and diving conferences - has an invitation for you.

The NCAC will "host" a virtual challenge for its own members and offers the opportunity for everyone in DIII to join in the competition. In cooperation with SwimCloud, teams will be able to enter any meet against Division III competition - including intra-squad meets - held between March 1 and April 18 into their SwimCloud accounts. After the cut-off date, coaches will have two days to enter their top performances according to entry limits.

Once complete, SwimCloud will generate a "psych sheet" that will serve as a virtual season culminating experience for the year.

>> What They're Saying: "We know this swimming & diving season, like just about everything this year, isn't at all what anyone would have hoped for of a competitive season," said Keri Alexander Luchowski, NCAC Executive Director. "Hopefully these events will give swimmers and divers some excitement and something to shoot for. I am excited to bring the DIII community together."

>> Reality Check: The "meet" will follow current NCAA Swimming and Diving rules and can only work is everyone is honest. No national records will be set as those must be established at competitions that meet the NCAA's bona fide competition standards.

>> Hashtags: #D3SwimFast; #D3RipFest

>> Read More

#whyD3
2. UMW Grad Heads J&J Vaccine Team

by Lisa Chinn Marvashti, U. of Mary Washington


"When one of the nation's top spots in infectious diseases opened up last June, Candice Malone Long '94 didn't think twice. For the chance to help when the world was facing a raging pandemic and in need of vaccines and therapeutics?

"It was an absolute 'yes,' " said Long, who has spent 25 years with Johnson & Johnson, the world's broadest and most diversified healthcare company, and its pharmaceutical division, Janssen. Her tenacity – and the work of the "incredible" teams she leads – supported a pivotal moment this past weekend with FDA Emergency Use Authorization of the first single-shot COVID-19 vaccine.

Recruited to Mary Washington to play field hockey, Long burned it up in the classroom and on the turf, earning All-American status in both. As captain, she led her senior-year team to the No. 2 spot in the U.S. and joined the UMW Athletic Hall of Fame, all while earning degrees in business and history with the guidance of faculty who showed her the way.

>> Situational Awareness: "Just as they had at Mary Washington, teammates and mentors at Johnson & Johnson offered their time and guidance as Long moved through sales, marketing and global positions to her new role as president of the Janssen Infectious Diseases & Vaccines division."

>> Quotable: "Coach [Dana] Hall set high expectations and helped us understand how to reach them," Long said. "She had the opportunity to guide us as athletes, but she did so much more. She guided us as individuals."

>> Continue Reading

FACULTY
3. Dakich, Doxxing and D3

by Dana Hunsinger Benbow, Indianapolis Star
"As a former Division I swimmer, Dr. Johanna Mellis said she's been the target far too many times of sexualization in sports, but what WFNI The Fan host and ESPN college basketball announcer Dan Dakich recently subjected her to was as extreme as it gets, she said.

"His behavior here was misogynistic and violent towards me," Mellis, an assistant professor of world history at Ursinus College in Pennsylvania, told IndyStar Monday.

Mellis, who is also a co-host of The End of Sport Podcast, got into a Twitter debate with Dakich on Feb. 23 that began over compensation for college athletes.

After Dakich questioned whether she and other professors who were debating him understood athletics, Mellis issued a challenge to Dakich that they battle it out in the pool."

>> Tweet: "Dan you want to play in the 'arena?'" Mellis tweeted to Dakich. "Let's level the playing field a bit: I used to swim upwards of 10,000 yards in practice sometimes. I've done 10x100s butterfly, 10x400IMs, and one time 10x1000 freestyles for time. It's brutal, but yeah let's go at it in the pool"

>> Why It Matters: "Mellis said in an email to IndyStar that she was asking that they race in the pool, but Dakich took it another direction. He responded with a tweet that has since been deleted, saying he would have to get divorced from his wife first."

Mellis' employer fired back.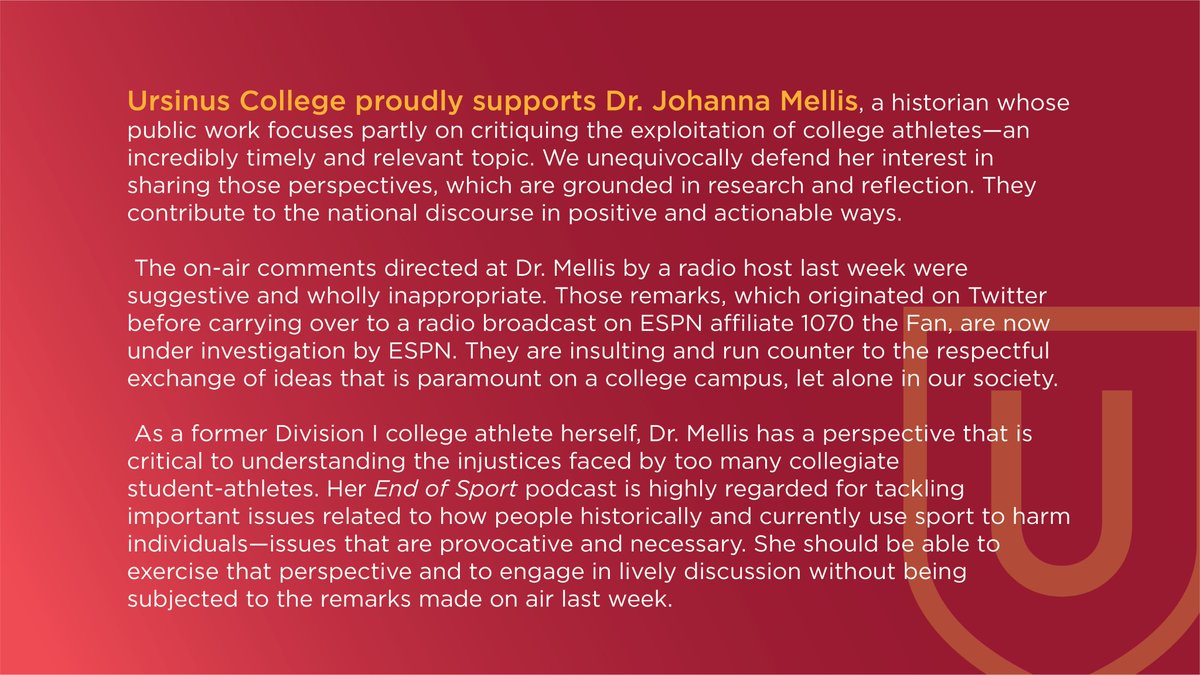 >> Defined: "Doxxing is publicly identifying or publishing private information about someone as a form of punishment."

>> Quotable: "I have experienced (misogyny) myself in past episodes of sexual harassment on the pool deck," (Mellis) wrote. "Many of my fellow female athletes and female sports journalists have also ... this is not just about me."

>> Continue Reading
>> Go Deeper with Inside Higher Ed
NCAA
4. Calendar

March
5 - Administrative Committee
14 - Daylight Saving Time
18 - Membership Committee
23 - Strategic Planning and Finance
27 - Passover begins

April
4 - Easter Sunday
10-11 - Student-Athlete Advisory Committee
12-13 - Management Council
15 - Membership Committee
28 - Presidents Council

TRANSACTIONS
5. Comings and Goings
Thanks for starting your day with us. Please invite your friends to sign up for D3Playbook.

If you have a business and would like to reach an affluent audience that works in higher education and college sports ... drop us a line at D3Playbook@gmail.com.