FEBRUARY 16, 2021 | written by STEVE ULRICH
your must-read briefing on what's driving the day in NCAA Division III

Our goal is to keep you - the influencers in DIII athletics - apprised of what's happening around Division III - the games, polls, news, happenings, awards, calendar of events, and much more. We hope you enjoy d3Playbook and that you'll share this with your friends, colleagues and co-workers.
>> Greetings. It's Tuesday Morning.

>> Today's Word Count: 932. No more than four minutes.

>> Interested in sponsoring D3Playbook?

>> Thanks for reading D3Playbook. Remember to follow us on Twitter @D3Playbook for the latest news and transactions


TOP STORY

1. Wesley Dropping Athletics


by Andy Walter, Delaware State News
"Wesley College told its athletics staff this afternoon that the school will be discontinuing its NCAA Division III sports programs at the end of the school year.


The decision comes as the entire college is transitioning to becoming part of Delaware State University, which purchased the Dover school last year.

Like almost all small colleges, Wesley hasn't been involved in any athletic competition since last March because of the coronavirus pandemic.

A former junior college, Wesley moved up to NCAA Division III in the last 1980s. The Wolverines have had their share of success, especially in football, men's basketball, golf and field hockey.

This afternoon, Wesley's coaches were in the process of breaking the news to their players.

"It's a sad and disappointing day knowing what we've built here as a football program," said head football coach Chip Knapp. "Being a nationally-recognized program and having such a great winning tradition, and having it going away, we're still processing the whole thing."

"It's just tough. At the end of the day, my heart just goes out to the kids," said men's basketball coach Dean Burrow. "This isn't a knock on academics but when you think of Wesley, you think sports, you think athletics, you think football, you think men's basketball and the other sports."

Long-time field hockey coach Tracey Short, who took over as athletic director in 2018, declined comment."

>> Read More
>> Go Deeper

BASKETBALL
2. Another Possible Postseason?


Add basketball to the winter championship mix?

If D3hoops.com has its way ... it will happen.

In a Monday morning post, managing editor Pat Coleman wrote "we began to investigate the possibility of holding our own postseason event, a sort of postseason NIT for Division III men's and women's basketball. Creating an event on short notice is never easy, and it's even less easy during a pandemic.

We are working toward creating up to four regional postseason tournaments for men's basketball and for women's basketball, to take place the weekend of March 19-20. We have heard from schools, some of them prominent ones, which say their conferences or presidents will not allow them to play after their conference season ends, or they may not be allowed to leave the state, and that is understandable. However, we believe that there are more than a dozen conferences whose representatives would be allowed to participate in a postseason event."

>> Where: "We have interest in hosting from schools in the Central Region, the Great Lakes Region and what I'll describe as the South Atlantic, as well as Texas."

>> When: The weekend of March 19-20.

>> Partners: "We are working with our friends at Sport Tours International to help organize these games as well. They are the ones who we partner with for the D3hoops.com Classic every year in Las Vegas."

>> Be Smart: As with wrestling, volleyball and track and field, the initial excitement of putting on such events may end up being tempered by the virus and the financial realities. That said, we applaud the efforts of all the groups and wish them well.

>> Go Deeper
The best and most reliable end-to-end live video streaming provider in college athletics is BlueFrame Technology. Join #BlueFrameNation and Stream Like a Pro with special pricing for D3Playbook subscribers! Learn more today!
GOLF

3. Titans Remain on Top

Illinois Wesleyan remained atop the Division III Bushnell Golfweek Men's Golf Coaches Poll. The Titans received 13 of a possible 16 first-place ballots to outpoint runner-up Huntingdon.

Illinois Wesleyan (13), 385
Huntingdon, 360
Emory, 345
Carnegie Mellon (1), 330
Piedmont (2), 300
Methodist, 300
Hampden-Sydney, 285
Guilford, 255
Claremont-Mudd-Scripps, 225
Mary Hardin-Baylor, 216
11-15: St. Thomas (Minn.), Greensboro, Gustavus Adolphus, Wittenberg, UW-Eau Claire
16-20: NYU, Hardin-Simmons, Oglethorpe, Washington and Lee, Southwestern
21-25: Aurora, Saint John's, Redlands, Calvin, Rensselaer, East Texas Baptist

>> Conference Call: USA South (4), American Southwest (3), Minnesota (3), ODAC (3), SCIAC (2), CCIW (1), Liberty (1), Michigan (1), NACC (1), North Coast (1), SAA (1), SCAC (1), WIAC (1).

>> Complete Poll
BASKETBALL
4. Hope, R-MC #1
The weekly D3hoops.com polls are out.

Women
Hope (11), 8-0, 221
East Texas Baptist (4), 19-0
Whitman, 4-0, 174
Oglethorpe, 6-0, 167
Trine, 9-1, 156
Wartburg, 10-1, 146
DePauw, 4-0, 145
Millsaps, 8-0, 76
Hardin-Simmons, 12-3, 74
Texas-Dallas, 9-3, 73
11-15: John Carroll, Maryville, Simpson, Wheaton (Ill.), UW-Eau Claire

>> Complete Poll

>> Conference Call: ASC (3), A-R-C (2), MIAA (2), SAA (2), CCIW (1), NCAC (1), NWC (1), OAC (1), USA South (1), WIAC (1)


Men
Randolph-Macon (16), 5-0, 265
Illinois Wesleyan, 3-0, 212
Trine, 12-0, 188
Saint John's (1), 2-0, 187
Wheaton, Ill., 7-0, 180
St. Thomas, Minn., 2-0, 166
Whitworth (1), 6-3, 143
Yeshiva, 2-0, 138
Mount Union, 6-1, 130
Dubuque, 8-0, 107
11-15: UW-Platteville, Mary Hardin-Baylor, UW-Oshkosh, DePauw, Heidelberg

>> Conference Call: CCIW (2), MIAC (2), OAC (2), WIAC (2), A-R-C (1), ASC (1), MIAA (1), NCAC (1), NWC (1), ODAC (1), Skyline (1)

>> Complete Poll
A MESSAGE FROM SKYE DESIGN STUDIOS

"The MIAC has had the good fortune to work with Skye Design Studios on multiple occasions and could not be happier with the results. Not only is Skye an extremely talented artist, but he worked hard to understand and prioritize our needs, which resulted in outstanding designs that were really representative of the vision we had for our brand."
- Dan McKane, Commissioner | Minnesota Intercollegiate Athletic Conference

STUDENTS
5. Hockey Humanitarians

The Hockey Humanitarian Award Foundation today announced six nominees for the 2021 Hockey Humanitarian Award.

The award, which is celebrating its 26th season, is presented annually to college hockey's finest citizen — a student-athlete who makes significant contributions not only to his or her team but also to the community-at-large through leadership in volunteerism.

Among the nominees are representatives from Division III
A MESSAGE FROM THE CITY OF SALEM
The City of Salem and Salem Parks & Recreation along with other localities in the Roanoke Valley host a variety of softball and baseball tournaments throughout the year. We work with Roanoke County, Roanoke City, Botetourt County and
Visit Virginia's Blue Ridge
. USA, NSA, USSSA, Got Game, Softball Nations, Freedom Sports and ISF are organizations that bring tournaments to the Roanoke Valley.
Find out more at
SalemChampionships.com
TRANSACTIONS
6. Comings and Goings
LAST WORD
7. Pic du Jour

Monday at Texas Lutheran's Ed Kruse Stadium.

Would Ernie Banks still want to play two?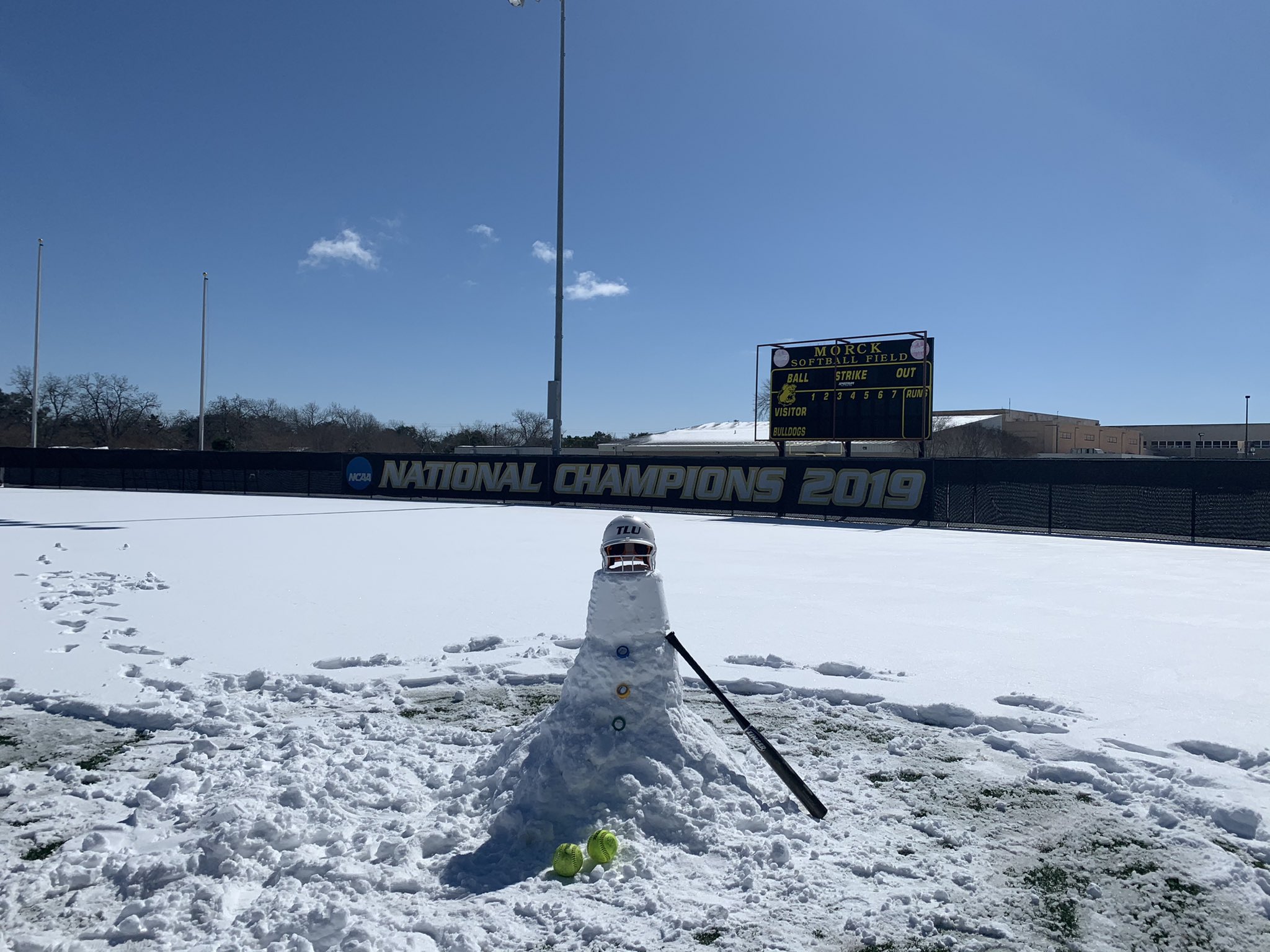 Thanks for starting your day with us. Please invite your friends to sign up for D3Playbook

If you have a business and would like to reach an affluent audience that works in higher education and college sports ... drop us a line at
d3Playbook
@gmail.com
.