PRESENTED BY THE CITY OF SALEM
"Virginia's Championship City"
FEBRUARY 17, 2021 | written by STEVE ULRICH
your must-read briefing on what's driving the day in NCAA Division III

Our goal is to keep you - the influencers in DIII athletics - apprised of what's happening around Division III - the games, polls, news, happenings, awards, calendar of events, and much more. We hope you enjoy d3Playbook and that you'll share this with your friends, colleagues and co-workers.
>> Welcome to Wednesday.

>> Today's Word Count: 1,207. Another cup o' joe please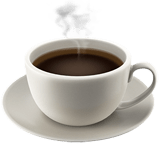 >> Thanks for reading D3Playbook. Remember to follow us on Twitter @D3Playbook for the latest news and transactions


TOP STORY
1. The Great Contraction

by Lee Gardner, Chronicle of Higher Education (graphic: Harry Haysom)
"With higher education facing average revenue losses of 14 percent or more due to Covid-19, the pandemic presents an existential challenge for the hundreds, maybe thousands, of colleges that entered last March with already precarious finances.

Every week or so seems to bring new headlines about institutions making jaw-dropping cuts. Concordia University Chicago, a private institution, for example, announced in December that it would be laying off 51 faculty and staff members, about 7 percent of its work force, and shuttering 15 academic programs after a two-year "prioritization" process. Many of those cuts were the result of ongoing program evaluations meant to meet longstanding financial challenges, but their urgency was hastened by the pandemic.

But slashing budgets alone, experts agree, isn't enough to survive. Struggling colleges must cut strategically and adapt to a new way of operating, in order to find a way to eventually grow and thrive."

>> Situational Awareness: "When the chaos of the pandemic eventually subsides and the dust settles, American higher education as a whole may look very different: Wealthy institutions will remain relatively unchanged, but a stratum of even leaner public universities and smaller private colleges are likely to have moved further away from the classic spectrum of a university education."

>> The Big Picture: "Professors often balk at closing traditional programs such as classics, but they are simply living through changing times, says S. Georgia Nugent, president of Illinois Wesleyan University, which is eliminating eight departments in the humanities as part of a program review. She has served as a college president for nearly 20 years, and in that time, she has watched students' view of higher education shift to be predominantly about "the outcome of being prepared for a job," she says."

>> The Key Stat: "If a struggling institution only has so many resources to reinvest to improve its fortunes, and you put it into something that doesn't take off," he adds, "then you just lit a match to the very scarce capital you have." - Robert G. Atkins, chief executive of Gray Associates

>> Reality Check: Kevin Kruger, the president of Naspa, an organization for higher-education student-affairs professionals, says he expects to see more small, non-revenue-generating athletic programs cut. That can be a risky move, since many small colleges recruit students in part through allowing them to continue their high-school athletic careers, but the expense of coaches' salaries, equipment, and team travel can add up. College leaders are going to be forced to make a series of critical calls about "what is nice to have," Kruger says, "and what you've got to have."

>> An Essential Read
COVID
2. Pandemic Impacts Mental Health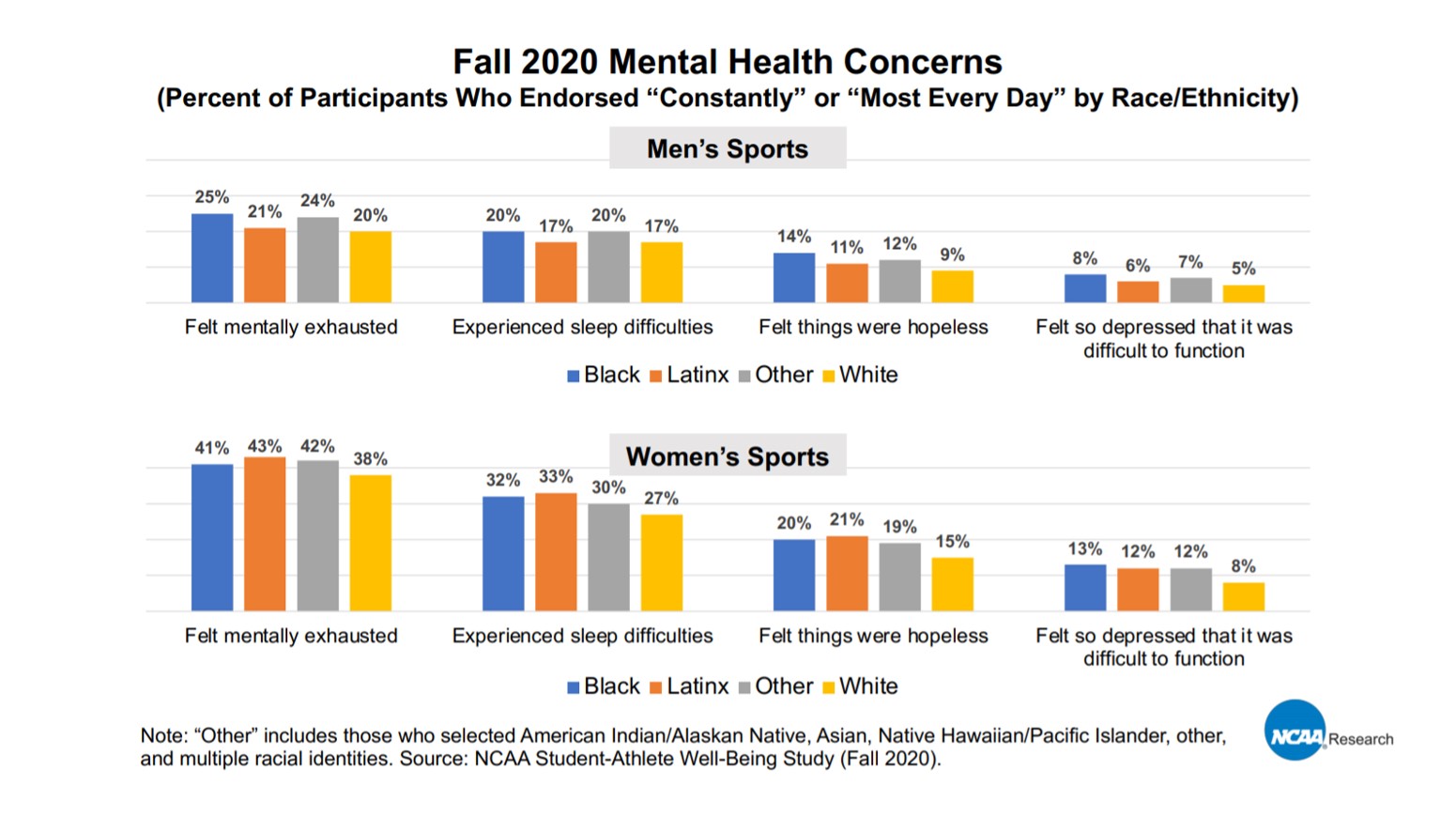 by Greg Johnson, NCAA

"As a follow-up to the NCAA Student-Athlete COVID-19 Well-Being Survey conducted in spring 2020, a similar survey conducted in the fall showed student-athletes continue to face heightened mental health concerns and barriers to sport participation.

It also found a majority of student-athletes returning to their college towns and regaining some form of in-person interactions with teammates and coaching staff. While some mental health concerns declined from spring levels, new challenges in terms of career planning and graduation timing were identified.

Over 60% of the Division II and Division III respondents reported that they took a hybrid of in-person and virtual classes, and 11% said all their classes were conducted in person."

>> Situational Awareness: "The Association-wide survey, which took place Oct. 6-Nov. 2, had responses from nearly 25,000 student-athletes. It was designed by NCAA research in collaboration with the NCAA Sport Science Institute and the NCAA Division I, II and III Student-Athlete Advisory Committees."

>> Mental Health: "Respondents noted academic worries (43%), lack of access to sport (33%), COVID-19 health concerns (31%) and financial worries (24%) as the top factors negatively impacting their mental health."

>> Campus Living: "Nearly 90% of student-athletes surveyed across the three divisions reported living on campus or in their college community, and 60% reported attending a blend of virtual and in-person classes in the fall."

>> COVID Testing: "74% of the Division III respondents said they took a test, with 8% testing positive at some point."

>> Keep Reading
A MESSAGE FROM SKYE DESIGN STUDIOS
"Skye's greatest attributes are his ability to listen and his patience. The creative process entailed a good amount of collective 'back and forth', exploring and refining a variety of different design concepts. It was this thorough exploration that ultimately led to a fresh, clean, and cutting edge brand. We were exceptionally pleased."
- Geoff Miller, Former Director of Athletics | Goucher College
TENNIS
3. If You Can See It, You Can Be It

Kalamazoo Head Men's Tennis Coach Mark Riley knows college tennis inside out. Riley was a standout for the Hornets in the eighties and has since made several head coaching stops before returning to coach at his alma mater.

ITA | During your playing days at Kalamazoo, you were a two-time captain and an All-American. What are some of your fondest memories from then?
Road trips with my team mates, working each season to improve on and off the court, working toward a National Championship. Unfortunately, as a team we didn't quite make it — we were runners-up in 1982.

ITA | Have you seen the experience of a Black tennis player change from when you played in college to now?
I hope so. I don't think we have enough players of color that have evolved to the top, but a good example is the Michigan women's player – 2017 NCAA National Champion Brienne Minor. It's nice to see Frances Tiafoe go from winning the Boys' 18 National Championship in Kalamazoo in 2015 to a top 40 ATP tennis player. As a young player, he can have impact on people of color and young people in general who are following tennis and becoming and staying engaged in our great sport of tennis.

ITA | Previously you coached at UPenn. What was a driving factor in taking the job at Kalamazoo?
The driving factor of me taking the job at Kalamazoo College was being hired by our then president Eileen Wilson-Oyelaran. To have the opportunity to learn from a leader who looked at me was an opportunity of a life time. During the interview process, she let me know I was truly wanted to lead our tennis program and coupled with the opportunity to be the director of the Boys' Nationals Tennis Tournament — it was a dream job. I am now starting year 15 in Kalamazoo.

ITA | You are an alum of the Kalamazoo tennis program. How does coaching at your alma mater change the coaching experience?
As an alum, I realized the Kalamazoo College tennis program can teach our student athletes countless lessons: leadership, time management, life long relationships made, opportunity to win conference championships and compete for national championships each season. Kalamazoo College gives student athletes an excellent academic and tennis experience and an opportunity to make memories of a lifetime.

>> Continue Reading, courtesy of ITA Tennis

NEWS YOU CAN USE

4. Around the Nation

The Empire 8 Presidents Council has unanimously affirmed plans to proceed with spring sports competition. All plans remain contingent upon federal, state and local health guidance and the status of all contests will be subject to the realities of the COVID-19 pandemic.

Due to extreme weather conditions impacting American Southwest Conference campuses and their local communities, the Conference is postponing conference competition scheduled February 16 through 21 (Tuesday through Sunday). The Directors of Athletics and Conference staff will assess options in rescheduling events. ASC competitions postponed include the ASC Cross Country Championships and league games in basketball, football, soccer and volleyball.

After a historic winter storm blanketed much of the league's geographic footprint, the Southern Collegiate Athletic Conference (SCAC) today announced the suspension of all conference competition originally scheduled for the week of February 16 through 22 (Tuesday through Monday). The suspension effects conference games in all team sports, including men's and women's basketball, men's and women's soccer and women's volleyball.

Thanks to the generosity of a family that wishes to be anonymous, Saint Mary's University Cardinal hockey programs will receive some major upgrades next season — including rink improvements and new men's apparel and equipment. With an outright gift of $250,000 and a commitment of $750,000 for future needs, these philanthropic Cardinal hockey fans are giving back to a sport that has brought their family so much joy — and so many meaningful connections — through the years. "They loved the sport, and we loved the sport, and it has taken us all over the world. We've met some great people along the way. It's a great group, and some of our best friends have been made through hockey," the family shared.

Due to inclement weather, the Southern Athletic Association (SAA) has changed the dates of the 2021 SAA Swimming and Diving Championships in Birmingham, Ala. The new dates for the championships, held at the CrossPlex, is scheduled to be Friday, February 19 through Monday, February 22.


A MESSAGE FROM THE CITY OF SALEM
The City of Salem and Salem Parks & Recreation along with other localities in the Roanoke Valley host a variety of softball and baseball tournaments throughout the year. We work with Roanoke County, Roanoke City, Botetourt County and Visit Virginia's Blue Ridge. USA, NSA, USSSA, Got Game, Softball Nations, Freedom Sports and ISF are organizations that bring tournaments to the Roanoke Valley.

Find out more at SalemChampionships.com
TRACK AND FIELD
5. Eagles and Knights On Top

UW-La Crosse, with its 17 national top-10 marks, held steady at No. 1 for the second week in a row. The Eagle women dotted the national leaderboard with performances this past weekend, including a pair of NCAA DIII toppers by Skye Digman in the weight throw (17.95m/58-10¾) and Ashley O'Connell in the pole vault (3.50m/11-5¾).

Women
UW-La Crosse
John Carroll
Wartburg
Loras
Central
UW-Oshkosh
UW-Eau Claire
Dubuque
Hope
Illinois Wesleyan
11-15: Bethel, Nebraska Wesleyan, Baldwin Wallace, Mount Union, Gustavus Adolphus
16-20: UW-River Falls, UW-Stevens Point, UW-Stout, Saint Benedict, Wittenberg

>> Complete Poll

Wartburg held steady at No. 1 for yet another week. The Knight men own 15 national top-10 marks, including new and improved efforts from Dallas Wright to No. 2 in the 400 at 48.66c/49.43 and Christopher Collet to No. 6 in the 3000 at 8:21.83c/8:27.66, among others.

Men
Wartburg
UW-Oshkosh
UW-Whitewater
Loras
UW-La Crosse
John Carroll
Central
UW-Stout
Gustavus Adolphus
Mount Union
11-15: North Central (Ill.), UW-Eau Claire, LeTourneau, UW-Stevens Point, Ohio Northern
16-20: Capital, St. Thomas (Minn.), Dubuque, Lynchburg, Nebraska Wesleyan

>> Complete Poll



1 THING
7. Audio Takes Off
Illustration: Sarah Grillo/Axios

"The mass adoption of wireless headphones and smart devices, combined with people being home all day and not in public spaces, has created a boom for audio.
Wireless headphone and earbud shipments surpassed wired headphones and earbuds last year.
Music, audiobook and podcast services are expected to reach $10 billion in revenue, up 19% over last year. Audiobooks are the fastest-growing sector within the book publishing industry.
The bottom line: The audio boom is a milestone for accessibility and a boon to content creators, but it also presents new challenges for content moderation."
- courtesy of Axios

Thanks for starting your day with us. Please invite your friends to sign up for D3Playbook.

If you have a business and would like to reach an affluent audience that works in higher education and college sports ... drop us a line at d3Playbook@gmail.com.