FEBRUARY 18, 2021 | written by STEVE ULRICH
your must-read briefing on what's driving the day in NCAA Division III
Our goal is to keep you - the influencers in DIII athletics - apprised of what's happening around Division III - the games, polls, news, happenings, awards, calendar of events, and much more. We hope you enjoy d3Playbook and that you'll share this with your friends, colleagues and co-workers.

>> It's Thursday Morning! It's National Drink Wine Day. At least we've got that going for us.


>> Today's Word Count: 1,418. 5 1/2 minutes of your valuable time.

>> Today's Subscriber Count: 1,601 (newsletter), 1,977 (twitter)

>> Thanks for reading D3Playbook. Remember to follow us on Twitter @D3Playbook for the latest news and transactions


TOP STORY
1. Senior Day on the Sound
by Glynn A. Hill, Washington Post (photo: Kurt DeVoe, Puget Sound Athletics)

"University of Puget Sound defensive lineman Peter Ciari missed the rush — and the snarl of the chain saw.

The senior was poised to reestablish himself after a foot injury left him in a boot and forced him to miss six games last season. He returned to finish the final two games of his junior year, which concluded with a sour 33-21 loss to Lewis & Clark College on Nov. 16, 2019.

Four hundred forty-eight days later, after the coronavirus pandemic pushed several lower-division college football seasons into spring, Puget Sound (last) Saturday became one of 16 Division III teams to kick off.

Still facing the threat that delayed its season, the Tacoma, Wash., school opted to honor Ciari and 15 other seniors on opening day instead of at the home finale, as is traditional.

As the sky cleared before afternoon kickoff at Baker Stadium, a live stream of the game showed Loggers players organized into two parallel lines, forming a tunnel from the end zone to the 40-yard line. The team's 16 seniors gathered near puddles on the surrounding track as a voice over the public address system said, "Welcome to college football in February."

>> Situational Awareness: Last spring, the coronavirus forced the small private school to transition to remote learning, erasing spring football workouts and vacating the campus into summer. The Northwest Conference postponed fall sports in July and said it would work to reschedule competition in spring, but as some Division III schools in California began to cancel fall sports entirely, Coach Jeff Thomas said Puget Sound developed contingency plans.

>> Worth Noting: Seniors posed for pictures while their teammates began running and stretching. The team then convened near the track for the revival of another program tradition: the pregame entrance in which a player — in Saturday's case, senior defensive lineman Hayden Baumann — leads the Loggers onto the field while wielding a chain saw.

>> What They're Saying: "This past year and a half has made me realize that I can't take anything for granted," Ciari said. "I am incredibly grateful that we had a season and that we have games to look forward to. But I understand that those games aren't guaranteed."

>> Continue Reading
CONFERENCES
2. On and Off
It's that time of year again - when conferences announce their intention to participate in or cancel their spring sports.

The City University of New York Athletic Conference (CUNYAC) has opted for the latter, cancelling all formal spring intercollegiate athletic competition for 2020-21.

"We considered and weighed options and strategies for a safe return to play but due to the uncertainty of the pandemic and our obligation to follow all City, State, NCAA and NJCAA guidelines, as well as the University's reopening guidelines, it remained clear that unresolved logistical issues continue to affect the ability to hold CUNYAC competition," said Hector Batista, Executive Vice Chancellor and Chief Operating Officer.

The Wisconsin Intercollegiate Athletic Conference chose the former, announcing its plan to proceed with spring sports competition. The return-to-play includes the conference sports of baseball, women's golf, men's and women's outdoor track & field, softball and women's tennis.

Proceeding
Opting Out
Under ReviewSchools Opting Out
if your institution/conference was omitted from the list, drop us a note
The best and most reliable end-to-end live video streaming provider in college athletics is BlueFrame Technology. Join #BlueFrameNation and Stream Like a Pro with special pricing for D3Playbook subscribers! Learn more today!
BASKETBALL
3. The Numbers Speak for Themselves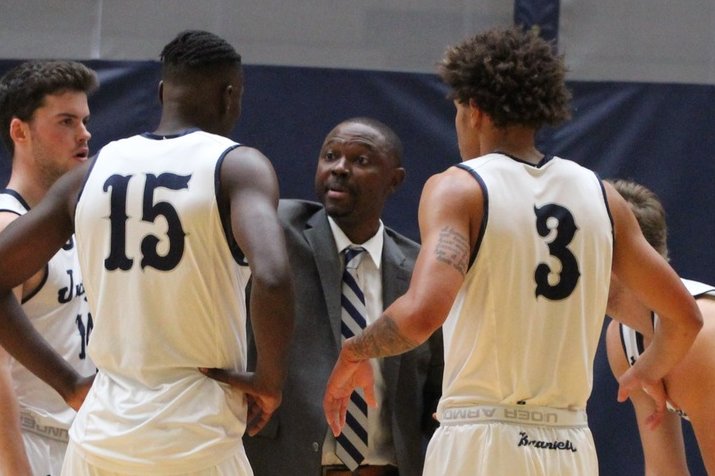 by Matthew Kim, Columbia Spectator
"When Jean Bain got the call, he was sitting on a couch in his Morningside Heights apartment, unwinding after a Saturday afternoon basketball practice.

The call was unexpected. It was already October, late in the hiring process for college basketball coaches. The new season was right around the corner, and Bain was ready for another year of Columbia basketball.

But on the other end of the phone was Jeff Ward, the then-athletic director at Brandeis University. Ward was calling to offer Bain a job as the head coach of Brandeis' men's basketball. If he said yes, Bain would only have a couple of weeks to move to Waltham, Massachusetts to prepare the Judges for the upcoming season.

He accepted the offer and was ready to drive to Waltham immediately. Bain said he did not even need to see any contract details—on the spot, he made up his mind that the answer was "yes."

The call from Brandeis was the big break he had been waiting for."

>> Background: "Bain had been a journeyman of a coach. Following a decorated playing career at Northeastern University, the Massachusetts native went back home to coach at his high school. A couple of years later, he landed his first college gig as an assistant coach at Worcester Polytechnic Institute. He then went on to hold assistant and associate coaching roles at the University of New Hampshire, Dartmouth College, and Columbia."

>> The Big Picture: "While he had the same ambitions as many assistant coaches, Bain's background was not the norm within the sport. As a Black coach in college basketball, many would consider Bain to be an exception to a long legacy of white coaches. According to the National Collegiate Athletic Association demographics database, in 2019, only 28 percent of Division I men's basketball head coaches were Black. At the Division III level, this disparity is even more pronounced. While 33 percent of Division III men's basketball players in 2019 were Black, only nine percent of coaches were, nearly a fourfold difference."

>> Reality Check: "But since 2018, three Black assistant coaches from Columbia have gone on to become head coaches: Bain, Kenny Blakeney of Howard University, and Marlon Sears of Amherst College. In a profession where head coaching opportunities are so few and far between, networking often makes the difference between getting the job and not."

>> Quotable: "If I was not an assistant at Columbia or places that I've been at, like Dartmouth, I don't know if I could have gotten the Brandeis job just because the academic structures align so [similarly]," Bain said.

>> Continue Reading
A MESSAGE FROM SKYE DESIGN STUDIOS
"As AVP for Communications at Bates College in 2012, I hired Skye Design Studios to undertake the downright tricky task of creating a new look for our sports mascot, the Bobcat. The result was a resounding success, as Skye delivered a strong new Bobcat, as well a unique athletics font and complete style manual to guide our usage. Goal! Truly one of the most satisfying experiences in my communications career."

- Meg Kimmel, Former AVP for Communications | Bates College
#whyD3
4. The Perfect 3rd String QB



by Jake Elman, Sportscasting.com



"Alex Tanney's retirement not only leaves the New York Giants without their third-string quarterback, but it just took away one of football's best stories.

If everything went to plan, Giants fans only saw Tanney in the preseason or on the sidelines. Tanney was the perfect third-string quarterback, someone who showed up every day, waited for an emergency situation, and went home.

In that regard, Tanney was as great as his job as Patrick Mahomes is as the Chiefs' starting quarterback. If you don't believe us, just look at Tanney's bank account.

Tanney only threw 15 passes in his career, so he earned over $200,000 per attempt in the NFL."

>> Between The Lines: "Tanney is an exceptional success story and is further proof about how one should keep pursuing their dreams. A star high school quarterback in Illinois, (he) signed with Monmouth College (Ill.) out of high school. Tanney shredded the record books in his five years at Monmouth. His 157 touchdowns remain the all-time NCAA record, and no quarterback at the D-III level topped his 14,249 yards through the 2020 season."

>> DYK: "Despite the numerous awards in college, Tanney's biggest claim to fame came in 2011 when he posted a video online featuring a variety of throws to a variety of targets (goal posts, basketball goals, moving cars). The video exploded. As of today the video has been viewed more than 4.4 million times."

>> Read More

TRANSACTIONS
5. Comings and Goings
A MESSAGE FROM THE CITY OF SALEM
The City of Salem and Salem Parks & Recreation along with other localities in the Roanoke Valley host a variety of softball and baseball tournaments throughout the year. We work with Roanoke County, Roanoke City, Botetourt County and Visit Virginia's Blue Ridge. USA, NSA, USSSA, Got Game, Softball Nations, Freedom Sports and ISF are organizations that bring tournaments to the Roanoke Valley.

Find out more at SalemChampionships.com
LAST WORD
6. Workplace Romances Are Thriving
Happy belated Valentine's Day! Chances are, a significant chunk of you met current or past partners at the office water cooler.
By the numbers: According to a new survey from the Society for Human Resource Management, 50% of Americans have crushed on a colleague.
And here's a surprising stat: 34% said they were romantically involved with a colleague in 2020, up from 27% in 2019.
It looks like the pandemic, which kept many of us at home and on endless Zoom calls with co-workers, spurred quite a few office romances.
- courtesy of Axios



Thanks for starting your day with us. Please invite your friends to sign up for D3Playbook.
If you have a business and would like to reach an affluent audience that works in higher education and college sports ... drop us a line at d3Playbook@gmail.com.