PRESENTED BY THE CITY OF SALEM
"Virginia's Championship City"
FEBRUARY 15, 2021 | written by STEVE ULRICH
your must-read briefing on what's driving the day in NCAA Division III

Our goal is to keep you - the influencers in DIII athletics - apprised of what's happening around Division III - the games, polls, news, happenings, awards, calendar of events, and much more. We hope you enjoy d3Playbook and that you'll share this with your friends, colleagues and co-workers.

>> Good Morning!

Happy Presidents' Day



>>

Monday's Word Count

:

821. Holiday edition.

>> Thanks for reading D3Playbook. Remember to follow us on Twitter @D3Playbook for the latest news and transactions


TOP STORY
1. High Hopes
The count is now up to three sports that hope to conduct a "national championship" event in the upcoming weeks.

First, it was the National Wrestling Coaches Association (NWCA) Division III Leadership Group. That organization has announced its championship will take place on March 12-13 at the Xtream Arena in Coralville, Iowa.

Next, it was the American Volleyball Coaches Association (AVCA). Its invitational event is scheduled for April 9-10 in Indianapolis.

Now, Wartburg (Iowa) College has organized an indoor track and field meet that aims to bring together top athletes for the DIII Elite Indoor Championships on March 12-13. The top 16 individuals and top 12 relay teams - based on TFRRS.org lists - will receive an invitation.

>> What's Next: Could swimming and diving be next? Basketball? Ice hockey? Could conferences join together for a regional event, inviting league champions for competition at one location over a weekend?

>> Yes, But: It is a question that has been asked many times throughout the years - what would happen if NCAA funding for DIII championships dried up? We may be finding out.

>> Perspective: "You must feel so angry." Her reply was masterful - "I can't think about this right now, we're going sledding."

CONFERENCES
2. Champions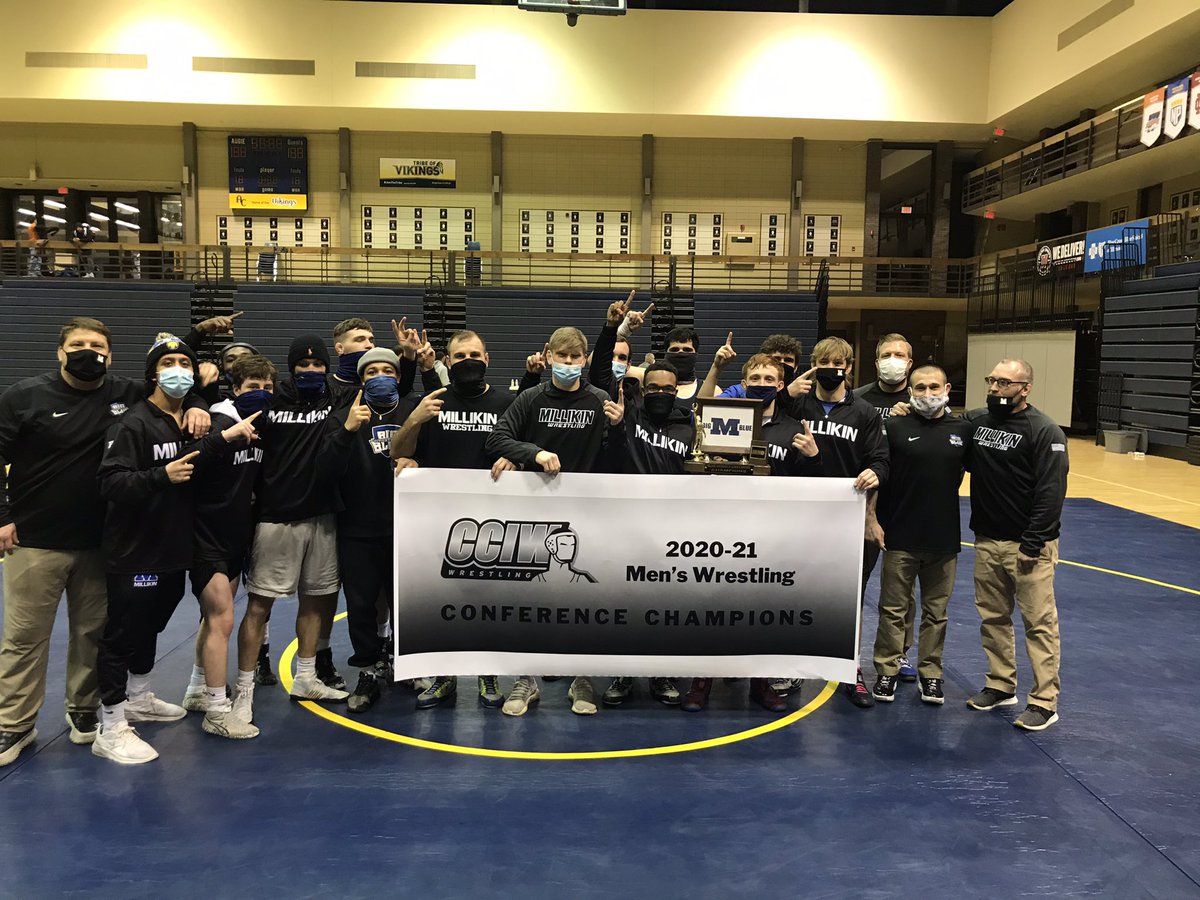 Millikin won its second-straight College Conference of Illinois & Wisconsin (CCIW) wrestling title on Saturday at Augustana's Carver Center. The Big Blue earned a seven-point victory over second place North Central on Saturday, totaling four individual champions and four second place finishers on the day.


The Olivet College wrestling team won the 2021 Michigan Intercollegiate Athletic Association (MIAA) Championship in dominating fashion. The Comets defeated Alma, 35-9; Adrian College, 33-9; and Trine (Ind.) University, 37-9. Olivet won 23-of-30 bouts, and scored bonus points in 17 of the victories. It was the Comets' third straight MIAA title.


Wartburg won its 38th overall American Rivers Conference wrestling championship and 28th in the last 29 years after defeating Loras, 28-5. The Knights completed their A-R-C dual meet schedule with an 8-0 record.


Trinity University led from start to finish and earned the program's 18th consecutive conference title and 21st overall at the 2021 SCAC Women's Swimming & Diving held at the Blossom Athletic Center. The Texas Tigers finished with 1,029 points to cap Trinity's 21st championship in the sport. Only Trinity's women's soccer program and women's tennis program with 23 conference titles each, have more SCAC titles.


The Trinity University men completed their wire-to-wire run through the meet and took home top honors at the 2021 SCAC Men's Swimming & Diving Championship, posting a meet record final score of 1,075.5 to cruise to the program's second straight conference title Saturday afternoon at the Blossom Athletic Center. Trinity finished 203.5 points out in front of second-place Southwestern University, the largest margin of victory since the Tigers posted a 215.5 point win at the 2014 championships.
A MESSAGE FROM SKYE DESIGN STUDIOS
"

Skye has shown his support of Division III institutions and conferences, and that is why his work with the Division III Commissioners Association is a natural fit. The newly rebranded logo and his work with us on our soon-to-be-launched Strategic Plan for Officiating shows how in tune and in touch he is with Division III. His dedication to producing a final product that exceeds our expectations is why we continue to go back to him for additional work and collaboration.

"
- Patrick B. Summers, President | Division III Commissioners Association
NCAA
3. Calendar
It's a busy week for NCAA committees. And with the weather challenges, I guess we can be happy that these are virtual meetings.

February
15-16 - Financial Aid Committee
16-17 - Nominating Committee
16-17 - Committee on Competitive Safeguards and Medical Aspects of Sports
18 - Committee on Women's Athletics
18-19 - Interpretations and Legislative Committee
24-25 - Membership Committee
25 - Minority Opportunities and Interests Committee
VIDEO



4. Plays of the Weekend
We love these. Is there a hashtag that we can create to gather these in one place? I'll let that to the professionals to let me know.

In the meantime ... enjoy our Plays of the Weekend.
Winner, winner. Chicken dinner. Abigail Wehby
WBB | WEHBY. BUCKET. BALLGAME. Centre defeats Berry 55-53! #GoldRush pic.twitter.com/KwTifvTevr

— Centre Athletics (@CentreAthletics) February 13, 2021
Denzel Banks of NJCU. For. The. Win.
DENZEL BANKS WIN IT FOR THE KNIGHTS AT THE BUZZER!!!!! KNIGHTS WIN 67-65!!!! pic.twitter.com/Vzpdl5JIFe

— NJCUGothicKnights (@NJCUAthletics) February 13, 2021
AJ Blue. For three.
Men's Basketball: AJ Blue does it again!

Blue buries this three-pointer in the final seconds to give @wjhoops a 64-63 victory at Westminster!

Thanks to Dillon Story and our friends at @WC_Titans for the video. #PrezPride #d3hoops #pachoops pic.twitter.com/sBgAJj8Qh0

— Washington & Jefferson Athletics (@wjathletics) February 13, 2021
KJ Kelley to the house.
94-YARD PICK SIX TO THE 🏡!!!@KJKelley26 @ESPNAssignDesk @SportsCenter @d3football @notthefakeSVP #SCTopTen #d3fb

Winter/Spring football in Texas!
🥶 32 degrees at game time#ETBU x #TexasTigers pic.twitter.com/ljLYsTSopK

— ETBU Football (@ETBU_Football) February 14, 2021
Macey Morales. Nothing but net.
That game winning shot though 👀👌🤩 pic.twitter.com/NDcXNxA4Sf

— Whitworth Pirates (@gobucs) February 14, 2021
Jordan Sauve beats the buzzer
WHAT!?!?! NO WAY!!! 🏀 Jordan Sauve hit this ridiculous half-court buzzer beater at the end of the 3rd quarter today!!! @unwwbb @SportsCenter #CompeteWithPurpose #avodah #SCtop10 pic.twitter.com/q7L34OGXNw

— Northwestern Eagles (@unweagles) February 14, 2021
A MESSAGE FROM THE CITY OF SALEM
The City of Salem and Salem Parks & Recreation along with other localities in the Roanoke Valley host a variety of softball and baseball tournaments throughout the year. We work with Roanoke County, Roanoke City, Botetourt County and Visit Virginia's Blue Ridge. USA, NSA, USSSA, Got Game, Softball Nations, Freedom Sports and ISF are organizations that bring tournaments to the Roanoke Valley.
5. Weekend Stars
1 THING
7. Pic du Jour
Photo: Ronny Hartmann AFP via Getty Images
A man uses a stand-up paddleboard to slide down a hill in a park in Magdeburg, eastern Germany.

- Thanks Axios
Thanks for starting your day with us. Please invite your friends to sign up for D3Playbook

Know someone that would enjoy receiving d3Playbook?
Send an email to d3Playbook@gmail.com with "subscribe" in the subject line