PRESENTED BY THE CITY OF SALEM
"Virginia's Championship City"
FEBRUARY 8, 2021 | written by STEVE ULRICH
your must-read briefing on what's driving the day in NCAA Division III

Our goal is to keep you - the influencers in DIII athletics - apprised of what's happening around Division III - the games, polls, news, happenings, awards, calendar of events, and much more. We hope you enjoy d3Playbook and that you'll share this with your friends, colleagues and co-workers.

>> Good Morning! How 'bout those Tampa Bay Bucs? And a Super Bowl ring for Ali Marpet (Hobart '15). Outstanding.

>> Monday's Word Count: 1,315. Concise. Smart.

>> Thanks for reading D3Playbook. Remember to follow us on Twitter @D3Playbook for the latest news and transactions


TOP STORY
1. Hedging Their Bets

by Scott Jaschik, Inside Higher Ed

"Last week, many top colleges and universities were celebrating their successes in admissions during the pandemic. The Washington Post noted that Harvard University saw applications rise by 42 percent, while the University of Virginia was up 15 percent.

In the West, the headline in the Los Angeles Times was "UC's Record-Smashing Applications Put Long-Held Diversity Goals Within Reach." The story detailed the University of California's systemwide increase of 16 percent in applications. But it noted the Black applicants increased by 48 percent at both Berkeley and UCLA. Latinx applicants increased by 33 percent at UCLA and 36 percent at Berkeley.

Both articles are entirely accurate about what is happening in the top sector of admissions. But both give minimal mention to other realities this year.

Many colleges outside the top ones -- public and private alike -- are not having a good year in admissions. This appears to be especially the case in the Northeast, Mid-Atlantic and Midwest."

>> What's Going On: "Application increases at top colleges will not (by themselves) translate into more access to higher education. Yield will be very difficult for colleges to predict. Deadlines -- outside of top colleges -- are flexible."

>> What They're Saying: "Jeffrey D. Gant, vice president for enrollment management at SUNY New Paltz, points to a 4.1 percent increase in admitted students and a 5 percent increase in deposits compared to last year. But over all, applications are down 14 percent."

>> By The Numbers: "Newly released data about the Common App show that what has been reported anecdotally in admissions is actually occurring in large numbers. The larger and more competitive colleges and universities are having a good year and getting lots of applications. But smaller and less competitive colleges are not. And first-generation students and those who lack the money to pay for an application are not applying at the same rates they used to."

>> Worth Noting: "Students are hedging their bets by applying to more colleges as a result of COVID-induced uncertainties and the unknowns surrounding how and if test scores are being considered," he said. "Families are also increasingly concerned about costs and value, so applying to more colleges gives them potentially more choices or more chances of being admitted to an institution they can afford." - Robert Massa, principal and co-founder of Enrollment Intelligence Now

>> Continue Reading

COVID
2. Stop-N-Go


Wellesley College athletics will not compete in traditional varsity athletic competition during the spring 2021 season. This includes regular season and championship competition for Wellesley's crew, golf, lacrosse, softball, tennis, and track & field programs. Student-athletes who live on campus will be able to practice and train within relevant guidelines.

The Emory & Henry College Men's Wrestling program will not compete during the remainder of the 2020-21 season due to health and safety concerns stemming from COVID-19.

Randolph-Macon athletics are on pause due to the College's COVID-19 protocols through February 15.

All Eastern Mennonite athletics programs have been placed on a 14-day pause due to COVID-19 protocols, effective Monday, Feb. 1. Sporting events scheduled within the 14-day time period of the pause (through Sunday, Feb. 14) have been cancelled and are not expected to be rescheduled at this time.

Augustana women's basketball has been put on a pause for the second time in roughly a month after a positive COVID-19 test.

Salve Regina implemented a shelter-in-place order for all undergraduate students effective at 10 p.m., Wednesday, Feb. 3. This order will remain in effect until at least 5 a.m. Tuesday, Feb. 16.


A MESSAGE FROM SKYE DESIGN STUDIOS
"There is no one I would trust with our visual branding more than Skye Dillon and his team. Skye has an amazing ability to identify what the client is - and isn't - looking for and bring that vision to life. Our conference rebrand received resounding positive feedback from all of our stakeholders and a vast number of other conferences around the country. Working with Skye is among the best decisions the CCC has ever made."
- Gregg Kaye, Commissioner | Commonwealth Coast Conference
GIVING
3. Off the Playing Field
"Carthage College has announced plans to open a school of business and economics starting in fall 2021. The school would bring together Carthage's faculty in finance, accounting, business design and innovation, marketing, business and sports management and economics — as well as the renowned A. W. Clausen Center for world business."

"When Steven Dorfman moved into a retirement village across the street from California Lutheran University, he'd never heard of the small California institution. "I wandered across the street to find out what was going on and found out it was an interesting, good liberal arts school with a very strong school of management," he said. Dorfman, a former executive at Hughes Electronics Corporation, eventually pledged $6 million to the university for a new school of management building."

"Colby College announced that it has received a $30-million gift to establish the first cross-disciplinary institute for artificial intelligence (AI) at a liberal arts college. Made possible by the tremendous generosity of the Davis family and trustee of its charitable foundation Andrew Davis '85, LL.D. '15, the Davis Institute for Artificial Intelligence will provide new pathways for talented students and faculty to research, create, and apply AI and machine learning (ML) across disciplines while setting a precedent for how liberal arts colleges can shape the future of AI."

"A generous estate gift from Richard "Dick" Hemp '64, regent emeritus, and his spouse, Joann (Harr) Hemp '65, will be used to establish the Hemp Family Chair in the Humanities at Luther College. In addition to underwriting a portion of the recipient professor's salary, the planned $1,500,000 endowment will be used to provide support for student/faculty research projects, travel for professional reasons, and activities to enhance knowledge, ability to teach, and reputation in the discipline."
VIDEO



4. Plays of the Weekend
#SCtop10 ALERT from D-III

Augsburg University Goaltender Daniil Gerasimov @Auggie_Hockey with a BEAUTIFUL stick save on a 5 on 3 Power Play @SportsCenter #CawlidgeHawkey pic.twitter.com/kAlJICFsYn

— Alex Westad (@AlexWestad) February 7, 2021
Here's Rex Moe's game winner, late in the third, while being cross checked to the ice! 👀 @AdrianBulldogs @AdrianCollegeTV @965TheCave @lenaweesports pic.twitter.com/kxxeIAFZwa

— AdrianCollegeHockey (@ACbulldoghockey) February 7, 2021
Joey Meyers hits a 3-pointer falling out of bounds at Catholic! https://t.co/HpJAxdvimn @SCtop10 #drewWBB #LandmarkConf #RangerUp

— Drew Rangers (@GoDrewRangers) February 6, 2021
🥎 | Check out the play that sealed the deal for the Lynx! pic.twitter.com/OOuXSCONws

— Rhodes Athletics (@RhodesAthletics) February 6, 2021

A MESSAGE FROM THE CITY OF SALEM
The City of Salem and Salem Parks & Recreation along with other localities in the Roanoke Valley host a variety of softball and baseball tournaments throughout the year. We work with Roanoke County, Roanoke City, Botetourt County and Visit Virginia's Blue Ridge. USA, NSA, USSSA, Got Game, Softball Nations, Freedom Sports and ISF are organizations that bring tournaments to the Roanoke Valley.
REVIEW
5. Weekend Stars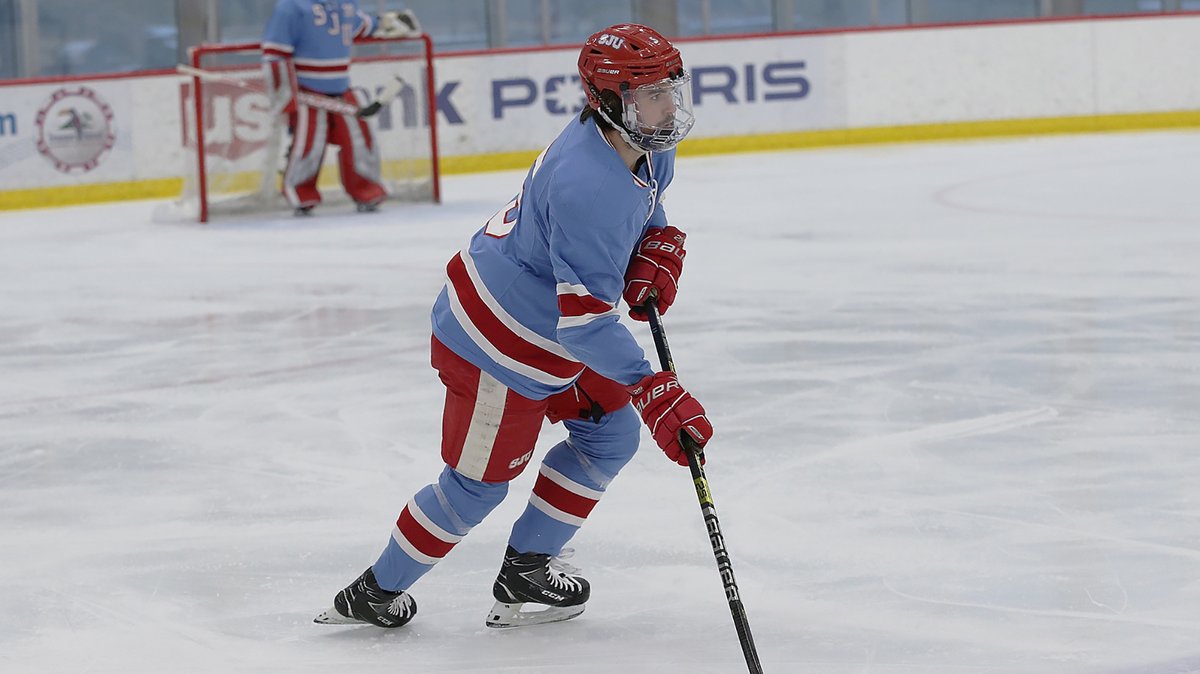 TRANSACTIONS
6. Comings and Goings
1 THING
7. Beer-Can Shortage
"The U.S. has an aluminum-can shortage: Brewers are relying more on individual sales, with the pandemic slashing keg use by bars and restaurants, Torey Van Oot and Nick Halter write in Axios Twin Cities.
Why it matters: For craft brewers, this is a new complication in tough times.
Lift Bridge Brewery in Stillwater, Minn., was told its can allocation will be cut 15-20%.
"A lot of breweries our size on up have cut brands, just to make sure that they can focus on their top sellers," CEO Dan Schwarz said.
Surly Brewing in Minneapolis started putting new label sleeves on retired or overstocked cans."
Thanks for starting your day with us. Please invite your friends to sign up for D3Playbook

Know someone that would enjoy receiving d3Playbook?
Send an email to d3Playbook@gmail.com with "subscribe" in the subject line