FEBRUARY 2, 2021 | written by STEVE ULRICH
your must-read briefing on what's driving the day in NCAA Division III

Our goal is to keep you - the influencers in DIII athletics - apprised of what's happening around Division III - the games, polls, news, happenings, awards, calendar of events, and much more. We hope you enjoy d3Playbook and that you'll share this with your friends, colleagues and co-workers.
>> Greetings. It's Tuesday Morning. More importantly, it's Groundhog Day.

>> Today's Word Count: 1,365

>> Thanks for reading D3Playbook. Remember to follow us on Twitter @D3Playbook for the latest news and transactions


TOP STORY
1. Head In The Game

"The latest findings from the Concussion Assessment, Research and Education Consortium show that disproportionately higher concussion rates and head impact exposure in college football occur during the preseason and practice — not regular-season games.

The largest and most comprehensive clinical study of concussion and head impact exposure in history, the CARE Consortium is funded by the NCAA and U.S. Department of Defense with broad aims to enhance the health and safety of NCAA student-athletes and military service members. It also serves as a valuable resource for youth sports participants and society at large.

Researchers conducted this phase of the study using head impact sensor technology that measures head impact frequency, location and magnitude. Researchers found that across six Division I football programs from 2015 to 2019, almost half of the reported concussions and two-thirds of reported head impact exposure across all players occurred during preseason training.

Launched in 2014, the CARE Consortium involves participants on 30 campuses across the country, including most of the nation's military academies."

>> What They're Saying: "We are optimistic that the most recent CARE Consortium research findings will not only arm physicians and scientists with even better data on the prevalence and mechanisms of concussion and head impact exposure outside of regular-season play, but also shed light on the importance of better prevention and protection methods," NCAA Chief Medical Officer Brian Hainline said."

>> Continue Reading

ALUMNI
2. "It's Hard to Get Here"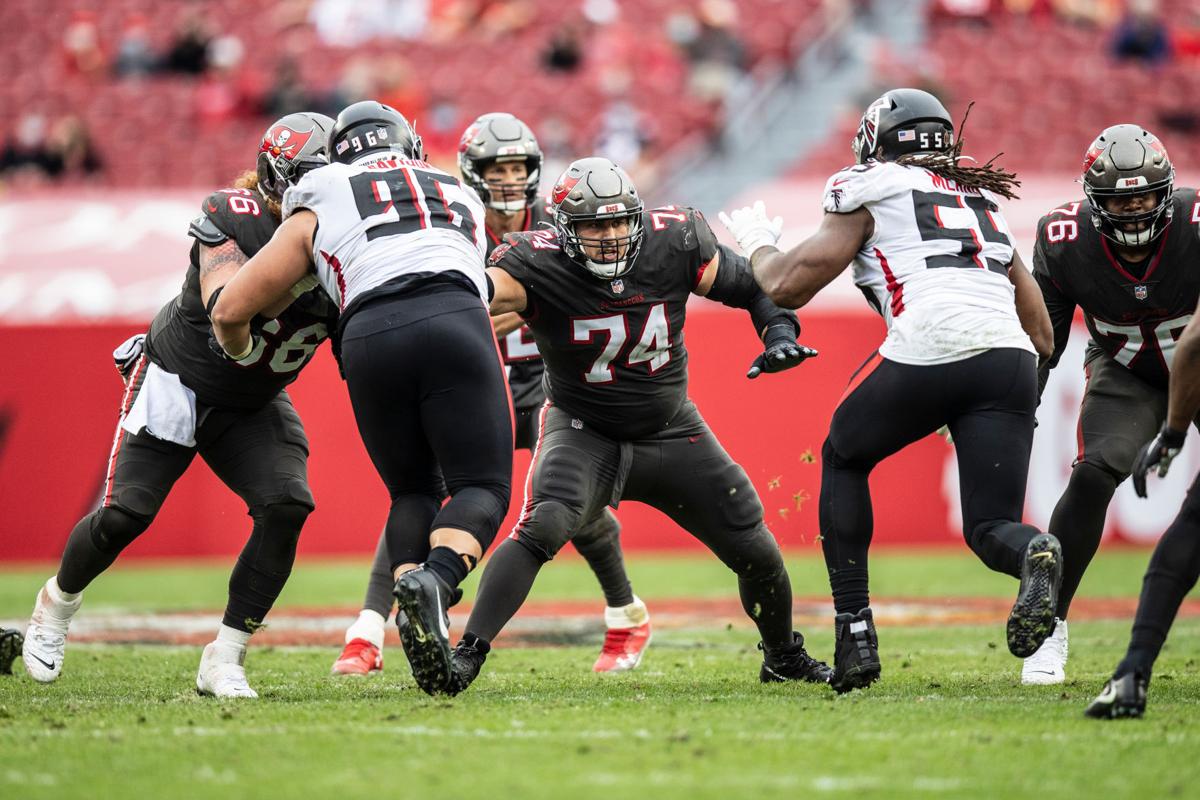 by Pete Lambos, Finger Lakes Times (photo: Kyle Zedaker, NFL)
"For the initial television appearances and draft stories — even the first few seasons of his NFL career — Ali Marpet was synonymous with Hobart College.

His compelling story made the rounds as a must-know for any commentator or factoid-loving sports fan: The kid from tiny Hobart becomes the highest-drafted Division III player, grows into one of the best left guards in football for the Tampa Bay Buccaneers, and now blocks for perhaps the best quarterback of all-time.

Stories like Marpet's tell themselves, and he and Hobart will be connected. Always. However, the 300-pound lineman built of brawn, brains and tacos has forced commentators to leave behind the D-III tag and focus on the fact that he is flat-out one of the best linemen in the NFL."

>> Situational Awareness: "In year six, Marpet has grown into the centerpiece of a Bucs offensive line that is directed by the man who many call the greatest quarterback of all-time. With Tom Brady's decades of experience and whopping six Super Bowl rings, the biggest point of emphasis is a simple one. "Communication. Communication. Communication."

>> By the Numbers: "According to data provided by Sports Info Solutions, the splits of Tampa Bay's passing stats are eye-opening when Marpet is off the field compared to when he is on it. Due to a concussion in the middle of the season, he has missed 207 snaps while playing 723. With Marpet on the field, Tampa Bay's Positive Play rate goes from 52% vs. 42% when he's off it. With Marpet in the trenches, completion percentage jumps from 60.4% to 67.6%, the touchdown rate goes from 3.7% to 7.4%, the interception rate goes down from 3.7% to 1.3%, and the sack percentage drops from 4.3 to 3.2."

>> Weather or Not: "There's positive and negatives to both," Marpet said. "Training camp up at Hobart was beautiful; training camp in Tampa is brutal. November football in Geneva is brutal; November football down here is beautiful."

>> Keep Reading
The best and most reliable end-to-end live video streaming provider in college athletics is BlueFrame Technology. Join #BlueFrameNation and Stream Like a Pro with special pricing for D3Playbook subscribers! Learn more today!
COURTS
3. Alston v. NCAA Set For March 31

courtesy of The Athletic

"The Supreme Court will hear arguments for an NCAA case on student-athlete compensation on March 31, according to the court's March argument calendar.

An earlier ruling in the case, Alston v. NCAA, found that the NCAA could not limit compensation for education-related expenses. The ruling was upheld by the 9th U.S. Circuit Court of Appeals in May.

The case originally began in 2014 on behalf of former West Virginia football player Shawne Alston.


How we got here
Andy Staples, senior college football writer: The Alston case was one of a flurry of cases filed near the beginning of the previous decade challenging NCAA rules that cap how athletes can be compensated. Specifically, Alston attacked the rules capping non-cash educational benefits, saying they violated the Sherman Antitrust Act.

Claudia Wilken, the same judge who presided over O'Bannon v. NCAA, found in favor of the plaintiffs in Alston. A three-judge appeals panel from the Ninth Circuit upheld the ruling last year, and the NCAA and the American Athletic Conference appealed to the Supreme Court, which ultimately will decide the case.


Why this matters
Staples: If the plaintiffs prevail, it would make it illegal for schools to pass an NCAA rule capping any sort of non-cash benefit that could even be remotely tied to education. More broadly, it would further weaken other NCAA rules regarding athlete compensation because it would confirm what many athletes have said all along: The schools (which compete to land the best athletes) are colluding to fix the market by artificially capping the price. Such rules would then be ripe for direct challenges in federal court."

>> Go Deeper ($)

#whyD3

4. Big Shoes to Fill



from January 2021 edition of The Carthaginian

"It's hard enough to fill the shoes of a school's winningest coach. Now imagine those are your father's shoes.

That shouldn't be a problem for Steve Djurickovic '11, whose shoes are, in fact, a size and a half larger than his dad's. More importantly, he stood up to plenty of pressure as one of the most decorated men's basketball players in Carthage history.

Steve's promotion to head coach took effect Aug. 1, a few weeks after his father, Bosko Djurickovic, announced his intent to retire from the position he held for 24 years."

>> Situational Awareness: "Bosko walked away as one of the most successful men's basketball coaches in NCAA history, amassing 567 victories to rank among the top 30 in Division III. Of that total, 371 wins came at Carthage, more than doubling the previous school record. Before Bosko arrived in Kenosha in 1996, the program had won just one College Conference of Illinois and Wisconsin title. His teams won five of those and made NCAA tournament runs to the Sweet Sixteen, Elite Eight, and Final Four."

>> Between The Lines: "Steve spent the past six seasons as an assistant on his father's staff. With 2,547 career points, (he) remains the program's all-time leading scorer. The National Association of Basketball Coaches twice named him an All-American, and his 839 free throws made is a Division III record. He's the only player ever to lead the CCIW in scoring and assists four years in a row."

>> What They're Saying: "This is Steve's opportunity to coach the team, but I want to be available," says Bosko. "He needs to be able to put his own fingerprints on what he does, and that's exciting. I am very close with all of our kids, so this is an important step for Steve, and I couldn't be happier."

>> Continue Reading


A MESSAGE FROM SKYE DESIGN STUDIOS

Skye Design Studios is a national branding leader - and long-time ambassador on behalf of Division III - with a focus on sport, lifestyle, and academic properties.

We love design, and we love people. Learn how we can help #ElevateYourBrand at sdsbranding.com.

BRAND IDENTITY / LOGOS / STYLE GUIDE / FONT CREATION / MASCOT DESIGN / COLLATERAL TOOLKIT / 3D IMAGES / VIDEO & MOTION / APPAREL GRAPHICS / TROPHY DESIGN / THEME MUSIC


LACROSSE
5. Panthers On Top
16-20: Colby, Brockport, Colorado College, William Smith, Denison
21-25: Geneseo, Trinity (Conn.), Pomona-Pitzer, Cortland, Messiah

>> Conference Call: NESCAC (7), SUNYAC (3), Centennial (2), C2C (2), Liberty (2), MAC (2), Empire 8 (1), Landmark (1), NCAC (1), NJAC (1), ODAC (1), SCAC (1), SCIAC (1).
A MESSAGE FROM THE CITY OF SALEM
The City of Salem and Salem Parks & Recreation along with other localities in the Roanoke Valley host a variety of softball and baseball tournaments throughout the year. We work with Roanoke County, Roanoke City, Botetourt County and
Visit Virginia's Blue Ridge
. USA, NSA, USSSA, Got Game, Softball Nations, Freedom Sports and ISF are organizations that bring tournaments to the Roanoke Valley.
Find out more at
SalemChampionships.com
LAST WORD
7. Snow Day

Even on Groundhog Day, I'm not sure there is something that could put a bigger smile on your face than this!


Thanks for starting your day with us. Please invite your friends to sign up for D3Playbook

Know someone that would enjoy receiving d3Playbook?
Send an email to d3Playbook@gmail.com with "subscribe" in the subject line