FEBRUARY 11, 2021 | written by STEVE ULRICH
your must-read briefing on what's driving the day in NCAA Division III
Our goal is to keep you - the influencers in DIII athletics - apprised of what's happening around Division III - the games, polls, news, happenings, awards, calendar of events, and much more. We hope you enjoy d3Playbook and that you'll share this with your friends, colleagues and co-workers.

>> It's Thursday Morning! 2-11-21. Someone will point that out to you today.

>> Today's Word Count: 1,289. Five minutes of your valuable time.

>> Today's Subscriber Count: 1,589 (newsletter), 1,933 (twitter)

>> Thanks for reading D3Playbook. Remember to follow us on Twitter @D3Playbook for the latest news and transactions


TOP STORY
1. A National Discussion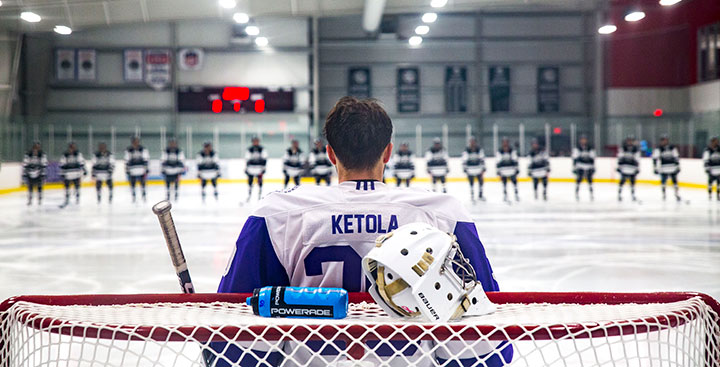 by Erik Brady, USA TODAY

"For decades, Americans have stood for the national anthem and then sat down for a ballgame. From big-city stadiums to small-town high school fields, those broad stripes and bright stars are the expected musical preamble to our ballgames.

Now, with the Dallas Mavericks not playing the national anthem at home games this season, there is a new national debate stirring. Some believe the melody means respect for the fallen among our military and police. Others believe it means the entirety of the American experience. The answer often depends on the ear of the beholder.

How did the dawn's early light and twilight's last gleaming become so politicized?"

>> Situational Awareness: "The song is about a battle in the War of 1812. The first documented time that it was played at an American sporting event came at a baseball game in 1862, during the Civil War. Francis Scott Key wrote the song in 1814 and it became the nation's de facto anthem not long after. The tradition of playing it at sports events got a dramatic boost at the 1918 World Series, during World War I. And the tradition of playing it before games was popularized during World War II. Congress made it official in 1931. World War I vets had been lobbying for it for years."

>> Go Figure: Who claimed the song during the Civil War? "The irony is that the South's anthem, Dixie, was written by an anti-slavery Northerner whereas the Star-Spangled Banner, the anthem of the North, was written by a slave-holding Southerner whose family supported the Confederacy" long after Key died in 1843.

>> Of Note: "Amid the upheaval of Vietnam, NFL Commissioner Pete Rozelle enforced a policy that players stand at attention during the anthem, with helmets tucked under their arms. They were not to talk, chew gum or move their feet. The government cannot restrict speech under the First Amendment. Employers can. Today's "owners could say to the players, 'If you take a knee, you're gone,' " author Mark Ferris says. "But of course they won't. They want to win football games."

>> Continue Reading

FOOTBALL
2. Play Like a Girl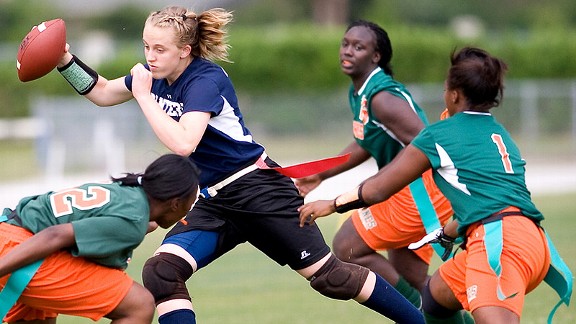 by Rachel Bachman, Wall Street Journal
"Last year Nike Inc. reached out to two high school football powerhouses in Tampa, Fla., and sent personalized bags for each athlete stuffed with free jerseys, cleats, socks and gloves. The shipment to Matt Hernandez, coach of the Alonso High Ravens, was so large that "the FedEx guy asked if it was a fraud-type situation because so many boxes were coming to a residential house."

Outfitting winners is a longtime strategy at Nike. But the gift bags held something outside the typical team-issued gear: sports bras.

Alonso and Robinson High Schools together have won seven Florida state championships—in girls flag football. The teams are the faces of a $5 million campaign by Nike and the NFL, launched in a commercial last week, to bring the sport to every high school in America. As of Monday morning it had 3.5 million views on YouTube.

"Big corporations want to recognize women's sports," said Katie Kemp, a senior wide receiver and safety on the five-time champion Robinson High girls flag team.

As interest in tackle football fades, girls represent a mammoth opportunity to increase the number of players and viewers of the nation's most popular sport."

>> Data Download: "The NFL remains the top broadcast draw in sports. But average NFL viewership fell 7% during the 2020 regular season, and the league's core audience of men aged 18 to 49 has at times shown signs of wavering. Sunday's Super Bowl had the fewest viewers since 2007. At U.S. high schools, rising concern over the effects of concussions has contributed to a 9% drop in football participation in a decade, a loss of more than 100,000 athletes, according to the National Federation of State High School Associations."

>> Worth Noting: "The NFL's partnership with the small-college National Association of Intercollegiate Athletics, meant to encourage the growth in women's flag teams, "was developed, in part, because of the NAIA's ability to onboard a new varsity sport quickly," the NFL spokesperson said. The NFL gave 13 schools $15,000 stipends to launch teams this year, according to the NAIA."

>> The Final Word: "One thing that we've kind of said in our small coaching group is, it would take a big backer to get behind the sport, and once that happened, it would explode," said Joshua Saunders, coach at Robinson High. "And I think that's what we're seeing."

>> Go Deeper

The best and most reliable end-to-end live video streaming provider in college athletics is BlueFrame Technology. Join #BlueFrameNation and Stream Like a Pro with special pricing for D3Playbook subscribers! Learn more today!
PRESIDENTS
3. Talking a Good Game

Presidents are always talking on behalf of their institutions. It could be to donors. It could be to faculty and alumni. It could be to students and parents.

Rarely is it color commentary on basketball games.

Enter Dennis Shields - chancellor at UW-Platteville.

When the Wisconsin Intercollegiate Athletic Conference gave the go-ahead to resume intercollegiate activity, Shields wanted to ensure a quality live stream of Pioneer basketball games for those who were not permitted to attend. One thing led to the next and Shields was behind the microphone.

"I always had a passion for basketball," he said. "I wasn't going to do the play-by-play, but said I would do the color commentary."

The livestream is a multi-camera production with graphics, commercials, and pre-recorded player and coach interviews put on by Production Manager and Senior Media Specialist Russ Hill.

>> Reality Check: "I think, like anything else, it is harder than it looks," Shields said. "You are hearing the play-by-play in one ear and the producer in the other ear and you are trying to say something that is useful and insightful. Another thing is trying to be prepared. I know our teams, but still have to do homework. The visiting team is a little harder, and I will have to work on getting more information on them."

>> Read More
A MESSAGE FROM SKYE DESIGN STUDIOS
"Working with Skye Dillon and Skye Design Studios has been an outstanding partnership for Shenandoah University. Skye worked tirelessly on our athletics rebrand, and his expertise now extends to our Intramurals and Club Sports programs as well as our E-Sports program. Working with Skye has been a grand slam home run for us!"
- Scott Musa, Associate Athletics Director | Shenandoah University
VOLLEYBALL



4. Dig This


On the heels of Tuesday's announcement that the National Wrestling Coaches Association was making plans to host a Division III championship tournament, the American Volleyball Coaches Association made a similar statement of its own.

The AVCA will host an invitational Division III championship tournament on April 9-10 in Indianapolis. The event is open to any DIII women's indoor program, as long as the head coach is a member of the association. Spots in the tournament are first-come, first-serve.

The entry fee is $600 and registered teams will be required to share their current COVID testing policy as well as frequency.


TRANSACTIONS
5. Comings and Goings
A MESSAGE FROM THE CITY OF SALEM
The City of Salem and Salem Parks & Recreation along with other localities in the Roanoke Valley host a variety of softball and baseball tournaments throughout the year. We work with Roanoke County, Roanoke City, Botetourt County and Visit Virginia's Blue Ridge. USA, NSA, USSSA, Got Game, Softball Nations, Freedom Sports and ISF are organizations that bring tournaments to the Roanoke Valley.

Find out more at SalemChampionships.com
LAST WORD
6. The GOAT's Trophy Toss

During a boat parade celebrating the Tampa Bay Bucs' Super Bowl title, Tom Brady tossed the NFL's Lombardi Trophy to tight end Cameron Brate in another boat. Of course, the shirtless Brate caught the 10-yard, underhanded pass.

"If I had dropped that? I think I would've had to retire," Brate told the Tampa Bay Times. "He pointed it at me. We talked about it earlier. It was a great throw. I mean, what do you expect from Tom Brady?"

- courtesy of Axios



Thanks for starting your day with us. Please invite your friends to sign up for D3Playbook.
Know someone that would enjoy receiving d3Playbook?
Send an email to d3Playbook@gmail.com with "subscribe" in the subject line