PRESENTED BY THE CITY OF SALEM
"Virginia's Championship City"
FEBRUARY 12, 2021 | written by STEVE ULRICH
your must-read briefing on what's driving the day in NCAA Division III
Our goal is to keep you - the influencers in DIII athletics - apprised of what's happening around Division III - the games, polls, news, happenings, awards, calendar of events, and much more. We hope you enjoy d3Playbook and that you'll share this with your friends, colleagues and co-workers.
>> Good Friday Morning! Everybody's workin' for the weekend

>> Today's Word Count: 1,318

>> Thanks for reading D3Playbook. Remember to follow us on Twitter @D3Playbook for the latest news and transactions


TOP STORY
1. A Fight for Survival
by David Jesse, Detroit Free Press

"Jada Stewart had come to Albion three years ago as part of an ongoing push by the college into the Chicago area in an effort to increase enrollment and diversity.

Albion needed more students for a simple reason: More students equal more money, at least in theory. Without state aid, private colleges are dependent on tuition, room and board to keep their doors open. At Albion, those three categories brought in 58% of the school's total revenue in the 2018-19 school year.

But schools often find the only way to bring more students on to campus is to give hefty price breaks, which is exactly what happened at Albion.

But all wasn't hunky-dory. Because the college gave out steep discounts, its tuition revenue actually went down. And in changing from an almost completely white institution to one on track to become a minority-majority college, Albion also unearthed a host of campus cultural issues."

>> Situational Awareness: "All private colleges give some sort of tuition discount, in essence writing off millions of dollars of potential income. That's good for students, who get a chance to attend schools they couldn't afford at the published price. But if the discount rate gets too high, it can be disastrous for the institution because there isn't enough money to pay for the professors, staff or facilities needed."

>> Quotable: "The importance of institutional diversity in American higher education cannot be overstated ... (the small colleges) have unique missions that focus on liberal arts, student development and religious diversity."

>> Of Note: "You could write the names of the 90 or so small colleges in Ohio, Indiana, Illinois and Michigan down on individual slips of paper, throw them in a hat, pull just about any one of them out and substitute that college's name for Albion when talking about financial struggles."

>> The Final Word: "A liberal arts education should be considered a public good because students are being formed to be informed ... neighbors and citizens," he said. "That there are these pockets that offer these unique (approaches) should be protected." - Jeffrey Bilbro, an assistant professor of English at Spring Arbor College

>> A Case Study

COLLEGES
2. MIT. O-U-T
"MIT director of athletics/DAPER department head
Dr. G. Anthony Grant
announced Thursday that MIT will not compete in spring sports for the spring 2021 semester due to ongoing health and safety concerns stemming from the Covid-19 pandemic. This will impact baseball, men's heavyweight crew, men's and women's lightweight crew, women's openweight crew, men's and women's lacrosse, sailing, softball, men's and women's tennis, men's and women's outdoor track and field and men's volleyball.
The department is currently working
with MIT Medical and other campus partners on a plan to allow teams to participate in modified in-person training and conditioning during the semester, which is consistent with
NCAA Resocialization of Collegiate Sport health and safety guidelines
. Those details will be in place for the start of the spring semester in late February.
MIT joins Swarthmore and Wellesley on the spring sidelines.
>>
Read More
A MESSAGE FROM SKYE DESIGN STUDIOS


"

It amazed us how quickly Skye Dillon and his team identified the key elements we needed for our rebranding. It's clear by its ever-growing list of clients that SDS's reputation for soup-to-nuts service is making the company a leader in the branding space."
- Chuck Yrigoyen, Commissioner | American Rivers Conference
STUDENTS
3. Participation On The Rise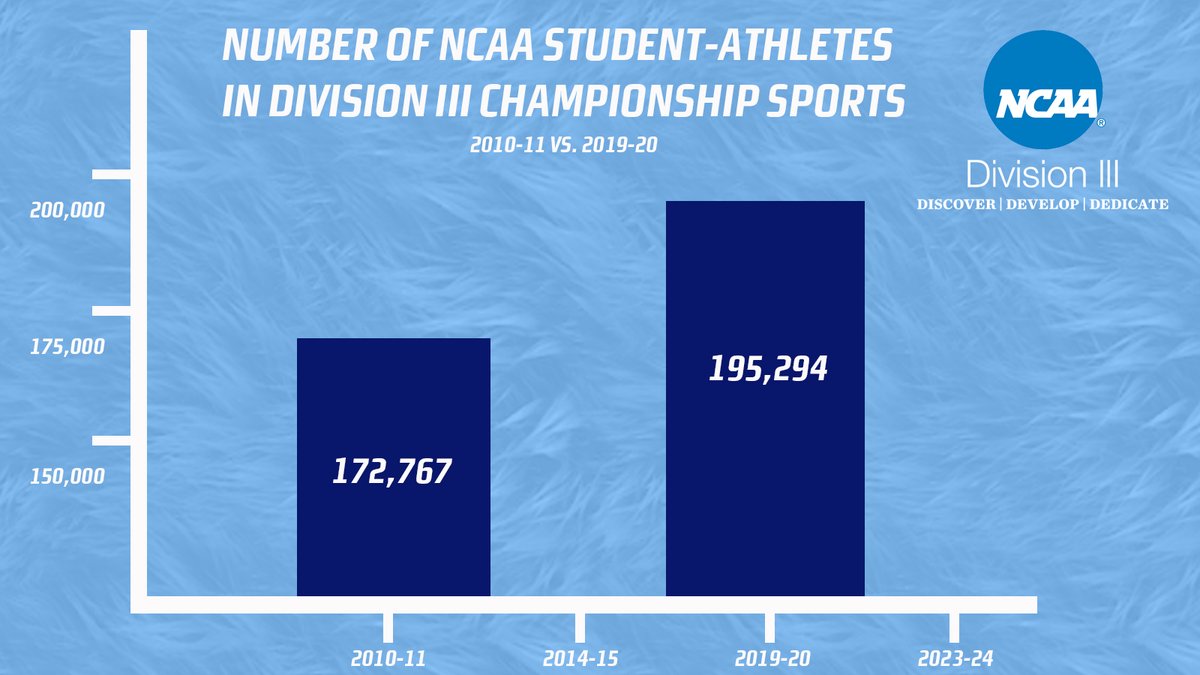 The Division III philosophy & #D3Identity has enabled students to integrate – and balance – their athletics experience with academic interests and other co-curricular activities. As a result, over the last 10 years DIII has increased its number of student-athletes by over 20,000!
NCAA



4. Leadership Development Programs


Applications for four leadership development programs opened on Monday, Feb. 8. The four programs include the Career in Sports Forum, the Pathway Program, the Basketball Coaches Academy and the NCAA/NFL Coaches Academy. All programs will have application deadlines of 5 p.m. Eastern time Monday, March 15. A brief description of each program is listed below:

Basketball Coaches Academy — The Basketball Coaches Academy provides full-time intercollegiate basketball coaches an opportunity to expand their knowledge and insight into the world of intercollegiate basketball coaching. Participants will be trained in a variety of areas that encourage effective coaching at the intercollegiate level, with a focus on the holistic well-being and development of the student-athlete.

Career in Sports Forum — The Career in Sports Forum brings together selected NCAA student-athletes to learn about and explore potential careers in sports, particularly college athletics. This unique virtual programming experience will help student-athletes chart their career paths, while presenting copious opportunities for attendees to learn from current industry leaders.

NCAA and NFL Coaches Academy — As a participant at the academy, full-time college coaches will engage with industry experts and valuable peers across a wide variety of topics that will enhance their capabilities to serve as an effective coach and leader of student-athletes both on and off the field.

Pathway Program — The Pathway Program is designed to elevate senior-level athletics administrators to the next step as directors of athletics or conference commissioners. This yearlong program is an intensive, experiential learning opportunity for selected participants who work at an NCAA school or conference in any division.

A MESSAGE FROM THE CITY OF SALEM


The City of Salem and Salem Parks & Recreation along with other localities in the Roanoke Valley host a variety of softball and baseball tournaments throughout the year. We work with Roanoke County, Roanoke City, Botetourt County and Visit Virginia's Blue Ridge. USA, NSA, USSSA, Got Game, Softball Nations, Freedom Sports and ISF are organizations that bring tournaments to the Roanoke Valley.

Find out more at SalemChampionships.com
TRANSACTIONS
5. Comings and Goings
LAST WORD
6. Cheap Trick

Looking for something to do inside during your Presidents' Day weekend?
@SportsCenter #SCTop10 still can't believe we made this pic.twitter.com/2jJONSuhng

— PongMastersKE (@PongMastersKE) February 2, 2021
Thanks for starting your Friday with us. Please invite your friends to sign up for D3Playbook and have a great weekend.

Know someone that would enjoy receiving d3Playbook?
Send an email to d3Playbook@gmail.com with "subscribe" in the subject line