PRESENTED BY THE CITY OF SALEM
"Virginia's Championship City"
D3Playbook

JANUARY 5, 2021 | written by STEVE ULRICH
your must-read briefing on what's driving the day in NCAA Division III

Our goal is to keep you - the influencers in DIII athletics - apprised of what's happening around Division III - the games, polls, news, happenings, awards, calendar of events, and much more. We hope you enjoy d3Playbook and that you'll share this with your friends, colleagues and co-workers.
>> Good Tuesday Morning


>> Today's Word Count: 1,170

>> Thanks for reading D3Playbook. Remember to follow us on Twitter @D3Playbook for the latest news and transactions


TOP STORY
1. Under The Knife

by Tracey Romero, Orthopedics This Week

"Women's gymnastics, men's football, men's wrestling, and men's and women's basketball are the National Collegiate Athletic Association sports with the highest risk of surgery, according to a Mount Sinai study.

Anterior cruciate ligament (ACL) tears were the types of injury that had the highest surgery incidence rate per 100,000 athletic exposures (AES) for all sports combined (7.95; 95% CI = 7.5 to 8.5), the researchers said. ACL tears also represented the injuries with the lowest rate of return to sport.

The study analyzed surgery rates among 25 National Collegiate Athletic Association (NCAA) sports.

The findings of the study, "Analysis of surgery rates among 25 national collegiate athletic association sports," published in the December 2020 issue of The Physician and Sportsmedicine, are based on data from the NCAA Injury Surveillance Program for the academic years 2004-2005 to 2013-2014.

>> The Big Picture: The sports with the highest surgery incidence rate (per 10,000 AES) were women's gymnastics (8.9; 95% CI 7.2-10.9), men's football (6.1; 95% CI 5.8-6.4), and men's wrestling (5.3; 95% CI 4.5-6.3). Absolute numbers of injury-related surgeries performed were greatest for men's football (n = 31,043), women's basketball (6,625), and men's basketball (5,717).

>> What They're Saying: "The focus of the NCAA, other governing bodies and health care providers should be on developing more successful injury prevention strategies for athletes—whether that involves adjusting training regimens or implementing changes to game rules. Health care professionals involved in the care of athletes, particularly at the collegiate level, should also be knowledgeable in managing these common injuries and treating athletes who compete in high-risk sports." - Daniel A. Charen, M.D., resident, department of orthopedic surgery at the Icahn School of Medicine at Mount Sinai.

>> Continue Reading
ACADEMICS
2. 100 Yards to Graduation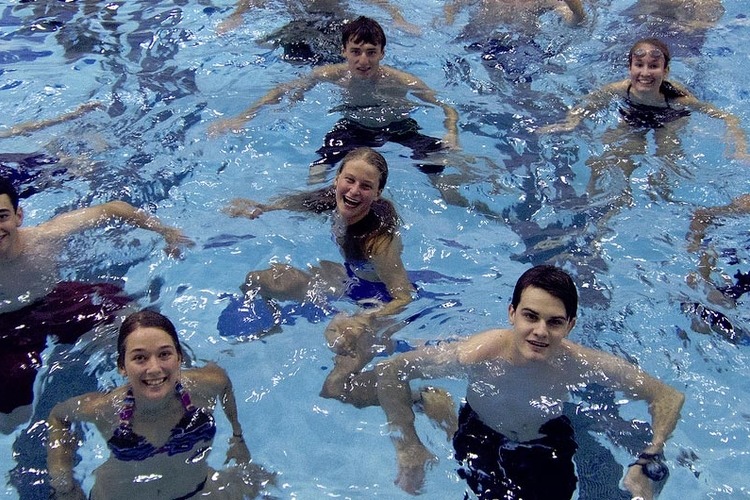 by Jem Bartolomew, Wall Street Journal (photo courtesy MIT Student Life)
"The Massachusetts Institute of Technology swim test—a 100-yard paddle required to graduate—hung over Megan Ochalek for four long years.

"I procrastinated taking it for seven semesters, despite many, many angry texts from my mom," said Ms. Ochalek, 22 years old, a mechanical engineering major.

She was about to dive in last spring — her last semester before graduating — when the pandemic struck. Other schools with swim requirements such as Cornell, Dartmouth and Columbia waived their tests. MIT took another approach: It decided to go virtual with an online "conceptual swim class" to test student buoyancy.

In normal times, the swim test acts as a rite of passage for new MIT recruits, ensuring students better known for their brains can also ace aquatics."

>> Situational Awareness: "The virtual class, which is just for seniors, tests students with a quiz and has five essay questions on subjects such as how they would react to trouble in different types of water. Students have to cite texts from the American Red Cross. Questions include: What are three ways to ensure safe diving? Or, How do you self-rescue after falling through ice?"

>> Why It Matters: "We owe it to our students to teach them how to swim," said Carrie Sampson Moore, director of physical education and wellness.

>> The Bottom Line: "Typically, they must swim four lengths without stopping or, if they aren't confident swimmers, take a six-week swimming course to complete the requirement. Swimmers can pick any front- or sidestroke, with backstroke allowed for the final length, and choose slow, medium or fast lanes."

>> Quotable: Biological engineering student Tooba Shahid, 21, procrastinated the conceptual class so long she had to request an extension—there was studying to do. "MIT is a little hard, I don't know what you heard," she said.

>> An Enjoyable Read

A MESSAGE FROM THE CITY OF SALEM
The City of Salem and Salem Parks & Recreation along with other localities in the Roanoke Valley host a variety of softball and baseball tournaments throughout the year. We work with Roanoke County, Roanoke City, Botetourt County and the Roanoke Valley Convention and Visitor's Bureau. USA, NSA, USSSA, Got Game, Softball Nations, Freedom Sports and ISF are organizations that bring tournaments to the Roanoke Valley.
Find out more at
SalemChampionships.com
NCAA

3. The Leadership Collective

by Gail Dent, NCAA

"Some of the most accomplished people of color in the Association who are senior administrators and coaches will get increased visibility from athletics directors, conference commissioners, college presidents and chancellors with the launch this winter of an online platform, the NCAA Leadership Collective.

The Leadership Collective will be a networking profile database that allows senior athletics and school officials to view career profiles of seasoned people of color who are athletics administrators and coaches. The profiles will detail their job experiences and responsibilities, educational backgrounds and professional development involvement. The database will include accompaniments, such as videos, as well as descriptions of their personal philosophies and interview questions and answers that provide additional insight on their experiences. The NCAA leadership development department will manage the initiative.

Senior-level administrators and coaches of color who have completed NCAA Leadership Development programming will be able to create a profile this fall. Those who have not gone through leadership programming will have the opportunity to participate, as well. Leadership development staff will send finalized information about the Leadership Collective to presidents, chancellors, athletics directors, faculty representatives and senior woman administrators once the platform has been populated. School presidents, chancellors, athletics directors and conference commissioners will have access to the database in early 2021."

>> Why It Matters: "The Leadership Collective will provide qualified administrators and coaches with added visibility among senior-level decision-makers in the Association. The platform also will provide opportunities for decision-makers to broaden their talent pools for committee appointments and the like, allowing them to monitor rising talent in the Association and further diversify their network circles."

>> What They're Saying: "The Leadership Collective is a win-win for our membership, especially for our coaches and administrators of color, many who have already completed our leadership programming," said DeeDee Merritt, director of NCAA leadership development. "The Leadership Collective will provide the visibility and access, and hopefully open a door to conversations with key groups of individuals. This is an added tie to the NCAA Presidential Pledge and a solution for our members who haven't been able to identify or find senior-level coaches and administrators of color in the past."

>> Continue Reading
VOLLEYBALL
4. Preseason Men's Poll

Springfield is the prohibitive favorite as the AVCA released its 2021 men's volleyball preseason poll. The Pride received 19 of a possible 21 first-place ballots to outdistance #2 New Paltz. Vassar, Stevens and Rutgers-Newark round out the top five.



Others receiving votes and listed on two or more ballots
MIT 24; Aurora 23; Southern Virginia 17; Wells 16; MSOE 15; UC Santa Cruz 9; Wentworth 4

TRANSACTIONS
5. Comings and Goings
LAST WORD
6. 1 Hoosier Thing
The NCAA announced that its entire Division I men's basketball tournament will be played in the state of Indiana. The Division III men's semifinals and final are slated in the Hoosier state as well in Fort Wayne.

A tweeted response caught my eye and I'm in complete agreement.


Know someone that would enjoy receiving d3Playbook?
Send an email to d3Playbook@gmail.com with "subscribe" in the subject line