JANUARY 21, 2021 | written by STEVE ULRICH
your must-read briefing on what's driving the day in NCAA Division III
Our goal is to keep you - the influencers in DIII athletics - apprised of what's happening around Division III - the games, polls, news, happenings, awards, calendar of events, and much more. We hope you enjoy d3Playbook and that you'll share this with your friends, colleagues and co-workers.


>> It's Thursday Morning!

>> Today's Word Count: 1,001 (Four minutes)

>> Today's Subscriber Count: 1,552 (newsletter), 1,838 (twitter)

>> Thanks for reading D3Playbook. Remember to follow us on Twitter @D3Playbook for the latest news and transactions


TOP STORY
1. The Fantastic Five
courtesy of Lycoming Athletics

The Andy Talley Bone Marrow Foundation's "Get In The Game. Save a Life" Initiative has registered over 106,000 donors, resulting in 621 transplants since 2008.

Over 135 college football programs nationwide take part in the program, including Lycoming College. In 2014, assistant coach Tim Landis brought the program to the Williamsport, Pa. campus. Our story begins here.

Since 2016, five Warrior players have given bone marrow to cancer patients. Lycoming recently asked each of them to tell their story of helping to save a life.

>> Situational Awareness: "Odds of actually donating are 1 in 430, although 1 in 40 registry members will be called for additional testing. The odds are certainly against five people that know each other donating and certainly against five that all played on the same team in 2015 at Lycoming College."

"The stories of all five are similar and they all start with a phone call out of the blue from an unknown number to their cell phones."

Joe Pawlowski '17 donated from his hip to a 51-year-old male in California.
Jon Rummel '17 said his process of donation, through leukapheresis set a speed record, finishing his duty in less than an hour.
Collin Wright '18 gave stem cells through leukapheresis to a 42-year-old female.
Brian Campbell '16 gave stem cells through leukapheresis to a 10-year-old girl.
Nick Costello '19 was identified as a possible donor late in November and by the end of 2020, he had given through a bone marrow harvest for a 71-year-old man.

>> The Final Word: "Whatever the odds, the results are awe-inspiring. As Rummel said to Lycoming head coach Mike Clark and assistant head coach Tim Landis, "You guys just recruited studs."

>> Go Deeper

>> Find out more about joining the Bone Marrow Registry,
ADMISSIONS
2. College Board Kills SAT Essay
by Scott Jaschik, Inside Higher Ed

"The College Board on Tuesday announced that it is killing the SAT Subject Tests and the SAT essay. Most experts said the College Board had little choice but to make the changes.

The board also announced plans to create "a more flexible SAT -- a streamlined, digitally delivered test that meets the evolving needs of students and higher education." But the board did not release additional details on the new SAT.

The changes come as the pandemic has created huge problems for the College Board and its competitor in admissions testing, ACT. In October, 154,000 students who signed up to take the SAT were unable to do so because of test center closures. In December, 124,000 students were unable to take the SAT because of pandemic-related facility closures. With so many students kept from the tests, the vast majority of colleges have either gone test optional or test blind, meaning they will not even look at an SAT or ACT score when deciding whether to admit a student."

>> Why it Matters: "The SAT Subject Tests, once called achievement tests, are given in a range of academic subjects. A generation ago, two or three of the tests were typically required for admission to top colleges. But those numbers have dwindled in recent years, and the number of people taking the test has dwindled as well."

>> Between The Lines: "Angel B. Pérez, CEO of the National Association for College Admission Counseling, has pushed for colleges to drop testing requirements. He said, "Any move towards simplification and removing hurdles for students in this process is a step in the right direction."

>> Worth Noting: "I do believe that most of the newly test-optional institutions (with the exception of the über-selective colleges) will stay test optional, but I also agree with the board that students will want to take the test to give themselves an edge in the admissions process," said Robert J. Massa, principal and co-founder of Enrollment Intelligence Now."

>> Continue Reading


The best and most reliable end-to-end live video streaming provider in college athletics is BlueFrame Technology. Join #BlueFrameNation and Stream Like a Pro with special pricing for D3Playbook subscribers! Learn more today!
NICKNAMES
3. Carthage Names Finalists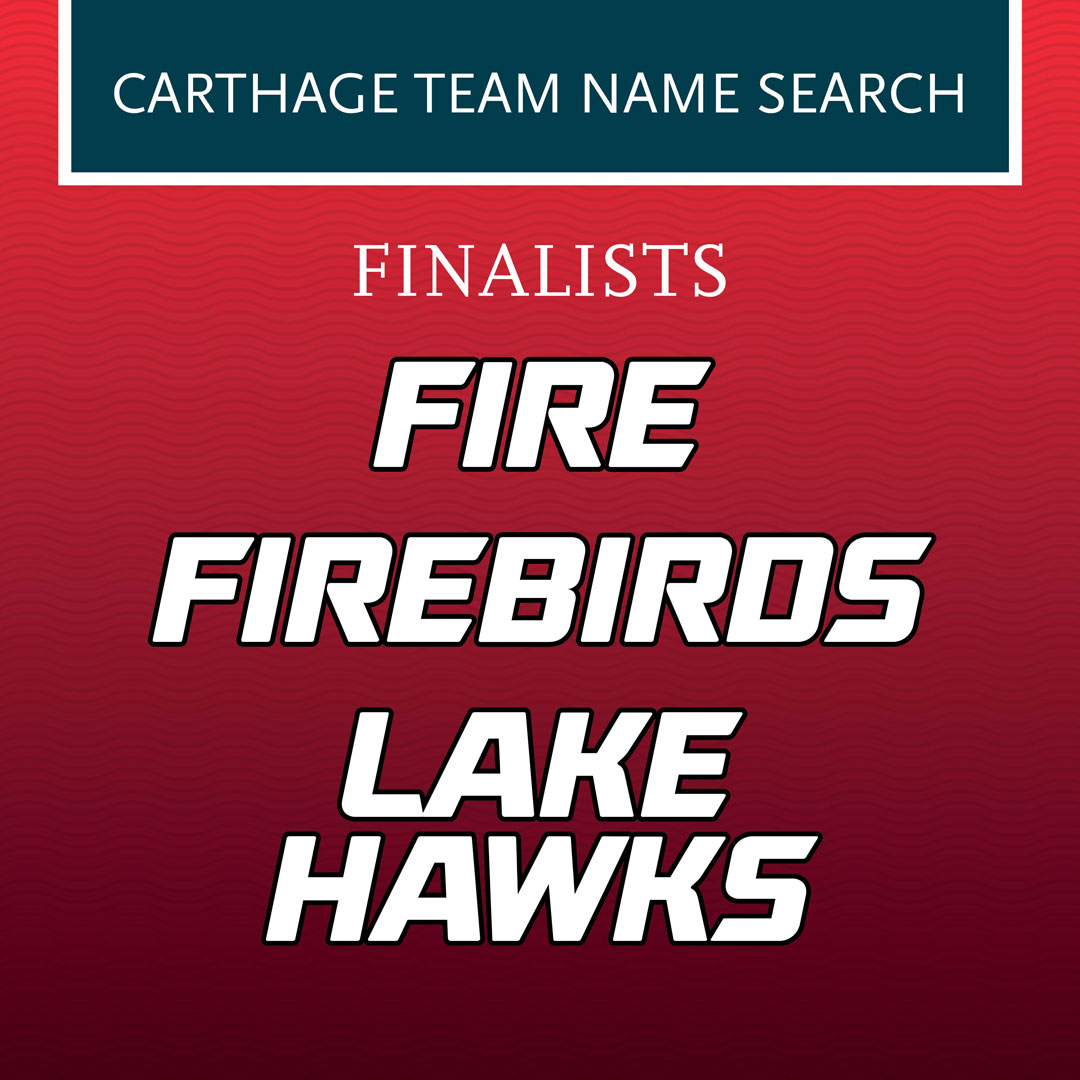 As you may recall, Carthage retired its athletic team nicknames - Red and Lady Red - last fall and began its search for new monikers.

The Task Force on Team Names and Mascot has announced its three finalists out of the 16 under consideration - Fire, Firebirds, Lake Hawks.

>> See comments on each finalist

TWITTER
4.
Top D3 Follows

Day two of the top #whyD3 tweeps to follow features some DIII experts.

Basketball
Football
Miscellaneous
SPONSORED MESSAGE
The City of Salem and Salem Parks & Recreation along with other localities in the Roanoke Valley host a variety of softball and baseball tournaments throughout the year. We work with Roanoke County, Roanoke City, Botetourt County and Visit Virginia's Blue Ridge. USA, NSA, USSSA, Got Game, Softball Nations, Freedom Sports and ISF are organizations that bring tournaments to the Roanoke Valley.

Find out more at SalemChampionships.com
TRANSACTIONS
5. Comings and Goings
LAST WORD
6. Productivity Tips for Procrastinators
The pandemic has brought us to peak procrastination. Turns out your office—in addition to being in plain sight of your boss—came with environmental cues that reminded you that you had to, you know, work. Without the hum of the industrial printer and the sight of colleagues marching off to the conference room, we all tend toward aimlessness.

The collective procrastination we're feeling is bigger than remote work. We're tired and down, worried about our finances and health and the state of the world. We haven't taken a vacation in what feels like forever.

Extreme procrastination might signal a larger issue, like depression. But for those just having a hard time getting going in this moment, small tweaks and tricks might be able to help.
Start small
Get a partner
Add some separation
Establish a routine
Don't beat yourself up
Know someone that would enjoy receiving d3Playbook?
Send an email to d3Playbook@gmail.com with "subscribe" in the subject line