THE PLAYBOOK INTERVIEW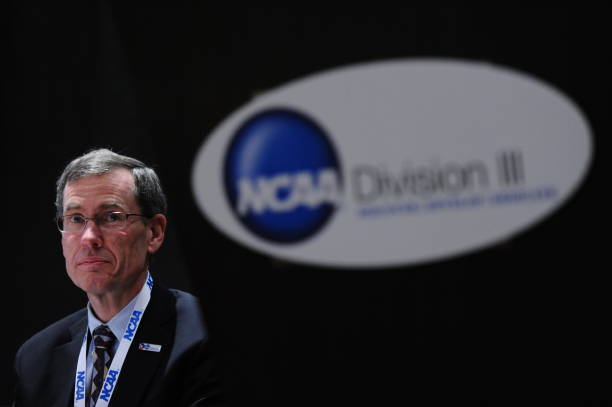 Stephen Nowland/NCAA Photos

For our first D3Playbook Interview, we feature Dan Dutcher, Vice President for Division III at the NCAA. Dutcher, 61, has been with the Association for 34 years and will retire at the end of January.

What sparked your interest in athletics?

I grew up in Biddeford, Maine - home of the University of New England. So major credit has to go to the Beaudry family - Dad Jim was AD, Mom Joan taught 5th grade at our parish grade school, where all four of their kids attended, and we were friends. UNE - then known as St. Francis - played its games at Biddeford High, which was next door to our house. I loved those games and would hit as many as possible. I'm sure that my exposure to the great athletic traditions at (my schools) - Notre Dame '81 undergrad and Kansas '84 for law school - fed the fire and influenced me.

How Did You Get Involved With the NCAA?

I am the accidental administrator. After practicing law and working on a political campaign for two years in Maine, the legal profession and I concluded we were both better served with an amicable divorce. My wife, Karen (whom he met in law school), was practicing law in Kansas City. One of the best decisions I ever made was to return to KC. I was just hoping to land a job that combined my legal and administrative interests and allow us to pursue our relationship. Timing was great. The NCAA was hiring, folks at her firm knew some relevant administrators, and her law school friend - Nancy Mitchell - had just been hired there. I was hired on a part-time basis to begin research on what ended up as LSDBi. But pretty quickly, I was made full-time, started drafting and interpreting legislation and the rest is history. In hindsight, I was so fortunate. And believe me, LSDBi users are better off as well.

What Are the Biggest Changes You've Seen in D3?

You mean besides using a shopping cart to collect reams of proposed legislation from a fax machine on legislative deadline day? So many changes,
Size of the Division
Rise of Conference Membership
Commissioner Becoming a Full-Time Position
DIII Strategic Plan
Conference Grant Program
I believe the biggest recent change has been the growth of athletics in enrollment management. Schools adding sports and building facilities to boost enrollment has become much more of a recognized and overt strategy in DIII for both private and public schools. Enrollment management is now a lens that cannot be ignored in the policy process.
What Are Your Thoughts About Name, Image and Likeness in College Athletics? In D3?
First, the legislation is necessary to address the emergence of publicity opportunities and media platforms that simply didn't exist when existing current legislation was adopted. Second, from a DIII perspective, the legislation will help student-athletes to explore a marketplace already available to other students. So in that respect, it is consistent with the DIII philosophy, because it will treat our student-athletes more like other students. For me, the involvement and support that SAAC members have given to this proposal has been crucial, because this is a student-athlete well-being issue at its core.

What Challenges Are Facing DIII?

I would say the three biggest are health and safety, diversity/inclusion/social justice, and enrollment management/fiscal integrity. These are the same challenges facing higher education as a whole. But they can play out very differently on a typical DIII campus. Take enrollment management for example. Smaller, private schools that are less selective and located in the northeast or rust belt are under the greatest stress. Those characteristics describe a significant portion of the DIII membership. This stuff is existential. The key question moving forward is, "How can DIII athletics be part of the solution?" And the corollary, "How can DIII athletics help without losing the essence of what DIII is supposed to be about?" DIII athletics must remain integrated into the academy. We cannot have the athletics tail wagging the institutional dog.
Do You Have a Favorite Sport?
Honestly, I don't. I love to watch them all. I think that goes back to my childhood, sitting for hours with my Dad watching whatever was on (usually the Red Sox losing or the Celtics winning). Lately, I have been watching a lot of international soccer - mostly English Premier League and Spain's La Liga.
Do You Have Retirement Plans?
Karen and I love live music and travel. The post-pandemic world, when it finally arrives, should be great for both! We still have cruises booked during the next few years, including the Baltic, the Adriatic and the Moselle-Rhine-Main through the heart of Germany. The 2024 Summer Olympics in Paris seem like a must. And I plan to head to Maine post-Convention for genealogy research. I've proceeded far enough to get my Irish citizenship, but I know there is a lot more to uncover, and potentially write about. That could mean trips to Ireland, Holland and Quebec. I am also going to consider consulting opportunities, As long as travel is still on hold, I might as well stay busy and help pay for those future trips!
What is Your Favorite Beer Style?
So many microbrews, so little time! I went overboard on hops a few years back, and my style preferences are more diverse now, but
Bell's Two-Hearted Ale
is always in my fridge. And if I could get
Maine Beer Company's Lunch
, in Indy, that would be as well. Those are two killer IPAs. I fell in love with Pilsner Urquell on a Danube cruise a few years ago. (Czechs drink more beer per capita than anyone, and that beer has 80$ of the Czech market - for a reason). Fountain Square Brewery here in Indy makes an awesome pilsner as well. The first microbrew I fell in love with was
Boulevard Pale Ale
(KC). Long story, but Karen and I turned down a chance to invest in Boulevard when it was just starting up, due to lack of funds. It sold to one of the large multi-national brewers a few years ago for huge money. The investment that got away.
Dan is a huge Notre Dame fan (he is an alum) ... so, should the Irish join the ACC in everything?
I think they have it about right and give Jack Swarbrick a lot of credit for that. They are already in the ACC for all ACC-sponsored sports other than football, with men's ice hockey in the Big Ten, separate affiliation for fencing, etc. So this issue is really about football. Tradition and a national identity help define Notre Dame. The NBC football broadcast agreement makes conference revenue considerations less compelling. And by the way, my experience is that typically the folks who most want Notre Dame football in a conference are not Notre Dame fans.