PRESENTED BY THE CITY OF SALEM
"Virginia's Championship City"
D3Playbook
JANUARY 13, 2021 | written by STEVE ULRICH
your must-read briefing on what's driving the day in NCAA Division III

Our goal is to keep you - the influencers in DIII athletics - apprised of what's happening around Division III - the games, polls, news, happenings, awards, calendar of events, and much more. We hope you enjoy d3Playbook and that you'll share this with your friends, colleagues and co-workers.
>> Hello Wednesday! DYK that the NHL begins its season tonight?

>> Today's Word Count: 1,014

>> Thanks for reading D3Playbook. Remember to follow us on Twitter @D3Playbook for the latest news and transactions


TOP STORY
1. Management Council Recommends Delay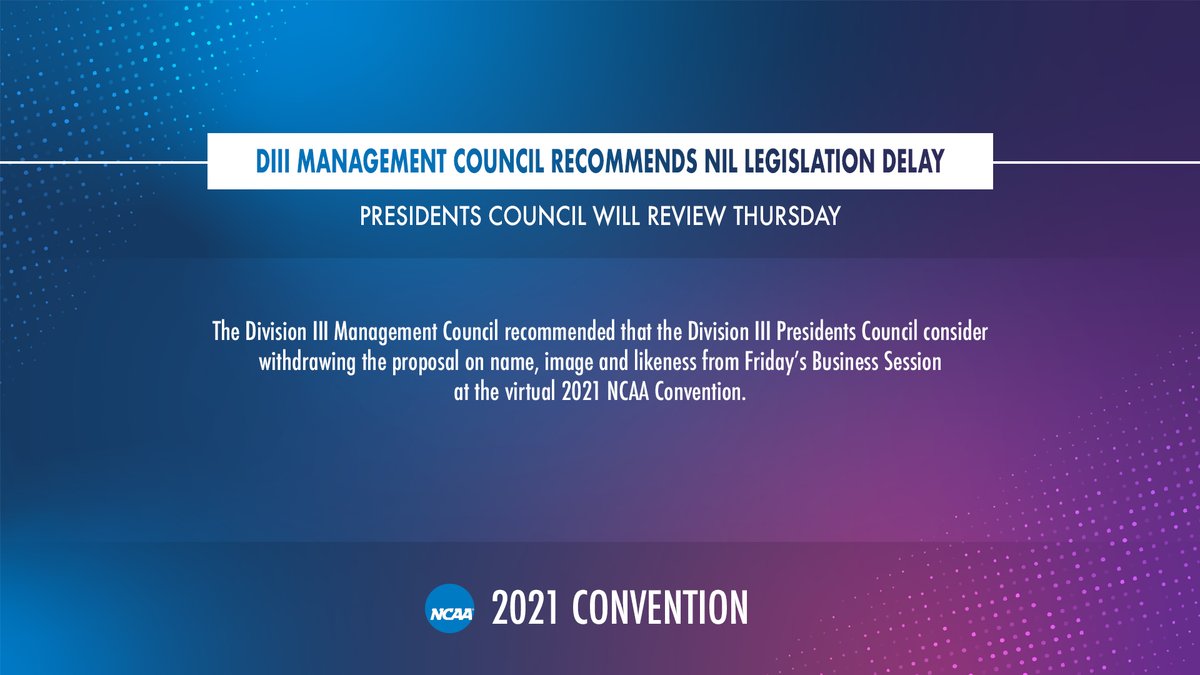 by Jeremy Villanueva, NCAA

"The Division III Management Council recommended that the Division III Presidents Council consider withdrawing the proposal on name, image and likeness from Friday's business session at the virtual 2021 NCAA Convention.

During its Tuesday meeting via video teleconference, the Division III Management Council heard from NCAA President Mark Emmert, who requested each division delay name, image and likeness legislation from being voted on at the Convention following recent judicial, political and enforcement issues. The Division III Presidents Council will review the recommendation during its meeting Thursday.

"Over the past several months, the division has thoughtfully engaged on this issue," said Heather Benning, chair of the Division III Management Council and executive director of the Midwest Conference. "A decision to withdraw the proposal doesn't take away from the great work done by our committees and councils, nor does it signal a backing away from our support of the legislative concepts developed to support our student-athletes' use of their names, images and likenesses. Rather, it is an action the council feels appropriate at this point in time due to recent developments."

On Wednesday, the council will meet with the Division III Student-Athlete Advisory Committee and the Presidents Council to discuss issues related to name, image and likeness, social justice, mental and physical health, and the student-athlete voice.

This meeting was the last for Benning and six other Division III Management Council members whose terms have expired. They are:
Catherine "Cat" Lanigan, former women's lacrosse athlete at Juniata.
Laura Mooney, director of athletics at Massachusetts College Liberal of Arts.
Colby Pepper, former men's soccer athlete at Covenant.
Kandis Schram, former director of athletics at Maryville (Tennessee).
Denise Udelhofen, director of athletics at Loras.
Joe Walsh, Great Northeast Athletic Conference commissioner.

>> Read More


NCAA
2. McCleary Named Interim VP
"Louise McCleary, an integral part of Division III with more than two decades of administration experience within the division, will assume the role of NCAA interim vice president of Division III governance Feb. 1.

McCleary, currently managing director of Division III, will serve as the Association's lead for Division III and report to NCAA Chief Operating Officer and Chief Legal Officer Donald Remy upon the retirement of current Vice President Dan Dutcher at the end of this month.

McCleary joined the Association in 2012 as the director of Division III before being promoted to managing director of Division III in September 2017. McCleary had been the athletics director at Elms since 2002 after spending time at Vassar, first as an associate athletics director and then as interim athletics director in 2001-02.

McCleary has a Bachelor of Arts degree in political science and American studies from Wellesley and a master's in sport management from Massachusetts."

>> Continue Reading

SPONSORED MESSAGE
The City of Salem and Salem Parks & Recreation along with other localities in the Roanoke Valley host a variety of softball and baseball tournaments throughout the year. We work with Roanoke County, Roanoke City, Botetourt County and Visit Virginia's Blue Ridge. USA, NSA, USSSA, Got Game, Softball Nations, Freedom Sports and ISF are organizations that bring tournaments to the Roanoke Valley.

Find out more at SalemChampionships.com
TENNIS
3. Rule Modifications


On January 4th, the ITA Rules Committee finalized modifications to current ITA rules designed to help alleviate challenges created by the COVID-19 pandemic. These rule modifications are only temporary and will expire at the conclusion of the 2021 dual match season.

Please note that the minimum number of players required for dual match play remains at 4 physically able and eligible players.
Summary with the rationale of 2021 ITA rule modifications:
All Divisions – provided alternate scoring formats to be used when both teams are competing with fewer than 6 players. Rationale – The possibility of these situations rises during the COVID-19 pandemic and current rules leave the possibility of no winner.

All Divisions – waived the team default penalty for teams who must postpone or cancel due to not meeting the minimum number of physically able and eligible players (4). Documentation from medical staff/administration must be provided. Rationale – increased possibility of this occurring during COVID-19 pandemic.

All Divisions – provided waiver request opportunity for teams who must play unauthorized, alternate format due to COVID-19 pandemic. Rationale – increased need to reduce dual match time or mitigate transmission-risk due to COVID-19 pandemic.

>> Go Deeper


COVID
4. Opting Out

York (Pa.) College decided that it will not participate in the following Middle Atlantic Conference (MAC) winter athletic competitions: men's and women's basketball, men's and women's indoor track and field, and wrestling. Decisions regarding men's and women's swimming and spring sports will be made later.

Hood College announced Tuesday that it will opt out of the MAC men's and women's basketball seasons. This decision only affects men's and women's basketball. College officials will look at metrics in February for a possibility of intercollegiate competition for the Blazers' NCAA and club sports.

The University Athletic Association (UAA) Presidents Council has unanimously approved a resolution to cancel all formal UAA spring sport competition for the 2020-21 season. This resolution applies only to those sports for which the UAA sponsors competition during the spring season — baseball, golf, softball, outdoor track and field, and tennis. Member institutions will still be able to engage in practice and other non-UAA competition, including informal competition against other UAA teams, as their respective institutions deem appropriate.


TRANSACTIONS
5. Comings and Goings
1 THING
6. The "Fake" Commute

People walk by St. Patrick's Cathedral in New York City. Photo: Spencer Platt/Getty Images

Cabin fever writ large: Many Americans are actively working to re-create the feeling of a commute, with new routines to put mental separation between at home and at work, The Wall Street Journal reports.
"I never thought there would come a time when I would miss my downtime from sitting in traffic," said Eddie Fairchild.
"I go for a walk around the block to psychologically trick myself," said Kyle Ashley.
The bottom line: People are calling it a "fake commute," while University College London professor Anna Cox suggests calling it "a pretend commute."

- courtesy of Axios

Know someone that would enjoy receiving d3Playbook?
Send an email to d3Playbook@gmail.com with "subscribe" in the subject line