PRESENTED BY THE CITY OF SALEM
"Virginia's Championship City"
JANUARY 27, 2021 | written by STEVE ULRICH
your must-read briefing on what's driving the day in NCAA Division III

Our goal is to keep you - the influencers in DIII athletics - apprised of what's happening around Division III - the games, polls, news, happenings, awards, calendar of events, and much more. We hope you enjoy d3Playbook and that you'll share this with your friends, colleagues and co-workers.
>> Can you guess what day it is? Welcome to hump-day

>> Today's Word Count: 1,585.

>> Thanks for reading D3Playbook. Remember to follow us on Twitter @D3Playbook for the latest news and transactions


TOP STORY
1. Leader of the SAAC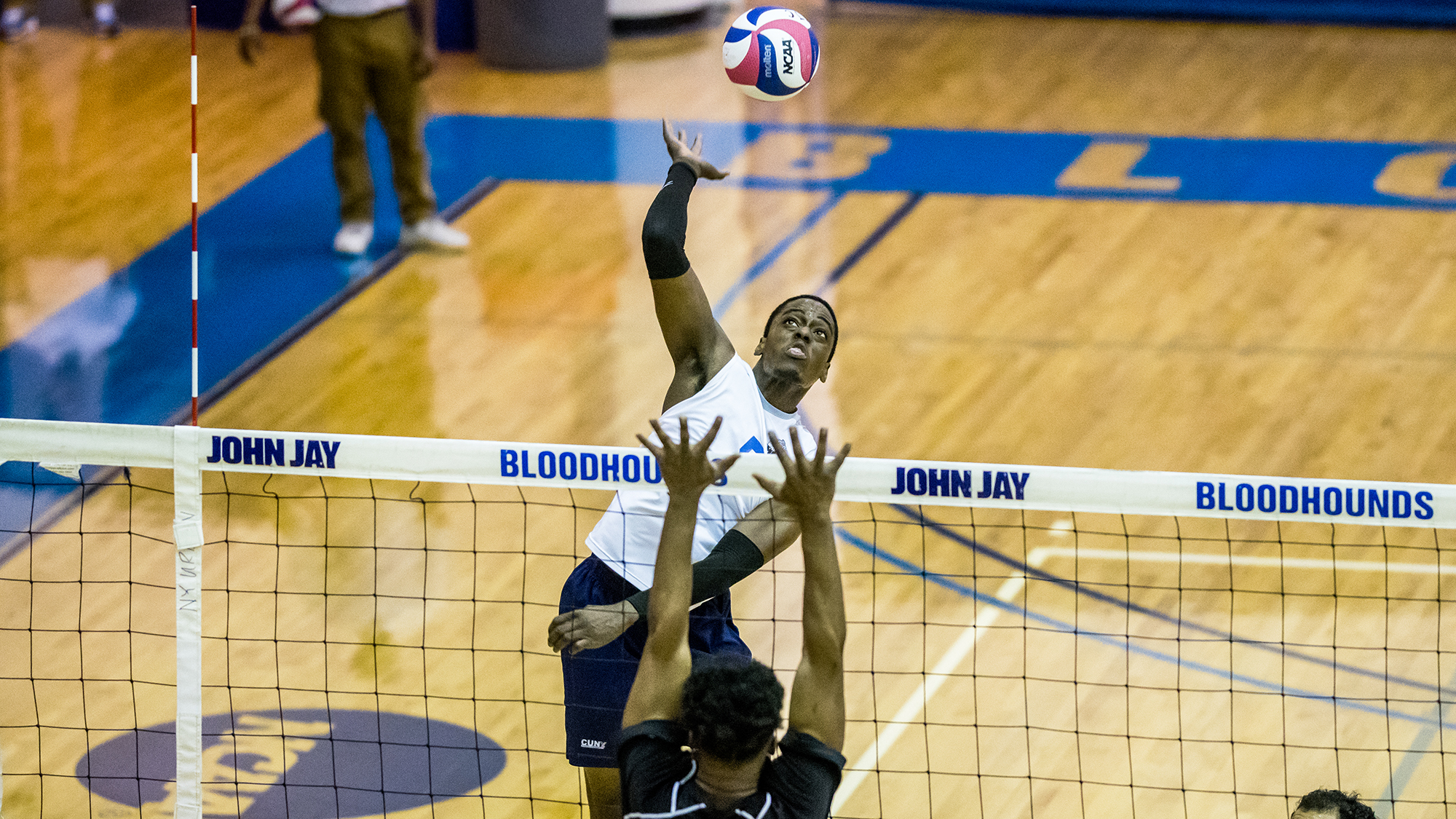 by Jeremy Villanueva, NCAA

"Anthony Francois, a former men's volleyball student-athlete at John Jay, was elected chair of the Division III Student-Athlete Advisory Committee during its 2021 NCAA Convention virtual meeting this month.

Francois joined Division III SAAC in January 2019 for a three-year term after being elected as the City University of New York Athletic Conference's representative. Since then, Francois also has served as the student-athlete representative for the Division III Interpretations and Legislation Committee, for which he provided a student-athlete voice in the committee's development of the concepts related to name, image and likeness, among other items.

In addition to Francois' election, former Lebanon Valley soccer student-athlete Bridgett Finn was voted as Division III SAAC's vice chair for the upcoming year. Finn has represented the Middle Atlantic Conferences on national SAAC since the 2020 NCAA Convention. She is also the new SAAC representative for the Division III Championships Committee.

>> Leaders: Abigail Newkirk (Bluffton) was named communications coordinator, while Jack Mulvihill (St. John Fisher) and Madeira Alexander (Salisbury) were named to the Division III Management Council.

>> What They're Saying: "I am excited to serve Division III student-athletes as chair of the national Student-Athlete Advisory Committee this coming year," Francois said. "It is an honor to have been nominated and elected for this position. I am appreciative of the fact that my peers decided that I should be the one to serve in this capacity, and through my service, I hope to demonstrate that their faith in me has not been misplaced."

>> Continue Reading
CEO
2. Presidents Need Help Lately, Too
by Shelly Weiss Storbeck, Chronicle of Higher Education

"Earlier this month, a group of college and university presidents, meeting on Zoom to talk shop, ended up chatting about yet another American crisis: the attack on the U.S. Capitol. Every president reported drawing harsh criticism, no matter how they commented on the riot. Those who condemned the violence too pointedly got angry calls and emails from conservative alumni and trustees. Those who were too mild in their condemnation were shamed on social media.

But that's been the nature of the college presidency lately. Every campus leader woke up in 2020 to the ringing alarm clock of the three p's: pandemic, protests, and politics. And so far in 2021, those leaders haven't been able to hit the snooze button or turn the damn thing off.

In our executive-search firm, we work with many college and university presidents who say their job has become almost impossible to manage. Frequently these leaders say they are under intense pressures — from trustees, faculty and staff members, students, and local residents — to find immediate solutions to complex problems that are broadly societal and not specific to their campus."

>> Background: Certainly, presidents are very well paid to tackle those challenges, and some are rising to the challenge. But even their harshest critics must acknowledge that a president can't do it alone, and that some of these challenges are unprecedented. More than ever, presidents need help in dealing with this long list of crises, while also handling the standard business of running and improving their institutions.

>> What Do They Need?
A strong, supportive Board
A safe place to vent
A strong, diverse management team
Stress management and coping strategies
Cultural competency training
Experts
Creative ways to connect
Help in working with the neighbors
Help is using social media effectively
Time
>>
The Final Word
: "The late
Rev. Timothy S. Healy
, who was president of Georgetown University, was famous for saying, "Every search committee is looking for God on a good day." Committees might still invoke God, but they are now asking for a "transformational" leader. The traumatic events of the past year will change our educational industry and its leaders, too."

>> Read More ($)

SPONSORED MESSAGE
The City of Salem and Salem Parks & Recreation along with other localities in the Roanoke Valley host a variety of softball and baseball tournaments throughout the year. We work with Roanoke County, Roanoke City, Botetourt County and Visit Virginia's Blue Ridge. USA, NSA, USSSA, Got Game, Softball Nations, Freedom Sports and ISF are organizations that bring tournaments to the Roanoke Valley.

Find out more at SalemChampionships.com
CONFERENCES
3. Take Your Mark
One for the money, two for the show, three to get ready and off they go.

State University of New York Chancellor Dr. Jim Malatras has requested that the State University of New York Athletic Conference (SUNYAC) develop a plan, for the presidents' consideration, to resume spring intercollegiate athletic competition safely. The spring sports sponsored by the SUNYAC include men's and women's track & field, baseball, softball, men's and women's lacrosse, and women's tennis.

The Upper Midwest Athletic Conference (UMAC) Council of Presidents and Chancellors affirmed its decision from December to proceed with winter and spring sports competition as planned and also approved a four-week regular season schedule and conference championship meets for men's and women's indoor track and field. A format and structure for the UMAC Men's and Women's Indoor Track and Field Championships will be determined following the first two weeks of competition.

The Middle Atlantic Conference (MAC) will return to competition on Thursday, Feb. 11 with conference play in the sport of men's and women's basketball. A total of 14 women's teams and 13 men's teams have opted-in to a five-week regular season with championship week to conclude play. Both the men and women will have a schedule structured with two-games a week on Thursdays and Fridays for five weeks from Feb.11 to March 12. The week of March 15-21 has been designated for a championship week, however the format is to be determined and will be evaluated during the regular-season.

CORRECTION

4. MLS Draftees

Thanks to our eagle-eyed readers for pointing out some omissions from our list of Division III draftees by MLS.

2014: Richie Marquez, Redlands, Philadelphia Union (R3, 44th pick)
2009: Ross Schunk, Redlands, Colorado Rapids (R4, 47th)

No offense intended to the missing Bulldogs.

STREAMING
5. Working Remotely Together

by Matt Bell, Averett University

"What started as a joking text message between friends on Saturday, Jan. 16, resulted in broadcasting history for the NCAA Division III USA South Conference.

On that day, Averett University Director of Athletics Communications Drew Wilson and Covenant College Director of Athletic Communications Andrew Mindeman made history with the first known remote men's basketball game broadcast in the conference.

Averett was set to play in its first game of the season on January 16 against Covenant. Not originally on the schedule, the non-conference game between the two conference foes came about midway through the week and arrangements were made to play against each other at Brevard College in Brevard, N.C. — a halfway point for both schools. A 3 p.m. tipoff was set for the contest and Brevard agreed to handle stats, staffing and broadcasting.

With Brevard handling all aspects of the game, Wilson was planning to follow and Tweet the game at home until an email prompted an unexpected change - no audio."

>> Situational Awareness: "I texted Andrew jokingly and said, 'Hey, do you want to do a remote broadcast?' Suddenly, the idea became doable," Wilson said. "We got the email at 11:32 a.m., and with the game set for 3 p.m., we had very little time to prepare."

>> Problem Solving: "Andrew and I discussed do we do this on Zoom, do we use Google Meets or another platform? That was the first avenue of questioning we went down, and wound up on Google Meets because that's what Brevard used," Wilson said, noting they are close friends, talk often and know each other's setups fairly well."

>> How It Happened: "Behind the scenes, Wilson had a computer screen set up with Mindeman on it, an iPad with the Brevard video broadcast and another laptop with live stats."

>> Quotable: "I'm thankful all things fell into place to make this happen," said Wilson. This is what we do in our role. We adapt to what we have, and do what we have to do to overcome challenges."

>> Keep Reading
>> Watch the Replay
TRANSACTIONS
6. Comings and Goings
1 THING
7. Traditional TV Collapsing

Data: eMarketer. Chart: Axios Visuals

The pandemic has taken a huge toll on the pay TV industry, and with the near-term future of live sports in question, things will only get worse, Axios Media Trends expert Sara Fischer reports.
Why it matters: Your daily habits for watching TV — and what you pay for — are changing as fast as speed-surfing through channels.
The big picture: The pandemic will drive cable and satellite TV providers to lose the most subscribers ever, according to new data from eMarketer.
Early estimates suggest roughly 5 million people canceled their cable subscriptions last year.
Last year's lockdowns slowed cord-cutting by forcing people to stay inside, but it will accelerate again as the country opens back up.
Streaming has taken off during the pandemic, which will push more consumers to cut the cord in coming years.
One forecast expects that pay TV subscriptions will shrink by 36% in the next 5 years, compared to 9.5% from 2015-2019.
What's next: With many major sports contracts set to expire in the next few years, analysts predict that the ultimate collapse of the cable TV model will happen when a tech or streaming company is finally granted rights to stream a major sports franchise.

Thanks for starting your day with us. Please invite your friends to sign up for D3Playbook.

Know someone that would enjoy receiving d3Playbook?
Send an email to d3Playbook@gmail.com with "subscribe" in the subject line