PRESENTED BY THE CITY OF SALEM
"Virginia's Championship City"
JANUARY 29, 2020 | written by STEVE ULRICH
your must-read briefing on what's driving the day in NCAA Division III
Our goal is to keep you - the influencers in DIII athletics - apprised of what's happening around Division III - the games, polls, news, happenings, awards, calendar of events, and much more. We hope you enjoy d3Playbook and that you'll share this with your friends, colleagues and co-workers.
>> Good Friday Morning! You made it to the weekend.

>> Today's Word Count: 1,145

>> Thanks for reading D3Playbook. Remember to follow us on Twitter @D3Playbook for the latest news and transactions


TOP STORY
1. Herd Immunity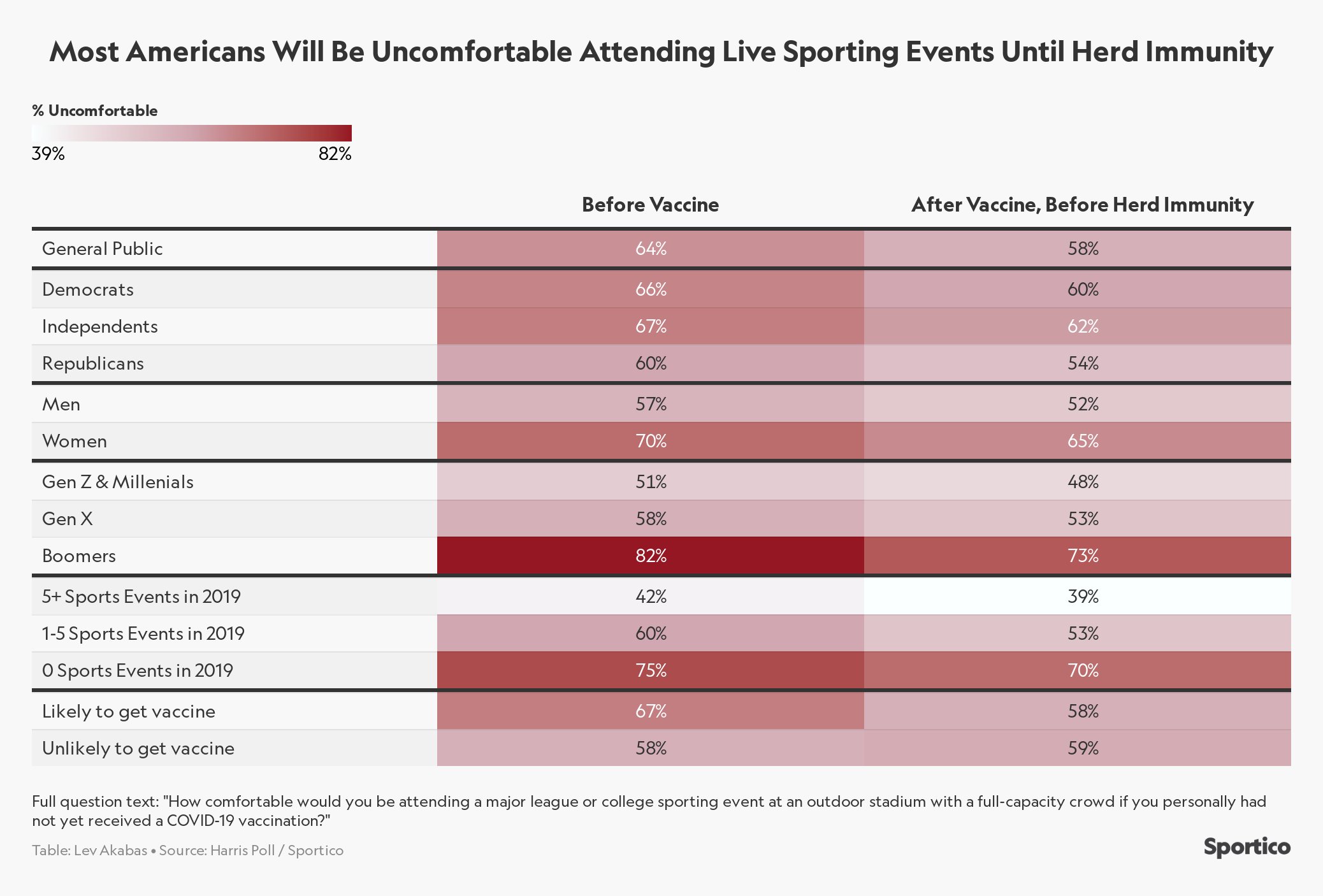 by Lev Akabas, Sportico

"The U.S. surpassed 20 million COVID-19 vaccinations administered this past weekend, but a new poll indicates that vaccination alone may not be sufficient for Americans to feel comfortable among large crowds. In a partnership with Harris Poll, Sportico surveyed nearly 2,000 people about a potential return to live sporting events. Here are our findings:

1. Most Americans will be wary of live sporting events until after we reach herd immunity.
Two-thirds of Americans will not be comfortable in a full-capacity indoor arena (67%) or outdoor stadium (64%) for a sporting event until they've had a COVID-19 vaccine, and the majority will still not be comfortable until the country reaches herd immunity.

2. There is public support for vaccine requirements.
Three-fifths (62%) of people polled agree fans should be required to provide proof of a COVID-19 vaccination in order to attend a sporting event

3. Expectations for the full fan experience to return in 2021 are low.
Only 36% expect it will be safe enough for full-capacity crowds to return to large venues sometime in 2021 (8% before summer 2021, 11% during summer 2021, and 17% during fall 2021)

4. A variety of safety measures will be necessary to ensure that fans feel safe attending games.
Americans say that a number of innovations to venue sanitation are "critical" to their feeling safe enough to return to stadiums, with more than half saying that requiring face masks and having hand sanitizer and masks available are critical precautions.

5. Regular attendees are eager to get back to stadiums.
The general public is almost exactly split over whether they plan to attend live sporting events more or less frequently after the pandemic than before.

6. Regular attendees are more likely to get the vaccine.
78% of those who attended at least five events in 2019 are planning to get the COVID-19 vaccine, versus just 68% of the general public."

>> Go Deeper

NCAA
2. Does NCAA Future Rest With Congress?
by Ross Dellenger, Sports Illlustrated
"Nearly one year ago, inside a packed, high-ceilinged congressional meeting room, a month before the COVID-19 pandemic made such events virtual, Sen. Jon Tester, a Democrat from Montana, glared down from his pulpit at the president of the NCAA.

Sitting before a panel of inquisitive senators, in the true kickoff of the debate over athlete compensation on Capitol Hill, Mark Emmert begged for help from an entity that the NCAA had spent a century keeping out of its arena. He encouraged Congress to assist him with the issue of name, image and likeness (NIL), to intervene in the NCAA's dealings, to save it from a plethora of differing state laws that threatened its amateurism model.

Seated on that high-rise platform and behind a mahogany lectern, Tester, in his rural twang, delivered a striking warning.

"I'm going to be honest with you," he boomed. "You don't want us to solve this."

>> Situational Awareness: "The NCAA is losing its grip on a year-long fight in the nation's capital over athlete compensation. Charging in last February to seek a friendly congressional fix to the problem, Emmert's organization is now facing a stark reality: The very same lawmakers it asked for help are now, having thoroughly examined the issue, proposing sweeping changes to his amateurism system."

>> Between The Lines: "Consensus is that any federal legislation will be more protective of athletes (less restrictive endorsement opportunities, for example), less friendly to the NCAA (minimal to no antitrust exemptions) and more expansive than NIL (including healthcare protections, revenue-sharing, etc.)."

>> What's Next: "The new Biden administration is expected to steer the two chambers toward issues involving COVID-19 and the economy, further delaying any real movement on NIL. "We have bigger fish to fry," says Sen. Chris Murphy (D-Conn.). "I think it's aggressive that we're going to have a bill sitting on the president's desk this summer."

>> Be Smart: "Many college athletic administrators claim that differing state NIL laws would create unequal footing in recruiting. Lawmakers with football pasts tend to agree. "I would compare it to if the state of Ohio called holding but you go to Florida and they don't call holding," says Rep. Anthony Gonzalez, a former receiver at Ohio State."

>> Continue Reading

SPONSORED MESSAGE


The City of Salem and Salem Parks & Recreation along with other localities in the Roanoke Valley host a variety of softball and baseball tournaments throughout the year. We work with Roanoke County, Roanoke City, Botetourt County and Visit Virginia's Blue Ridge. USA, NSA, USSSA, Got Game, Softball Nations, Freedom Sports and ISF are organizations that bring tournaments to the Roanoke Valley.

Find out more at SalemChampionships.com
GOLF
4. Lee Tees Up at Farmers Insurance Open


Former Claremont-Mudd-Scripps men's golfer Tain Lee '12 qualified for his first PGA Tour event this week at the Farmers Insurance Open at Torrey Pines and shot in the red in his debut round, finishing with a 71 (-1) on Thursday to place in the top half of the field after the first day.

Lee's -1 puts his name on the leaderboard with some legendary names. He ended the day tied with Phil Mickelson (71), in 63rd place out of 156 golfers when he finished, one shot behind Rickie Fowler (70) and Bubba Watson (70). Patrick Reed and Alex Noren have the clubhouse lead with 64s (-8).

As a member of the Stags, Lee captured the 2010 NCAA Championship with a four-round score of 280 (-7), becoming the first member of the program to win an individual title. The second-place finisher was Mitchell Fedorka of SCIAC rival La Verne, who now serves as the head coach for Claremont-Mudd-Scripps. Lee nearly made it two straight individual championships at the 2011 NCAA Championship before settling for a runner-up finish and adding a fifth-place finish in 2012. He was a first-team All-American all four seasons.

>> Read More


LAST WORD
6. Winning Streaks
Thanks again to our loyal readers who advised us that Randolph-Macon holds the longest "home" winning streak in men's basketball at 29. Yeshiva has the longest active winning streak at 29 games.

We appreciate the eagle eyes that keep us honest.

Longest Home Win Streaks (men)
Randolph-Macon, 29
Mount Union, 17
SUNY Brockport, 17
Longest Home Win Streaks (women)
Messiah, 30
Hope, 22
Christopher Newport, 21
Longest Road Win Streaks (men)
Swarthmore, 16
Saint John's, 15
Yeshiva, 14
Longest Road Win Streaks (women)
Benedictine, 15
four tied with 10
Longest Overall Win Streaks (men)
Yeshiva, 29
Mount Union, 21
SUNY Brockport, 19
Longest Overall Win Streaks (women)
Hope, 32
Oglethorpe, 29
Christopher Newport, 17

source: NCAA Stats


Thanks for starting your day with us. Please invite your friends to sign up for D3Playbook and have a great weekend.

Know someone that would enjoy receiving d3Playbook?
Send an email to d3Playbook@gmail.com with "subscribe" in the subject line