PRESENTED BY THE CITY OF SALEM
"Virginia's Championship City"
D3Playbook
JANUARY 8, 2020 | written by STEVE ULRICH
your must-read briefing on what's driving the day in NCAA Division III
Our goal is to keep you - the influencers in DIII athletics - apprised of what's happening around Division III - the games, polls, news, happenings, awards, calendar of events, and much more. We hope you enjoy d3Playbook and that you'll share this with your friends, colleagues and co-workers.
>> Good Friday Morning! Looking forward to the Bills-Colts this weekend.

>> Today's Word Count: 1,089

>> Thanks for reading D3Playbook. Remember to follow us on Twitter @D3Playbook for the latest news and transactions


TOP STORY
1. COVID and the Future of Sports

by Jon Solomon, Aspen Institute Sports & Society Editorial Director

"As we close out the most challenging year in recent memory, there is much uncertainty. Whenever our society returns to "normal" — whatever that means — there will be profound changes to how we live. Sports are not immune to this.

As part of the Aspen Institute Sports & Society Program's Future of Sports conversation series, which will restart in early 2021, we asked smart, thoughtful people who work in sports this question: What innovations and/or disruptions to sports during Covid-19 do you think will become permanent after the pandemic? Here are some of the responses, edited for brevity.

Nicole LaVoi, University of Minnesota's Tucker Center for Research on Girls and Women in Sport: For women's teams and sports at the high-performance levels, the truth is that Covid-19 unmasked for everyone what many already knew — massive, unjustifiable, and unsustainable spending on men's sport. Women's sport provides an opportunity for increasing returns, brand authenticity, and value spend, in addition to alignment with activism.

Nevin Caple, founder of Return on Inclusion: The pandemic and racial justice movement have disrupted life as we know it and sparked innovations to shift consciousness at every level of sport. Our athletes are no longer asking for permission but leveraging their social capital to send a clear and direct message to their coaches and administrators: join them or get out of the way. As a result, the need for every coach and athletic administrator to go through a social and cultural competence "basic training" of sorts when it comes to working with athletes and engaging colleagues from underrepresented backgrounds is urgent.

Jessica Luther, "Loving Sports When They Don't Love You Back" co-author: I don't think this system, whose roots are deep and which is controlled by wealthy people who do not want to give up any money or power, is going away anytime soon. But I do hope the time that college athletes spent in the spring and summer not playing sports and instead protesting, talking to each other, and assessing the world around them planted some roots of their own.

Kathleen Bachynski, "No Game for Boys to Play" author: Many college sports programs have historically lacked basic oversight to protect athlete health. Rather than implementing scientifically sound public health measures to protect against life-threatening conditions, they have instead frequently gambled with athletes' welfare, responding only after the ultimate tragedy has taken place, and sometimes not even then. Permanent change that leads institutions to actively prioritize both athletes' health and the public's health is an urgent, ethical necessity.

Andy Schwarz, economist/Professional Collegiate League: Distant learning will be the norm for athletes even as regular students return to on-campus learning because it makes long road trips and a better TV schedule more manageable. The "college experience" of many college athletes will end up a lot more like the online education wing of a community college.

Ross Dellenger, Sports Illustrated: In an unfortunate aftereffect of both the pandemic and upcoming NCAA legislative changes related to the one-time transfer rule and name, image, and likeness compensation, I expect the current model of college athletics to shift away from a broad-based system of multiple Olympic-style sports. Dozens of schools have already started to cut sports not named football and basketball, and I'd expect that only to continue. Many administrators believe that the NCAA's Division I requirement of schools to sanction 16 sports teams will eventually fall, allowing more programs to be discontinued."

>> Continue Reading

CONFERENCES
2. You Say Goodbye and I Say Hello
Another day ... another set of announcements from DIII schools and conferences about the winter season and the spring semester.
The
USA South Conference
announced that no spectators shall be permitted to attend any indoor USA South sporting event.
The
College Conference of Illinois and Wisconsin
released its 2021 winter competition schedules for basketball, indoor track and field, swimming and diving, women's bowling and wrestling.
King's (Pa.) College
announced it will not participate in winter sports competition in the coming months.
Trinity Washington University
athletics have been suspended for the spring semester.
#whyD3
3. Texans #StreakUp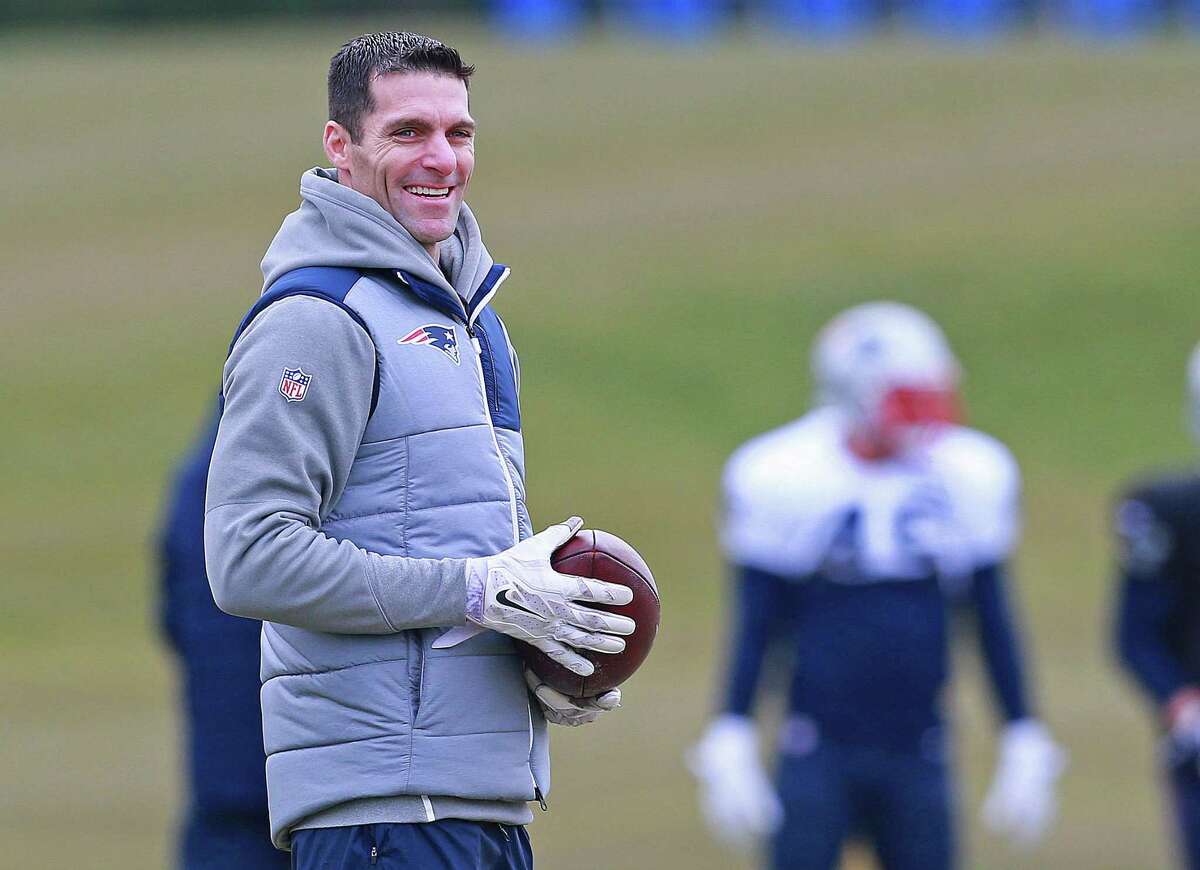 MediaNews Group/Boston Herald via Getty Images, Contributor / MediaNews Group via Getty Images

"Former John Carroll University quarterback and long time member of the New England Patriots' front office Nick Caserio '98 has been hired to be the next general manager of the NFL's Houston Texans. In 2020, the Texans finished 4-12, but the future is bright with star quarterback Deshaun Watson and eight selections in the 2021 NFL Draft.

He becomes the third John Carroll alumnus to ascend to general manager of an NFL team.

Caserio was a four-year starting quarterback for the Blue Streaks from 1995-1998, a three-time academic All-OAC selection, and captain in 1998. The 1997 season was highlighted by a come from behind win against Baldwin Wallace University. McDaniels tossed a game winning touchdown to future New England Patriots colleague, offensive coordinator Josh McDaniels '99. Caserio graduated from John Carroll as the school's all-time leader in career passing yards, total offense, touchdown passes, career completions, and completion percentage. He guided the Blue Streaks to a 33-7-2 mark, leading the 1997 team to the NCAA Division III playoffs. College Football Hall of Famer London Fletcher '98 was also on the team. McDaniels and Caserio later matched up with Fletcher in Super Bowl XXXV.

>> What They're Saying: ""Nick is an incredibly hard worker, disciplined, a man of integrity and high character. He has a tremendous amount of experience building a winning franchise and we have faith he will continue his success as a Texan. Nick has an unparalleled reputation around the league amongst his peers." - Cal McNair, Texans Chairman and Chief Executive Officer

>> Go Deeper
>> More from the Houston Chronicle

SPONSORED MESSAGE


The City of Salem and Salem Parks & Recreation along with other localities in the Roanoke Valley host a variety of softball and baseball tournaments throughout the year. We work with Roanoke County, Roanoke City, Botetourt County and Visit Virginia's Blue Ridge. USA, NSA, USSSA, Got Game, Softball Nations, Freedom Sports and ISF are organizations that bring tournaments to the Roanoke Valley.

Find out more at SalemChampionships.com
SCORES
4. About Last Night
WBB: Ajanae Thomas scored 26 points while Keauna Whitfield added 19 as LeTourneau improved to 5-1 with an 80-65 victory over Hardin-Simmons (5-2) in the ASC opener for both teams.

MBB: Whitworth battled The College of Idaho - ranked #1 in NAIA Division II for several weeks last season - but succumbed to the Coyotes, 92-91, in double overtime. Miguel Lopez led the Pirates with 21 points and 12 rebounds.


TRANSACTIONS
5. Comings and Goings
LAST WORD
6. Tweet of the Day
Know someone that would enjoy receiving d3Playbook?
Send an email to d3Playbook@gmail.com with "subscribe" in the subject line