PRESENTED BY THE CITY OF SALEM
"Virginia's Championship City"
D3Playbook
JANUARY 14, 2021 | written by STEVE ULRICH
your must-read briefing on what's driving the day in NCAA Division III
Our goal is to keep you - the influencers in DIII athletics - apprised of what's happening around Division III - the games, polls, news, happenings, awards, calendar of events, and much more. We hope you enjoy d3Playbook and that you'll share this with your friends, colleagues and co-workers.



>> It's Thursday Morning! Might have to invest in a lottery ticket this weekend.

>> Today's Word Count: 1,593

>> Today's Subscriber Count: 1,544 (newsletter), 1,797 (twitter)

>> Thanks for reading D3Playbook. Remember to follow us on Twitter @D3Playbook for the latest news and transactions


TOP STORY
1. BOG Supports NIL Postponement

The Association's top governing body, meeting virtually Wednesday as part of the 2021 NCAA Convention, reaffirmed its commitment to providing name, image and likeness opportunities to all college athletes at the first viable opportunity.

Citing recent judicial, political and governmental enforcement events, including communication from the U.S. Department of Justice Antitrust Division, the Board of Governors supported postponing anticipated votes in all three divisions until the NCAA can gather additional relevant information.

The Division I Council and Division II Presidents Council have tabled or withdrawn these votes, and Division III presidents will meet Thursday. The board last year directed the divisions to adopt new name, image and likeness rules to further support student-athletes.

The board was also briefed on the "Bill Russell Rule," adopted by some in the NCAA's membership, which directs schools to include a person from a traditionally underrepresented community in a pool of final candidates for athletics director, senior administrator, head coach and full-time assistant coach positions. Board members agreed it would be a useful strategy to increase diverse leadership in college sports, encouraging its implementation by NCAA schools and conferences across the country where compliant with state laws and regulations.

>> Continue Reading
THE PLAYBOOK INTERVIEW
2. Fayneese Miller


For our second D3Playbook Interview, we feature Fayneese Miller, president of Hamline University and chair of the NCAA Division III Presidents Council.

You have been a ground-breaker since your days in Danville, Va., continuing to TCU and through Hamline. What has been your driving force?

It was never my goal to be a ground-breaker. In fact, I never realized that some even considered me one until I became president of Hamline University. I simply tried every day to make sure what I do matters and that I am in a position to influence or bring about change. I believed that I could do this even in the face of obstacles. For example, one of my graduate school professors kept a toothbrush in his shirt pocket. Whenever we passed in the hallway he would put the toothbrush in his mouth. This was to keep from having to speak or even acknowledge my presence as a graduate student in the program. Such behavior made me even more determined to succeed. Fortunately, I had other professors who were very supportive. In fact, one said to me, "when you are in my office you can cry all you want, but once you step outside my door hold your head high and never let those opposed to your presence know it affects you." I hold my head high to this very day and will continue to do so.

What lessons have been learned as an African-American woman in a leadership role? What do you share with students and colleagues?

I have learned that who I am matters not only to those with whom I work, but more importantly, to those who will come after me. I have come to better appreciate the fact that what I say, when I say it, and how I convey my messages matters. For example, when Mr. George Floyd was murdered, I knew I had to communicate my heartfelt feelings to my community. The same was true when our very notion of democracy was recently challenged. I try every day to show my authentic self to students and my colleagues. I want them to know I truly care about them and their futures. I talk about the importance of being effective decision-makers and problem-solvers. And, I talk about the importance of being a part of a team. More importantly, I frequently use John Wesley's words to "do all the good you can."

Presidential schedules are always full. What led you to getting involved with the NCAA and the Presidents Council?

I am involved with the NCAA because of my scholar-athletes. I felt as though it was important for me to better understand the organization that helps define their athletic experience. My schedule is never too full when it comes to doing something that positively impacts my students. I must admit, however, that I never realized how much time I would need to devote to the NCAA. It is a lot!

What challenges do small, private institutions face in the upcoming year?

Small, private institutions are never truly free of challenges, regardless of enrollment or endowment size. The bigger challenges right now are ensuring the health, safety, and well-being of our students. A second challenge is maintaining enrollment numbers, especially with changing national demographics and the fact that it is getting harder and harder to differentiate oneself from others. I believe institutions are much too competitive; while I understand the need to be so, I also believe we need to figure out how to be more collaborative.

Have you always been active in athletics? If so, what is your favorite sport/activity?

I have always been interested in athletics. At Brown, I was the faculty representative for the gymnastics team. I was once a mediocre gymnast and track student. I am impressed by those who excel athletically and are able to balance academics and sports. I am a golfer. When my son was four years old, Tiger Woods won his first green jacket. I watched this four-year old sit in front of the television and watch Tiger play each round. He was mesmerized by Tiger and noticed that Tiger looked like him. Shortly thereafter, I enrolled my son in golf lessons. I decided to take lessons as well (and) continue to play. Prior to the pandemic, I had a 15.3 handicap. Now, my handicap is 18.1. But, I love the game and have learned to be appreciative of the times when I can get out to play and no longer obsess over the quality of my game.

What do you enjoy doing in your leisure time?

I have two activities that I enjoy. I am a prolific reader. I am rarely without a book or two in hand. My other activity is golf. It allows me to get outside my comfort zone and accept that not all happens as we might like. It also reminds me that giving up is not always in one's best interest, keep trying no matter how hard the task.


>> Go Deeper

SPONSORED MESSAGE
The City of Salem and Salem Parks & Recreation along with other localities in the Roanoke Valley host a variety of softball and baseball tournaments throughout the year. We work with Roanoke County, Roanoke City, Botetourt County and Visit Virginia's Blue Ridge. USA, NSA, USSSA, Got Game, Softball Nations, Freedom Sports and ISF are organizations that bring tournaments to the Roanoke Valley.

Find out more at SalemChampionships.com
AWARDS
3. LGBTQ Recognition Winners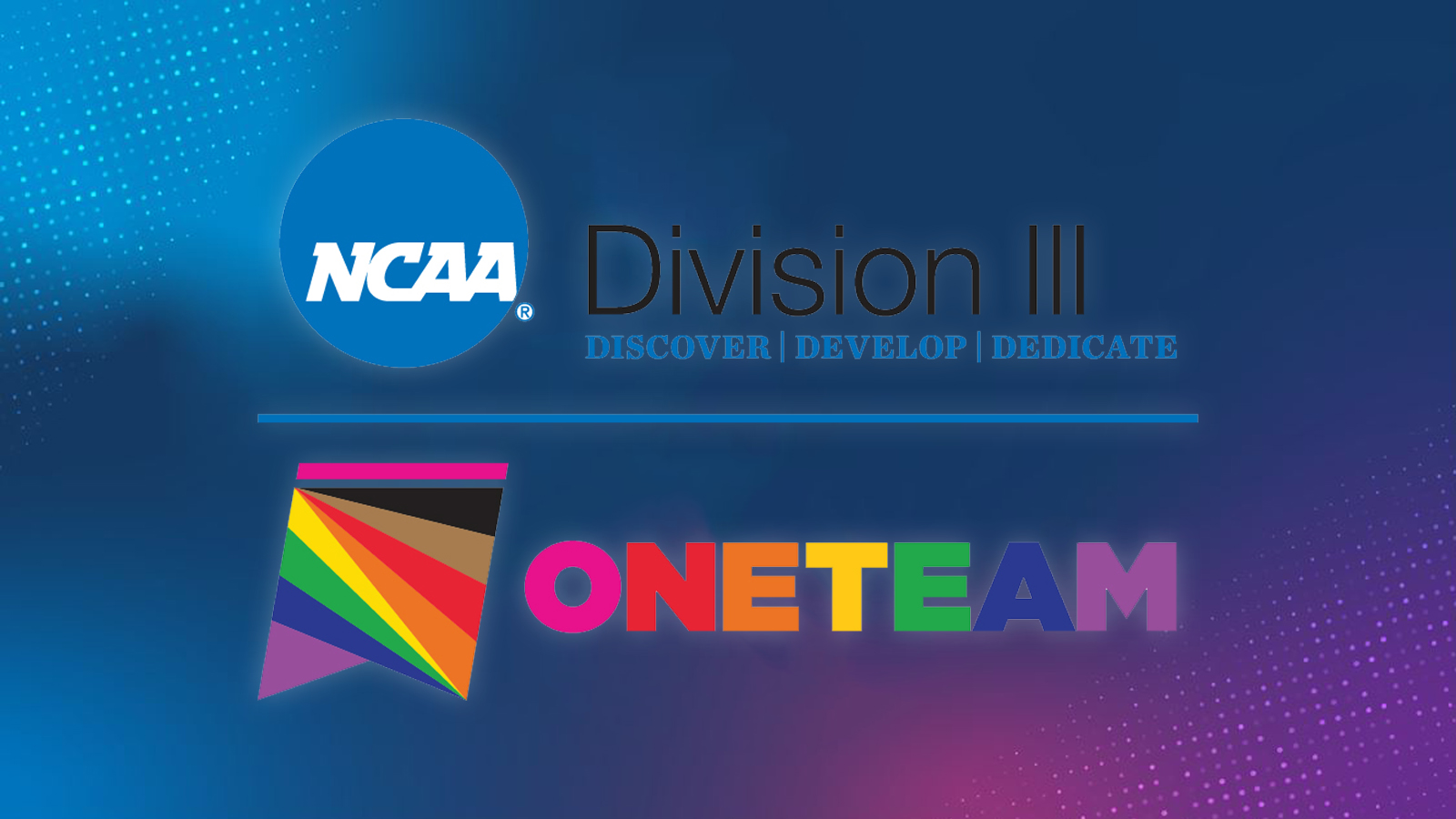 A student-athlete, a coach and a university were recognized as the inaugural Division III LGBTQ OneTeam Recognition Award winners at the NCAA Convention Honors Celebration on Wednesday.

Initiated by the Division III LGBTQ Working Group, the awards program was unveiled during the LGBTQ and Allies Reception at the 2019 NCAA Convention. The nomination period was open from February to June 2020. The selection committee reviewed approximately 40 nominations and conducted two rounds of evaluations with the purpose of identifying a standout nominee in each category.

"The student-athletes, athletics department staff and institutions or conferences doing this work are critical to making athletics a space where all LGBTQ identified folks have a right to be their authentic selves," said Neil Virtue, Division III LGBTQ Working Group chair and swimming coach at Mills. "This ultimately will make them better student-athletes, coaches, administrators and institutions. These inaugural winners are proof the valuable work of all those that came before this time was critical to the continued journey of acceptance for the LGBTQ community in athletic spaces."

Recipients include
Kenadeed Gilmour, Hamilton, Student-Athlete of the Year
Hillary Arthur, Willamette women's soccer coach, Administrator-Staff-Coach of the Year
Bridgewater State, Athletic Department-Conference of the Year

>> Read More


CONFERENCES
4. It's A Go

The Minnesota Intercollegiate Athletic Conference (MIAC) Presidents' Council has voted to approve plans for a return to competitive athletics this winter.

The MIAC winter sports of basketball, hockey, indoor track and field, and swimming and diving will be permitted to participate in regular-season competition. The MIAC will not host winter-sport playoffs nor conference postseason championship meets; however, participation in NCAA championship competition will be permitted for qualifying teams and individuals. To prioritize focus on student-athlete and staff safety, spectators will not be allowed at MIAC contests during the winter season.

MIAC basketball and hockey programs will begin a seven-game conference schedule on Saturday, February 6. The basketball and hockey schedules will follow a single round-robin format, wherein each participating team will play every other team once, with the team achieving the best winning percentage while completing at least 51 percent of the schedule claiming the MIAC championship and automatic qualifier to the NCAA Tournament. In addition, teams will have the opportunity to schedule up to four non-conference contests beginning on January 29. The MIAC will not host basketball or hockey playoffs in 2021. The full 2021 schedules for basketball and hockey can be found here.

>> Go Deeper

TRANSACTIONS
5. Comings and Goings
LAST WORD
6. 1 Lottery Thing
If you came up with the five white ball numbers and the red power ball number last night, give us a call about potential sponsorship. The winning numbers were 4-19-23-25-49 and the Powerball was 14. (spoiler alert: no one had the numbers).
Know someone that would enjoy receiving d3Playbook?
Send an email to d3Playbook@gmail.com with "subscribe" in the subject line