D3Playbook

DECEMBER 8, 2020 | written by STEVE ULRICH
your must-read briefing on what's driving the day in NCAA Division III

Our goal is to keep you - the influencers in DIII athletics - apprised of what's happening around Division III - the games, polls, news, happenings, awards, calendar of events, and much more. We hope you enjoy d3Playbook and that you'll share this with your friends, colleagues and co-workers.
>> Good Tuesday Morning. 40 years ago, John Lennon was shot and killed outside his New York City apartment.

>> Today's Word Count: 1,195. Four minutes. An easy read.

>> Welcome to the presidents who serve as chairs of their Division III conference who might be new to D3Playbook.

>> Thanks for reading D3Playbook. Remember to follow us on Twitter @D3Playbook for the latest news and transactions


TOP STORY
1. "Something Just Doesn't Feel Right"

by Craig Meyer, Pittsburgh Post-Gazette

"With the 2020-21 college basketball season underway, and as it inches toward late December, Jeff Capel regularly finds himself torn.

The third-year Pitt coach grew up in the sport and was molded by it. Seeing firsthand the impact his late father had on the players he coached and the influence his coaches had over him led him into the profession. It gave him hope that he, too, could make a difference.

But it's that same affinity for his players that makes his passion a newfound source of internal conflict.

As the effects of the COVID-19 pandemic worsen across the country and as case numbers spike to previously unseen levels in certain regions, the college basketball season continues, at least to the extent it can. With that development has come a flood of questions for Capel, from more logistical topics like what to do for players during Christmas, to moral and philosophical quandaries about playing as much of the world around them is in disarray. They're the kind of thoughts that often come back to the same subject — the players."

>> Background: "Some of the inherent contradictions of the idea of a student-athlete, at least in a traditional sense, have become that much clearer to him during the pandemic, as college basketball as an entity works to get closer to the NCAA tournament — which, had it not been canceled, would have resulted in a $600 million payout to its approximately 350 Division I members last year."

>> Between The Lines: "Complicating matters is what the team would — or, more aptly, wouldn't — be able to do should players stay on campus. With the required days off, coaches are restricted from working with players or holding practices. The gym can be opened, but no coach can be there. Players can go to the weight room, but the strength coach can't be present. Typically, that time would be used for team-building activities, but the options for those are incredibly limited."

>> What They're Saying: "You don't know where to turn to get answers or who's looking out for truly the best interests of the young men and women that are out there competing." - Capel

>> A Story That Affects Us All


NCAA

2. Regional Rules Seminars

NCAA Constitution 3.2.4.16 (Convention and Regional Rules Seminar attendance) requires all NCAA Division III institutions to attend the NCAA Regional Rules Seminar at least once every three years. Under this requirement, the three-year window for attendance includes the 2018, 2019 and 2020 Regional Rules Seminars. Any institution that did not send a representative in 2019 or 2020 should plan to have someone attend the 2021 Regional Rules Seminars.

Due to the ongoing impact of the COVID-19 pandemic, the 2021 NCAA Regional Rules Seminar will be held virtually in June on dates to be announced after Jan. 1. This announcement serves as advance notice to the membership for planning and scheduling purposes and creates significant cost savings for the national office, conference offices, institutions and others while maintaining a safe learning environment for all participants. As additional information on the seminar becomes available, updates will be shared with the membership and posted on our event webpage.

If you have questions regarding the virtual 2021 NCAA Regional Rules Seminar, please visit the seminar webpage or contact
NCAARegionalRulesSeminars@ncaa.org

Click here for a list of institutions that are required to attend Regional Rules Seminars in 2021.

HISTORY
3. Women's Cross Country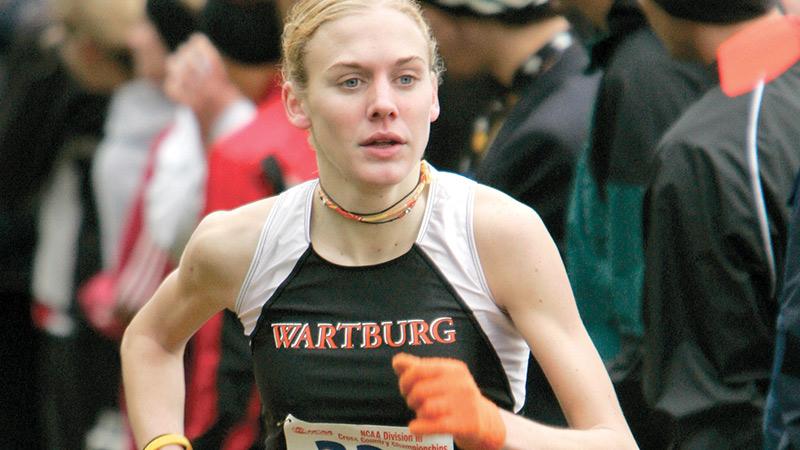 These women rank among the best in Division III history. One - Missy Buttry of Wartburg - won three consecutive individual titles from 2002-04, while four others won two individual championships. Nineteen women finished in the top 10 at least three times, including two who placed in the top 10 all four years.

Three-Time Champions
Missy Buttry, Wartburg, 2002-03-04
Two-Time Champions
Four-Time Top-10 Finishes
Cindy Nagle, Claremont-M-S (1981-82-83-84) 2-7-3-7
Julia Kirtland, Macalester (1983-84-85-86) 6-1-2-5
Three-Time Top-10 Finishes
Shari Sullivan, St. Thomas (1986-87-88) 9-4-4
Jannette Bonrouhi, Ithaca (1986-88-89) 9-4-4
Robyn Olson, Wartburg (1992-93-94) 9-9-4
Jenn Campbell, Williams (2001-02-04) 3-7-3
Sarah Hintz, St. Thomas (1982-83-84) 3-7-5
Jennifer Hintz, St. Thomas (1983-86-87) 2-2-10
Laura Horejs, UW-Oshkosh (1989-91), 10-4-1
Tammie Miller, Cortland (1991-92-93) 8-5-2
Michelle La Fleur, Cortland (1990-92-94) 5-2-1
Mickey Kelly, Cortland (1997-98-99) 10-6-4
Liz Woodworth, UW-Oshkosh (2001-03-04) 8-2-2
Missy Buttry, Wartburg (2002-03-04) 1-1-1
Caroline Cretti, Williams (2002-03-05) 5-4-6
Alexandra Krieg, Middlebury (2006-07-08) 10-3-6
Jenny Scherer, St. Norbert (2008-09-10) 7-10-3
Christy Cazzola, UW-Oshkosh (2010-11-12) 4-2-1
Amy Regan, Stevens (2013-14-16) 6-1-1
#whyD3
4. Training Grad Gets MLB Shot
by Larry Happel, special to Des Moines Register

"A little shy of a warning-track fly ball away from the playing field at Houston's Minute Maid Park, 2018 Central College athletic training graduate Brandon Zumbach got his first shot in the big leagues last summer, spending much of the pandemic-shortened baseball season parked outside of the home clubhouse, screening visitors.

"Unfortunately, there are people going in and out of the clubhouse all the time," said Zumbach, a Gilbertville native who lives in Waverly during the off-season. "So I did not get to the see the games unless I slipped up to the suite level for a little while. I spent my time under the stands."

When COVID shut down MLB this spring, Zumbach was fortunate that the Astros did not furlough anyone. Instead, when preparations began to relaunch the season in late July, Zumbach got a call to report to Houston to assist with the Astros' COVID-19 health and safety protocols. In addition to those chores, he got to see how a major league staff operates. It was an athletic training education."

>> Situational Awareness: "Zumbach is part of a stream of Central graduates who have landed prominent roles after being a part of the college's athletic training program, such as Nate Weir, coordinator of rehabilitation with the NFL's Green Bay Packers."

>> Quotable: "It was an opportunity to really expand my knowledge," Zumbach said. "Infectious disease is not an area I would ever think to call myself an expert in, but it's an area I've really seen my knowledge expand in. And being in Houston really gave me a chance to see how Major League Baseball operates, and what I need to be doing to progress in my career."

>> What's Next: "I believe I'd be added to a similar level to what Quad City (Class A) is at, but I would gain additional experience on how teams operate and what types of decisions an athletic trainer needs to make on a regular basis versus being a symptom screener for COVID," Zumbach said.

>> Keep Reading


TRANSACTIONS
5. Comings and Goings
6. 1 Spike Thing
These #whyD3 guys know what to do when they find the end zone in the NFL. Arizona Cardinals TE Dan Arnold - a graduate of UW-Platteville - shows how it is done with authority.


Know someone that would enjoy receiving d3Playbook?
Send an email to d3Playbook@gmail.com with "subscribe" in the subject line