D3Playbook

DECEMBER 11, 2020 | written by STEVE ULRICH
your must-read briefing on what's driving the day in NCAA Division III


Our goal is to keep you - the influencers in DIII athletics - apprised of what's happening around Division III - the games, polls, news, happenings, awards, calendar of events, and much more. We hope you enjoy d3Playbook and that you'll share this with your friends, colleagues and co-workers.
>> Good Friday Morning! Make it a great weekend.

>> Today's Word Count: 902

>> Thanks for reading D3Playbook. Remember to follow us on Twitter @D3Playbook for the latest news and transactions


TOP STORY
1. Centennial Cancels

With the health and safety of its student-athletes, campus communities and the general public of paramount importance, the Centennial Conference Presidents Council has decided to cancel conference competition and championships for all fall and winter sports during the 2020-21 academic year.

Sports impacted by this decision include men's and women's cross country, field hockey, football, men's and women's soccer, volleyball, men's and women's basketball, men's and women's swimming, men's and women's indoor track and field and wrestling.

Ultimately, a number of factors impacted this decision, including the rising number of COVID-19 cases across the country, the shift of spring academic calendars to a later start, campus policies regarding travel, group size and visitors to campus, and the ability to meet recommended NCAA testing guidelines.

>> Continue Reading

BASKETBALL
2. Should the Season Continue?
by Dan Wetzel, YahooSports

Let's start with the criticism before we get to the common sense: It is true that Duke isn't having the kind of success it's accustomed to thus far this season — just 2-2 after a 83-68 loss to Illinois on Tuesday.

"But …"

And here is where (Mike) Krzyzewski is worth listening to and not just because he is a 73-year-old Hall of Famer who has coached teams to five NCAA titles and three Olympic gold medals. It's because what he has to say about this halt-and-stop season is exactly what coaches with less gravitas and less stature are saying privately.

Namely, that the sport shouldn't have attempted this under the current calendar and should consider pausing and pushing everything back — make March Madness into May Madness, or even June Madness, for example. By then, vaccines and other treatments should make life far smoother."

>> Quotable: "For the good of the game and for the good of the safety and mental and physical health of players and staff, we need to constantly look at this thing," Krzyzewski said. " … I don't think it feels right to anybody."

>> The Big Picture: "Look, business is business and college basketball is big business. Figuring out how to operate during the pandemic is the challenge of every enterprise. Having already lost the 2020 NCAA tournament that funds so much of college athletics, the goal is simply to get to the end and cash the check."

>> What's Next: "There would be less television money in May or June, of course. The traditional March date is when the ratings would be highest. But how much revenue is being lost right now with strict standards, canceled games and things like Michigan State's roundtrip charter flight to Virginia for no reason? Right now the season is essentially thousands of "amateur" athletes living in quarantine, missing the crowds and excitement that come with playing college hoops, while hoping that some portion of their schedule actually happens."

>> Food for Thought


FOOTBALL
3. More League Schedules
Here is a more complete list of conferences that have released football schedules for spring 2021.
NCAA
4. Coaching Enhancement Grants
The Division III Coaching Enhancement Grant is a relatively new initiative approved by the Division III Presidents Council, with just one cycle distributed since its inception in 2019.

The grant funds 11 new, full-time assistant coaching positions for all NCAA-sponsored sports during a two-year commitment. Positions hired for the 2019-21 cycle included assistant women's basketball coaches, assistant coach (field hockey and lacrosse)/assistant to the athletics director, assistant softball coach/recruiting coordinator, and assistant football coach among others.

Schools receive two years of grant funding ($7,500 each year) from the NCAA to support the hired assistant coach, in addition to $1,500 for professional development both years of the cycle. Schools must match the NCAA-provided funding each year of the grant to support the position.

For guidelines, current recipients, selection information and more, click here.


ABOUT LAST NIGHT



5. Record-Breaking Day for Lions


Hope Franklin scored 41 points while Livia Skinner (pictured) added 37 as the Piedmont women set numerous school records in a 138-112 victory against Birmingham-Southern. Franklin set a mark for most points in a game while Skinner's 17 field goals established a new standard. Piedmont's 138 total points broke the school record and was set without the benefit of a three-point goal. The combined 250 points set a Division III mark.


LAST WORD
7. 1 Vaulting Thing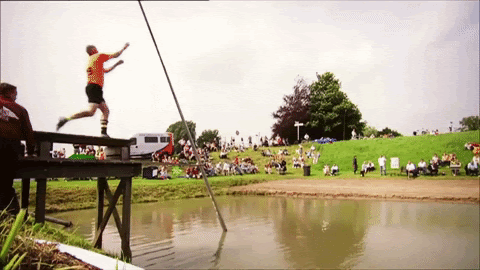 Source: SNTV - Inside every story (YouTube)

Fierljeppen ... is pretty much exactly what it looks like, which is to say pole-vaulting across a canal.

Origins: Native to the West Frisian people in the Dutch province of Friesland, what began as utility transformed into sport.
The Netherlands is loaded with waterways due to its high percentage (17%) of land below sea level.
Instead of getting wet or going the long way around, people learned to vault across these canals.
The first official match was in 1767, but the modern, organized version of the sport didn't spring up until the mid-20th century.

Go deeper: History, rules, records and video (Dutch Review)


Know someone that would enjoy receiving d3Playbook?
Send an email to d3Playbook@gmail.com with "subscribe" in the subject line