PRESENTED BY THE CITY OF SALEM
"Virginia's Championship City"

D3Playbook

DECEMBER 22, 2020 | written by STEVE ULRICH
your must-read briefing on what's driving the day in NCAA Division III

Our goal is to keep you - the influencers in DIII athletics - apprised of what's happening around Division III - the games, polls, news, happenings, awards, calendar of events, and much more. We hope you enjoy d3Playbook and that you'll share this with your friends, colleagues and co-workers.
>> Good Tuesday Morning. We thank you for your support of D3Playbook and wish you and yours a safe, happy and healthy holiday season. Unless there is breaking news, we'll return on January 4.

>> Today's Word Count: 1,236 or as we like to say, five minutes

>> Thanks for reading D3Playbook. Remember to follow us on Twitter @D3Playbook for the latest news and transactions


EDITORIAL
1. Thank You
This is a heartfelt thank you for your support of D3Playbook during the past year. I began this newsletter in August 2019 with the goal of keeping you - the decision-makers in Division III - apprised of what drives the day. You have responded. D3Playbook began the year with 498 subscribers - we currently have 1,563.

Thanks to the City of Salem and Chi Alpha Sigma for your financial support. If you have a business and would like to reach an affluent audience that works in higher education and college sports ... drop us a line at d3playbook@gmail.com.

When I read about the push by Division I to play games at the expense of students' health ... or the lack of access to championship tournaments (see College Football Playoff) ... or how money pays such a huge role (uh, see CFP again) ... I'm reminded of why I was drawn to Division III in the first place. Non-scholarship athletics. Students who participate in athletics. For the love of the game.

Win your conference for access to the national championship tournament. Don't depend on the "committee" and the "eye test." DI committees would have omitted Albertus Magnus men's basketball in 2015 because it wasn't a member of a "power conference." I'll always think of that team when we have these discussions.

I reflect on the people - especially those I have met along the way. Andy, Brad, Keri, Dwayne, Terry, Ken, Dan, Jenn ... you all have a special place in my heart - but a special spot remains for JD, Megan, Kim, Jess, Katie and Jess. They made my DIII experience memorable and extremely rewarding.

Here's hoping that you remember those that made your DIII experience unforgettable this holiday season and that you and your family have a safe, happy and healthy Christmas and best wishes for a much better 2021 for all.


TOP STORY
2. College Basketball Should Stop
by Nathan Kalman-Lamb, Derek Silva, Johanna Mellis, TIME
"This month, two men's college basketball coaches finally had gumption to publicly address a question on many of our minds: why are unpaid athletes risking their health and safety to play games during a pandemic, especially as COVID-cases, and deaths, rise across the country?

"One of the things that has come about with all of this since everything happened in March when the season was canceled, I don't think anyone can say anymore that these young men are amateurs," University of Pittsburgh coach Jeff Capel said. "That's out the window. They're not. They absolutely aren't."

What do they get? An education at some of the world's most expensive institutions, though many athletes are encouraged not to enroll in majors that are 'too hard' or classes that interfere with all-important practice. Capel's statement matters since it comes from a coach, one of the primary beneficiaries of college basketball's rigged economy. When one of the cartel's key stakeholders makes such an admission, then, you know we're staring at a potentially transformational shift in the dynamics of college athletics."

>> The Big Picture: "In the same moment that public health officials have warned against holiday travel for fear of vectoring another COVID-19 wave around the country, college basketball teams have been doing the exact opposite: hopping on planes to do precisely what we have all been warned not to. Unsurprisingly, just as the nation's numbers soar, so too have recent team-wide outbreaks in the world of men's college basketball. On Dec. 17, for example, University of Houston coach Kelvin Sampson said all 15 players on his team had COVID-19. Capel's comment underline the hypocrisy inherent in asking campus athletic workers to risk their lives to entertain the masses."

>> A Thought-Provoking Piece


NCAA

3. In-N-Out

The announcements continue as the Colonial States Athletic Conference, Illinois Tech and St. Norbert opted out, while the Heartland Collegiate Athletic and Empire 8 Conferences appeared to move forward.

The CSAC announced that formal conference competition and conference championships for fall and winter sports shall be cancelled for the 2020-21 academic year. Institutions are granted autonomy regarding practice and competition. Illinois Tech has opted out of fall and winter athletic competition in 2020-21, while St. Norbert will not participate in the 2020-21 men's and women's hockey season.

On the flip side, the HCAC and Empire 8 announced their intentions to conduct play in the winter. The HCAC confirmed its earlier decision to continue to move forward with plans to resume conference play in 2021. The sports of men's and women's basketball will begin conference play in mid-January. The E8 released its fall and winter sports schedules.

A MESSAGE FROM THE CITY OF SALEM
The City of Salem and Salem Parks & Recreation along with other localities in the Roanoke Valley host a variety of softball and baseball tournaments throughout the year. We work with Roanoke County, Roanoke City, Botetourt County and the Roanoke Valley Convention and Visitor's Bureau. USA, NSA, USSSA, Got Game, Softball Nations, Freedom Sports and ISF are organizations that bring tournaments to the Roanoke Valley.

Find out more at SalemChampionships.com
#whyD3
4. Following in Dad's Footsteps
by Kevin Callahan, City of Basketball Love

"Bernie Rogers is the son of an Ursinus College point guard. He also plays at The Haverford School for a former star point guard for the Bears.

Extending the connection, the heady and hard working senior point guard committed to play at Lycoming College for another former Ursinus star point guard.

It seems natural for him to play for Mike McGarvey, the Lycoming head coach, since Rogers' father, Bernie Rogers, also was a standout point guard at Ursinus.

McGarvey flourished at Ursinus from 2002 to 2006. A decade earlier, the elder Rogers paced the Bears in scoring and assists for four straight seasons, scoring over 1,000 points. He was the team MVP in 1994 and 1995, while a two-time All-Conference selection at the Collegeville, Pa., school."

>> Situational Awareness: "The elder Rogers, a first team All-Catholic selection at Archbishop Ryan in 1992, coached his alma mater for 15 seasons before leaving for The Haverford School five years ago. He coached his brother Andrew, who was recruited to play at University of Maine, while at Ryan, so he has endured the recruiting challenge on a personal level."

>> Quotable: "I think having played Division III and coached Division III and my son having followed my camps the past 20 years, I think he is a kid who gets how good Division III is," Rogers' father added. "Some kids, it takes a while to realize that and I think he understands that going in, how competitive it is and how blessed you are to have a spot on a team the next four years."

>> A Good Read


TRANSACTIONS
5. Comings and Goings
LAST WORD
6. 1 Christmas Movie Thing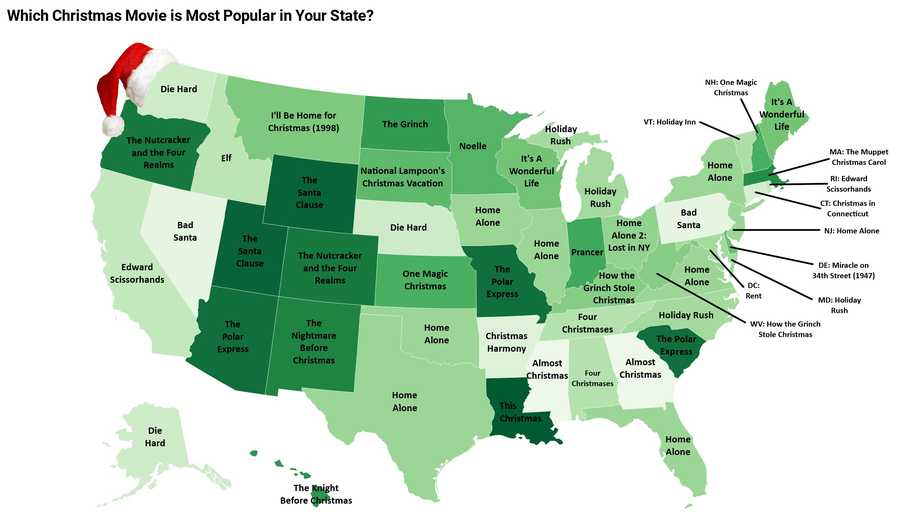 It's Christmas week and all through the house, not a creature was stirring, because they were streaming a movie on TV.

But what's the best Christmas movie? Is it really Die Hard?

Consumer site Comparitech set out to uncover the most popular Christmas movie in every state.

And the winner is ...

Have a safe, happy and healthy holiday season! See you on January 4.

Know someone that would enjoy receiving d3Playbook?
Send an email to d3Playbook@gmail.com with "subscribe" in the subject line