D3Playbook
NOVEMBER 11, 2020 | written by STEVE ULRICH
your must-read briefing on what's driving the day in NCAA Division III
Our goal is to keep you - the influencers in DIII athletics - apprised of what's happening around Division III - the games, polls, news, happenings, awards, calendar of events, and much more. We hope you enjoy d3Playbook and that you'll share this with your friends, colleagues and co-workers.
>> Good Wednesday morning!

>> Today's Word Count: 859

>> @D3Playbook: Do you follow us on Twitter? 1,653 followers do. All the latest moves in Division III can be found there throughout the day.

>> Thanks for reading D3Playbook. Please recommend us to a friend or co-worker. Or share with your staff and bring them up-to-speed on what's happening in DIII.


1. Trouble at Guilford



by John Newsom, Greensboro News & Record



"Guilford College plans to discontinue nearly half of its academic majors and cut another 36 positions in hopes of securing its long-term future.

This latest round of job cuts — the second in four months — will hit faculty particularly hard. The private Quaker college plans to lay off 16 tenured professors, who generally can be dismissed only under extreme circumstances.

The college announced these profound changes Friday to employees and students in separate town hall meetings. The potential elimination of majors and more jobs follows a two-month review of Guilford's academic programs and a decade of declining enrollment.

The announcement was met with outrage from some faculty and alumni, who said the planned changes will critically damage an institution founded before the Civil War."

>> Situational Awareness: "After a review that began in September — the first such review at Guilford in nearly a decade — interim president Carol A. Moore said she is recommending to Guilford trustees that the college phase out 19 of its 42 academic majors. The changes won't become official until after a trustees' vote in early 2021 that will give time for tenured professors to appeal their dismissals."

>> Between The Lines: "The majors slated to be cut generally have low enrollment and are declining in popularity nationwide. Most of the discontinued majors are humanities programs, including history, philosophy, religious studies and three foreign languages. Political science, chemistry and math also will no longer be Guilford majors."

>> What's Next: "There will be significant losses in the faculty ranks. Guilford plans to cut 27 faculty positions, or 30% of its full-time faculty. The college plans to lay off 16 tenured professors and five visiting professors. Four professors are scheduled to retire, and two more have said they plan to resign."

>> Worth Noting: "We haven't seen any examples of colleges that have cut this proportion of employees and thrived. It is hard for most of us who work at Guilford College to believe that these are wise decisions." - Maria Rosales, political science professor

>> Keep Reading

>> More: Furloughs at Allegheny


2. COVID Scoreboard

We will continue to update the winter and spring competition seasons with schools and conferences that have canceled play here.

Conferences
Institutions
3.
Getting to Know: Nate Stewart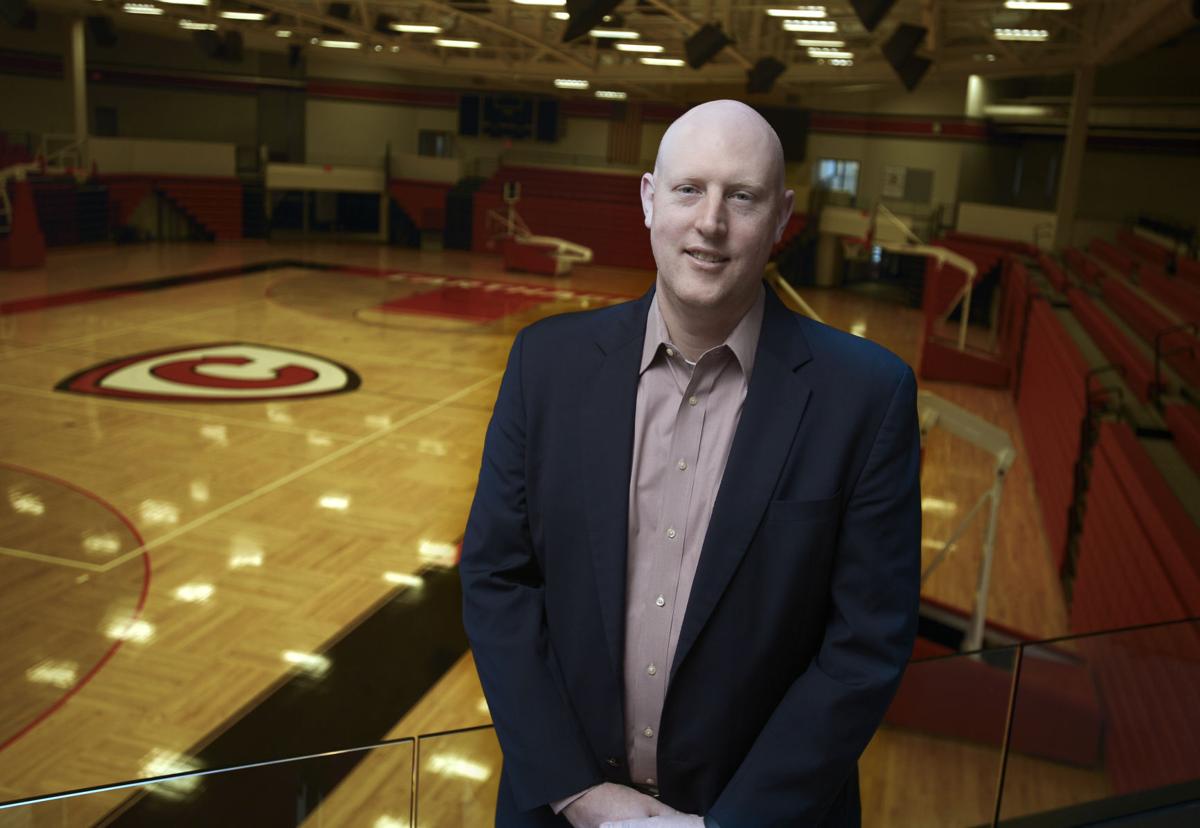 by Mike Johnson, Kenosha News / photo by Sean Krajacic

"Centre College in Danville, Ky., is a long way from Kenosha.

Yet the two cities have a unique bond.

When Carthage hired Nate Stewart as its new athletic director in July, that made it two athletic directors to be hired in recent years by Kenosha institutions from Centre College.

Stewart was the deputy athletic director at Centre for the last three years prior to taking the job at Carthage. And he was hired in his position at Centre in the first place to replace Andrew Gavin, who left his role at Centre to become the athletic director at UW-Parkside in August 2017.

Gavin has enjoyed tremendous success in his role at NCAA Division II Parkside, and Stewart hopes to follow in the footsteps of his Centre brethren in the same town at Division III Carthage."

>> Quotable: "Carthage has got great facilities," Stewart said. "It's a beautiful campus, right on Lake Michigan. I've loved that so far. ... The CCIW (College Conference of Illinois and Wisconsin), in my opinion, is one of the top two or three leagues in Division III. I knew we had great facilities, and obviously Dr. (Bob) Bonn's built a great tradition here."

>> Quotable II: "Our older head coaches have been very supportive. They've been good to work with. They have a ton of relationships with alumni, they're very dialed in and connected recruiting-wise, and they do a great job. So it's nice to walk in and have that security blanket and know people are there. And they've been open. They want to mentor our younger coaches. Our younger coaches want to learn from our older coaches."

>> Continue Reading


4. Picturesque
As the Coast Guard Academy prepares for its football showdown against the Merchant Marine Academy, the CGA athletic media team shared a video of its very picturesque setting for a game. That got me thinking ... and Kim, Jess and Tim know ... that's not always a good thing.

What is the most picturesque venue for a Division III outdoor sporting event? One that comes to mind immediately for me from personal experience - South Hill Field at Ithaca. I love that aerial photo from Carthage as another example.

But more importantly, what say you?

Send your nomination with a photo (please) to d3Playbook@gmail.com. Me thinks we can turn this into a little contest as we close 2020 (thankfully).

6. These Guys Are Good

That's an old catch-phrase for the Professional Golfers Association (PGA) Tour Players. How good? Watch Jon Rahm on the 16th hole at Augusta National.


Know someone that would enjoy receiving d3Playbook?
Send an email to d3Playbook@gmail.com with "subscribe" in the subject line