D3Playbook

NOVEMBER 19, 2020 | written by STEVE ULRICH
your must-read briefing on what's driving the day in NCAA Division III


Our goal is to keep you - the influencers in DIII athletics - apprised of what's happening around Division III - the games, polls, news, happenings, awards, calendar of events, and much more. We hope you enjoy d3Playbook and that you'll share this with your friends, colleagues and co-workers.



>> It's Thursday Morning! 157 years ago today, Abraham Lincoln gave the most famous two-minute speech in history. The text follows.

>> Today's Word Count: 946. You've got time. Takes less than 4 minutes to read.

>> Thanks for reading D3Playbook. Please recommend us to a friend or co-worker. Or share with your staff and bring them up-to-speed on what's happening in DIII.

1. From C 2 Shining C


The Capital Athletic Conference now has a new name: The Coast-to-Coast Athletic Conference (C2C).

The C2C model provides a coast-to-coast, destination-based conference championship experience for its student-athletes, culminating with access to NCAA Championships. Those who raise the C2C trophy will display the excellence to compete on the national stage.

The C2C is diverse and welcomes all newcomers, representing a league without boundaries and full of opportunity.
California, Santa Cruz
Christopher Newport (Va.)
Finlandia (Mich.)
Mary Washington (Va.)
Mills (Calif.)
Mount Mary (Wis.)
Pine Manor (Mass.)
Pratt Institute (N.Y.)
St. Mary's (Md.)
Salisbury (Md.)
Southern Virginia
2. Academically Speaking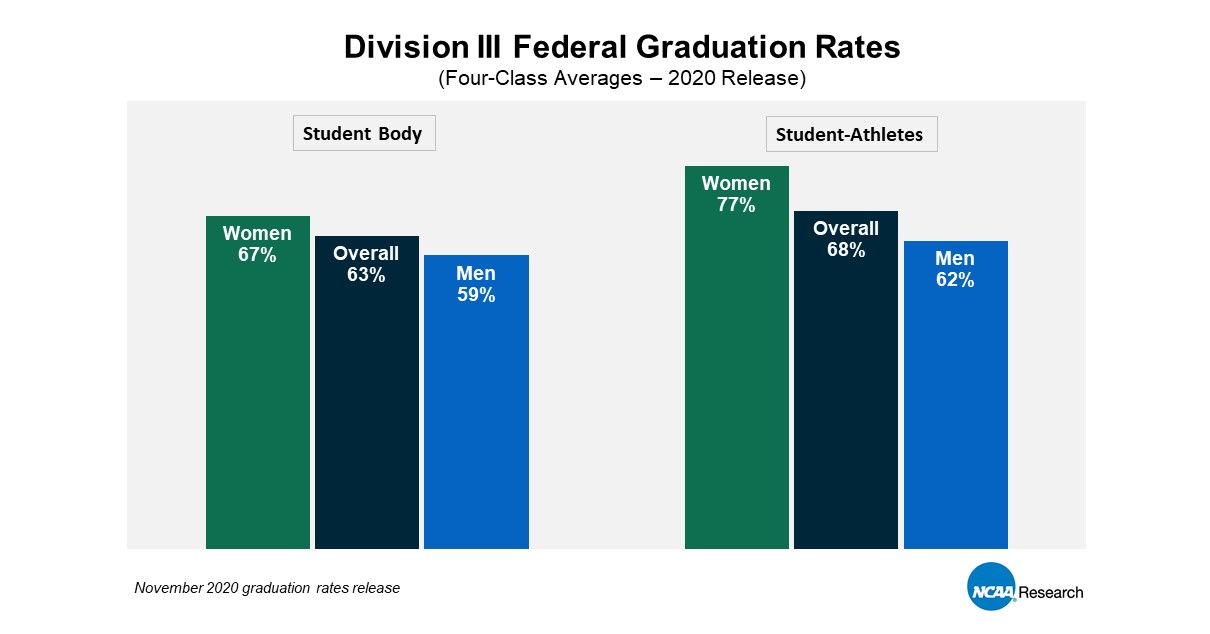 In the first year Division III required the submission of Academic Success Rates and federal graduation rates for student-athletes, member schools reported marks as high as the previous year, when reporting was voluntary.

The national four-year average ASR for Division III stands at 87%, consistent with the 2019 data when 60% of schools voluntarily reported.

Division III's Academic Success Rate is similar to Division I's Graduation Success Rate and Division II's ASR, as it includes transfers in the calculation and accounts for students who left school while academically eligible. Division III is now in its 11th year of collecting student-athlete graduation rates.

Even when using the less inclusive federal graduation rates, Division III student-athletes outperform their peers in the general student body. The four-class average federal rate for athletes was 68%, and the federal rate for the overall student body was 63%.

>> Read More
>> Academic Success Rates and Federal Graduation Rates at DIII Schools


3. Deal Sets Stage for NIL Rights

by Brendan Coffey, Sportico

Sports technology company Opendorse and school marketing and event management company Collegiate Sports Management Group have struck a deal that sets the stage for some 250 colleges and tens of thousands of athletes to participate in Name, Image and Likeness (NIL) activities.

The two companies announced Tuesday that they have inked an agreement wherein Opendorse Deals will be the technology platform to enable endorsement agreements through Collegiate Sports Management Group, which is the multimedia rights holder for throngs of colleges and universities, mainly from mid-tier Division I down through DII, DIII and into community colleges.

Since the NCAA is still weighing its NIL guidelines, the Opendorse-CSMG partnership initially will begin operation as a platform to strike endorsement deals for the alumni athletes of participating CMSG schools, as well as for CSMG's roster of esports schools.

>> Situational Awareness: "The Opendorse-CSMG deal is significant in the developing NIL space because both (Blake) Lawrence and (Ray) Katz say the majority of opportunities and revenue from NIL will be local, as small and regional businesses seek to reach the social media followers of lesser-known athletes who are "local heroes." Under expected NIL guidelines, students will be contractors striking their own endorsement deals."

>> What They're Saying: "CSMG is first to sign on with Opendorse as their partners, but we expect others will follow," said Blake Lawrence, CEO of Opendorse, in a phone interview. "The leaders in multimedia rights in college sports will need a solution that allows them to help sponsors activate athletes once these rules change."

>> The Final Word: Name, Image and Likeness deregulation isn't coming any longer. It's here.

>> Go Deeper
4. COVID Scorecard

We continue to update the winter and spring competition seasons for schools and conferences.

Moving Forward
Waiting to Make Call
Canceled Conference Play and Championships
Institutions Opting Out
6. The Gettysburg Address
"Four score and seven years ago our fathers brought forth, on this continent, a new nation, conceived in Liberty, and dedicated to the proposition that all men are created equal.

Now we are engaged in a great civil war, testing whether that nation, or any nation so conceived, and so dedicated, can long endure. We are met on a great battle-field of that war. We have come to dedicate a portion of that field, as a final resting-place for those who here gave their lives, that that nation might live. It is altogether fitting and proper that we should do this.

But, in a larger sense, we can not dedicate, we can not consecrate we can not hallow this ground. The brave men, living and dead, who struggled here, have consecrated it far above our poor power to add or detract.

The world will little note, nor long remember what we say here, but it can never forget what they did here. It is for us the living, rather, to be dedicated here to the unfinished work which they who fought here have thus far so nobly advanced. It is rather for us to be here dedicated to the great task remaining before us that from these honored dead we take increased devotion to that cause for which they here gave the last full measure of devotion - that we here highly resolve that these dead shall not have died in vain that this nation, under God, shall have a new birth of freedom, and that government of the people, by the people, for the people, shall not perish from the earth."

>> The Gettysburg Address
Know someone that would enjoy receiving d3Playbook?
Send an email to d3Playbook@gmail.com with "subscribe" in the subject line