D3Playbook
OCTOBER 28, 2020 | written by STEVE ULRICH
your must-read briefing on what's driving the day in NCAA Division III
Our goal is to keep you - the influencers in DIII athletics - apprised of what's happening around Division III - the games, polls, news, happenings, awards, calendar of events, and much more. We hope you enjoy d3Playbook and that you'll share this with your friends, colleagues and co-workers.
>> Good Wednesday morning! Congrats to the LA Dodgers on their World Series victory

>> Today's Word Count: 952

>> @D3Playbook: Do you follow us on Twitter? 1,644 followers do. All the latest moves in Division III can be found there throughout the day.

>> Thanks for reading D3Playbook. Please recommend us to a friend or co-worker. Or share with your staff and bring them up-to-speed on what's happening in DIII.


1. Students Voicing Their Support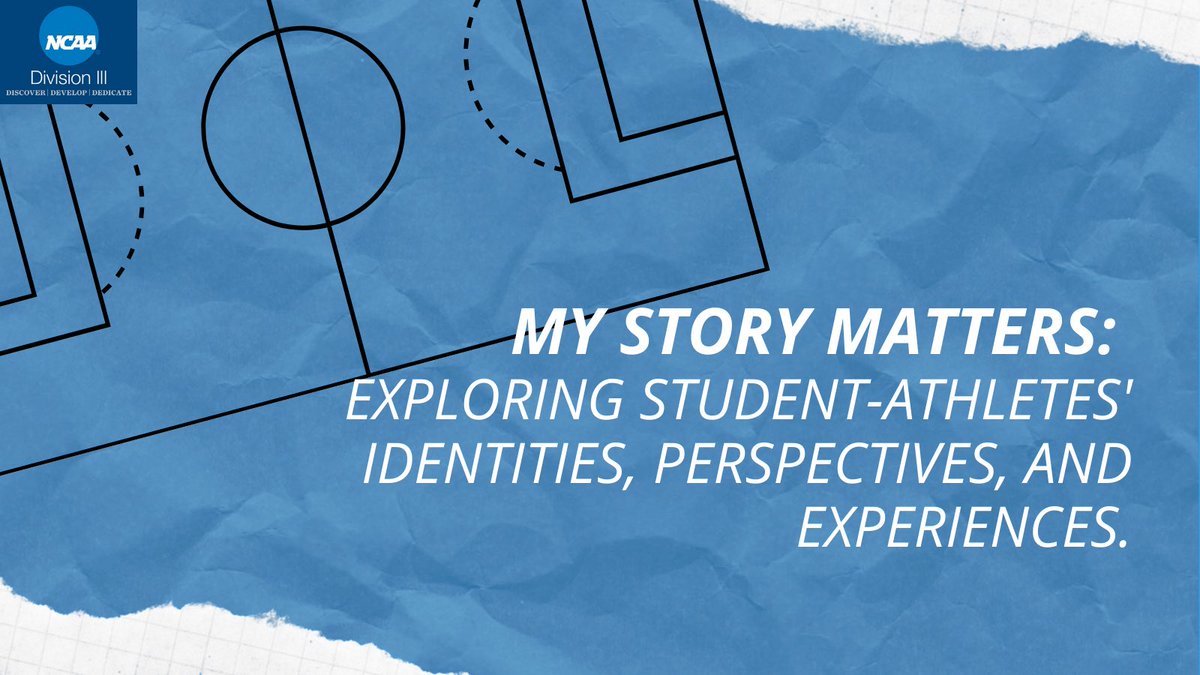 by Gail Dent, NCAA



"NCAA student-athletes will voice their support around diversity, inclusion and social justice in athletics when they participate today through Thursday in the third annual Diversity and Inclusion Social Media Campaign.

The campaign provides a platform for NCAA student-athletes to talk about why they believe diversity, inclusion and social justice are important and how engaging in all three areas can foster inclusive environments in athletics, on their campuses and in their communities. The student-athletes represent Divisions I, II and III, and many are members of their campus Student-Athlete Advisory Committees or members of the national SAACs. The athletes are working in conjunction with the NCAA Minority Opportunities and Interests Committee and the NCAA office of inclusion on campaign activities this week.

The campaign features a different theme each day for the social posts and will also include a designated hashtag #NCAAInclusion. The athletes will engage primarily on Twitter, but will have extended voices on Instagram, Facebook and LinkedIn social accounts. NCAA staff and the MOIC support the athletes by providing them with suggested ideas and guidance to implement the initiative, which occurs each fall. The campaign has been successful over the years, trending in the top five on Twitter activation charts."


>> Wednesday's Theme: "I've Got Your Back," highlights student-athletes supporting one another to foster inclusive environments.

>> Thursday's Theme: "Together We Rise" outlines personal action steps to inclusive excellence and celebrating collaboration across the campus community.

>> Read More


2. UAA Cancels Formal Competition

The University Athletic Association Presidents Council has unanimously approved a resolution to cancel all formal UAA winter sport competition for the 2020-21 season.

Over the last several months several UAA committees comprising athletic administrators, vice presidents and deans, faculty athletics representatives, athletic trainers, and others have met on a regular basis to consider how winter sport competition might take place as the COVID-19 pandemic continues to affect UAA campuses, their communities, and the nation. In the course of those discussions, it became clear that a substantial number of issues related to the implementation of recommended NCAA testing protocols for winter sports; current institutional travel limitations; local and state travel quarantine guidelines; local restrictions on the size of group gatherings; event management; and contingency planning to provide care for individuals who may test positive or become symptomatic while traveling present challenges that cannot be resolved in a manner that would facilitate an acceptable level of risk mitigation for student-athletes, coaches, officials, staff and others involved in the conduct of UAA winter sport competition.

Accordingly, member institutions within the UAA may determine which, if any, currently scheduled UAA contests they are able to retain. As institutions work to identify and schedule competition with institutions outside the UAA, they remain committed to working cooperatively with each other to adjust any remaining, viable dates of UAA competition in order to provide each other with as much flexibility as possible in reshaping their winter schedules.
Institutions
Conferences
3.
Youth Sports Exodus Continues

Youth sports remain in a moment of crisis, as the health and financial situations brought on by the pandemic continue wreaking havoc.

>> By the numbers: The Aspen Institute's recent survey of 1,103 parents with sport-playing kids aged 6-18 paints a rather bleak picture.
29% of parents said their kids are simply not interested in sports, up from 19% when they were last asked in June.
64% cite fear of their child contracting COVID as a barrier to resuming sports.
28% say they'd spend more money on youth sports now than pre-COVID, but 27% say they'd spend less.
6.4 fewer hours: Kids are spending just 7.2 hours per week playing sports, down from 13.6 before the pandemic.
Solo sports on the rise: Cycling and golf have risen in popularity during the pandemic, as their relative drops in participation are minimal compared to team sports.

>> The bottom line: "This is a moment of historic crisis," says the Aspen Institute's Tom Farrey. Unfortunately, its roots are also deep enough that it's going to take more than the pandemic ending to right the ship.

>> Go deeper: Coronavirus puts youth sports on pause


4. Preseason Hoops Rankings
Basketball Times has released its preseason Division III rankings and All-America teams.

Top 20
Randolph-Macon
St. Thomas, Minn.
Swarthmore
Yeshiva
Elmhurst
Emory
UW-Platteville
Brockport
St. Joseph's, Conn.
Mount Union
Washington, Mo.
Christopher Newport
Saint John's
Rensselaer
UW-Oshkosh
Susquehanna
Johns Hopkins
Hobart
Virginia Wesleyan
Whitworth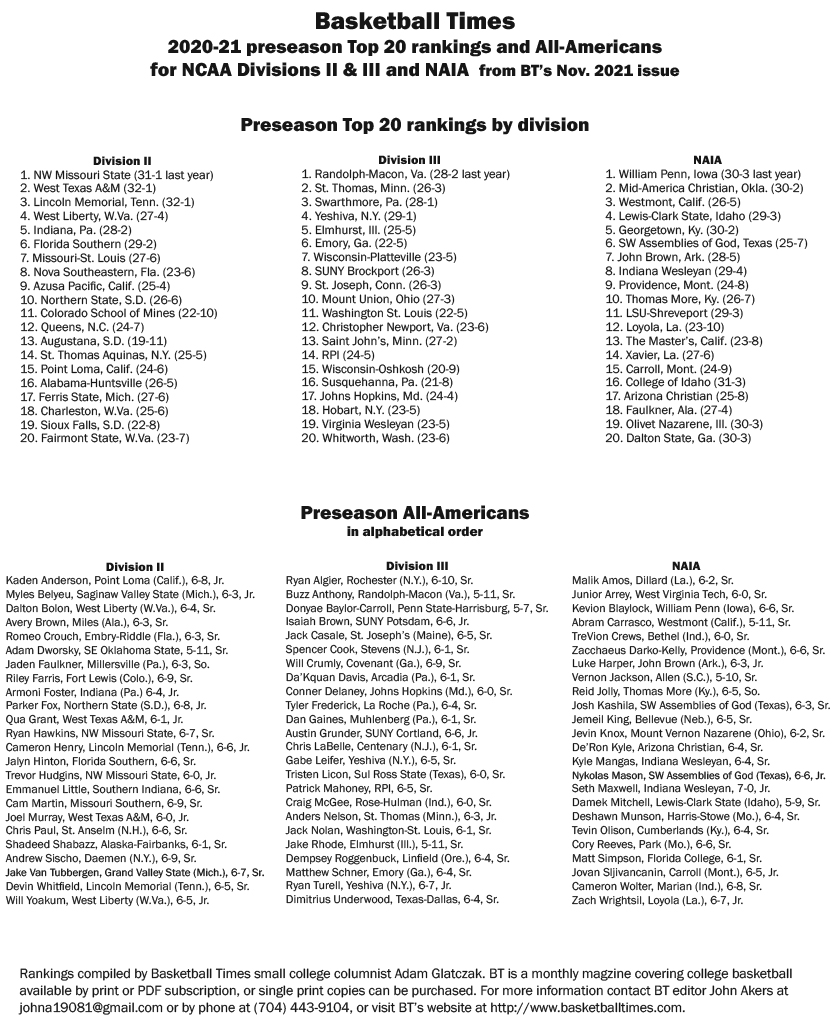 5. Best of the Decade

We continue our "Best of the Decade" series with a look at the champions, runners-up and final four finishers in soccer.



Champions: Messiah (4), Tufts (4), Amherst, Ohio Wesleyan.

Runner-Up: Calvin (3), Amherst, Loras, Lynchburg, North Park, Ohio Northern, Rutgers-Camden, Wheaton IL.

Top Four Finishes: Calvin (5), Messiah (4), Tufts (4), Loras (3), Oneonta (3), Amherst (2), Brandeis (2), Chicago (2), Ohio Wesleyan (2), Williams (2), Bowdoin, Centre, Lynchburg, Montclair State, North Park, Ohio Northern, Rochester, Rutgers-Camden, St. Thomas, UW-Oshkosh, Wheaton IL.



Champions: Messiah (3), Williams (3), Hardin-Simmons, Lynchburg, Washington U., William Smith.

Runner-Up: Messiah (2), Chicago, Emory, Middlebury, Trinity TX, Washington U., Wheaton IL, William Smith, Williams.

Top Four Finishes: Messiah (6), William Smith (4), Williams (4), Washington U. (3), Chicago (2), Hardin-Simmons (2), Middlebury (2), Wheaton IL (2), Brandeis, Capital, Carnegie Mellon, Centre, Christopher Newport, Illinois Wesleyan, Ithaca, Johns Hopkins, Lynchburg, Misericordia, Otterbein, Pomona-Pitzer, TCNJ, Emory, Trinity TX.

7. 1 Logo Thing
You don't have to be of a certain age to appreciate these Major League Baseball logos from 1980.





Hopefully we'll see you in the spring, baseball.

Know someone that would enjoy receiving d3Playbook?
Send an email to d3Playbook@gmail.com with "subscribe" in the subject line